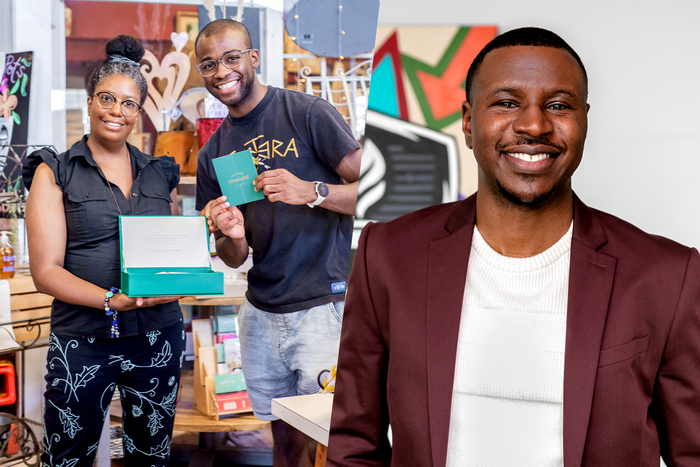 Photo: Photos courtesy of Adorned Abode; Talley & Twine Watch Company
These days, shopping isn't just about accumulating more stuff — it's about supporting retailers in your community and finding just the right product to meet your needs. So whether you're looking for a new watch or a sound system for your car, seeking out a Black-owned small business to buy from just feels good. Between February and April alone, a study shows that the number of Black business owners working across the U.S. dropped from 1.1 million to just 640,000, meaning it's more important than ever to shop small.
In partnership with the Shop Small® initiative by American Express, which encourages people to shop at small businesses to help our local communities thrive, we've rounded up 9 of our favorite Black-owned small businesses. You're sure to find your next best buy, from discounted electronics to analog gadgets (like wick trimmers or multi-tool pens!) to the latest video game drop.
Adorned Abode, Tacoma, WA
Owner Benita Smith's Adorned Abode prides itself on supplying its customers' gifting needs, and sells many products sourced and made in Washington, where the store is located. Their offerings include essential oil diffusers, astrology candles, baskets, and plant accessories. Need somewhere to start? We love their stylish multi-tool pen.
Alexandra Winbush, Brooklyn, NY
"Why just buy a candle when you could purchase an experience?" asks the Alexandra Winbush website. And sure, the company is best-known for selling luxury candles and teas, but there are other hidden gems here, too. Like this Rose Gold Wick Trimmer, which is essentially a stylish pair of clippers to keep candle wicks neat and tidy after each burn. Get it for the gadget-lover in your life who also likes pretty things.
Lennox & Harvey, Martha's Vineyard, MA
This modern-day general store sells a curated offering for your home, beach, and body — brought to life by co-owners Mark Chung and Eric Coles on Martha's Vineyard.
OffBeat, Jackson, MS
Phillip "DJ Young Venom" Rollins sells vintage vinyl records, hats, T-shirts, pins, and toys that are a nostalgic nod to the '80s and '90s in Jackson, Mississippi.
Opn Phone Repair, New York, NY
Ex-Apple employee Dwight L. Peters's iPhone repair service (pronounced 'open') is available 24/7 to offer a white-glove experience in Harlem, New York, minus the hefty price tag.
Talley & Twine Watch Company, Portsmouth, VA
Named after "an intersection that was formerly the center of a notorious, crime-riddled neighborhood in Virginia," Talley & Twine watches is a reminder that it's not about how you start, but how you finish. Today, the store carries timepieces for men and women, as well as gifts and accessories.
FlameKeepers Hat Club, New York, NY
FlameKeepers, a Harlem-based shop, says their mission is to "pass the torch of 'good taste' from one generation to the next" and sells hats and caps of all sorts — think fedoras, top hats, newsboy caps, and more. For the gadget-lover and hat-lover in your life, try their handy hat jack or fabric-covered hat box.
The Lam Label, Lake Charles, LA
The Lam Label is the perfect place to find the gadget you didn't even know you needed. Founded by a "vintage treasure hunter," The Lam Label carries unique products like salt and pepper shakers in any shape imaginable — we love the bananas, burgers, and seals — as well as ceramic trinket boxes, mugs, and more.
Coral Oral, Multiple locations
This Black-owned dental-care company — the first of its kind in the U.S. — offers customers the opportunity to celebrate Black entrepreneurship every time they brush their teeth. Toothbrushes are categorized by bristle softness instead of by color, and each one comes packaged with a fact highlighting Black history.
Sources are provided for informational and reference purposes only. They are not an endorsement of Advertiser or Advertiser's products.
This advertising content was produced in collaboration between Vox Creative and our sponsor, without involvement from Vox Media editorial staff.