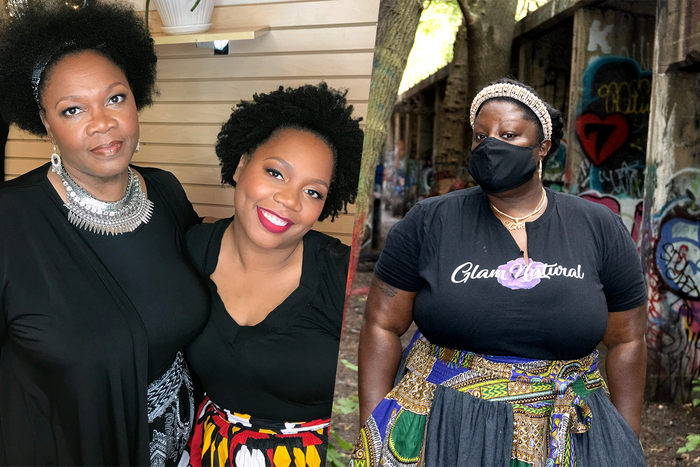 Photo: Photos courtesy of Val Jackson and Joi Jackson of Hairizon Beauty & Aronda Denise of Glam Natural Hair
Beauty doesn't have to suffer during the age of social distancing and quarantines. Fortunately, plenty of businesses nationwide are still offering services (following proper safety protocols) and stocking DIY essentials for those who prefer to pamper at home. During a stressful time, when self-care practices including beauty treatments might feel more important than ever, we're also advocating for spending money mindfully and intentionally. A recent study showed that 41 percent of Black-owned businesses shut down permanently by this April, compared to 17 percent of white-owned shops. So, in partnership with American Express, we're spotlighting some of our favorite Black-owned small businesses around the nation that could use our support.
It's also important to us and American Express to support the small businesses that help our communities thrive and keep dollars within our neighborhoods. Black enterprises not only offer representation for the Black community, but they also help bridge the gap and earning potential for one of America's most marginalized groups. Below, check out 8 such small, Black-owned beauty companies you can shop right now, whether you're local to their areas or buying online.
Curl Kitchen, Chicago, IL
Curl Kitchen is a salon for all types of naturally curly haircare services and beauty needs. "Healthy and stylish hair" is Curl Kitchen's main goal. The Chicago salon offers silk press services, color treatments, and cuts. They also offer styles like Bantu knots, flat twists, rod sets, and updos.
Glam Natural Hair by Aronda Denise, Philadelphia, PA
This Philly spot specializes in natural hair care products, as well as styling. In addition to offering a wide range of services — including keratin smoothing treatments, loc grooming, and various braiding and twist styles — the shop also sells hair products like herbal oils, conditioners, and brushes. (The company's signature product is its Lemongrass Healing Hair and Scalp Oil.)
Samaria Leah Denim, Los Angeles, CA
Self-care in 2020 means wearing a face mask to protect ourselves and those around us, and we're constantly on the hunt for stylish, affordable options. We love this mask from Samaria Leah Denim, which produces "globally-sourced, hand-picked, and handcrafted vintage" denim pieces. Plus, a portion of the proceeds from mask purchases go toward COVID-19 relief.
Pholk Beauty, Jersey City, NJ
Pholk Beauty, founded by Niambi Cacchioli, crafts skincare and beauty products that are inspired by Cacchioli's travels and the "African Diaspora's healing and herbalist traditions." With a selection of cleansers, face masks, face mists, and more (all with aesthetically-pleasing packaging!), you're sure to find the next great product for your skincare cabinet.
Hairizon Beauty, Durham, NC
Hairizon is known for products that avoid unnecessary chemical additives, instead stocking products that incorporate essential oils, botanicals, and minerals. The shop also offers a unique Beauty Bar where customers — following safety guidelines — can make products all their own. Clients can customize products like shea butter with essential oils like Somalia rose, coco-mango, or cucumber melon.
House of Aama, Los Angeles, CA
If you're looking for something to carry all of your beauty buys in, this Los Angeles-based fashion shop has you covered. Established in 2015 by mother-daughter designers Rebecca Henry and Akua Shabaka, House of Aama carries garments that are inspired by the "folkways of the Black experience" and sells a line of stylish, colorful tote bags perfect for transporting your makeup and skincare.
Essential Body Bar, Houston, TX
For this shop, owner Letrice Mason taps into her master's degree in nursing and devotes her services to "women's wellness at every stage in life." Essential Body Bar offers services like massages, but also sells essential oils, salves, herbal teas, bath salts, and many others online.
3rd Element Spa, Philadelphia, PA
This Philly spa specializes in massages, lash extensions, hair services, and nails. For clients leaning toward a massage, the spa offers hot stone, chair, and Swedish techniques, plus more, And as a way to give back, the spa also holds Wellness Wednesdays, when it offers discounted services to clients.
Sources are provided for informational and reference purposes only. They are not an endorsement of Advertiser or Advertiser's products.
This advertising content was produced in collaboration between Vox Creative and our sponsor, without involvement from Vox Media editorial staff.