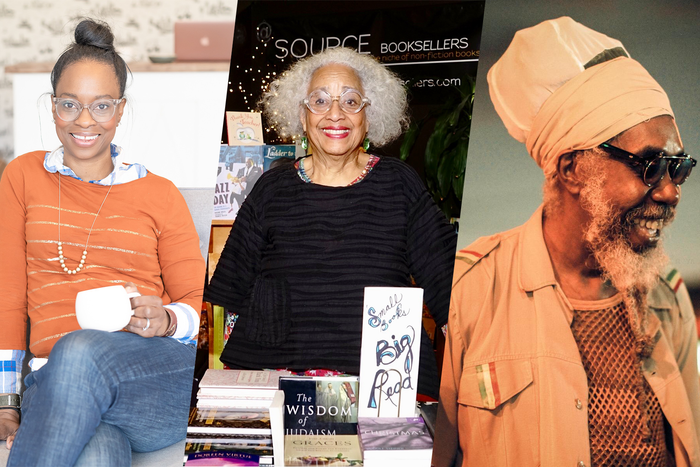 Photo: Photos courtesy of Bunnie Hilliard of Brave and Kind Kids Bookshop, Janet Webster Jones of Source Booksellers, and Sekou Tafari of Frontline Books.
Reading is a very tactile activity — ah, the gratifying swipe of turning the first page of a new book! It only makes sense, then, that the act of buying a book should be just as satisfying an experience, and across the U.S., there are so many wonderful small, Black-owned bookstores looking to keep it that way.
Over the years, these Black-owned bookstores have been more than just stores. They've also served as a place for people to commune and support one another — all the more reason to support them, especially during a time when Black-owned businesses are facing so many challenges. Whether you book a (safe, socially distanced) shopping appointment, drop by for curbside pickup, or shop online, American Express is urging us all to shop these small, local businesses.
To help you do just that, we've partnered with them to highlight some of our favorite Black-owned bookstores. Some are children's bookstores, some specialize in Pan-African reads, but all of them are welcoming spaces that are integral to their communities. You'll want to shop from them right away.
After all the major bookstores closed in her area, DeShanta Hairston opened Books and Crannies with a $12,000 startup grant to give her community a place to browse the latest releases in-person. Its children's readings, open-mic poetry and affordable used-book section — $1 for paperbacks, $3 for hardbacks — has made the shop a local favorite. Shop online or try curbside pick up today.
You don't have to be a kid to find Brave and Kind Kids Bookshop's playful and friendly atmosphere charming. As a crowdfunded neighborhood indie bookstore, it features an array of diverse, colorful books for kids of all ages.
Shionka McGlory started Mocha Books out of her home with $1,000 and her own library for stock. Four years later, its brick-and-mortar location highlights diverse books by mainstream and indie authors, while also providing education and community-building resources for students, parents, authors, and readers. Can't make it to Tulsa for curbside pickup? Don't worry. Shop online or catch its traveling Bookmobile.
After 18 years of brick-and-mortar bookselling, Janet Webster Jones recently introduced an online shop for Source Booksellers. To recreate that in-person feeling, the shop hosts live-streamed author talks and other virtual events. In addition to online shopping, you can stop by for door pickup to stock up on some new reads.
Cafe Con Libros, Brooklyn, NY
Cafe Con Libros, located in Brooklyn, is an intersectional, feminist bookstore that doubles as a coffee shop and community space. Check out their selection of books online or in person (with social distancing, of course). Or you can sign up for a monthly subscription of feminist books — subscription options include feminist board books for babies, a "womxn of color book club," and more.
Chicago's Frontline Books is not only a bookstore, but also an extension of the all Black-owned Frontline Distribution International, Inc., publishing house, too. As one of only two Black-owned bookstores in the city, it's a destination for anyone looking to take a dive into natural health, spirituality, history, metaphysics, black empowerment, hair care, and African children's books.
Standing proudly at its original location, Marcus Books has bragging rights as the oldest Black-owned bookstore in the country. With 60 years under its belt, it's been a source for books by and about Black people, long before mainstream readers were hip to the culture.
Running Kokomo's only indie, multicultural bookstore, Beyond Barcodes owner DeAndra Beard makes sure 80 to 85 percent of its books are by or about people of color. Recently, the shop was in danger of closing, but thanks to a boom in orders from across the country and a fundraising campaign, Beyond Barcodes is still standing to serve its community.
Sources are provided for informational and reference purposes only. They are not an endorsement of Advertiser or Advertiser's products.
This advertising content was produced in collaboration between Vox Creative and our sponsor, without involvement from Vox Media editorial staff.