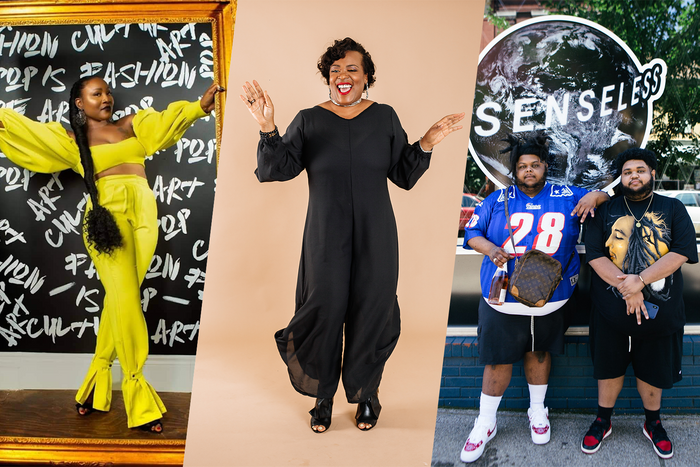 Photo: Photos courtesy of Lynette Lashawn of Off The Hanger, Jackie Adams of Melodrama Boutique, and Denier Watson and Romie Watson of Senseless
In its most simple form, fashion is a fun expression of personality and style. But when wearing an outfit with pieces found at a small Black-owned shop, it becomes something more: a statement of your values as a consumer, and a testament to how dedicated you are to finding the right item even when it takes more time, more effort, and maybe a few more dollars.
And these days, when small Black-owned businesses are facing more challenges than ever before, it just makes sense to support them whenever and however you can. If that means treating yourself to a sweater you've been eyeing for a while, well, why not? American Express is urging us all to shop these small, local businesses, so we've partnered with them to round up a few of the best Black-owned fashion shops across the U.S. that should be on your radar.
Shopping at one of these stores may be an excuse to pick up a stylish new piece, but to small shop owners can be a significant act of support. Whether you shop online, make an in-store appointment, or stop by for a socially-distant shopping experience, consider snagging your next wardrobe addition from one of these stores — you won't regret it.
Lettie Gooch gets its unforgettable name from shop owner Theresa Watts's grandmother. Since its opening, the shop has been a place to find unique pieces from emerging designers, with nothing priced over $300. Watts also stocks bath and body care, home goods, and jewelry.
More than just a shop, taylor jay is a collection. The pieces sold out of this Bay Area store are designed by the owner (who carries the same name), and items are ethically sourced and made by a fair labor factory in Oakland. Jay's goal was to produce environmentally safe garments made of eco-friendly textiles while creating an inclusive fashion brand for everyone.
Take everything you love about shopping, and Queen Anna House of Fashion amplifies it. With a personalized concierge styling service, curated collections, and a store designed with art, gold accents, and contemporary furniture, shopping here is as much about the experience as it is walking away with a new dress.
When Lakeitha Dukes opened her store, she knew it needed to be bigger than her own dreams. "I wanted a place, not only for myself, but for others," she said. Within her Pan-African clothing boutique, Dukes houses nine other Black-owned businesses to help them reach out to new customers from the storefront.
In business since 2002, Melodrama Boutique has a loyal following in Houston. You can find colorful, vacation-worthy dresses, artful jewelry, and statement tees in store and online. And for a more personalized experience, book a complementary styling session with owner and stylist Jackie Adams.
For the vintage-loving sneakerhead, Senseless is a gold mine. You can find faded music-promo tees whether you like hip-hop or country, second-hand streetwear hoodies, and hard-to-find limited-release sneakers all in a single shop.
A boutique full of risk-taking and conversation-starting pieces, there isn't a pattern or a print you can't find at Off the Hanger. You can shop online, but in-store you can experience personal shopping, private styling, on-site alterations by appointment, and a traditional shoe shine service. Oh, and the clothing racks are actual giant hangers.
Pink Sky's bright and affordable fashions — nothing is over $100! — are handpicked by the boutique's owner, Christi Hector. A mix of clothing, accessories, shoes, and jewelry, it's become a go-to spot for local Atlanta residents.
Dripped + Draped is an Instagrammer's dream. If you stop by for some socially-distant shopping, be prepared to shop and snap a few photos next to one of its many selfie-worthy spots: a flower wall, an angel wing neon sign, wall art that reads "Pink Vibes Only" and "Vibin' and Thrivin'," and a pink telephone booth. And it's more than just a clothing store — it's a full-fledged coffee shop, too, complete with blue lavender iced drinks and glitter lattes.
Sources are provided for informational and reference purposes only. They are not an endorsement of Advertiser or Advertiser's products.
This advertising content was produced in collaboration between Vox Creative and our sponsor, without involvement from Vox Media editorial staff.