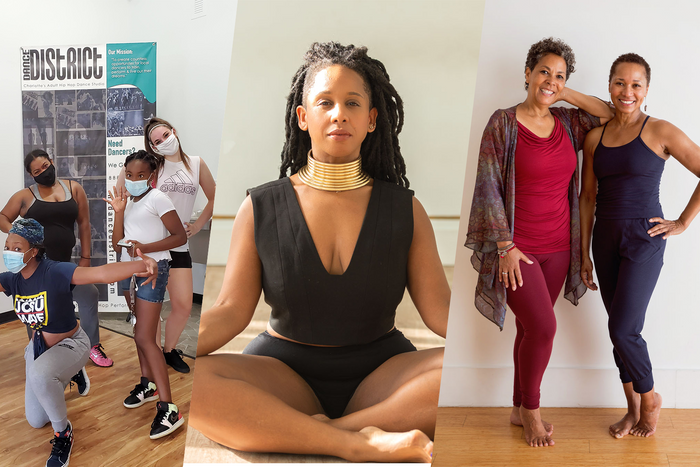 Photo: Photos courtesy of NC Dance District, Adrianne Jackson of Magnolia Yoga, and Jean Marie Moore and Zola Serene James of Anasa Yoga
Finding ways to keep active during quarantine has been all the rage, and especially now that restrictions are loosening in many cities, you can find new ways to stay fit — while social distancing and also supporting Black-owned small businesses (as American Express encourages). Between February and April alone, a study shows that the number of Black business owners working across the U.S. dropped from 1.1 million to just 640,000, meaning it's more important than ever to Shop Small, and be intentional about spending your money when you do. It's also pivotal to support the small businesses of our communities that help make our cities vibrant and keep funds within our neighborhoods.
Black-owned businesses not only offer representation for Black entrepreneurs across the diaspora, but they also help bridge the gap in earning potential for one of America's most marginalized groups. With that in mind, we partnered with American Express to spotlight Black-owned small businesses across the U.S. that you can support. Here, check out 9 of our favorite Black-owned fitness companies, from Oakland all the way to D.C.
This NOLA space is focused on creating a sense of community, while strengthening the mind-body connection through hot yoga and meditation. Magnolia offers beginners' classes, vinyasa yoga, and hot yoga, with online classes available for streaming. Guests can buy monthly and annual memberships, or private sessions.
With locations in New York City as well as Houston, owners Tavia Bailey and Tamara Marrow transfer the skills they've learned while dancing in the entertainment industry for more than a decade. (When we say they've performed with A-listers of all types, we mean it.) Brukwine is currently offering digital workouts, HIIT sessions, and fitness-party dance classes.
At Embrace Yoga, you're bound to find classes where "ancient healing technologies meet modern living." Embrace offers class packages and all types of memberships, plus special workshops, teacher trainings, private lessons, and other wellness activities. The studio even gives discounts for public school educators, students, seniors, military members, and veterans. Prefer to stay socially distant? The studio also offers some classes via livestream.
"Everyone belongs" is the mantra at Boston's Trillfit, and the company pledges to promote healthy living in communities of color by providing increased access to its programming and supporting other local organizations that focus on health equity. The award-winning boutique fitness studio schedules digital classes from cardio dance to sculpting, and both in-studio and digital memberships are available, along with personal training sessions.
KTX is a perfect spot for in-person classes, for those who prefer them, as well as virtual options. You can choose from boot camp, kickboxing, and yoga, among plenty of others. KTX even schedules kickboxing classes, which combines martial arts techniques with fast-paced cardio.
This North Carolina spot offers group classes and private lessons for local dancers who want to train and perform. Dancers can purchase memberships ahead of time, or just drop in to visit a class. Virtual classes are available for those who'd rather stay distanced, and pop, hip-hop, and even yoga are all on the schedule.
The playlists here are just as good as the cardio boxing and strength training sessions — and like other studios, Boombox offers classes either at their space or digitally. In addition to its classes, the boxing studio also sells workout apparel, boxing gloves, and hand wraps for hitting the punching bags.
This California yoga studio is a "fragrance-free" destination, so no worries about interrupting your practice with any distracting oils or aromatherapies. Anasa offers a range of memberships, plus class packages and sharing plans. The studio is currently offering online weekly classes, events, and workshops, and drop-ins are welcome, too.
Elxr Yoga Lounge, Fayetteville, AR
Elxr Yoga Lounge, founded by Nicole Calhoun and based in northwest Arkansas, promises "no judgements, no cliques, [and] no uptight exclusive culture." At Elxr, an upbeat playlist of hip-hop music accompanies each yoga session, and their classes are now being offered virtually.
Sources are provided for informational and reference purposes only. They are not an endorsement of Advertiser or Advertiser's products.
This advertising content was produced in collaboration between Vox Creative and our sponsor, without involvement from Vox Media editorial staff.