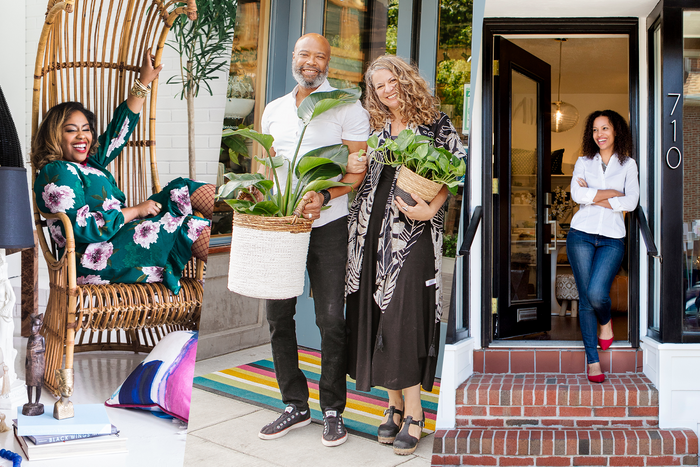 Photos courtesy of Ariene Bethea of Dressing Room Interiors, Leonard and Andrea Allen of EcoVibe Home, and Laura Hodges of Domain by Laura Hodges Studio
Photo: Photos courtesy of Ariene Bethea of Dressing Room Interiors, Leonard and Andrea Allen of EcoVibe Home, and Laura Hodges of Domain by Laura Hodges Studio
Home is so much more than the place where we store all our stuff. Whether yours is a split-level house somewhere in the suburbs or an apartment shared with two roommates and a cat, you can make it feel like a place worthy of the money you're paying to live there. Even better: you don't have to moonlight as an interior designer or rely on cookie-cutter home goods stores to do it. Instead, all you have to do is scout out an independent Black-owned shop.
When you outfit your home at one of these stores, what you're really doing is helping them keep their doors open despite the challenges that small Black-owned businesses face — and that's something American Express wants to happen everywhere. Yes, your home will absolutely benefit from the fresh perspectives of these indie home designers, but what's more is you'll be supporting the businesses where your dollars can help make a difference.
Specialty shops like Home by BE and Dressing Room Interiors offer new points of view and provide a unique, personal experience. With these small, Black-owned brands, which we've rounded up in partnership with American Express, attention to detail is all but guaranteed, and that's something that can benefit any space we call home.
If you're on the hunt for one-of-a-kind vintage pieces and globally inspired art, then this eclectic shop owned by Ariene Bethea is worth a look. You'll find a ton of great patterns and prints, and nothing generic-looking in sight.
A mix of everything you need to make your home feel more homey. You can find original artwork, custom throw pillows, Moroccan poufs, ceramic garden stools, and even small-batch body care at Laura Hodge's store-meets-design studio.
This shop's colorful goods come from all over — South Africa, Haiti, Peru, to name a few countries — before making it to Detroit. With an emphasis on offering high-quality decor through fair trade from developing areas, owner Yvette Jenkins hopes her shop showcases the meaningful impact we can have on people's lives.
This local shop spotlights goods like candles, bath bombs, wooden art, and pillows made by local artists and artisans. The Shoppe Seahurst also has curated gift boxes, if you find yourself in a gift-giving bind.
Leonard and Andrea Allen (a.k.a. "Len and Dre") founded EcoVibe in 2010 to create a community space to support local designers, small makers, and women and minority-led businesses. With a focus on sustainability, the shop donates one percent of all online sales to 1% For The Planet, a local nonprofit.
Brittaney Elise's Home by BE is a one-of-a-kind interior design firm. Helping people create their "dream" space is her passion, and through her carefully curated inventory, custom-designed furniture, and full-service design services, she makes that a reality.
Blending the unexpected is this shop's raison d'être, and eclectic store offerings — like cow print pillows, duck lip planters, and jade calligraphy brushes — are proof. Want more? Whitney J Decor offers interior design services, too.
If your home needs a little something extra, maybe even custom wallpaper, then Mitchell Black is the place to look. You can also find wall murals, fabrics, and floor mats to add personality to your space.
Rituals + Ceremony is a Brooklyn shop dedicated to helping people craft spaces that are less about aesthetics, more about well-being. Woven baskets and tapestries are right next to sage and intention candles, making this a go-to spot for home decor and wellness alike.
Sources are provided for informational and reference purposes only. They are not an endorsement of Advertiser or Advertiser's products.
This advertising content was produced in collaboration between Vox Creative and our sponsor, without involvement from Vox Media editorial staff.