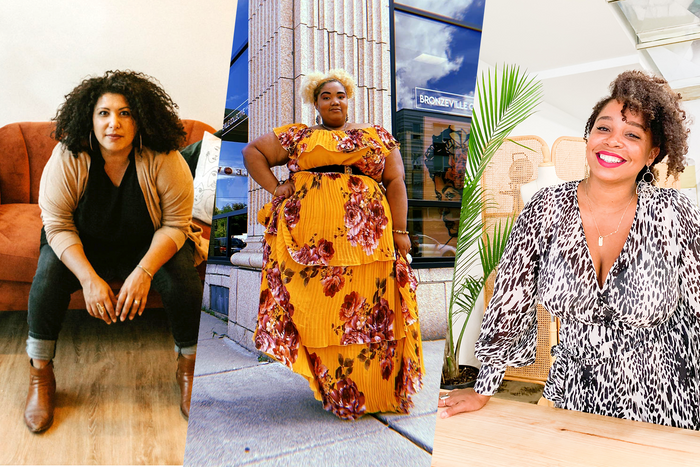 Photo: Photo: Photos courtesy of Anne Harrill of Océanne, Lilo Allen of Papyrus & Charms, and Brittanny DeRaffele of Sun and Selene
The perfect outfit deserves the right accessories, but it can be a challenge finding high-quality, staple jewelry that doesn't break the bank. All across the country, though, there are Black-owned small businesses designing pieces that fit the bill. It's been a tough year for most, but a recent report by the National Bureau of Economic Research found that it has been especially difficult for Black-owned businesses. Between February and April, 41 percent had closed due to COVID-19, compared with 17 percent of white-owned businesses.
It's not too late to show your support, though (or buy that custom name necklace we know you've been eyeing). With the help of American Express, as part of its Shop Small® initiative to support small businesses, we've rounded up 8 jewelry stores across the U.S. that you won't be able to get enough of.
Jam + Rico, Brooklyn, NY, Los Angeles, CA, and New York, NY 
If you're looking to incorporate more color into your jewelry collection, look no further. With immigrant grandparents from the islands of Jamaica and Puerto Rico (hence the name!), Jam + Rico owner Lisette Scott infuses her Caribbean heritage into every design piece, from the Azucar necklace to the Hoja earrings.
Océanne, Cleveland, OH
This shop offers modern pieces crafted by hand by founder Anne Harrill and her team. The French designer launched Océanne in 2006, and has grown the brand into a favorite destination for stylish Ohioans. With so many pieces to choose from, it can be hard to pick just one, but if it helps, Harrill says her go-to at the moment are the Large Shield earrings.
The Silver Room, Chicago, IL
The Silver Room has been a Chicago institution for more than 20 years thanks to founder Eric Williams' tireless work. While the store sells jewelry, accessories, clothing, artwork and home goods, it's also a cultural hub for community events, including an annual block party that draws tens of thousands.
Akakpo, Westbrook, ME
Using traditional designs drawn from his Ghanaian heritage, founder Ebenezer Akakpo creates jewelry for a cause. 70 percent of the proceeds from his Emekor Collection, an assortment of polycarbonate plastic earrings inspired by symbols called Adinkra, go to B9 Plastics' Better Water Maker Project, which supports clean drinking water in Ghana.
Artaya Loka, Nashville, TN
Designer Dana Greaves launched Artaya Loka in 2016, but even before then she was making waves in the fashion scene with a line that garnered the attention of A-list musicians. It's no surprise, then, that she set up shop in Nashville and has been building a loyal following among local tastemakers ever since.
Papyrus & Charms, Milwaukee, WI
Owner Lilo Allen's "culturally conscious handmade goods" at Papyrus & Charms bring Jamaican- and Pan-African-inspired design to the Midwest. Wondering where to start? 100 percent of the profits from her Black Lives Matter Fundraising Bracelet go to Love On Black Women, putting dollars directly in the hands of Black women in Milwaukee.
Creteation, The Colony, TX
From understated hoops to statement earrings, many of the designs at Creteation feature concrete and cement, materials which the shop transforms into something unexpectedly luxe. There are plenty of jewelry pieces to choose from, but if you're also on the hunt for cute tchotchkes such as a self-draining soap dish or a miniature concrete Frenchie, then this is the place for you.
Sun & Selene, Richmond, VA
Every piece at Sun & Selene is handcrafted and designed by owner and jeweler Brittanny DeRaffele. Using recycled metals and natural gemstones, she creates delicate beaded bracelets and 14-karat gold pendants inspired by astrology and the planets. Fellow astrology buffs will especially appreciate her Zodiac signs collection.
Sources are provided for informational and reference purposes only. They are not an endorsement of Advertiser or Advertiser's products.
This advertising content was produced in collaboration between Vox Creative and our sponsor, without involvement from Vox Media editorial staff.