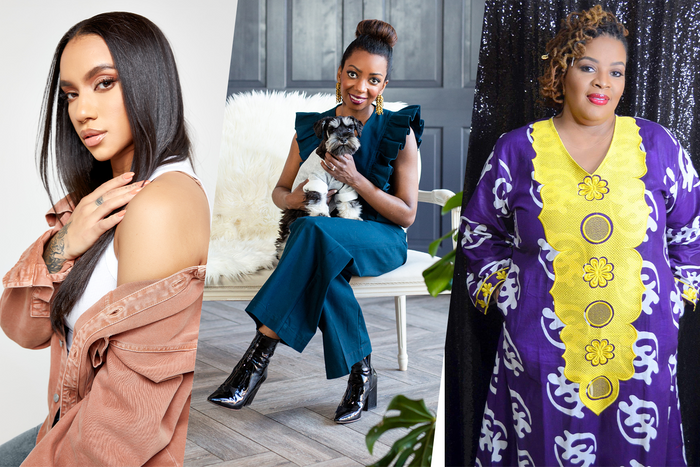 Photo: Photo: Photos courtesy of Rachel James of Pear Nova, Chaz Olajide of Sir Dogwood, and Marjorie Foster of NSAA African Creations
For many of us, the past few months of being socially-distant from friends, loved ones, and even coworkers has taken an emotional toll. Our current times have caused us to question what "connection" looks like in 2020 (and beyond). But when it comes to connecting, we still believe that "to give is to receive." And what better way to put a smile on someone else's face than with a token of your appreciation?
Shopping intentionally (specifically with a Black-owned small business) has a double benefit when it comes to gifting: You're not only #buyingblack, but also spreading some joy in the process. With that in mind, we partnered with American Express to spotlight small Black-owned businesses that sell beautiful gifts of all varieties. Whether you take safety precautions and shop in-store or buy online from the comfort of your couch, you can be sure these 10 brands — from New York all the way to Texas — will have something to show your appreciation for those you care about the most.
Pear Nova, Chicago, IL
Founded by design-grad and beauty enthusiast Rachel James, Pear Nova sells a luxe collection of trend-inspired at-home polishes that deliver salon-worthy results. If you still aren't ready to treat yourself to an in-person manicure (Pear Nova is currently taking limited appointments) opt for one of their curated collection sets like Trip to Tulum for a little wanderlust.
NSAA African Creations, Baltimore, MD
Owner Marjorie Nicole (a former math teacher turned entrepreneur) exclusively uses African fabrics combined with American tailoring techniques at NSAA African Creations. Look forward to head-turning gifts, ranging from stylish printed masks to unique home decor.
Blessed Beauty Supply, Glendale, CA
Beauty bosses will appreciate this carefully curated natural haircare and extensions specialty shop. Not only will you find tried-and-true favorites from other Black-owned brands, but also discover some new ones, including Crowns & Contours, The Doux, and many more.
Odin Leather Goods, The Colony, TX
In uncertain times, investing in pieces that'll last feels like the smart move. The husband-and-wife duo behind this Texas-based brand showcase their superior leather-working skills on everything from travel dopp kits to fly swatters (yes, you read that right).
Philadelphia Printworks, Philadelphia, PA
Social justice meets screen printings thanks to this unique endeavor launched by Maryam Pugh, Ruth Perez, and friends. You can make (or send) a statement with eye-catching T-shirts that spotlight top-of-mind topics (think: gentrification and food insecurity) or cultural icons (such as Shirley Chisholm).
Nubian Hueman, Washington, D.C. 
Lead curator Anika Hobbs blends together pop culture and fair-trade artisans under the umbrella of the Black diaspora. Since the brand's inception, Nubian Hueman has partnered with more than 500 artists with backgrounds rooted in home, art, fashion design, and beauty. They have two locations, one in D.C. and one in Baltimore, Maryland.
Sir Dogwood, Chicago, IL
Give your furry best friend something to get excited about at Sir Dogwood — custom sweaters, plush daybeds, and even dalmatian-printed harnesses. Swanky dog owners will be delighted by this fashion-focused pet accessories shop, started in 2016 by Chaz Olajide and her muse, Beatrix.
Brittany's Record Shop, Cleveland, OH
Vinyl or bust. Transport yourself to simpler times when selecting what song to play next was as complicated as things got. At Brittany's Record Shop, take your pick of exclusive RSD vinyls spanning hip-hop, reggae, and soul genres sourced by music-aficionado Brittany Benton.
Greenhouse Mercantile, Newnan, GA
If you need something to make a home feel homier, then you can probably find it at Greenhouse Mercantile, where owner Kenya Brantley stocks a mix of kitchen items, home accents, apothecary items, and accessories. Try the Pumice Stone Dry Brush if you need to give (or get) an at-home spa moment.
Gourmonade, San Francisco, CA
"Gourmet" and "lemonade": what other two words do you need to hear? We should also mention that the specialty drinks at Gourmonade avoid unnecessary "chemicals, fake ingredients, and loads of sugar." We'd suggest sending a customizable 6-pack of drinks, where you can mix and match flavors like "Beymonade" (lemonade with strawberry puree), the "Jasmine Palmer" (lemonade with jasmine green tea), and "Gourmonade Light" (with just a little monkfruit sweetener).
Sources are provided for informational and reference purposes only. They are not an endorsement of Advertiser or Advertiser's products.
This advertising content was produced in collaboration between Vox Creative and our sponsor, without involvement from Vox Media editorial staff.