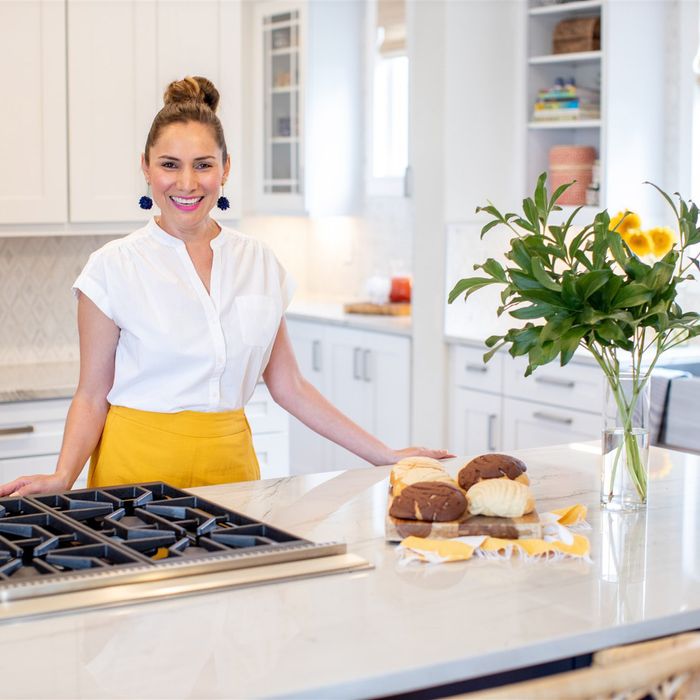 Lola's Kitchen
Photo: Jenny Marvin
If your kitchen has become your safe space in the last few months, you are absolutely not alone. The at-home cooking trends may be out of control, but a little sourdough therapy never hurt anyone. There's something about mealtime that immediately comforts — whether you're gathered around a table with family and friends or you're pairing your breakfast burrito with a cup of home-brewed coffee.
Lola Dweck knows a little bit about this phenomenon. Inspired by her Mexican heritage and cultural influence growing up, she founded Lola's Cocina, a food blog centered around meals of Latin influence where she can shine a light on a heritage that she feels can sometimes be misunderstood or misrepresented. Now, Lola has started passing her family traditions and love for mealtime on to her own children. In her words, "There are so many ways to teach our children about other cultures and traditions as well as their own and one of my favorite ways to do this is through food." And in Lola's home, where there is food, there is always coffee.
Heritage is what helps Café Bustelo, Lola's choice coffee brand, stand out from the crowd of at-home coffee. In celebration of family and tradition, we sat down with Lola to talk favorite ways to drink coffee, home habits, and heritage stories.
On discovering the meaning of mealtime:
My love for mealtime is rooted in the great pleasure it gave my father to see all of his family gathered around the table for a delicious home-cooked meal. I believe that this sparked my passion for cooking and as I grew older, sharing these traditions, which are oftentimes lost with the passage of time. Like my father, it also makes me happy to enjoy meals surrounded by family and friends.
On personal and professional: 
My mornings begin bright and early at 6:30AM with a ritual that consists of tuning in to my favorite podcasts or audio books while getting ready for the day – shower, hair, makeup, the works. When time permits, I squeeze in a little work before the kids wake up for the school day, but usually I prepare breakfast and we all eat together before virtual classes begin. Amado (6) logs in to virtual school while Valentina (2) and I tune in to bilingual music lessons or find other activities to stay busy until her nap time, which is when I develop recipes, work on my blog, prepare proposals, ship orders, brainstorm new product and class ideas, and work on other areas of my business that require attention.
On heritage: I grew up with a very strong connection to my Mexican heritage. Spanish was my first language and even though my family lived modestly, my parents made it a point for us to travel to Mexico each summer and visit grandparents, aunts, uncles, and cousins. We'd also venture out to explore important landmarks, tour different beach towns and pueblos, and of course eat some of the best food at the vibrant mercados. These trips instilled a sense of cultural pride in me and in many ways influenced how I live and raise my children today.
I have vivid memories of the lingering smell of the coffee my father would make before his hour-long work commute each morning. Back then, coffee was functional for him and provided a means to stay awake. When he was off the clock, I remember both children and adults enjoying café con leche (more leche than café for the kids) as we gathered around my grandparent's table for our evening merienda or snack. This usually included the delicious pan de Acámbaro, a well-known treat in my father's hometown. As an adult, I grew to love the combination of pan dulce and coffee as it will forever remind me of my childhood.
On family time: My husband and I love traveling, taking road trips, visiting farmer's markets and mercados, and enjoying the great outdoors with our children. We're lucky to have access to so many beautiful walking and hiking trails in Colorado.
Some aspects of this remind me of my own childhood, but I'm one of six children, so we rarely ever traveled by plane. Every summer we'd take an extended road trip to visit my father's family in Guanajuato, Mexico. My great grandmother would send us off with breakfast burritos and my father always prepared his thermos with hot coffee for the long haul. Papas con chorizo burritos and coffee are now essential on just about any vacation we take, be it via land, sea or air.
On coffee culture:
Coffee in my home goes beyond necessity and routine — it's more of an experience and a way for us to connect as a family. I love the process of making coffee while listening to music and I especially enjoy experimenting with new recipes — lavender lattes, iced lattes with homemade oat milk, and cafe de olla are a few of our family favorites. Café Bustelo is our coffee of choice at home, and its versatility is what makes it so special. While I enjoy playing barista and coming up with fancy coffee concoctions — yes I even jumped on the whipped coffee bandwagon — I also keep Café Bustelo Espresso Instant Coffee packets on hand to infuse flavor into my flan and take on road trips. They're so convenient!
On leaving a legacy: I hope that my children are able to look back on their childhoods with fond memories of our many visits to Mexico, family mealtimes, Christmas enjoying tamales that they helped make, Jewish holidays on the east coast being spoiled by their grandmother who prepares all of their favorite foods, Day of the Dead celebrations honoring loved ones, and Shabbat dinners where we wind down and recharge over the weekend. My wish is that they walk away with a deep appreciation and understanding of their unique cultural backgrounds so that they grow up and enrich other people's lives through their own lived experiences.
This advertising content was produced in collaboration between Vox Creative and our sponsor, without involvement from Vox Media editorial staff.