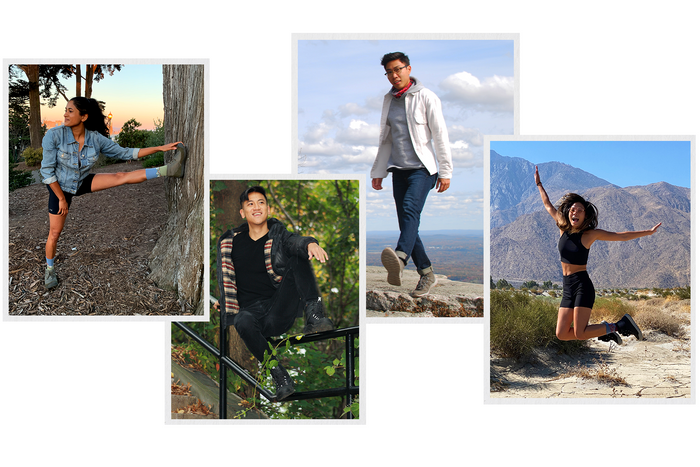 After spending much of 2020 cooped up inside, the great outdoors have never seemed so, well, great. When your living room doubles as an office, your kitchen counter is also your kid's classroom, and your kitchen is a Sisyphean mountain of dirty dishes, you'll take any chance you can get for a breath of fresh air.
While socks alone may get us through most of our workdays, excursions into nature call for comfortable, weather-proof footwear — and for this, KEEN's new hiking boots and easy slip-ons are the first place we turn. Beyond function and style, it's important to choose a brand that walks the talk on sustainability: After all, you wouldn't litter on a hike — why wear footwear that'll end up in a landfill after a season?
By necessity, our trips don't stray too far from home these days — but that's given us a chance to explore the nearby trails, parks, and lakes we might have taken for granted in years past. We've traded bar-hopping for star-gazing, dusted off our long-neglected bicycles, and gone on enough socially distant walks to keep our daily step count at an almost respectable level (well, some days at least).
To test out KEEN's best new styles, we sent four of our colleagues out on (Covid-safe) weekend adventures. Here's what they had to say about how they're getting outside these days, how the boots held up on rough terrain, and why style and comfort are both important — even out on the trails.
Annu Subramanian, Supervising Producer, Branded Audio
My typical style: 
"My fashion disposition is pretty classic: Katharine Hepburn's pressed trousers and blouses in masculine silhouettes is my year-round style inspiration, but I like to add a '90s twist with my accessories and beauty, inspired by my other fashion hero: Aaliyah."
My favorite outdoor activities lately:
"My lifestyle is likely defined by moving through the city. I always feel
like I'm 'on my way' and probably running late somewhere, whether it's
to volunteer, grill with friends, go for a run, do sound meditation, or
drop by the farmers' market. I also love hiking the mountains of the Bay Area. Mt. Tam is one of my favorite places in the world, particularly because it is often painted by one of my favorite artists, Etel Adnan."
What I like about my KEEN boots:
"These shoes feel better than being barefoot! The fleece lining kept me warm but never suffocated. Pair that with the bungee-pull lace, and, TBH, these felt like sleeping bags on my feet."
How I wear my KEEN boots: 
"Green is my power color, and the boots' surprisingly narrow shape has complemented cropped jeans and house dresses as readily as athleisure. Every time I put them on, it feels like I'm getting away with wearing house slippers outside. Today I wore them with workout clothes and these wool KEEN socks, but they are becoming a go-to for errands and daily constitutionals around the neighborhood."
Alex Cheung, Designer
My typical style: 
"While I live in (and love) the city, I'm huge into the outdoors and always need to find time to escape into nature. Style-wise, I can often be seen wearing a plain tee and an overshirt — I love sneakers, and I think having versatile basics allows me to mix-and-match different pairs."
What I like about my KEEN boots: 
"My boots felt super comfortable, which was great considering I broke them in with a 12-mile hike! The sole was supportive for long mileage and the ankle support really came in handy for rock scrambles and tougher terrain."
How I wear my KEEN boots: 
"The northeast fall calls for layers. I wore a heavyweight overshirt with a hoodie base layer and jeans. The hybrid style of the boot made it easy for me to put together an outfit fit for hiking that I could also wear into town for a post-hike dinner. The chukkas are the perfect mix between a hiking boot and a casual sneaker. I love that I can wear them on the trails or streets easily."
Charlene Chang, Senior Account Director, Tech Enterprise
My typical style: 
"These days, my style is more Covid-casual. I would say I'm wearing more Madewell, Free People — boho/comfy chic."
My favorite outdoor activities lately:
"I live in Santa Monica, so I've been at the beach, surfing, and hiking in LA."
What I like about my KEEN boots:
"These boots are super comfortable. I put them on for the first time specifically for this hike, which was about six miles, and not one blister. I was impressed by how easy and comfortable and lightweight they were."
How I wear my KEEN boots:
"I kept it simple and just wore them with the cute KEEN socks and a biker short/top combo since it was 80 degrees for the hike! I think the boots look like a hybrid of a high-top sneaker meets hiking shoe, but the flannel fabric around the ankles give it some style."
Michael Wei, Content Manager
My typical style: 
"I like the idea of urban wildlife warrior. I like tight, movable 'fits in dark and faded colors — outfits that make me feel both put together on a city street and ready to face a zombie apocalypse."
My favorite outdoor activities lately:
"I love hiking, biking, running, and getting lost on nature walks outdoors (especially at night during autumn — the most magic time.)"
What I like about my KEEN boots:
"These KEEN boots are awesome! They were so functional and enabled me to jump around rocks and rough terrain with ease. I have a small fear of heights, and while I was scaling some steep elevations, the traction on these boots made me feel really safe. They were surprisingly comfortable, too."
How I wear my KEEN boots:
"I love the look of these boots — they align with my aesthetic of always looking ready for a zombie apocalypse. I am known for wearing a lot of black, and I was so happy that KEEN had these boots in my favorite color to wear. I also really appreciate how they make me feel enabled to explore pretty much any terrain. Not only are they incredible for hiking, they're also an NYC winter lifesaver. It gets pretty cold, snowy, and wet here in the winter. These boots are warm, comfortable, have amazing traction (ice!), and are waterproof, keeping me dry from the snow and rain."
This advertising content was produced in collaboration between Vox Creative and our sponsor, without involvement from Vox Media editorial staff.