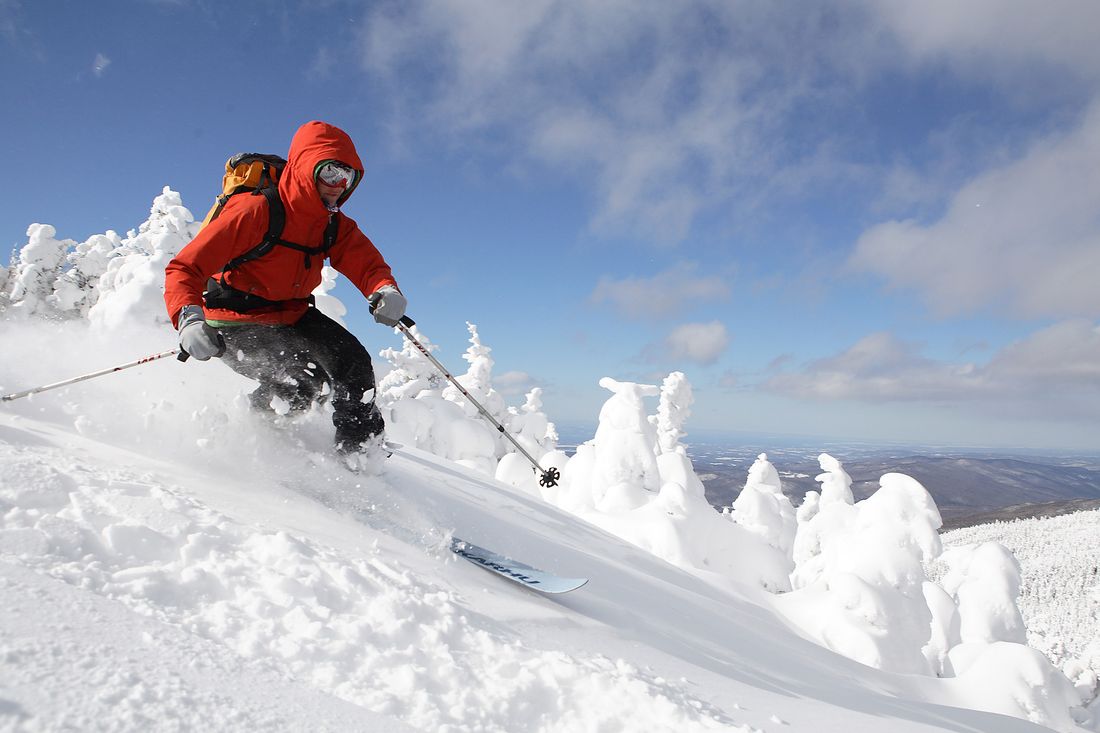 Photo: Courtesy of Vermont Tourism
There might be no better place to escape a crowd than Vermont. Let's set the scene: it's a mild winter's day when you ride the chairlift to the top of the mountain. At Mount Mansfield, or Killington, or Stratton, or Sugarbush, or any number of iconic Vermont ski resorts. You step off the lift and inhale fresh snow, light powder swirling below your footsteps. From every vantage point you can see the gentle rises of the Green Mountains. In this early morning run, there's no crowd — they've all taken off. It's just you and the mountain, and an exhilarating run to the bottom, and then warm drinks, and locally sourced cuisine, and a fireplace in your cozy hotel room at the end of the day to warm you back up. This quintessential winter experience has always existed in Vermont. Now, during this most unexpected year, it's just waiting for you to discover it.
The Green Mountains have always been known for vast and serene hills, a hardscrabble rural aura, and a fiercely independent streak — attributes that make it the ideal vacation destination right now, when space and distance are more valuable than ever. The skiing, for one, is legendary — just look to the historic Mad River Glen's "Ski It While You Can" bumper stickers for downhill motivation. The scenery has inspired writers such as Howard Frank Mosher, Jamaica Kincaid, John Irving, Ruth Stone, Mary Ruefle, Shirley Jackson, and, of course, Robert Frost. And with a thriving back-to-the-land ethos, people of all walks of life are crafting food and drink that's some of the most inventive and farm-fresh in the Northeast. Before you go, be sure to plan ahead and check the state's latest COVID-19 travel restrictions, which require quarantine to travel there.
Drive up north until you're a stone's throw from Quebec and you'll end up in Burlington. For decades, Vermont's largest city (with just 42,000 people) has hosted back-to-the-land hippies, punk rockers and bluesmen, left-leaning politicians whom you've probably heard of — and now, some of the most creative gourmands operating in food and drink.
Restaurants that are transforming the city into a thriving food destination include A Single Pebble, which puts a modern, upscale twist on Chinese and Taiwanese cuisine, and The Farmhouse, a downtown gastropub that lives up to its name by sourcing local purveyors for its gourmet burgers. Juniper, in the lobby of the Hotel Vermont, is one of the most exciting entrants to Cherry Street's culinary scene; its bartenders rely on locally distilled spirits for all their cocktails. The wildly popular food truck Farmers and Foragers creates an impressive rotating menu of international cuisine; these days, no longer able to cater weddings and festivals, they've set up shop at the Burlington Harbor Marina, right against the lapping waves of Lake Champlain.
The upscale Hen of the Wood just opened a location next to Burlington's Hotel Vermont, expanding its critically acclaimed new American fare to a greater audience. And yet, half an hour down I-89 in Waterbury, the original location in a restored gristmill overlooking a babbling waterfall has always been well worth the waiting list.
To the north of the city is a thriving immigrant population that hails from Africa, southern Asia, and India. Many of these residents have staked their claim in fusion cuisine at places like Butch + Babe's, which has garnered the attention of certain spiky-haired celebrity chefs.
And the creativity isn't limited to a single city. Breweries, cider mills, and distilleries like Citizen Cider, Zero Gravity, Foam, and Mad River Distillers have elevated Vermont to Napa Valley, but for beer. Case in point: The Alchemist's Heady Topper, hailing from Stowe, is one of the highest-rated beers in the world, commanding a following so intense that people will drive hundreds of miles and wait in line for hours just to pick up a case. Just two per customer, thank you. Fresh from the brewery, the suds sell out in minutes.
Come
for
the
scenery,
stay
for
the
shops
With retail open back up to 50-percent capacity, small Vermont towns like Manchester, Woodstock, Stowe, and Montpelier — the smallest state capital in the U.S. — are ready to be discovered. Take the scenic byways into any of these towns, and you'll discover a mixture of historic general stores that stock outdoor clothing and camp gear and everything plaid; cozy coffee shops that serve local roasts like Carrier Coffee and 802 (named after the state's only zip code); artist-woven fashion, leathercraft goods, and unusual antiques; hip bookstores like Bear Pond Books in Montpelier or Northshire Bookstore in Manchester; and plenty of chocolate that's yours for the sampling. These places hold a level of charm that far surpasses their population counts.
Vermont does have guidelines in place to ensure safe travel to and from the state, including a certification of compliance for hotel stays. Once that's sorted, you're in for a treat: Vermont's hotels run the gamut from rustic to ultra-modern, all offering a fresh change of pace. In Burlington, the modernist rooms at the boutique Hotel Vermont tower over Lake Champlain. It's a great vantage point for guests to try and spot Champ. At the other end of the state, the grand Equinox Resort in Manchester has a lineage dating to 1769 as a hangout with revolutionaries such as Ethan Allen. If they were around today, after defeating the British at Fort Ticonderoga they could partake in activities as diverse as world-class golf, wildlife encounters, and an off-road driving course behind the wheel of SUVs.
Fresh
air,
fresh
snow,
and
plenty
of
space
The activities don't end after the leaves fall. With reduced capacity in restaurants, but full hospitality at hotels, Vermont's most famed ski resorts look forward to welcoming those who need an escape.
What's a more socially distanced activity than racing down the slopes? Vermont and winter go hand-in-hand, at iconic places like Stowe Mountain Resort, at Mount Mansfield, Vermont's tallest peak. Or Mad River Glen, one of the oldest and most challenging ski areas in the world, whose Single Chair lift first installed in 1947 helped earn it a place on the National Register of Historic Places. That's how seriously Vermonters take their winter sports — up and down the length of the state, the sometimes-unpredictable New England weather plus the rocky Alpine terrain makes for some of the best skiing and snowboarding in the country.
Even the von Trapps of The Sound of Music fame sought out Vermont as a place of escape. If that's not a rousing approval of the space, charm, quiet and calm of the Green Mountains, then this is worth mentioning: once the burgeoning family of cinematic fame arrived to these shores, touring the country as the von Trapp Family Singers, they eventually settled outside of Stowe and built a hotel and brewery. Food, drink, and hospitality: it's always been here, just waiting to be discovered.
Stay up-to-date on the latest travel restrictions and learn more about visiting Vermont at vermontvacation.com.
This advertising content was produced in collaboration between Vox Creative and our sponsor, without involvement from Vox Media editorial staff.