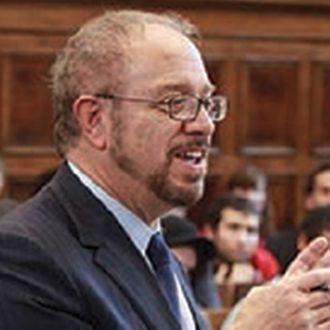 Photo: Courtesy of Advocates for Justice Chartered Attorneys
Impact Driven Advocacy: Fighting For Workplace Justice, Community Justice, Environmental Justice, & Economic Justice
We salute Arthur Z. Schwartz, rated as an AV Preeminent® Attorney by Martindale-Hubbell for 21 years, one of New York's leading plaintiff's employment, civil rights, civil liberties and union-side labor lawyers.
Arthur Z. Schwartz In The News
New York Post My Boss Harassed Me for Being Native American
Tomahawk's lawyer, Schwartz, lamented his client's position. "Doormen and porters are subjected to horrible abuse in too many buildings. Minorities, especially Native Americans like Mr. Tomahawk, are victimized even worse," Schwartz said.
The New York Times Newsstand to Reopen, After de Blasio Helps
"It wouldn't have settled without Bill de Blasio," Delakis' lawyer, Arthur Schwartz said. "I think we can say that this is the fi rst of the callous Bloomberg actions toward the little guy in New York, toward the other New York, that have been reversed by Mayor de Blasio."
The New York Times Fight Over Manhattan Apartment and Surveillance Cameras Lands Tenant's Guardian in Court
"All I did was abate the harassment and turn evidence into the attorney general," Mr. Schwartz said after his arraignment. "It's preposterous that I have to go through this."
The New York Times A Brownstone and the Bitter Fight to Inherit It
Arthur Z. Schwartz, a lawyer who is representing Mr. Doyle, said there was legal precedent for such an argument. More important, he said, was the simple issue of fairness. "I thought there was an injustice," Mr. Schwartz said.
Huffington Post Success Academy Hit With More Criticism Over Infamous 'Got To Go' List
"After years of claiming that Success provides a path forward for Black and Hispanic children, the experiences of our clients lay bare the contempt that Success Academy has for their wellbeing," attorney Arthur Schwartz said in a statement. "The approach on display at Success
Fort Greene, which is about test scores and not educating children, was, I am sure, not created by principal Brown, but came right from the top. It has no place in public education."
Westchester Journal News Embattled Rye Teacher to Return to Classroom
"The treatment of Carin Mehler — holding her up to public ridicule, assigning her to a windowless room for a year and 'reassigning' her to work at home for a second year — was contrary to everything we teach our children about our country," her attorney, Arthur Schwartz said in a statement.
New York Post Women Who Exposed Sexual Harassment at Con Ed Seek $20M
Two women who fi rst exposed Con Edison as a hotbed of sexual harassment and discrimination claim state Attorney General Eric Schneiderman barely included them in a deal that netted workers as little as $5,000 each."The women were very annoyed that the AG did little consultation with them about settlement," said Guy and Curtis' attorney, Arthur Schwartz.
New York Daily News Con Ed Changes Mind, Will Hire Long Island Woman Rejected Because of 'Sexually Explicit' Image on Instagram
"We appreciate Con Edison's rapid resolution of this dispute and the sensitivity of the posting and its frank discussion of homosexuality. Ms. Chirichella is a smart, capable woman, whose father is a 'lifer' at Con Edison and they will not regret this decision," Schwartz said.
NY Post Mark-Viverito Violated State Laws, Constitution: Judge
A Manhattan judge Tuesday issued a stunning rebuke to City Council Speaker Melissa Mark-Viverito — finding that she flouted two laws and even the state constitution. Manhattan Democratic Party leader Keith Wright's lawyer, Arthur Schwartz, called the ruling "a vindication of the democratic process."
Queens Times-Ledger Appellate Court Rejects Board of Elections Appeal as Polling Sites Return to LeFrak City
Lefrak City voters are getting almost all of their polling sites back in time for Election Day after an appellate court judge denied an appeal by the City Board of Elections for a stay on a lower court's ruling Attorney Arthur Schwartz represented the Lefrak City tenants in the case. "Not only did the court find that the BOE's actions were 'irrational, arbitrary and capricious,' it also ordered them to take immediate action to correct its mistake and to fi nd additional poll sites within LeFrak City to ensure this situation never happens again," he said. "We could not have expected a better victory."
Village Sun Lawsuit planned vs. East Side resiliency project
Community-activist lawyer, Arthur Schwartz, known for taking on City Hall is now taking on the case of the park. He charges that the city isillegally bypassing the state Legislature, which must first vote on whether to approve the plan.
NY Post NYC-based radio station WBAI to go back on the air at midnight
Arthur Schwartz, lawyer for the station, said "My hope is that they [Pacifica] will comply. The station is ready to go, and all they have to do is switch the feed back for the studio."
CBS TV Judge Stops NYC's Controversial Plan To Ban Cars From 14th Street
Residents and local businesses led a lawsuit to stop the plan. Their attorney, Arthur Schwartz, argued trac will just be diverted to surrounding neighborhoods and create even worse gridlock on adjacent streets.
The Chief MTA Sued Again for Failing to Make Accommodations for Pregnant Workers
"When I looked at this, what shocked me was the lack of personal interaction by management, which is a fundamental element of reaching an accommodation with any employee with a disability," said Arthur Schwartz, her attorney.
NEW YORK 212.285.1400
WWW.AFJLAW.COM
INFO@AFJLAW.COM