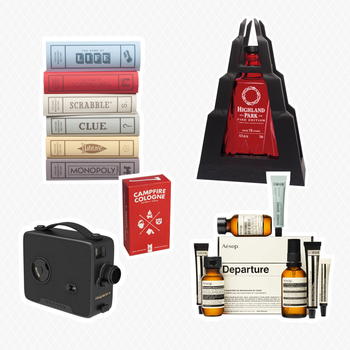 Gifting for your most, let's say, "specific" friends and family members is a hard task even in normal years. But maybe you've heard: this year's not normal. For this most unusual of holiday seasons, we've rounded up some out-of-the-box present ideas that'll appeal to everyone from folks who've uprooted their lives to people who are hyper-focused on drawing something, anything positive out of the year. With some help from Highland Park, we've created our ultimate gift list for the hard-to-buy-for. Maybe you'll even find something good for yourself.
For the Foodie Who's Secretly Planning to Write a Cookbook
This isn't amateur hour. She's been taking notes. When everyone was making sourdough earlier this year, she moved way, way past to coppia ferrarese, rugbrød, authentic German vollkornbrot. She's read Salt, Fat, Acid, Heat like gospel. Even with a stove as big as a six-pack of seltzers, she can whip up great things for her friends and family. Even if she can only drop them off during a socially distanced walk-by.
Highland Park Fire Edition 15 Year Old
Ancient legends run through its distinctive crimson glass, recalling Norse mythology's destruction and rebirth of the world —look it up. This single malt, bursting with red fruits (think danson plums), cinnamon bark, and chocolate is the ultimate gift for a foodie, and dazzles on a carefully curated bar cart.
1. Pure Southern Honey Whole Wooden Honeycomb Frame – $80
2. Xi'an Famous Foods Cookbook – $35
3. Spice Madam Subscription Box – $20/month
4. Williams-Sonoma Boska Raclette Quattro Concrete – $199.95
Prices taken at time of publishing and vary by retailer.
For the Music Lover Watching a Zoom Concert Every Night
No jam-packed arena vibes this year. Nary an impromptu show at a gritty dive bar. This year, being "there" probably means being in front of your laptop, perched up on the couch in your living room, hoping that your WiFi doesn't fail you. Although it might feel odd to clap alone, at least you don't have to pay $12 for a can of beer only to have it spilled by a guy who can't find the mosh pit.
Highland Park Full Volume
Like your favorite band, it's in town for just a limited time only. This special release turns up the creamy, full-bodied bourbon notes.
1. Musician's Friend Moog Theremini – $349
2. Secretly Society Vinyl Subscription – $60/three months
3. Bandcamp Gift Card – From $10
4. Teenage Engineering OB-4 magic radio – $599
Prices taken at time of publishing and vary by retailer.
For the Adventurer Who's Been Hiding in the Woods Since March
The second it all hit the fan, he packed up his SUV and drove out of the city. He thought he beat the system. He also thought he'd be back by now. But when the woods called to him, he answered, and only now has he realized that they're not letting him go. At least he's got time to write his sequel to Thoreau's Walden, so long as someone brings him a roast chicken every couple of days.
Highland Park The Light 17 Year Old
Zesty and bright with fruit-forward notes, its light golden color raises a toast to long days and late summer nights (a needed change from the dreary winter season).
1. Nemo Equipment Stargaze Recliner –$219.95
2. Campfire Cologne – $13
3. Pendleton National Parks Blankets – From $239
4. Stutterheim Stockholm Stripe Charcoal Raincoat – $325
Prices taken at time of publishing and vary by retailer.
For the Go-Getter Still Hustling This Year
World turned upside-down? She uses her canceled "commute time" to get to (more) work. Her side hustle is creating new side hustles. She started a social media account for her new plants. Her pandemic diary is going to be a bestseller someday. Can you start a business empire based on dogwalking? She's gonna give it a shot.
Highland Park 21 Year Old
With a slew of international awards behind its label, this overachieving 21 Year Old Scotch expertly combines sherry oak and bourbon casks to reflect 220 years of whisky prowess.
1. Asobu Portable Cold Brew Maker – $50
2. WS Game Company Vintage Bookshelf Games – $39
3. The Strand Bookstore The Book HookUp – From $37.50
4. Aesop Departure Kit – $53
Prices taken at time of publishing and vary by retailer.
For Old-School Nerds Obsessed with Analog
His watch is mechanical, his denim jacket was thrifted, and his first-edition paperback copy of Camus's Exile and the Kingdom was picked up from a Park Slope stoop. Wind him up and listen to him go on and on: old tech isn't dead, and once you appreciate stuff the good old way, you'll never go back. You've got to hand it to your friend who knows where his priorities lie. (Hint: it's in craftsmanship.)
Highland Park Cask Strength
This is whisky, unleashed: the full strength of Highland Park's distilling experience is robust and intense, yet balanced with a creamy palate and aromatic peat smoke.
1. Lofty Factory Fragment 8 Retro Camera – $90 (preorder)
2. Timex Marlin Automatic x Peanuts Featuring Woodstock Watch – $279
3. Drop SHIFT Mechanical Keyboard – $250
4. Urban Outfitters Ninm Lab IT'S OK Bluetooth 5.0 Cassette Player – $89
Prices taken at time of publishing and vary by retailer.
© 2020 Highland Distillers Limited. Highland Park® Scotch Whisky. Imported by Edrington Americas, New York, NY. "H" Device®. Please Drink Responsibly.
This advertising content was produced in collaboration between Vox Creative and our sponsor, without involvement from Vox Media editorial staff.