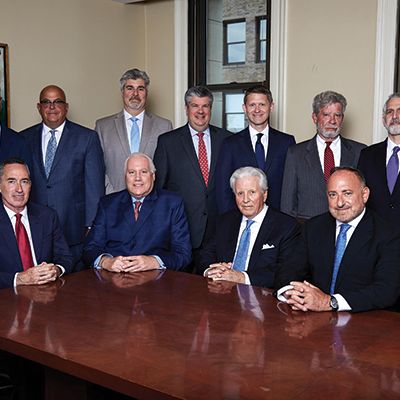 Photo: Courtesy of Law Office of William A. Gallina, LLP
Specialty: Personal Injury
We believe that behind every significant case there are the emerging shadows of tragedy, change and uncertainty. As a firm, it is our quest to help the families we represent as they pass through these shadows every step of the way. We focus our practice on complex cases involving catastrophic accidents and injuries, worker injuries, construction accidents, vehicle accidents, medical malpractice, premises liability and wrongful death. We offer the requisite litigation skills to maximize a case's recovery. Yet our services transcend legal expertise. We are professionals who offer the time and dedication to our clients in order to attain a common goal: positive closure. Each case represents an individual story with its own unique concerns, circumstances and objectives. Our experience has allowed us pathways of communication when working with families who've suffered deeply due to birth injuries, orthopedic injuries, traumatic brain injuries and deaths. We faithfully address the full magnitude of our clients' physical, mental and emotional injuries so that the same can be forcefully and poignantly communicated to a jury.
In 2020, our world and the New York legal community faced unprecedented difficulties and uncertainty due to the COVID pandemic. We are proud of the efforts of the entire legal team at Queller, Fisher Washor, Fuchs & Kool and the Law Office of William A. Gallina, LLP who persevered and grew during these trying times and successfully met the needs of our clients and community.
The firm's lawyers are well known in the profession. Several of the partners teach at law schools and are regularly asked to participate in conferences, panel discussions and continuing legal education classes sponsored by national and state bar associations.
Our 2019 acquisition of The Law Office of William A. Gallina, PLLC resulted in the formation of a dynamic firm capable of providing the highest level of legal representation in New York. All of the practicing partners at Queller, Fisher, Washor, Fuchs & Kool and The Law Firm of William A. Gallina, LLP, have been named to the most current edition of Super Lawyers, an honor limited to no more than 5 percent of attorneys who practice personal injury law. Queller, Fisher, Washor, Fuchs & Kool and The Law Firm of William A. Gallina,, L.L.P., as well as all of the partners, has received an AV rating* by Martindale-Hubbell, a distinction voted on by peers in the legal community and considered by Martindale-Hubbell to be the highest rating for legal ability and ethical standards.
The firm's partners carefully review and select cases. We are dedicated to providing personalized representation to clients, which means we value quality over quantity. We treat clients as individuals, not commodities. With fewer cases, our attorneys have more time to spend with clients and to focus on building strong arguments. As a result, Queller Fisher's clients receive the attention necessary to maximize their potential recovery.
233 Broadway, Suite 1800, New York, NY 10279 | 212-406-1700
1250 Waters Place – Tower One, Suite 708, Bronx, NY 10461 | 718-892-0400