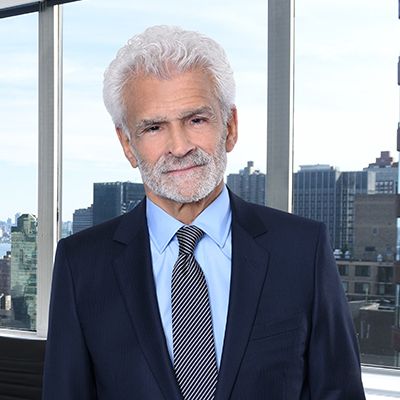 Photo: Courtesy of Morelli Law Firm
Experience Meets Results
Benedict Morelli and his team of experienced litigators have done it all. From auto and truck accidents, to construction injuries, to complex employment discrimination, they are prepared to handle a wide variety of cases. But, experience is just half of the story. Since founding the firm, Mr. Morelli and team have also racked up an impressive list of jury verdicts and settlements that stand out in the industry. In fact, they have delivered more than a billion dollars on behalf of their clients.
Impressive firm results include a $95M jury verdict in a sexual harassment case involving Aaron's Inc., as well as a $62M verdict for a construction worker who fell from a roof and suffered a brain injury.
One critical reason for this success is that unlike many firms, Morelli Law has the experience, patience, and resources to pursue cases for the long haul.
"At my core, I'm a trial lawyer," said Benedict Morelli. "Because of our experience and accomplishments in the courtroom, adversaries know that we're prepared to pursue the best result possible. Going to trial does not intimidate us."
The firm's success in the courtroom was recently on display when it won a $102M verdict in December of 2019 for Mark Perez, a worker who was severely injured after a forklift crashed into a Best Buy booth he was constructing at Live Nation's Jones Beach theater. In July 2020, a Manhattan judge upheld $40.6 million of the verdict in pain and-suffering damages. If confirmed on appeal, that would be more than double any past pain-and-suffering award affirmed in New York State. Mr. Morelli also secured a confidential settlement with MGM Grand on behalf of the family of a young girl who was electrocuted after touching a staircase handle at MGM's National Harbor location in Maryland.
Currently, the firm is representing the estate of famed New York City architect, Erica Tishman, who tragically died after a piece of building façade fell from a midtown building and struck her on the head. Mr. Morelli also recently filed suit on behalf of Annabel Sen, a young woman who was struck by patio furniture that fell from a penthouse in New York City. She endured severe brain injuries and has undergone multiple brain surgeries.
These types of high-profile, well-publicized cases are nothing new for the firm. Mr. Morelli negotiated a confidential settlement with Walmart on behalf of Tracy Morgan after the comedian's limousine was struck by one of the company's trucks in 2014. The firm also helped negotiate the historic $265M settlement with Amtrak stemming from a 2015 train derailment outside Philadelphia that left eight dead and more than 200 injured. As part of that process, the firm was instrumental in helping convince Congress to raise the $200 million cap on damages Amtrak could pay.
Morelli Law also represents more than a thousand women in litigation against Johnson & Johnson, alleging that their use of the company's talcum powder caused their ovarian cancer.
Regardless of the case, Mr. Morelli and his team are motivated by the opportunity to help those who have been disenfranchised or wronged achieve the justice they deserve.
"Corporations are powerful actors in our society and it takes significant will and resources to hold them accountable," remarked Mr. Morelli. "We are fortunate to be in a position to empower individuals to take on companies when they have done wrong by them."
777 Third Ave, New York, NY 10017
PH: (212) 751-9800
www.morellilaw.com