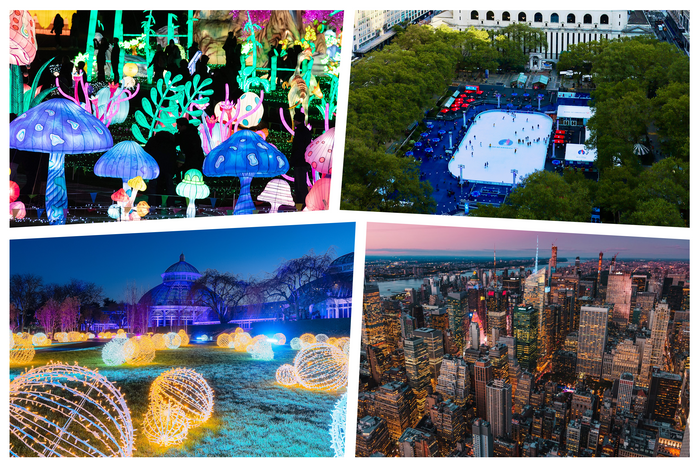 Photo: Design by Alex Cheung
Even a year like 2020 can't dim the magic of New York City during the holiday season. From the crisp scent of Christmas trees stacked for sale on city sidewalks to the shimmering lights of the skyline viewed from high above, there's nowhere quite as festive as the five boroughs this time of year.
And while this year won't see tourists flocking to see the Rockettes or the ball drop in Times Square on New Year's Eve, there are still ways to celebrate safely throughout the city. After all, many of the season's quintessential experiences are best appreciated outdoors and away from crowds. Just put on a mask, bundle up in your warmest winter gear, gather your family or a roommate or two, and head out to any of the following attractions.
Take in iconic views of the city from the top of the Empire State Building
A visit to the Empire State Building's Observatory is an unmissable New York City experience — and this holiday season, it's the ideal way to celebrate the city we call home. Whether you've made the trip to the top a dozen times or lived here for years and only seen it on Instagram, you won't regret making it part of your holiday plans this year. With Covid-19 protocols, including reduced capacity and timed ticketing in place, you won't have to worry about crowds; and the 86th floor's 360-degree outdoor observation deck has heat lamps installed throughout to help you stay warm as you enjoy the views.
Beginning in November, the Empire State Building will be decked with holiday decorations and lit up at night in celebration of Thanksgiving, Hanukkah, Christmas, and New Year's Eve (one of the few silver linings to this season's 4:30 p.m. sunsets). And this year, visitors to the 86th- and 102nd-floor Observatories will also get an exclusive view of the building's seasonal Fifth Avenue window display featuring show-stopping 3D Lego models of Star Wars scenes and characters.
Explore the Bronx's unforgettable holiday lights
From late November through January, the Bronx will be home to two spectacular outdoor experiences. At the New York Botanical Garden's NYBG Glow event, see the Enid A. Haupt Conservatory illuminated in dazzling colors. Enjoy its open-air entertainment such as ice sculpting, steel pan drum, and performances of The Hip Hop Nutcracker. Then, head to the Bronx Zoo to see the animal kingdom transformed for the Holiday Lights festival, with five unique lantern safaris, stilt walkers, costumed characters, and more. Both events require face coverings and are facilitating social distancing through ticket reservations, signage, and other guidelines.
See a cacophony of Christmas decorations in Dyker Heights
The grand tradition of the Dyker Heights Christmas Lights continues in 2020. Walk or drive (a safe way to social distance) through the Brooklyn neighborhood to see an eye-popping array of inflatable nutcrackers, giant Santa Clauses, tinsel-strewn trees, snowmen, reindeer, and more, with each block lit up more outrageously than the next.
Support Black-owned bars in Brooklyn and Harlem on a Kwanzaa Crawl
On December 26, raise a toast to more than 30 Black-owned bars in Brooklyn and Harlem at the annual Kwanzaa Crawl. The one-day event is a celebration of Black community, culture, heritage, and economic empowerment, last year generating $250,000 in revenue for the participating businesses. In a year that's been particularly tough on both the city's bars and Black communities, there's no better time to drink local. Based on current Covid-19 restrictions, the crawl will likely be an outdoor event, but check New York State's up-to-date guidance before attending.
Shop, skate, and eat at Bryant Park's Winter Village
Find the perfect gift at this open-air market, which features kiosks run by local artisans and specialty shops. This year, the market has been set up to allow for social distancing, with capacity limits and hand sanitizer stations throughout. Round out your visit with a turn on the ice skating rink (the only free admission rink in New York City) and a bite at the heated outdoor Lodge Deck.
Head to Grand Army Plaza for the lighting of Brooklyn's largest Menorah
Celebrate Hanukkah with eight nights of live music, hot latkes, and gifts for children during the annual outdoor festivities in Park Slope. Beginning with a kickoff concert on December 10, see the lighting of the 32-foot, 4,000-pound menorah for the Jewish Festival of Lights. Bring the whole family and stay safe with a face covering and social distancing.
Experience Randall's Island at its most Instagrammable
Step into another world at this year's LuminoCity Festival, a massive light and art show inspired by Chinese lantern festivals. From November 27 through January 10, Randall's Island Park will be home to acres of light sculptures across three parks, which visitors will explore through the lens of the festival's mascot, Lumi. For safety, LuminoCity will require masks, temperature checks, and timed ticket reservations to enter, and will limit the number of visitors on the festival grounds.
This advertising content was produced in collaboration between Vox Creative and our sponsor, without involvement from Vox Media editorial staff.