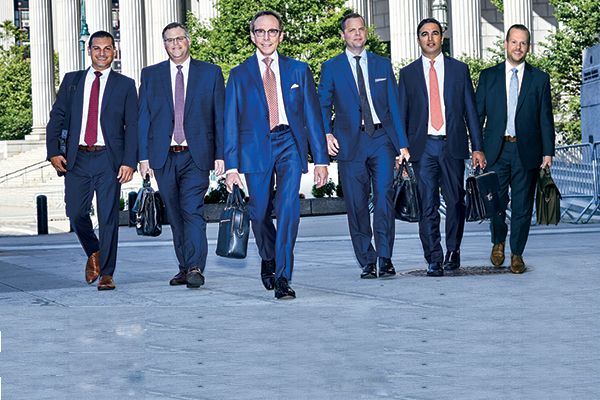 Photo: Courtesy of Schwartzapfel Lawyers P.C.
Fighting For You
DONDI PARTLOW:
"The Schwartzapfel Firm changed my life. They took my case to trial and got results I never would have imagined. They treat you like family and are always there for you. I am so fortunate to have them in my corner. Thank you Steven! Thank you Chris Holbrook - your courtroom work is amazing…If you want the best. Call the Schwartzapfel Firm!"
WAYNE FOLEY, Local One Elevator Constructors:
"The whole office staff was the best since the beginning! Without them I would not have know what to do…They worked hard and diligently and never refused a phone call or the opportunity to explain my case…I would highly recommend this law firm to anyone that may need any kind of legal assistance. Highly professional and a pleasure to deal with!"
MARK SCHULAM, Local One Elevator Constructors:
''I had an on the job injury after being a union tradesman in high rise construction for 28+ years and I can say the Schwartzapfel Firm has the resources and knowledge to get the job done and get the injured compensated to the fullest.The Schwartzapfel team was always available to answer my questions and made sure I knew my future would be taken care of, my bills would be paid, and food would be on the table. Much Thanks.''
D. SCHMITT, Local 1298 Laborers:
''Without a doubt, THE best firm and group of attorneys myself and my son, who is their client, ever have had the pleasure of doing business with. Complete expertise from start to finish. The nicest attorneys and staff that treat you like family and are with you every single step of the way. If you are in need of a personal injury attorney, you need to contact this firm.''
Schwartzapfel Lawyers P.C. is a prestigious boutique personal injury and wrongful death firm. The attorneys at Schwartzapfel Lawyers have dedicated their careers to representing those who have been seriously injured, maimed, disabled, or killed as well as their families.
Schwartzapfel Lawyers provides a superior level of client services. Results matter. They are elite. They have won among the highest verdicts and settlements in the state as reported by New York Law Journal. However, what Schwartzapfel Lawyers is most proud of is not the firm's many awards and accolades, nor the millions of dollars collected for clients, but rather the many hundreds of five-star Google reviews attesting to how their clients are treated like family and no longer worry about their financial future.
Manhattan | Brooklyn | Bronx | Queens | Nassau | Suffolk
600 Old Country Road, Suite 450 Garden City, NY 11530
PH: (516) 342-2200 FX: (516) 342-2400