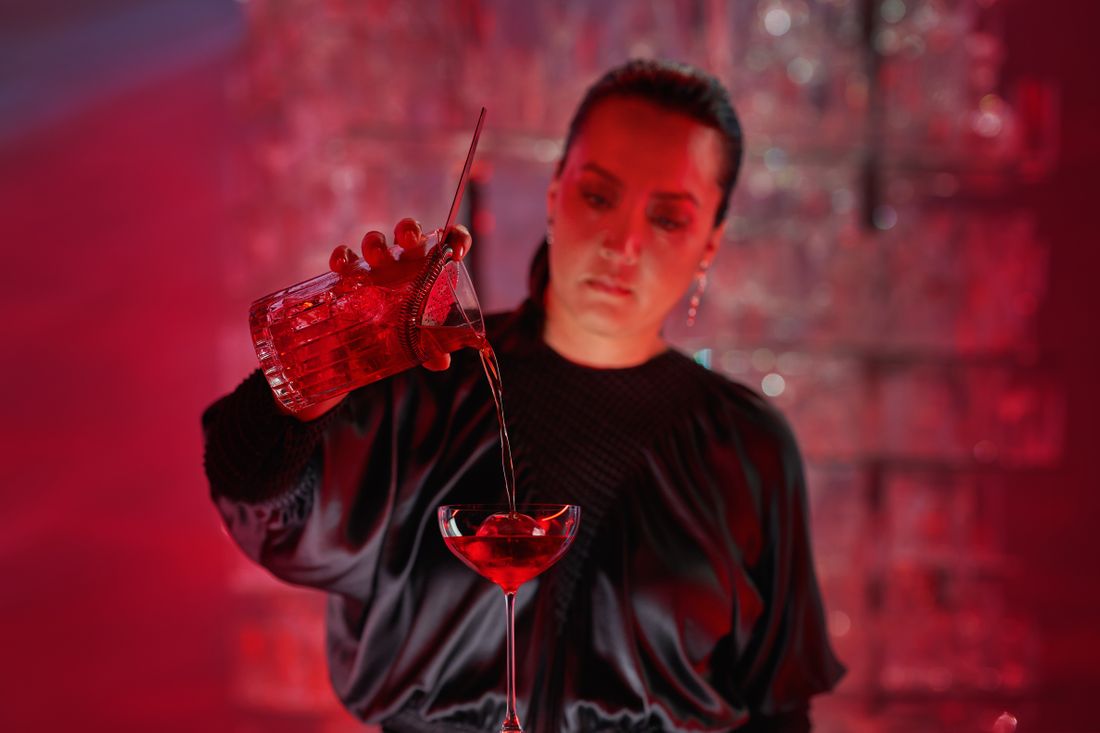 Photo: Courtesy of Campari
Is it just me, or is the Negroni suddenly everywhere? It's a thought that's probably crossed your mind in the last year or two, as cocktail lovers rediscovered the classic Italian aperitivo (a pre-meal drink, typically not too strong, meant to tempt the palate), and embraced it to the point of near-ubiquity. Of course we understand the obsession. The Negroni's bold red color and piquant, refreshingly bitter flavor make it a uniquely festive, yet sophisticated order.
The classic cocktail boom of the late 2010s helped put Negronis on the (American) map, but unlike its cocktail menu counterparts like the Old Fashioned or the Manhattan, the Negroni comes with a slightly hazy backstory, featuring the sort of larger-than-life characters you'd expect from a good dramma Italiano.
The Negroni was purportedly invented by a cocktail-loving Count named Camillo Luigi Manfredo Maria Negroni in the 1910s. Born in Florence in 1858 to aristocratic parents, Count Negroni frequently traveled to the United States, where he racked up adventures such as: herding cows from Wyoming to Canada (yep, this Count was also a cowboy), and opening a fencing school in New York City, before returning to Italy and becoming a fixture of its social scene. Legend has it the Count used to hold court at the elegant lounge at the Grand Hotel in Florence, regaling friends and curious onlookers alike with stories of his American adventures.
And the Count's favorite drink? A new spin on the Americano, a then-popular aperitivo made from equal parts Campari, red vermouth, and soda water. The Count, requiring something stronger, asked the bartender to replace the soda with gin — and the resulting drink caught on with other patrons, soon appearing on menus throughout Italy. Thus the Negroni was born.
Given the cocktail's wild West-meets-Italian background, it's no surprise that the Negroni today is a deep-red symbol of passion and creativity. So, what is it about the Negroni that inspires such emotion? To Monica Berg — the Oslo-born mixologist and co-owner of London's elegant Tayēr + Elementary cocktail bar, who says her own passion for mixology began "the very first moment I stepped behind a bar" — the secret to the Negroni's appeal may be the liqueur responsible for its irresistible red hue. The base spirit may change, from gin to bourbon, mezcal to rum, but the one ingredient that's non-negotiable is Campari. "I love working with Campari's flavor notes and its ability to bring that extra something to a drink," says Berg. "Whether you add only a few milliliters or a full measure, it's the final touch that makes the flavor pop. It helps create depth in a drink, and despite what many might think because of its distinctive flavor, it's a very versatile ingredient. [It's] definitely a staple in how I 'season' my drinks."
For home and professional mixologists alike, the Negroni also represents an irresistible opportunity for creative reinterpretation — the Boulevardier, the Sbagliato, the Old Pal, and the Oaxacan Negroni are just a few spins on the classic Negroni you can now order up. Berg prefers hers with tequila or mezcal in place of the standard gin, but her true favorite, she says, is the Sbagliato — a Negroni with the added bonus of prosecco on top. "Any time I'm in Milano I always try to visit Bar Basso, where it was first created and also one of my favorite bars," she says.
Like many other cocktail lovers worldwide who see the Negroni as a canvas for experimentation, Berg says she finds inspiration in self-expression, and the drive to create something that's never existed before. "The idea of being creative without limitations is very alluring to me," she says. To her fellow creatives of any stripe, her best advice is to push yourself outside your comfort zone and "always trust your instincts." Solid advice for everyone looking to reach new heights artistically — or simply mix up a new Campari cocktail to kick off your next memorable night. With a little passion and confidence, who knows, maybe your name will be on a menu some day.
Enjoy Campari Responsibly
This advertising content was produced in collaboration between Vox Creative and our sponsor, without involvement from Vox Media editorial staff.