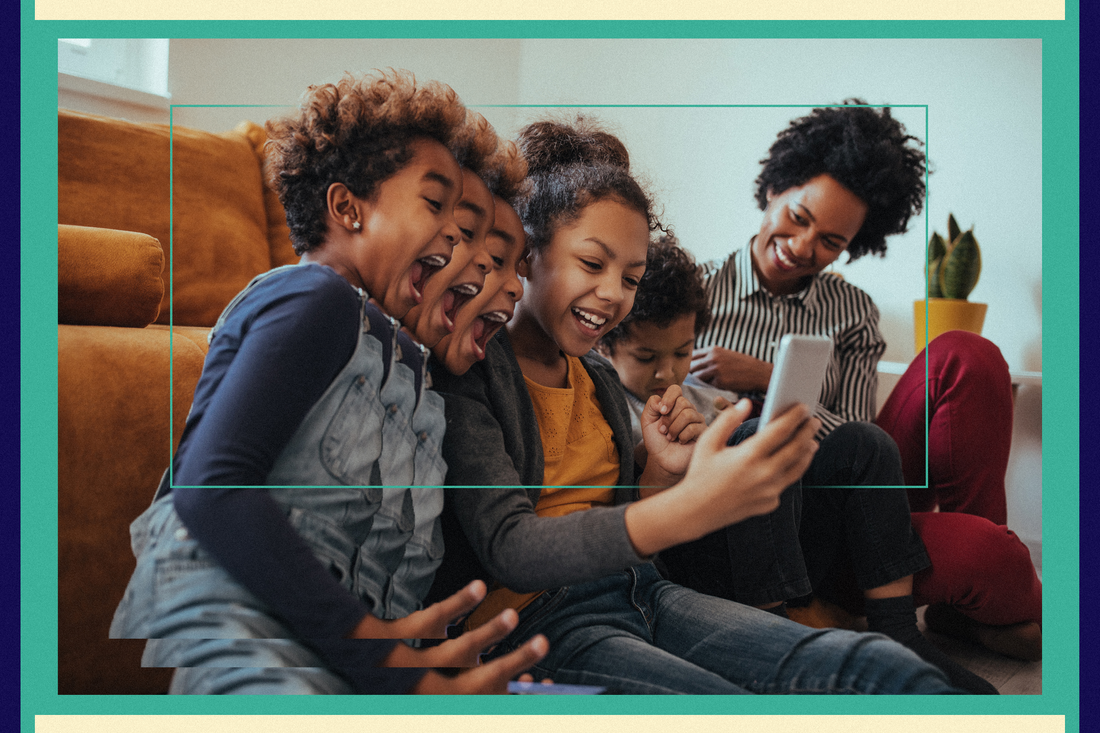 Photo-Illustration: Lauren O'Connell
With all the ways our phones keep us connected to friends and family, it's no wonder we feel "naked" without them. And calls, social media, video chats, and text messages are just the beginning — our devices let us touch base with the remote team at work, stream cooking tutorials during family dinner prep, download games for our kids that they need to play right now, and much more. It's no exaggeration to say phones are a lifeline for busy families — which makes your choice of a family phone plan a pretty critical one. You need it to be affordable and reliable, so you can prioritize the things that matter the most…instead of waiting for a video to buffer.
For many families, switching to a no-contract Total Wireless multi-device phone plan is a smart move that delivers that all-important mix of affordability, reliability, and flexibility for your family's ever-changing needs. Here's what you need to know about how Total Wireless no-contract plans are unlike any other, from receiving the largest network in the nation, to hotspots whenever you need them.
5G Coverage
Dropped calls and spotty service won't slow your family down when you're using nationwide 5G. Available in over 2,700 cities, Total Wireless' 5G cellular coverage gives you even faster wireless access, making a huge impact on how your family connects, works, and plays. With a 5G phone within the coverage area, you're able to do everything your phone or tablet is capable of, but faster.
Data for Days
You'll likely save money by switching to Total Wireless on an individual plan, but if there are multiple people in your household, a multi-device plan can be a gold mine of savings. You can bundle four lines for unlimited talk, text, and data. For instance, a family of four will get 100GB of shared high-speed data for $25 a month* per line. That's about 25GB of data per person if you split it equally — enough for over a thousand hours of internet browsing. After it runs out, you have access to your included 2G for the rest of the month.
Total Wireless can save** you up to $1,200 a year, compared to a four-line, postpaid plan from the leading carrier. Since they offer no-contract, 30-day plans, you can decide if you need to remove or add a line — say, if you're sending your kid off to camp for the summer — whenever you want. And if you find yourself needing a little more wiggle room in your data plan, add on another 5GB for just $10 and any unused extra data will roll over month to month, as long as your service is active.
Hotspots Wherever You Need
Your phone can act as a pocket-sized Wi-Fi router, and with a Total Wireless 4-line family plan, all the lines qualify for 10GB of hotspot data. So if your laptop or tablet needs a secure, fast internet connection while you're on the go (and hanging outside your local coffee shop isn't cutting it), activating your phone's hotspot takes your high-speed signal and converts it into temporary Wi-Fi. Or, if you find your kids arguing over a tablet, resuscitate that old tablet that's been gathering dust in your drawer with a Total Wireless SIM card; you can add it to your 4-line plan as well.
Stress Less with Bills
You might mostly use your phone for browsing social media and sending texts, while your kid is all about the educational apps. Not everyone in your household will use their phones in a similar way, so a multi-device plan makes it easier to keep track of usage and spending in one, centralized place. When all accounts are managed in one place, it's easier to make changes to multiple accounts, if needed. And by switching to a Total Wireless no-fees, no-contract plan, you could save even more — say goodbye to those mystery fees that add up fast on a phone bill.
Choose Your Favorite Phone
In many cases, buying a new phone upfront can be the equivalent of your apartment's monthly rent — yikes. This can put the kibosh on spending extra money on fun family activities, like that ski trip you were counting on. Total Wireless gives you options: When you sign up, you and your family members can get on a payment plan for a new phone. Or, with their Bring Your Own Phone program, you can stick with a device you already love and do something a little more fun with your savings. The latter option doesn't mean you're locked in, either. Anyone in your family plan can move on to a new phone in the future — all part of the beauty of being on no contract.
* One month equals 30 days. Terms and Conditions of Service at TotalWireless.com
** When compared to the monthly cost of comparable 4-line postpaid plans of the leading carrier. Excludes taxes, fees, autopay discounts, and limited time pricing. Source: Competitor Websites, February 2021.
This advertising content was produced in collaboration between Vox Creative and our sponsor, without involvement from Vox Media editorial staff.