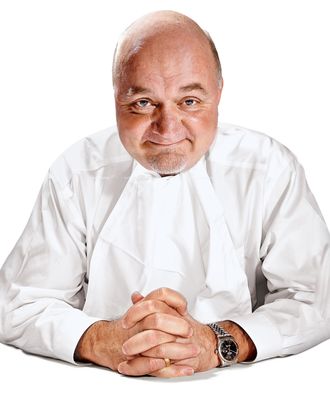 The team of journalists at New York work hard to bring you conversation-starting stories. But who exactly are these editors and writers? Get to know them with a New York Minute, our interview series in which we ask staff about their lives and their careers. Next up: senior restaurant critic Adam Platt.
You've been New York's chief restaurant critic for two decades. Tell all.
Twenty years of ecstatic highs, bilious lows, and plenty of dyspeptic heartburn in between. I'm lucky that my time on the job has coincided with all sorts of revolutions in the formerly quirky, backwater world food and restaurants. If the pandemic has proved anything, it's that restaurants are more at the center of our culture as a city, as a country, and as a world than ever before.
What are some of your favorite pieces New York has published through the years?
I loved a long-ago piece about taking my daughter's raucous kindergarten class to dine among the horrified swells at Le Cirque. More recently, I thought my story on the death of the old diner culture around the city turned out pretty well. Among pandemic pieces, I'm fond of my ode to the horrors of eating viral bean recipes every night during lockdown, and also of the review of a restaurant called Ernesto's, which was the last place I dined when the city shut down in mid-March, and one of the first I returned to when we began to open up in the summer.
What have you been doing to keep sane during the pandemic?
Long naps, long walks, an evening gin-and-tonic now and then. I also have a stack of cookbooks and travel volumes on my desk, which I like to flip through on gray, wintery afternoons when I get tired of staring at the brick wall outside my office window.
In your book, you talked about how your father introduced you to Asian cuisine and your mother brought a more Wasp-y cuisine to the table. What's your go-to cuisine for comfort?
I love ramen, and ham-and-cheese sandwiches made at my local deli, and a giant bag of plain Lay's potato chips now and then. But for pure old-fashioned comfort, nothing beats a steamy bowl of pork-and-chive dumplings.
Word is you prefer gin over vodka. Is there a philosophy behind that?
I prefer gin in a martini because if you put vodka in a martini it's not a damn martini. Any fool knows that. In general, gin has more flavor and subtlety than vodka, especially these days, although if you wish to sink into a deeply anesthetized drunken stupor, a frozen bottle of Stoli is your best friend.
In your opinion, what do restaurants mean to New Yorkers? Does this city have a different relationship with restaurants?
For New Yorkers, who come from all over the world and tend to live in small, cramped spaces, restaurants mean everything. They're places to gather, places to commune, places to see the glittering scene, and to be seen. They're identity, theater, and sustenance all rolled into one, and as we've seen during this last grim year, the city is a darker, less vibrant, less happy place without them.
You've described New York as the kind of place for "meat and potatoes" restaurants. Is there a more creative restaurant concept you'd like to see the city embrace?
Not really. Pre-pandemic, the dining world in the city was dynamic and constantly changing, and I think that one day it will be that way again. The concepts that tend to succeed here are the ones that cut through all the noise — they tend to be heavy, like the famous New York steakhouse, flavor-based and loaded with umami, and also a little formulaic because the cost of doing business here is so high, and big-money restaurateurs traditionally don't like gambling with their money. But New Yorkers also love fashion and the latest trends, and that's true in the restaurant world too. There will always be plenty of creative concepts to admire for a little while, and popularize, before moving on to the next new thing.
What do you love to eat that you can't get anywhere in New York?
I could quibble and say "really good Mexican cooking" or "really good northern Beijing–style food." But the reality is there's nothing you can't taste, gobble, or enjoy in this great international dining city, even in the midst of a pandemic, and I would respectfully argue that even the wan facsimiles of delicious far-off foods are better here than they are most anywhere else.
What do you love to eat that you can only get in New York?
New York steaks, New York pizza by the slice, cold Long Island cherrystones, haute New York pasta, any New York meal you can order at a bar, short-order New York diner breakfasts (yes, they're better here), a hot dog with all the trimmings from Katz's, the random bag of fresh bagels, of course.