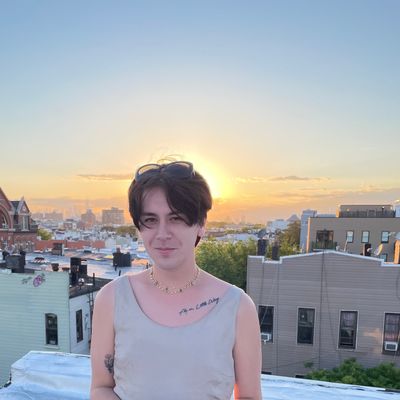 New York
Magazine writer Brock Colyar.
Photo: Photo Credit: Brock Colyar
The team of journalists at New York works hard to bring you conversation-starting stories. But who exactly are these editors and writers? Get to know them with a "New York Minute," our interview series in which we ask staffers about their lives and careers. Next up: writer Brock Colyar.
You started at New York while you were still in college, and now you're a full-time writer for the magazine. What attracted you to New York (the publication and the city)?
My attraction to New York the city was all a bit of a cliché. I was a queer kid growing up in Tennessee who wanted to be a writer, so New York seemed like the only sustainable place to be. I went to school outside of Chicago and spent a summer in L.A., but they didn't really work out. I wanted to be one of those people who moved to New York, never looked back, and never left. And now here I am!
As for New York the magazine, in college I was a gender-studies major and really interested in how to do compelling journalism on feminist topics. I was an intern at Ms., which was born right here in the pages of New York, and an intern on Peggy Orenstein's book Boys and Sex. Those interests meant that I was a Rebecca Traister superfan. Like that one time Chris Hayes tweeted, "Actual thing just said in our office: 'Wait did the new Traister just drop!?!'" That was me. About the same time, I was falling in love with magazines and magazine writing — flipping through magazines has always felt like meditating to me — so the more I read Rebecca, the more I branched out and discovered how much I loved New York as a whole for its reporting, its commentary, and that irreplicable, witty, not too earnest, provocative-at-the-right-times point of view. Eventually, as with the city, I didn't want to go anywhere else.
What did an average day look like for you when you were the assistant to New York editor-in-chief David Haskell?
I like to joke that it was the kindest, most pleasant version of The Devil Wears Prada. David's an incredibly busy person heading such a massive operation, and so the job is mostly doing anything to make his day run smoother. In pre-quarantine times, a majority of my day was spent corralling editors and writers into different meetings. It's been absolutely thrilling to see the inner workings of the magazine in that way. Spending time in the rooms where decisions are made about cover lines, story directions, and tone is really the biggest luxury of being the assistant. You learn what the editors like and what they don't like and can use that information to develop your own ideas. And this has always been an incredibly generous team of editors. I can't count how many times David or another has stopped to ask me what I thought about something. That's a dream come true.
You've reported on everything from the underground nightlife scene during the pandemic to conservative TikTokers. How do you come up with story ideas? 
I talk to people! And I devour the internet. Both of those stories involved broader ideas I was really interested in during the pandemic: the first being the ethics of and jealousy around pandemic-times socializing and the other being Gen-Z conservatism. I always have a handful of subjects I want to write about swirling around my brain, and I'm often able to distill them into specific story ideas by simply engaging with as many people as possible about their own thoughts on said topic. My Christian Walker idea came from a cute date, actually.
You're helming a New York City nightlife newsletter for the magazine this summer (sign up here). Can you give us a sense of what readers can expect?
Well, I think first and foremost you can expect a hell of a lot of fun. We're calling it, quite cheekily, are u coming? Every week, I'll be going out with an out-and-about New Yorker, taking a peek into their nightlife atmosphere and how they're celebrating the reopened city. I'm approaching it with a little bit of gossip, a little bit of voyeurism, and a genuine interest in how different interesting people spend their late hours. Each week's diary should give you a delicious taste of someone else's world. The first edition followed Remy Duran, an OnlyFans star and club kid, on a sex-and-psychedelics-filled night at a warehouse party in Brooklyn. Last week's newsletter followed TikTok staple Victoria Paris while she flirted with boys at a rooftop party at the McKibbin Lofts. And this week, I went to a gay dance party with SNL star Bowen Yang! Plus, every week we'll try to give you a few recommendations for how to have fun yourself this summer — which parties to look out for, which bars to go to, and some special, sexy personal ads for singles.
Describe your ideal night out in the city. 
First, I want to eat a very late dinner somewhere with a good martini. Then, dancing in Brooklyn all night long — somewhere with a backyard or a particularly bustling sidewalk out front, where I can get away from the music and meet people. I don't want to come home until 4:30 a.m., and I want a brunch reservation with friends at noon so I'm forced to wake up (and we can gossip about the night before).
What does cool mean to you?
Everyone I know lately is really anxious and obsessed with being cool enough in this vaxxed-up, post-pandemic summer. For the most part, I'm also horrified of social interaction lately and constantly worried I'm not cool enough to be at the bar I'm at with the people I'm with or wearing the clothes I'm wearing. But, you know, and this has certainly been said before, there's nothing less cool than a lack of confidence. Lean into whatever you're into, and that's what's cool, settling on a persona or aesthetic and fully embodying it. For me right now, cool is holding your jacket like this. Kate Bush is always cool. Emma Corrin is suddenly cool. Cool is the inside of MNZ's apartment. Cool is very straightforward flirting. Cool is not being a total prude on Twitter.
What's the strangest, funniest, or most ridiculous thing you've overheard on the streets of New York?
Not on the street, but at the first party I was reporting for the newsletter, I was watching these two men dancing. It was an incredibly sweaty warehouse dance floor. Everything was wet. The restrooms were flooding. These men were kissing, grinding, just all over each other, when I heard one of them scream into their partner's ear, "I HAVE A VAXX CARD, BUT I CAN'T GET AN EXCELSIOR PASS." I thought that was hilarious. It's such golden post-pandemic comedy.
What is the single most important piece of advice you've received in your two and a half years working at New York?
An editor once told me while I was working on a short profile that my role as a writer is to capture a person so well they walk away going, Oh shit, that's me — the caveat being that they might not be too happy about that. I think about that a lot. I've never felt compelled to write with much moral judgment. I see it as my job to ask the right questions, see the right things, and draw out the sometimes messy tensions that exist in and around the person or people I'm writing about. It's my reader's responsibility to form their own opinion. I think that's true of several stories I've written at the magazine, including my cover story on underground partying and my encounter with Christian Walker. I knew readers would have strong feelings as soon as they read those headlines, before they even read the stories. It was much more exciting and ambitious as a writer to ask the big questions about how these pandemic partygoers and this right-wing TikTok star came to be — instead of just saying, This is bad.
What's a cultural product you consumed lately that actually consumed you?
People love to compare this moment right now to the roaring twenties. Honestly, I don't think it's very apt. It's an easy metaphor. But because people are saying it, I decided to read Nancy Milford's 1970 biography of Zelda Fitzgerald. That book ate me alive. It's long been credited for the feminist comeuppance it brought Scott and Zelda, but it's also a gorgeous, tragic tale of a young person in the epicenter of a brand-new scene in a confusing, exciting era where the social-moral rulebook of the time has been torn up and thrown out. And there is something there that feels relevant right now. A line Zelda wrote about the flapper has been stuck in my head for weeks: "The Flapper awoke from her lethargy … bobbed her hair, put on her choicest pair of earrings and a great deal of audacity and rouge and went into the battle. She flirted because it was fun to flirt … and she refused to be bored chiefly because she wasn't boring. She was conscious that the things she did were the things she had always wanted to do … Youth does not need friends — it only needs crowds." Post-pandemic, I feel similarly. I just want to be lost in a crowd.
What is one item you never leave home without?
Unfortunately, probably my cigarettes. I'll need those if I'm going out. But also: lip gloss. I apply a laughable amount of lip gloss when I'm out. And, well, I smoke, so the reapplications are necessary.
What's your go-to pump-up song?
"Love to Love You Baby," by Donna Summer. The 16-minute album version. If I'm trying to get people out of the house to a party or a bar, I put this song on. It's literally 16 minutes. You have to finish your makeup, use the restroom, down your last drink, and get out the door before it's over.
In every issue of the magazine, the editors compile "The Approval Matrix." Give us your quick take on the following: Highbrow or lowbrow? Despicable or brilliant?
Eavesdropping: Lowbrow brilliant. I love to eavesdrop. It's naughty, it's fun, it's so deliciously wrong.
Little Island: Highbrow despicable. The pictures look beautiful, and I'm sure I'll take my parents there when they come to town. But otherwise, I'm not really sure what to do with it.
Nutcracker (the cocktail): Lowbrow brilliant. There's nothing better than running out of booze on the beach and forking over the only cash you have for a drink that will make you sick.
Nutcracker (the ballet): Highbrow brilliant. Though I prefer ballet dancers to the ballet.
Zizmorcore: Also lowbrow brilliant. Maybe everything good in the world is lowbrow brilliant. Stella Bugbee is so brilliant for naming this trend. Though, for the record, I'm not sure I own any.