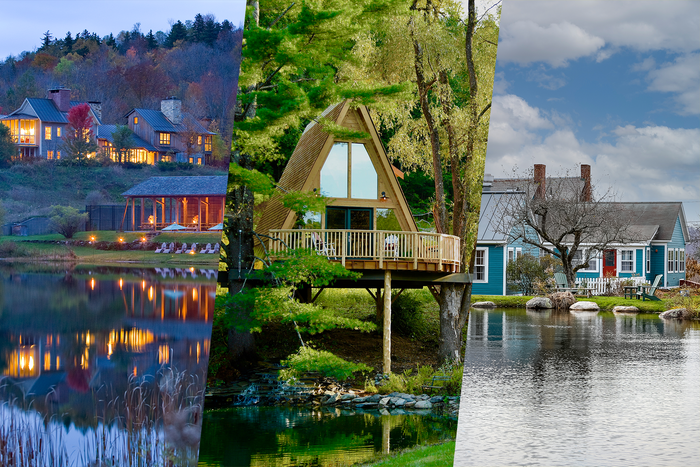 Photo: Courtesy of Twin Farms, Treehouse Valley Inn, Blueberry Hill Inn
Tucked away all the way up there, Vermont is the sixth-smallest state in the country. But the Green Mountain State more than makes up for its small stature in elevation, scenery, and adventure. Whether you're up for a sailing adventure on Lake Champlain, a treehouse in an old-growth forest, the writing retreat of a beloved author, or a rugged stone hut atop Vermont's tallest mountain, there's an idyllic weekend getaway waiting for you, ready to satisfy whatever kind of travel urge you might have. No matter what you're looking for, every Vermont getaway is marked by the charm of a quieter way of life, some of the freshest farm-raised meats and produce, a burgeoning brewing culture that's been dubbed the Napa Valley of beer, and plenty of wide open spaces. Best of all: Vermont's dreamy destinations are just a few hours' drive from the city, making it an idyllic weekend getaway.
Whatever your style is, your dream vacation is all right there, waiting to be discovered. Here are a few lodging ideas for your next trip to Vermont, with a few ideas of what to see and do while you're there.
For a night of luxury-meets-landscapes: Twin Farms
Tucked away on 300 idyllic acres, this 18th-century farmhouse with 10 freestanding cottages was voted the World's Best Hotel. Not too bad for a hotel in a town with less than a thousand people — but perhaps that's the charm. Nestled among trees that burst with vibrant color every fall, Twin Farms features architect-designed rooms with Japanese-inspired décor and artwork by Roy Lichenstein and David Hockney. In nearby Woodstock, Michelin-trained chefs run the Lincoln Inn and Restaurant. Killington is among New England's standout ski destinations as well as a hiking haven. And the Hall Art Foundation exhibits postwar art from a collection split between Vermont and Germany.
For the cottagecore aesthetic (and a packed calendar of activities): Basin Harbor
This 700-acre collection of waterfront cabins at Basin Harbor sits at the tailend of Lake Champlain, facing New York State. Here, the appropriately-named Beach family has run this property for four generations and run a harbor, golf course, and hiking trails. Every family-friendly water adventure from paddle boats to shipwreck tours are right on the shores of the bay. Drive to Burlington, and there's inventive Chinese cuisine to be found in an old cottage at A Single Pebble. ECHO, Leahy Center for Lake Champlain features an aquarium, interactive science exhibits, and a 3D theater. And just a few miles south of Burlington is Shelburne Museum, with 150,000 works of Impressionist paintings, folk art, and American craft.
For a night of glamping: Treehouse Valley Inn
A traditional Vermont bed and breakfast meets a cozy A-Frame treehouse at this Southern Vermont hideaway that's truly off the beaten path. The lavishly appointed treehouse features a wraparound deck, floor-to-ceiling windows and a spiral staircase where you can watch the sun rise from the top bunk. Combining modern luxury with rustic charm (such as rocking chairs, Hudson's Bay blankets, and locally-made porcelain), Treehouse Valley Inn might just be the ultimate weekend getaway. No tentpoles or sleeping bags needed.
Manchester Village is home to the Silver Fork restaurant, recently named the best date night restaurant in the country. At Mount Equinox, you can take the historic Skyline Drive five miles up to the summit — and if you time your visit right, you can watch a car race. And the nearby Brattleboro Museum and Art Center features contemporary art in a converted train station.
For the quintessential B&B Experience: Blueberry Hill Inn


Among the hills of the Green Mountain National Forest lies this intimate 11-room farmhouse that dates back to 1813. Here, you'll find all the trappings of a classic bed and breakfast: well-worn hardwood floors, simple beds with handmade quilts, rocking chairs, and homemade chocolate chip cookies by the fire. Trail lunches and Pizza by the Pond enhance outdoor adventures. Plus, Blueberry Hill Inn is dog-friendly, too!
Go up and down the Mad River Valley, on one of Vermont's most scenic routes, and you'll get to some wonderful places. Threepenny Taproom is a beloved gastropub in the heart of Montpelier, with Vermont's finest beers on tap. For generations, thrill-seekers have cannonballed into the waters at Warren Falls. And Bundy Modern is an unexpected art museum in a Bauhaus-style building, with a collection of contemporary sculpture and art.
For a book lover's paradise: Naulakha
Rudyard Kipling commissioned the building of this Shingle style home in 1893, giving it a name after Naulakha Pavilion in Lahore, Pakistan — where Kipling had once lived. He wrote some of his most-beloved works at Naulakha: The Jungle Book, Captain Courageous, and parts of Just So Stories. The word naulakha means "a precious object," and certainly his fellow Vermonters thought so when they designated it a National Historic Landmark. Today you can stay there, surrounded by Kipling's original furniture, and immersed in his library — an inspirational experience unto itself.
Vermont Country Deli is the quaint and quintessential roadside sandwich shop, right off the freeway when passing through Brattleboro. Deer Run Nature Preserve is Vermont's newest conservation space, with opportunities for hiking, snowshoeing, and watching more than 60 species of birds. Antidote Books is a cozy little indie bookstore in Putney featuring a collection of poetry, art books, and used titles, and if you catch a volunteer on a good day, they'll show you how to use an old letterpress.
For an off-the-grid adventure: The Stone Hut
At 4,395 feet, Mount Mansfield is Vermont's tallest summit. Imagine staying right at the peak in a stone hut originally built during the Great Depression — it doesn't get any more rugged than that. The Stone Hut sleeps up to 12 people, as long as they bring their own sleeping bags. A wood stove is the only source of heat. During ski season, you can ride the Stowe Mountain chairlift to the hut, which offers great wintertime views of the Green Mountains. Be prepared for cold nights, no matter what the season. If this is exactly the sort of outdoors adventure you're into, then Vermont won't disappoint.
Stowe is well known for its skiing and riding in the winter, but the summer months are just as adventurous for outdoor recreation, since hiking and mountain biking opportunities abound. In the wintertime, the whole mountain comes alive between Stowe and nearby Smuggler's Notch. The von Trapp Brewery (yes, those singing von Trapps) features a beautiful beer hall with seasonal brews and Bavarian food. And in Stowe, the Robert Paul Gallery is among the country's finest art spaces.
This advertising content was produced in collaboration between Vox Creative and our sponsor, without involvement from Vox Media editorial staff.