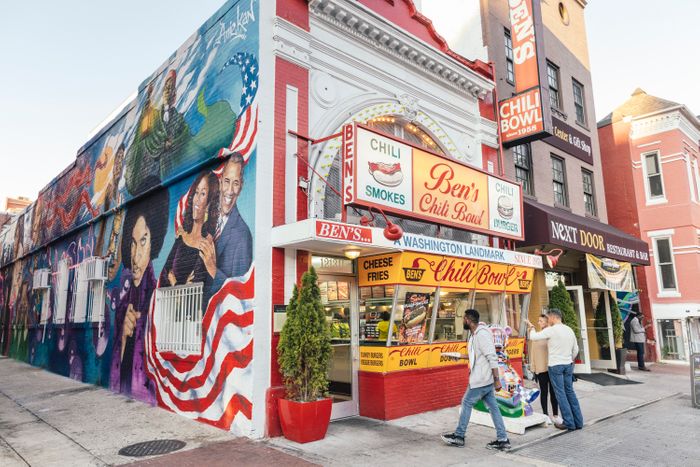 Photo: Courtesy of Washington.org
Yes, Washington, DC is the political center of our nation, but there's so much more to this city than the beautiful government buildings that surround the National Mall. Each neighborhood in DC has its own distinct vibe, culture and history, bustling with hip restaurants, unique museums, music venues and local shops. Here are five DC neighborhoods to check out on your next visit to the capital city.
You can't help but get sucked into people watching when in Dupont. It's full of stately row homes and stylish locals heading to yoga, perusing independent boutiques or simply enjoying an alfresco lunch at one of the many restaurants. Art lovers should plan their visit for First Friday Dupont when area galleries showcase their collections late into the evening, or head to The Phillips Collection to enjoy works by Picasso, Rothko and van Gogh. The Phillips also celebrates its 100th anniversary this year with special exhibits and dedicated music events. Explore the world on a stroll along Embassy Row, which cuts right through Dupont Circle, then dine on fantastic international cuisine at restaurants like Michelin-starred Sushi Taro, Anju for Korean fare, and Thai hot spot Little Serow. On Sundays, stop by the legendary Dupont Circle farmers' market to sample produce and snacks from regional artisans, then support indie bookstore Kramerbooks & Afterwords Cafe, a Dupont institution since the 1970s.
Just east of the Anacostia River lies its namesake, one of DC's oldest and most beloved neighborhoods. Anacostia is globally known as the home of Cedar Hill, the estate of Frederick Douglass where visitors can tour throughout the day, but locally, the vibrant neighborhood is celebrated for its beautiful waterfront and tight-knit community. Learn the story of Anacostia's African American history and legacy from local leaders and artists at the recently renovated Smithsonian's Anacostia Community Museum. Fuel up with a fresh juice from locally owned Turning Natural juice bar, then rent a bike from Capital Bikeshare to follow the lushly lined trails along Anacostia Drive to Kenilworth Park & Gardens to enjoy the summer blooms, water lilies, and lotuses. In the evening, check the calendar at Anacostia Playhouse to catch an intimate concert or spoken word performance, or head to the newly built Entertainment & Sports Arena to see the WNBA-champion Washington Mystics team hit the court.
If there could only be one neighborhood to capture the spirit of "off-the-Mall" DC, it would be Shaw. Birthplace of Duke Ellington and the home of "Black Broadway," Shaw (also known as the U Street corridor) has historically been the heart of DC's Black social, cultural and economic life. Civil rights marches and protests happened here in the '60s, alongside the joyful sounds of jazz and soul music at venues like the Lincoln Theatre and Howard Theatre. Today, you can still catch live performances at the Lincoln and the Howard, between exploring Shaw's sizzling dining and bar scene. Enjoy modern French cuisine at Convivial or Hong Kong street food at Tiger Fork before a show, and a late-night cocktail at Columbia Room afterward. Afternoons in Shaw should be spent exploring the neighborhood's indie boutiques like ZAAF Collection for African-designed handbags and accessories, and women's boutique Lettie Gooch for dresses, athleisure, and jewelry. Of course, no trip to Shaw would be complete without a stop at legendary Ben's Chili Bowl for a half-smoke sausage.
You can't get much further from the world of politics than at the nation's longest continually operating open-air fish market. Although that alone makes The Wharf one of the most interesting (and tasty) places to visit in DC, the riverfront has recently undergone a complete transformation into a walkable entertainment zone. Picking up steamed spiced shrimp and crabs at the 1805-opened Maine Avenue Fish Market is a must, but if you're looking for a more refined dining experience, check out Mediterranean seafood restaurant Del Mar. The Anthem is one of DC's premiere concert venues for an intimate show from a top 100 artist, while Pearl Street Warehouse is where to go for a rock, country or blues show. September marks the annual DC JazzFest with the signature event held at The Wharf, featuring an incredible lineup of globally known artists and jazz experiences. The Wharf is also home to born and bred DC businesses like bookstore Politics and Prose and Shop Made in DC, which features designs and homewares from DC-based artisans.
The 1.5-mile H Street corridor is a bonafide playground for foodies and nightlife enthusiasts. Start your dining journey at Maketto, a coffee shop/retail space/Taiwanese restaurant hybrid. In addition to incredible food and coffee, the space is aesthetically pleasing with a back garden and second floor eatery. Farmbird has mastered the art of the perfectly cooked chicken breast, while Caribbean restaurant, Cane , serves the best snapper Escovitch this side of Jamaica. Ethiopic is into their 11th year serving their signature Bozena Shiro and Doro Wat on H Street, while recently opened Smokin' Pig BBQ Joint foffers smoked wings, potatoes loaded with pulled pork and mac and cheese-stuffed turkey legs. When night falls, pop by the H Street Country Club for 9 holes of mini golf, arcade games and drag bingo. Or, top off the night with a live music set at Pie Shop — and a slice of pie from the ever-changing menu of sweet and savory pies. (We hear the bourbon chocolate pecan pie is the order.)
This advertising content was produced in collaboration between Vox Creative and our sponsor, without involvement from Vox Media editorial staff.