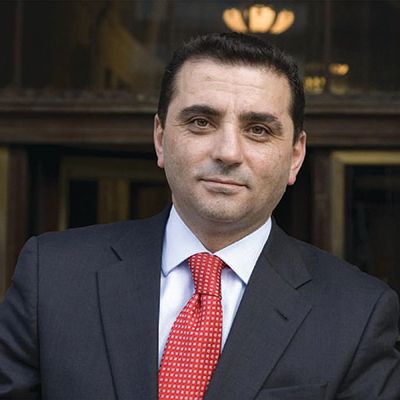 Photo: Courtesy of the firm
Specialty: Personal Injury
A personal injury attorney, with offices in the Bronx and Manhattan, Fatos Dervishi has years of experience handling cases in New York.
Mr. Dervishi, who grew up in Albania, obtained his law degree in 1989 from the Tirana University School of Law. He then worked as a special agent of the General Investigations Office with an office in Tirana, before being elected Deputy Attorney General by the Albanian Parliament in 1994. He served as Deputy Attorney General of Albania from 1994 to 1998.
In 1998, Mr. Dervishi immigrated to the United States, with his family joining him a few months later. Upon his arrival in Washington, D.C., Mr. Dervishi met with members of the U.S. Senate and House of Representatives, as his trip was sponsored by the U.S. government.
Beginning in 2003, he attended Pace University School of Law and graduated with a Master of Law degree in May 2004. He has since been admitted to the New York State Bar, and practices in all of the state's courts. On June 13, 2011, Mr. Dervishi was further admitted to practice law before the U.S. Supreme Court. In 2008 he partnered with Jared Levine and Duane Morgan to form Dervishi Levine and Morgan, P.C. In 2012 he formed his own firm, the Dervishi Law Group. Mr. Dervishi remains extremely active in the Albanian-American community, serving as a liaison for its members and assisting recent and longtime residents with their legal and other needs.
In 2019 Mr. Dervishi joined the law firm of Wingate Russotti Shapiro & Halperin LLP in an "of counsel" capacity. The partnership of Mr. Dervishi and the large Manhattan based personal injury firm has proved advantageous to their clients who have enjoyed a tremendous record of success.
NOTEWORTHY CASES
The firm recently secured a $1.925M settlement for a seriously injured union carpenter when he fell off an unsteady ladder due to a failed safety device. The fall caused a herniated disc in the 50 year-old plaintiff's neck that required a one level cervical spine fusion surgery. As a result of the injuries sustained in the fall the Plaintiff was unable to return to the job he loved. "We are proud to be able to offer the financial security and to help provide some level of comfort in an otherwise terrible situation."
"As these results show, deciding on the right law firm can make an enormous difference in a case," Mr. Dervishi says. "The people who choose us to represent them can expect total devotion to their matters, and an unyielding dedication to them and their families."
2322 Arthur Ave., Suite 3A Bronx, New York 10458
P: (917) 300-0797
www.dervishilaw.com