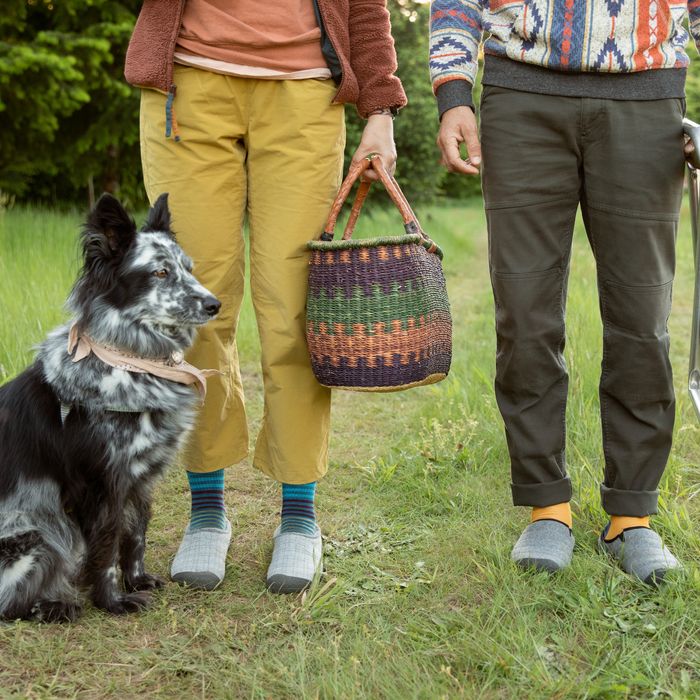 Between hectic schedules, overlapping plans, work conferences, and social commitments, our 9-to-5 lives tend to leave little room for an adventure that isn't on the calendar weeks in advance. Sometimes all you need is to actually unplug and reconnect with the natural, phone-free world outside your front door. Can't find a blank space between calls and kids? It's OK: You don't have to go far, spend too much, or plan too hard to produce a worthwhile experience outside. A night among nature is within arm's reach, begging for you to get outside — even if it's just your own backyard.
It's never been easier to transition from inside to outside than with KEEN Footwear. The family-owned brand has always understood the value of getting outside, and they've crafted a shoe designed for optimal comfort, both in your living room and in the yard. The new KEEN Howser hybrid shoes have the super-soft coziness of a slipper and the higher-traction rubber outsole of a boot — the Howser is a shoe meant for adapting.
Spending time outside is vital for our mental health, especially as many of us are still working from our home office (or from the bed). The good news is, you don't need to go far from home to experience the benefits of nature. Ahead, learn how to maximize comfort while preparing for the ultimate backyard campout without the fuss of a real camping trip.
Set up your campsite
Find a flat, even surface in your backyard space to pitch a tent or oversized umbrella. Howser has grippy soles that will make sure you're comfortable (and less likely to slip) while setting up your sleep site. Don't have a camping pad? Use a foam fitness pad or yoga mat from inside for extra-cozy padding beneath everyone's sleeping bags and blankets. Prefer to keep it old school? Opt for a fort built out of comforters and pillows.
Once the campsite is ready to go, it's time to hone in on the entertainment. Since you're already outside, set out classic barbecue games like corn hole, badminton, or Frisbee. Grab a bedsheet from inside and use it as a screen projector for a night of classic films underneath the stars. Not a movie-lover? Pile up throw pillows and cushions from the living room and bring out game boards or card games for some alternative fun.
Make it a feast
Cooking over an actual fire is great, but can be hard to pull off in a backyard. So, create an unfussy menu that's easy to pull off: Grilled hot dogs, burgers, corn, and kabobs help emulate the feeling of a campfire without the work of starting (and containing) an open flame. Shareable plates (like veggies and dip or French fries) can be prepared inside while wearing your Howsers. They're the ideal shoe for indoor comfort that can also head into the backyard come mealtime.
Don't forget the marshmallows; s'mores (everyone's favorite outside snack) can also be toasted to crisp perfection over the stove, a small fire pit, or over the grill.
Take a nature walk
In a recent study, researchers found that being in nature reduced feelings of isolation, promoted calmness, and lifted moods among their patients. After the sun goes down and the food has been digested, opt for a walk through any nearby woods, forests, pastures, or parks with a flashlight or headlamp to light the way. Even taking a lap around a subdivision or neighborhood has its perks. Another study proved that residential closeness to nature — even in an urban setting — can improve attention, lower stress levels, and even increase upticks in empathy and cooperation. To get out there, slide on the Howser shoe. Although it's a slip-on, the Howser stays put with an adjustable bungee and rubber outsole that makes strolling (or walking the dog, or skipping with your kids) effortless.
Invite the (good) company
Now more than ever, after a turbulent 18 months, we've come to realize that gathering with others is vital to our wellbeing. One study proved that solid social connections can strengthen your immune system and increase your self-esteem while lowering levels of anxiety and depression. All it takes is a little fireside chat and a deep laugh with a small group, family member, or child to feel the benefits of togetherness.
Cozy up and unwind
A backyard campfire can warm the night and bond the people surrounding it — if you have a safe space to start one and if there isn't a burn ban in place. It's super important to abide by local bylaws and guidelines to help keep your blaze safe for the entire neighborhood. Build and start a fire in a contained fire pit away from the house, brush, or any wet wood, and never use gasoline as fuel. Instead, opt for a simple fire starter and small tinder materials (like kindling, or seasoned logs).
Drape a blanket over your shoulders, roast some smores, and tell amusing stories while keeping your feet warm in the Howser hybrid shoe. The quilted nylon and fleece lining will surely keep every toe toasty as the night air settles in.
Even if you don't have time to plan a camping trip or cabin retreat this fall, you can still slide on your KEEN shoes and get a rush from the glorious nature that exists in your hometown. A peaceful sanctuary is just around the corner — if you know where to look.
This advertising content was produced in collaboration between Vox Creative and our sponsor, without involvement from Vox Media editorial staff.