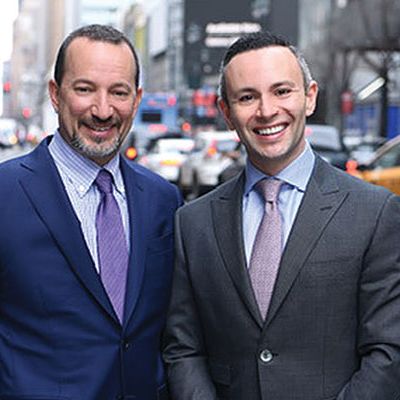 Photo: Courtesy of the firm
Specialty: Personal Injury
30 Years of Trust - Raphaelson & Levine has prided itself on serving NY as the "Voice of the Injured." The firm's trial lawyers, paralegals, investigators, and support staff, take tremendous pride in helping victims secure the verdicts and settlements they deserve.
Proven Results - The Firm's Personal Injury lawyers have obtained hundreds of millions of dollars in results for their clients, are recognized in courtrooms and mediation tables for being powerful, respectful strong advocates.
Core Values - Ensuring full compensation to their clients for their injuries is a bedrock principle at the firm, which aggressively pursues accountability when negligent behavior causes serious physical and economic harm.
Accountability - The firm has secured significant awards and settlements from construction companies, general contractors, product manufacturers, building owners, homeowners, business owners, automobile owners, trucking companies, municipalities, and medical professionals.
Recent Results - Among its latest results, in a case that was heard before the Appellate Division, partners Howard Raphaelson and Andrew Levine obtained a $4.5 million recovery for a construction worker who fell from a movie theater roof that was under construction. In another construction case, the firm obtained a $3.75 million recovery for an electrician that fell in a staging area at an NYC Construction Site. He sustained ankle injuries that required 4 surgeries and resulted in Complex Regional Pain Syndrome. In a third case, the driver of a motor vehicle who sustained injuries to his spine when his car was struck by another vehicle, recovered a $1.5 million settlement. Finally, a woman in her 50s with a history of prior injuries that were reinjured as a result of an automobile accident recovered $1.3 million. In each of the last five years, the firm has recovered more than Fifty Million Dollars each year for accident victims.
The Firm's Partners Howard Raphaelson and Andrew Levine credit these million- and multimillion-dollar verdicts and settlements to the substantial resources the firm puts toward identifying the underlying issues of a case. The firm's approach is always innovative with the use of cutting-edge technology and bold new ideas. Leadership and our innovation are some of the many reasons the firm is considered a leader in the industry. They use many experts, including; economists, life care plan experts, vocational rehabilitation specialists, biomechanical experts, and ivy league trained medical experts. All to validate and prove their clients' past and future pain and suffering, economics, and life care plan costs.
Awards and Recognition - Raphaelson & Levine has been recognized annually in New York's Top Verdicts and Settlements and Personal Injury Litigators publication. These two industry giants are also well known as leaders in the NY personal injury community. They both serve on the Board of Directors of the New York State Trial Lawyers Association, the preeminent association for personal injury litigators in the state, and are selected to Super Lawyers each year. Also, the Trial Lawyers Board of Regents recently honored the firm with its Litigator Award.
Giving Back - In the spirit of helping others, the firm is committed to many charities, most notably as the chief sponsor of the Long Island 2 Day Breast Cancer Walk, which raises awareness and money for cancer research in the New York area. For more information about the firm and its work in the community, please visit its website, RLLawyers.com, or join its social media network on Facebook, Twitter, and LinkedIn. You can also sign up on their site for the monthly email distribution of its personal injury magazine, "The Voice of The Injured."
An Honor and Privilege - Raphaelson & Levine care deeply about helping the New York Personal Injury community and are available 24/7 to offer accident victims a free consultation.
RAPHAELSON & LEVINE, PC
14 Penn Plaza, Suite 1718 | New York, NY 10122
PH: 800.852.0071 | www.RaphaelsonLaw.com