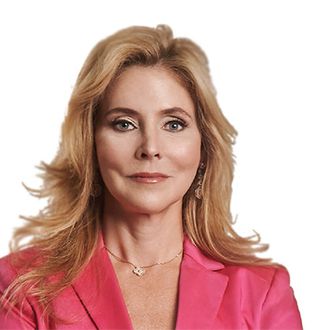 Photo: Courtesy of the firm
Thought leader and founding partner at Napoli Shkolnik PLLC
Marie Napoli is a founding partner at Napoli Shkolnik PLLC. She is widely recognized for her work in mass tort matters, medical malpractice litigation, pharmaceutical litigation, employment discrimination, civil rights and personal injury. For over twenty years, she has fought for her clients against the malfeasance and negligence of major companies—and won. The women-led firm represents many municipalities against opioid manufacturers and distributors, and against chemical manufacturers on behalf of water districts for recovery due to contamination. Marie is involved in many high-level negotiations that resulted in favorable settlements for clients, including the Cuyahoga Opioid Settlement, World Trade Center litigation, and the pending court approval $641.2 million Flint Water Crisis agreement, among many others. Marie is a thought-leader on health issues affecting the general public, such as flaws in the approval process for drugs, vaccines and cosmetics, and the many instances of defective health and hygiene products being targeted at women by companies like Johnson & Johnson. Her white paper, "Protecting Yourself from Defective Drug Risks During the Age of COVID-19," was published earlier this year. Marie is a frequent media commentator with appearances on Court TV, Law and Crime Network Live, Dr. Oz, Newsmax, Rolling Stone, New York City's WPIX-TV 11 News, TRT World, and others. She has commented on COVID-19 legal issues and high-profile cases including those of Breonna Taylor, George Floyd, Harvey Weinstein, Ron Jeremy, and more. Her newest venture is the newly launched joint law office with acclaimed civil rights attorney Ben Crump, Napoli Shkolnik Ben Crump. The firm seeks to bring justice to marginalized communities.
360 Lexington Avenue, 11th Floor, New York, NY 10017
(212) 397-1000 | NapoliLaw.com
CALIFORNIA | DELAWARE | FLORIDA | ILLINOIS | KANSAS | MICHIGAN | NEW JERSEY | OHIO | TEXAS | WASHINGTON, D.C.