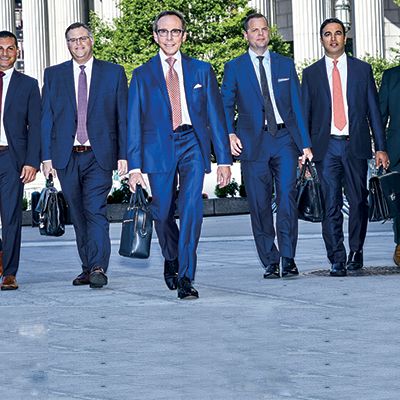 Photo: Courtesy of the firm
Specialty: Personal Injury
Schwartzapfel Lawyers P.C. is a prestigious boutique personal
injury and wrongful death firm. The attorneys at Schwartzapfel
Lawyers have dedicated their careers to representing those who have been seriously injured, maimed, disabled, or killed as well as their families.
Schwartzapfel Lawyers provides a superior level of client services. Results matter. They are elite. They have won among the highest verdicts and settlements in the state as reported by New York Law Journal.
Schwartzapfel attorneys' credentials and qualifications are exceptional. They have been regularly featured in Forbes, The New York Times, The Wall Street Journal, Newsday, New York Magazine, and Newsweek and recognized as a Top Rated Lawyer in Legal Leaders and American Legal Marketing. They have also been recognized as Top 100 Trial Lawyers by both The National Trial Lawyers and The American Association for Justice. They are proud that a number of their lawyers are members of the Multi-Million Dollar Advocates Forum. They are proud that a number of their lawyers are members of both the Multi-Million Advocates Forum and New York Super Lawyers.
However, what Schwartzapfel Lawyers is most proud of is not the firm's many awards and accolades, nor the millions of dollars collected for clients, but rather their 99% client satisfaction rate and the approximately 600 five-star Google reviews attesting to how their clients are treated like family and no longer worry
DONDI PARTLOW:
"The Schwartzepfel firm changed my life. They took my case to trial and got results I never would have imagined. They treat you like family and are always there for you. I am so fortunate to have them in my corner. Thank you Steven! Thank you Chris Holbrook - your courtroom work is amazing…If you want the best. Call the Schwartzepfel Firm!"
↔↔↔↔↔
Scott Phillips, Local 58 IronWorkers:
Schwartzapfel law firm is hands down the best! Everyone at the firm is 110% dedicated to what they do, they truly care about you. They changed mine and my family's life.
↔↔↔↔↔
RICHARD BLOHM, United Service Workers Union (USWU):
"…This law firm is the "real deal" of law firms. There are a lot of crooked lawyers out there trying to make a quick buck; not here at Schwartzapfel Lawyers. They take their time to break things done so I can completely grasp what they are doing . From my first phone call with Suchin I somehow felt at ease. Later I met with the team and I was totally impressed. All my questions were answered with positive feedback. I personally met Chris, Steve, Sachin, Sara and Aleksandra. The paralegals are on point and return calls immediately. It's not everyday you need a law firm, but when you do don't hesitate; call Schwartzapfel lawyers I highly recommend them. *****
GEORGE PRATT, Local 28 Sheet Metal Workers:
Schwartzapfel Lawyers hit it out of the park! I was hurt on a construction site that changed my life forever. My worries are no longer about my finances, but only to get better. *****
GERARD KEARNS, Local One Elevator Constructors:
"…My sincerest thanks, respect, gratitude and appreciation to each and every amazing member of the Schwatzapfel law firm. From the second I walked in the door these awsome people made me feel at ease during a very difficult time. They could not do enough for me. I will forever be grateful to Alexandra, Sachin, Chris and Sar. Thank you to everybody at Schwartzapfel Lawyers… YOU ARE THE GREATEST. *****
Manhattan | Brooklyn | Bronx | Queens | Nassau | Suffolk
GARDEN CITY, NY
600 Old Country Road, Suite 450 Garden City, NY 11530
PH: (516) 342-2200 FX: (516) 342-2400
www.fightingforyou.com