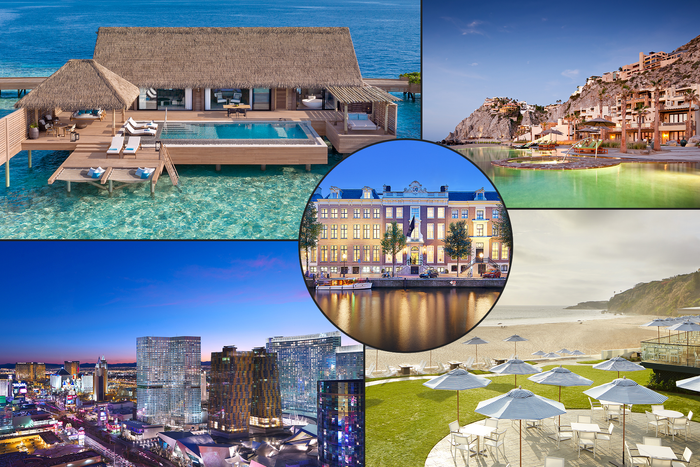 Photo: (clockwise from top left) Waldorf Astoria Maldives Ithaafushi, Waldorf Astoria Los Cabos Pedregal, Waldorf Astoria Monarch Beach Resort & Club, Waldorf Astoria Las Vegas; (center) Waldorf Astoria Amsterdam.
Travel is all about experiences that intrigue and excite us — those unforgettable moments, meals, and activities that you come home and tell all of your friends and family about. Maybe it was a particularly delicious dinner, an extra-relaxing spa day, or a thrilling excursion. These experiences are made even better when they're truly personalized and catered to your specific interests. That's why Waldorf Astoria Hotels & Resorts offer exclusive, luxury amenities and bespoke experiences to help you make the most of your vacation. Ranging from helicopter tours to luxurious facials, these coveted experiences are only available at Waldorf Astoria properties, and they'll leave you with a deeper connection to your destination and unique memories to bring back home. Read on for some of our favorite examples of Waldorf Astoria's exclusive offerings, from Las Vegas to the Maldives and everywhere in between.
Culinary Experiences
Waldorf Astoria Maldives Ithaafushi offers a wide selection of unique fine dining experiences, all located on a beautiful private island. The property has 11 different on-site restaurants and bars, including the stunning romantic treetop venue, Terra, where you'll dine on a bespoke seven-course meal. Meanwhile, The Ledge by Dave Pynt (a Michelin-starred chef) serves one-of-a-kind poolside Australian barbecue. Zuma, a new dining destination at the property, will open later this year and feature sweeping views of the Indian Ocean along with Japanese cuisine.
If you prefer getting your hands dirty in the kitchen, try the private cocktail and cooking classes available at Waldorf Astoria Los Cabos Pedregal. Their exclusive cocktail classes offer hands-on demonstrations for your favorite drinks, while the cooking classes share step-by-step instructions to make your choice of ceviches, empanadas, or baja tacos. Or, try the hotel's wine and tequila tastings instead: At the wine tastings, you can learn how champagne is made, or take a tour through Mexican wines. Meanwhile, the distinctive Agave Spirits tastings are centered around the different types of agave found in Mexico. Finally, visit the hotel's Culinary Weekend Series for unique events from guest chefs, including cocktail receptions and a private chef's table-style dinner.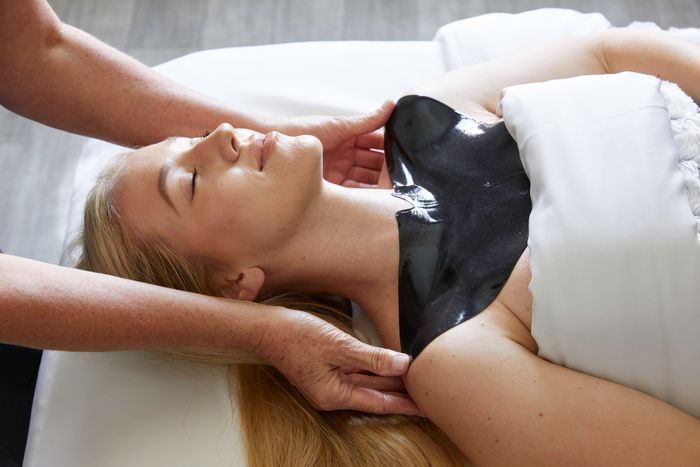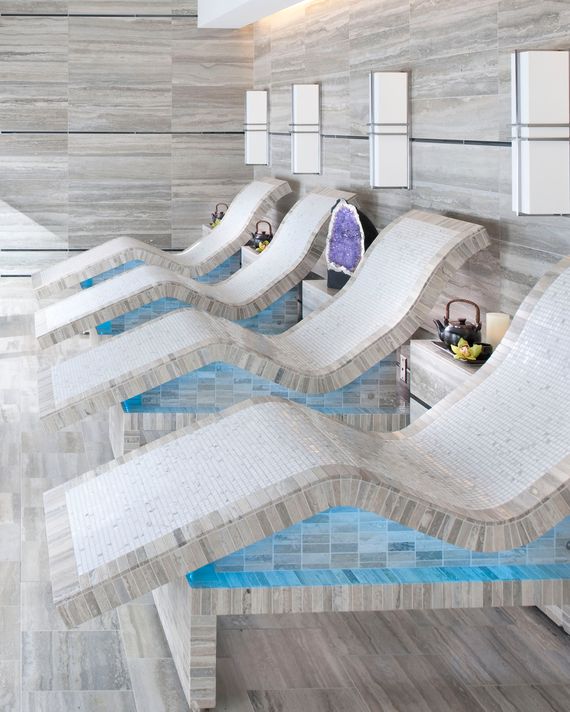 Wellness Experiences
Waldorf Astoria Las Vegas's award-winning, 27,000-square-foot spa fills two stories and overlooks the Strip, offering a wide selection of wellness treatments including facials, manicures, and more. Once you're done at the spa, relax on the hotel's secluded eighth-floor pool deck with sparkling pools, whirlpool baths, and personalized waiter service. (Pro tip: Your personal concierge at Waldorf Astoria Las Vegas can help you curate the perfect indulgent spa day.)
Meanwhile, the spa at Waldorf Astoria Monarch Beach Resort & Club is known for their exclusive, luxurious black diamond face lift. The centerpiece of this non-surgical treatment is a face mask that contains crushed black diamond powder and rose quartz, which helps lift, firm, and tighten the skin. For even more relaxation, hit the hotel's private beach club (with umbrella and towel service!) and oceanfront restaurant and bar.
If you're looking for something a little more romantic, Waldorf Astoria Dubai Palm Jumeirah offers a dreamy Unforgettable Romance experience. The exclusive package includes a champagne breakfast in bed, followed by a peaceful couples massage in the hotel's award-winning spa and a Jacuzzi session with chocolate-dipped strawberries and even more champagne. You'll end your day with a private five-course dinner complete with rose petals and candles, and a tour of the Dubai Marina in a luxury car.
Cultural Experiences
Waldorf Astoria Amsterdam immerses visitors in the arts and culture of Amsterdam with private walking tours of the city led by a local guide. During the tour, you'll stop at your choice of one local museum (including the Van Gogh Museum or the Rijksmuseum) and your choice of two Dutch food hotspots from the hotel's "Foodie Bucket List." With the help of your local guide, you'll return home with unique stories about Amsterdam's culture and history that you could only learn on one of these distinctive tours.
For those who'd prefer to create your own art, take a private art lesson at Waldorf Astoria Bangkok's The Loft, a gorgeous room within the hotel completely dedicated to the visual arts. The room has Art Deco and Art Nouveau hangings on the walls, and the shelves are stocked with paint brushes and watercolors. During the private lesson, a local artist will guide you through drawing and painting Bangkok's cityscapes. The hotel also provides exclusive evening art excursions, where a local guide will escort you via tuk-tuk to scenic sites like the Golden Pagoda, Grand Palace, and Chao Phraya River.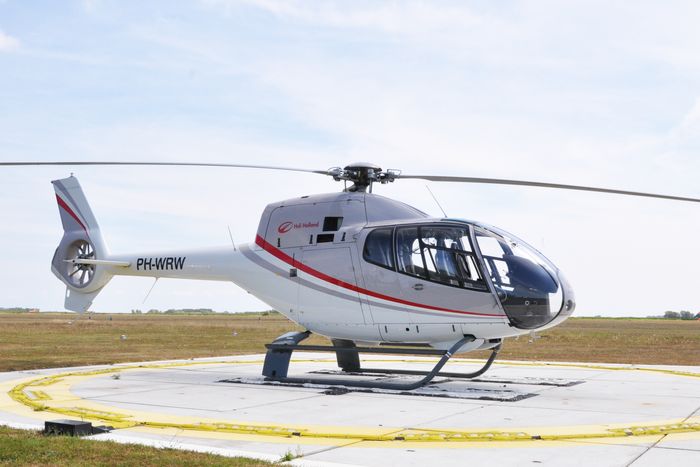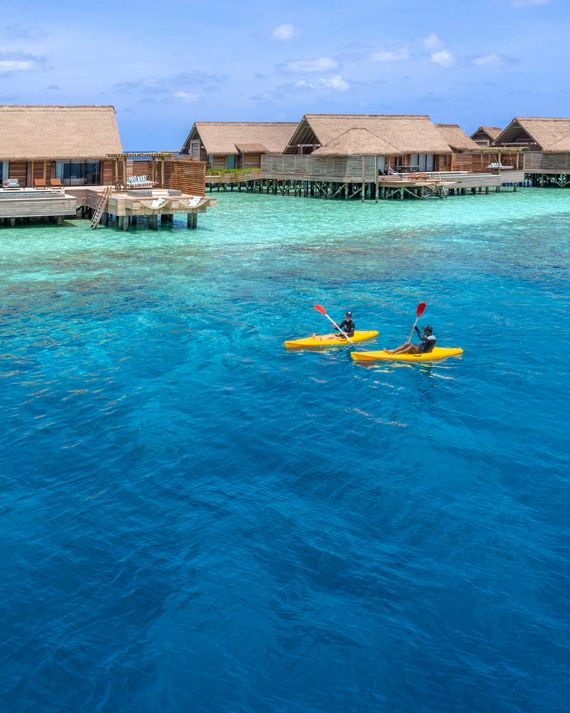 Distinctive Experiences
Waldorf Astoria Amsterdam's one-of-a-kind racing experience lets you play professional race car driver for a day at the Netherlands' Zandvoort track. You'll be paired with a personal coach who will instruct you on the ins and outs of the car and the race-track, and then you'll drive for two hours on a private course. For even more thrills, try the hotel's helicopter tour of the Dutch countryside. In your private helicopter, you'll get out of Amsterdam and spend an hour flying over the stunning multi-colored tulip fields of the Netherlands. The vantage point allows you a spectacularly unique view of these famous fields.
Even more unique adventures can be found at Waldorf Astoria Maldives Ithaafushi. Located on a private island only accessible to Waldorf Astoria guests, the property is well-situated to allow you to try aquatic experiences like windsurfing, sunset fishing, parasailing, and riding a motorized underwater scooter. Lessons are available on-site for many of these experiences, including catamaran sailing, water skiing, and more. Once you're finished with all of those activities, go out on one of the hotel's glass-bottomed boats to see the area's marine life and coral reefs up close, or book a luxurious private dolphin cruise or sunset cruise on a 55-foot yacht.
Finally, visit Waldorf Astoria Las Vegas for a once-in-a-lifetime helicopter tour of the Grand Canyon. After flying over scenic views like Lake Mead and the Hoover Dam, the helicopter descends 3,500 feet into the Grand Canyon — a truly singular way to view this popular tourist attraction. Champagne and light snacks are provided at the Canyon before the helicopter flies back to Las Vegas just in time for a sunset view of the Strip. Separately, the hotel also offers an exclusive tour of the Hoover Dam with a guide who will explain the history of the architectural landmark. (The tour also includes beautiful views of the Mike O'Callaghan–Pat Tillman Memorial Bridge.)
With this wide variety of exclusive, coveted experiences, Waldorf Astoria Hotels & Resorts are the ideal choice for your next vacation. Discover your own unforgettable experience here.
This advertising content was produced in collaboration between Vox Creative and our sponsor, without involvement from Vox Media editorial staff.