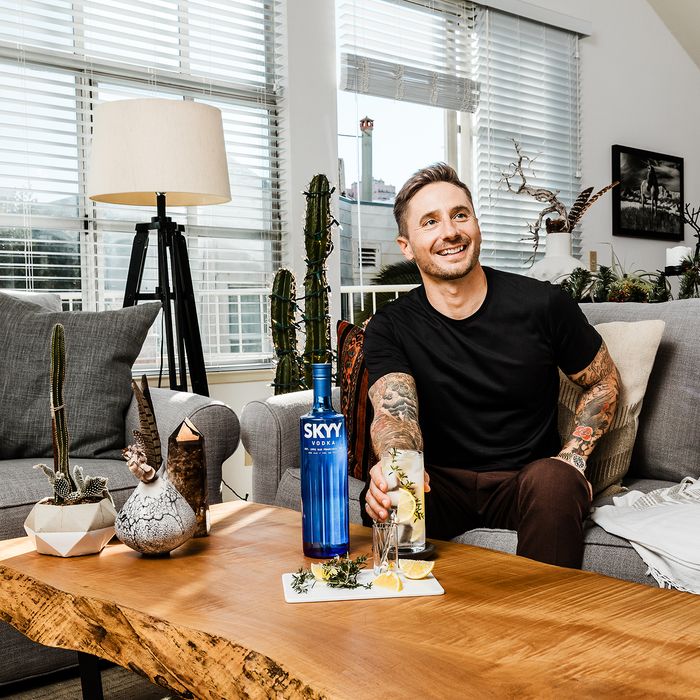 Stirring up a holiday cocktail doesn't mean you have to go traditional (or cliché). Think of this as your chance to get creative with your mixology skills. Follow in musician Chris Clouse's footsteps, and opt for something refreshing instead. "Last holiday season, I had these really nice blood oranges, and we muddled those with some ice, and topped it with vodka and soda and a little blood orange garnish — it was delicious," he says.
Clouse worked with SKYY Vodka and two San Francisco cocktail experts, Carey Jones and John McCarthy, to develop two new holiday cocktails that infuse some of that same creativity and show off his love for his city. (SKYY was founded in San Fran, after all.) "SKYY Vodka is that drink I reach for when I want to feel refreshed and ready to savor the moment and world around me," he says.
A refreshing cocktail to make this season? The Rosemary Soda, made with SKYY Vodka and balanced with a sprig of the fragrant herb. Clouse loves earthy notes paired with citrus, he says: "Those flavors can be a really nice juxtaposition." When mixed with a smooth vodka like SKYY, the aromatics of the rosemary and the bright citrus tang of the lemon shine through.
The Rosemary Soda
Ingredients:
1 1/2 parts SKYY Vodka

4 parts club soda

Lemon wedge, for garnish

Rosemary sprig, for garnish
Preparation:
Combine vodka and club soda in a Collins glass with ice and stir briefly.

Garnish with a lemon wedge and a rosemary sprig, clapped between your hands before adding to the drink to release its aroma.
Another way to showcase local flavors without the hassle is an infusion. Inspired by a recent cocktail he enjoyed, Clouse worked with Jones and McCarthy to whip up a hibiscus-infused SKYY Vodka mule, using flavored tea bags for ease. Spicy ginger beer brings out the holiday spirit, balanced with the florals of the hibiscus.
The Hibiscus Mule
Ingredients (For the cocktail):
1 1/2 parts hibiscus-infused SKYY Vodka*

2 1/2 parts ginger beer

Large lime wedge, for garnish
*For the hibiscus-infused SKYY Vodka (for 2 drinks):
4 parts SKYY Vodka

2 hibiscus tea bags (Tazo Passion brand recommended)
Preparation (For the cocktail):
Combine hibiscus vodka and ginger beer in a copper mug or rocks glass with ice. Stir to incorporate.

Squeeze lime wedge into the drink and serve.
For the infused vodka: 
In a small container, pour vodka over the tea bags. Let steep for one hour. Remove tea bags.
Savor the Moment with SKYY Vodka
Carey Jones and John McCarthy are co-authors of Be Your Own Bartender: A Surefire Guide to Finding (and Making) Your Perfect Cocktail. Carey is a food and spirits writer for publications including Food & Wine, Travel + Leisure, and Vogue. John is a consulting mixologist and spirits writer who has created bar programs for more than a dozen establishments in New York and beyond. He and his cocktails have been profiled in The New York Times, The Wall Street Journal, and other publications; and he has appeared on-camera on Good Morning America and the Today Show. They live in Sonoma County, California.
This advertising content was produced in collaboration between Vox Creative and our sponsor, without involvement from Vox Media editorial staff.