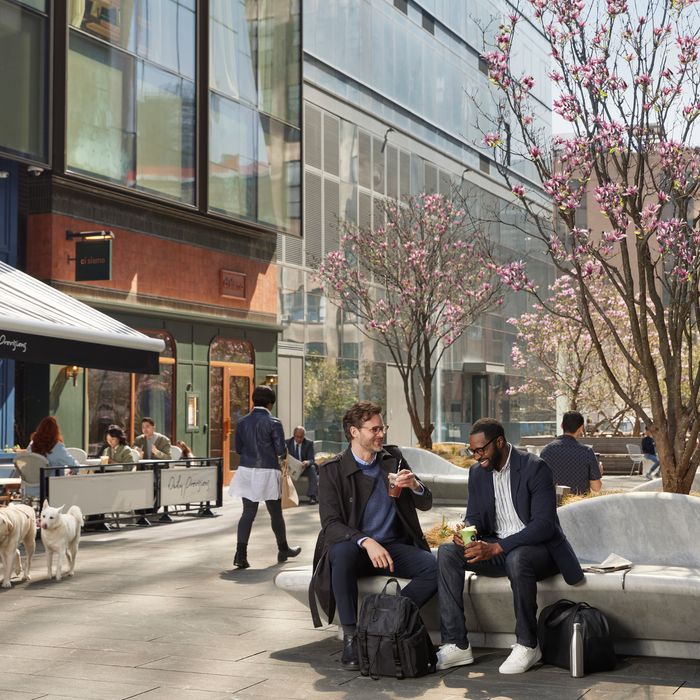 Photo: Courtesy of Manhattan West
With Broadway reopened, sports back in play, and restaurants in full swing, the city's best entertainment being shut down almost seems like a distant memory. Now's the time to rediscover all Manhattan has to offer, and there's nowhere better to start an adventure in New York than the center of it all — Manhattan West.
On the west side of Midtown, Manhattan West is located in what you might call the heart of the entertainment district. It has easy access to Penn Station, the new Moynihan Train Hall, and the subway, and is walking distance from the theater district, a short hop to Madison Square Garden, and close to both the High Line and Chelsea Piers. Inside the complex you'll find tons to do, see, shop, and eat. Don't sleep on the west side — head to Midtown for a full day of entertainment. Here's where to go in Manhattan West, no matter where your day takes you.
After a day of gallery hopping in Chelsea


Fill your day with all of the culture Manhattan has to offer: First, make your way to Daily Provisions, Danny Meyer's fast-casual restaurant for a sandwich or salad if you're in the mood for something light (and a beer or glass of wine, should you be in the mood for happy hour). If you're looking for more entertainment with your meal, book a table at Hidden Leaf, tucked away by the much-anticipated Midnight Theatre, opening soon. There, the restaurateurs behind Brooklyn darling Lilia, Saint Vitus, and Chez Ma Tante expand to offer pan-Asian cuisine at Hidden Leaf, with cocktails concocted by famed London bartender Iain Griffiths.
Before (or after a walk) on the High Line
Manhattan West is close to the High Line, soon to be even closer: Work has begun on the High Line Moynihan Connector that will soon connect it directly to Manhattan West, due to be completed in 2023. If you're on your way to Manhattan's famous park in the sky, stop for a few essentials — grab a cold brew at Black Fox Coffee, a cruller at Daily Provisions, and some artisanal snacks at New Stand. Hit Whole Foods to round out your High Line picnic and grab a pair of chic new sunglasses at OPR Eyewear on the way out — Manhattan West has it all.
Should you need somewhere to go after you exit the High Line at 30th Street, you have more than enough options at Citizens NY inside Manhattan West. The day-to-night dining hub has a range of restaurants, from fast casual to sit-down, for whatever mood you're in. Salads? Try the spicy Thai chicken salad at Plant Nation. Fried chicken sandwiches? There's Sam's Crispy Chicken. Sushi? Order rolls to go at Krispy Rice. Something sweet? Order a big cookie from Cindy Lou's Cookies (a Rocky Road cookie to hit on all your summer nostalgia, perhaps). There is no shortage of options at Citizens NY. And if you're hoping to work up a sweat post-walk, pop into the Peloton Studio right next door (coming soon!).
Before a concert or game


Thanks to Manhattan West's close proximity to the Garden, you have options to make game night (or your concert) a full experience. A stop at Manhattan West's NHL Shop before the hockey game is a must for new merch and on-site customization for t-shirts and jerseys. If you have the time, visit the store's exhibit on the Hockey Hall of Fame to glimpse the memorabilia from years past. Dining beforehand, try Umami Burger for a quick bite; but if you have time, try Zou Zou's for a more modern Mediterranean experience. Order a round of Sumac Spritzes and dig into some manti, garlicky labneh with oven-dried tomatoes, before you split the fire-roasted leg of lamb.
For date night


For that kind of date night your partner will be talking about for weeks after, you'll want to try Manhattan West's restaurants. Make a reservation at Katsuya, the L.A. sushi hotspot that's now open in Citizens NY — where California meets Japan. There, chef Katsuya Uechi, who's best known for bringing modern Japanese to America, serves upscale sashimi and sushi. The yellowtail with jalapeno and the spicy tuna tartare are must orders, but there are also new additions that are special to Manhattan West, like the Manhattan Maki roll, with spicy crab, shrimp, and tuna.
At Casa Dani, chef Dani Garcia offers avant-garde dishes inspired by Spain's Mediterranean south. The restaurant's tuna specialties, like the tuna duo (belly and loin served with olive oil, pickled pipirrana salad, and lemon zest) are a must, and everyone will love sharing the paella: try paella with black rice as a base, topped with grilled octopus, aioli, and lemon zest. Settle in with a bottle of wine from the extensive wine list — there's more to Spanish wine than Rioja! — in the sprawling lounge and date night is made.
For a day of shopping


Running errands in Midtown? Why not make a stop at Manhattan West? Grab a cup of coffee at Bluestone Lane and head to the shops to check out handcrafted sunglasses made in Italy (OPR Eyewear), men's apparel (Rothman's), athleisure (Public Rec), and skincare (Peachy). When you need to recharge, Ci Siamo has the perfect aperitivo to round out the day.
Settle into the bar with an insalata di mare and gnocco fritto (an Italian fried dough) to pair with your spritz and Negroni, and no one will fault you if you end up ordering a house-made pasta and main dish to share (like the pork milanese).
This advertising content was produced in collaboration between Vox Creative and our sponsor, without involvement from Vox Media editorial staff.