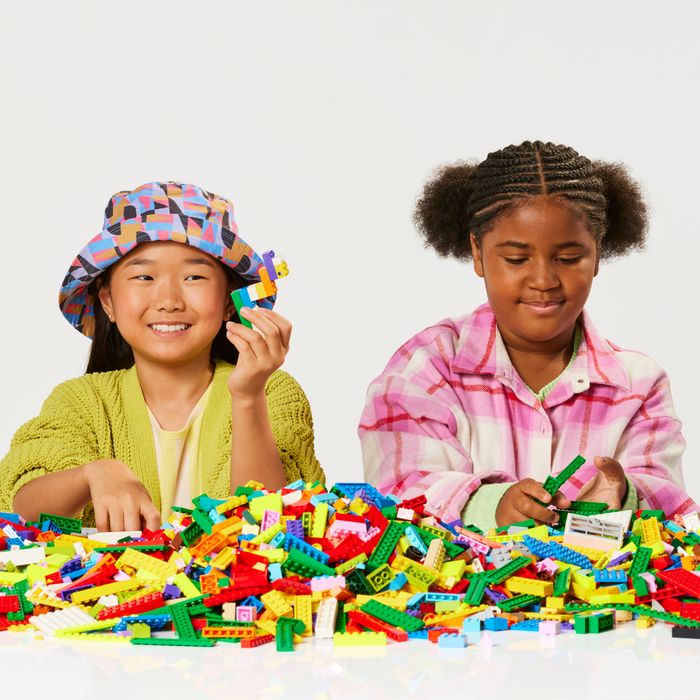 Ask any three kids what the future will be like and you'll get three completely different answers. That's the beauty of a child's imagination: It's limitless, and never is that more apparent than during creative play. Spontaneous, unstructured playtime fosters innovation, problem-solving, and confidence, in addition to helping children develop fine motor skills and learn to cope with their feelings. In fact, 95 percent of children in the LEGO® 2022 Playwell Study said creative play helps them try out new ideas. As a reminder of what the world could be like if only we dreamed it, we gave three kids piles and piles (and piles) of LEGO bricks and let their imaginations run wild. With the help of a LEGO Master Builder (yes, that's a real job), they created everything from a time machine to a city for unicorns — and even shared some surprisingly sage advice for the future.
Evelyn
At 10 years old, Evelyn already has not one, not two, but three potential career paths in mind. Her first choice is becoming president of the world — naturally — but if that doesn't work out, she has two business ideas to pursue. First, there's her idea for single-servings of toothpaste inside a crunchy calcium shell, fixing the issue of toothpaste gumming up at the end of the tube. Or, she could buy up a bunch of empty plots of land to build greenhouses. A girl with a plan, indeed.
Dream job:
"I would like to be president of the world when I grow up because I think the world needs someone to make an executive decision."
Words of wisdom:
"It's pointless having a big business and getting a lot of money if one day, the world is going to be in a position where the sun is basically melting the planet."
LEGO creation:
"A life-size skyscraper would be the coolest, most impressive thing that LEGO [bricks] could be used for in everyday life. Or LEGO wind turbines."
Nilah
Nine-year-old Nilah's life revolves around unicorns. She dreams of a world where unicorns, fire ponies (horses with flaming manes and tails), pegasi (flying horses), and alicorns (flying unicorns) really exist — and wishes that the rest of us humans could harness their mythical powers. "I would ride them all around the world, or I'd just get a pet unicorn or alicorn," she sighs wistfully, dreaming of an alternate reality where she could fly off to another continent after bedtime and be back before her mom even woke up.
Dream job: 
"I want to be on the red carpet."
Words of wisdom:
"Nothing here is free. Only hugs, that's all."
LEGO creation:
"You know New York City? [In a dream I had,] it was full of unicorns. So many unicorns everywhere that we can ride. They have powers. And actually, there were unicorns all over the earth."
Orion
Even though he just started fifth grade, 10-year-old Orion is already studying up on seventh-grade math. His goal? To become an engineer so he can bring to life one of his many inventions. So far, his ideas include a flying cruise ship that passengers could live on while traveling the world; a spaceship with pipes to suck up pollution from earth's atmosphere; and his ultimate dream: a working time machine.
Dream job: 
"Engineers can build cool things and be creative. They can help out the world by making new things."
Words of wisdom:
"We can learn from our mistakes, and we could know not to do that again."
LEGO creation:
"A time machine, so I can go back in time and learn about prehistoric history. Not a lot of people know about what happened with the dinosaurs. We think it's because of a meteor, but we don't know that. Who knows? It's a theory."
LEGO and the LEGO logo are trademarks of the LEGO Group. ©2022 The LEGO Group.
This advertising content was produced in collaboration between Vox Creative and our sponsor, without involvement from Vox Media editorial staff.