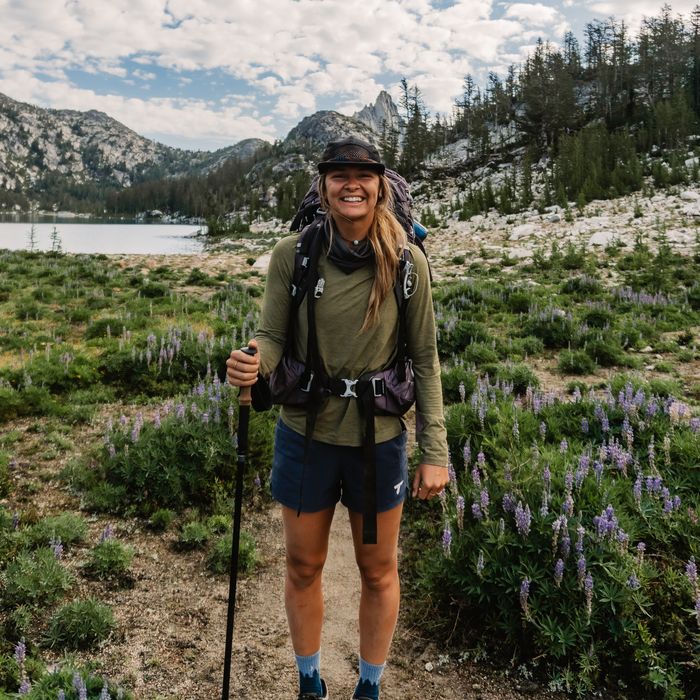 Photo: Courtesy of Haleigh Hendrickson
We're probably not spending enough time outdoors. Even though it can have great benefits for our mental and physical health, spending time outside too often comes in the form of a quick walk crammed in between work meetings. And more intensive outdoor activities — like hiking or skiing — can feel inaccessible and intimidating.
Haleigh Hendrickson, who runs the outdoor adventure blog Where We Went Next, wants to change that. Hendrickson, originally from Kentucky, left her job as a teacher just over a year ago and now lives full-time in an RV in Oregon with her husband. In between managing her blog, running virtual fitness and wellness coaching businesses, and working on brand partnerships, she makes time for travel, hiking, and other outdoor activities like scuba diving and mountain biking.
Outside of sharing her own travel adventures, Hendrickson's goal with Where We Went Next is to demystify outdoor spaces and inspire others — especially women — to get outside. She knows that many outdoor activities can feel inaccessible, and she's passionate about expanding access to the outdoors and praising its benefits to her mental health and well-being. It's an area that more and more outdoor brands and organizations are getting involved in too: Hydro Flask's Parks for All program has donated $2.5 million in grant money to nonprofit organizations focused on making the outdoors a more equitable space, as well as building, maintaining, and restoring parks worldwide. Read on for more from Hendrickson about life in the RV, her favorite outdoor activities, and her advice for anyone looking to get outside a little more.
How did you get started with your blog Where We Went Next? 
"I first began my blog, Where She Went Next, before meeting my husband while I was a volunteer in the Philippines. At the time, the blog served as an online diary, a way to commemorate my time overseas, and serve as an update for friends and family back home. Over time, She become We, and the idea for Where We Went Next was born. I created a new website and began writing about my favorite trails. The outdoors has become such an impactful player in my life, I wanted a space where I could share about hiking in a way that made it seem more accessible to others, specifically women."
When did you decide to move into the RV? 
"Our decision to move into an RV happened seemingly overnight. We had spent so much of our lives up to that point living for the weekends that we knew something needed to change. Living in an RV meant that we could blur the line a bit between work and play, travel and home base. Now it's not unusual that we don't know what day it is, or that we go on an adventure in the middle of our 'work day.' RV living definitely isn't for everyone — my husband and I work one foot apart from another, hold unusual and long work hours, and have to practice a great amount of self-discipline to stay on task. With that all being said, now that we've found our groove with living and working in a 29-foot space, I can't imagine our lives any other way."
What outdoor activities do you like to do outside of the RV?
"Hiking has an incredible way of making you feel grounded. I always come back from a hike in a better headspace than when I started. Every time I set out on a trail, I turn my phone on airplane mode so I can fully disconnect from the fast-paced digital world and reconnect with myself. I also love to scuba dive. In my opinion, there is nothing more calming than being submerged underwater. When you're diving it's just you, alone with your thoughts, surrounded by such surreal colors and creatures. The ocean is so vast and mysterious with so much of it still unexplored, I feel an overwhelming sense of gratitude every time I'm down there.
This past spring I also picked up mountain biking and am quickly falling in love with the sport. It challenges me and pushes me out of my comfort zone but that's exactly why I like it. It's hard to start a new hobby or learn a new skill in adulthood because the beginning stages are so awkward and uncomfortable, but it makes the small wins that much more rewarding."
How do you think getting outside can benefit people? 
"We owe it to ourselves to take a break. Take a break from the busyness, the deadlines, the follows and likes, the emails, the text messages — all of it. We could all benefit from going outside to remind ourselves of who we are and what we want. … I hope that everyone who comes to my page feels inspired to go outside. I especially want women to feel encouraged to take up space in the outdoors, to try new hobbies, and encourage others to do the same."
What is your advice for people who see outdoor activities as intimidating or inaccessible?
"The outdoors can absolutely be an intimidating space to break into but my biggest piece of advice is just to get out there. Everyone has to start somewhere. Whether you're new to hiking, climbing, biking, or backpacking, the quickest way to learn and gain confidence is to start. Join meet-ups, attend group events, take a class, or reach out to friends and family and see if they'd like to join you for an outdoor adventure. Always remember that by choosing to go outside and try something new, you're giving someone else permission to be a beginner too."
Interview has been edited and condensed for clarity.
This advertising content was produced in collaboration between Vox Creative and our sponsor, without involvement from Vox Media editorial staff.