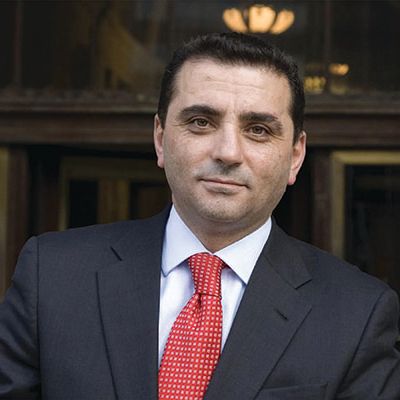 Photo: Courtesy of the firm
Specialty: Personal Injury
A personal injury attorney, with offices in the Bronx and Manhattan, Fatos Dervishi has years of experience handling cases in New York.
Mr. Dervishi, who grew up in Albania, obtained his law degree in 1989 from the Tirana University School of Law. He then worked as a special agent of the General Investigations Office with an office in Tirana, before being elected Deputy Attorney General by the Albanian Parliament in 1994. He served as Deputy Attorney General of Albania from 1994 to 1998.
In 1998, Mr. Dervishi immigrated to the United States, with his family joining him a few months later. Upon his arrival in Washington, D.C., Mr. Dervishi met with members of the U.S. Senate and House of Representatives, as his trip was sponsored by the U.S. government.
Beginning in 2003, he attended Pace University School of Law and graduated with a Master of Law degree in May 2004. He has since been admitted to the New York State Bar, and practices in all of the state's courts. On June 13, 2011, Mr. Dervishi was further admitted to practice law before the U.S. Supreme Court. In 2008 he partnered with Jared Levine and Duane Morgan to form Dervishi Levine and Morgan, P.C. In 2012 he formed his own firm, the Dervishi Law Group.
Mr. Dervishi remains extremely active in the Albanian-American community, serving as a liaison for its members and assisting recent and longtime residents with their legal and other needs.
In 2019 Mr. Dervishi joined the law firm of Wingate Russotti
Shapiro & Halperin LLP in an "of counsel" capacity. The partnership of Mr. Dervishi and the large Manhattan based personal injury firm has proved advantageous to their clients who have enjoyed a tremendous record of success.
NOTEWORTHY CASES
Mitch Kahn, Noah Katz, and Fatos Dervishi settled this matter for $5.3M. This case involved a 28-year-old non-union construction worker who sustained a deep wound to his left hand/thumb while using a table saw which lacked a safety guard. While in the process of cutting wood with the saw, the wood kicked out and he lost grip resulting in the saw blade lacerating his hand/thumb. Over time, he developed Complex Regional Pain Syndrome and/or severe muscle atrophy compromising the use of his left hand and arm. In addition, he sustained an injury to his lower back resulting in single level fusion.
Defendants contentions were that plaintiff was not permitted to use the table saw and was instructed not to use it before the date of his accident. Mitch was able to show through witness statements, photographic evidence, and deposition testimony that plaintiff was permitted to use all types of hand-held power tools in the course of his work
including saws. Any instruction not to use the saw pre-dated the
accident by several months, such that on the jobsite where his accident occurred, plaintiff was directed to and did use saws in his work.
Defendants also countered plaintiff's damages claims by contending that plaintiff's claim of CRPS was unfounded and that plaintiff was malingering with respect to the extent and severity of his lack of hand and arm function. Mitch showed through medical proofs that plaintiff's injuries were longstanding and a direct result of the accident and that he developed CRPS and/or severe muscle atrophy which impacted the use and functionality of his hand and arm given the nature and type of wound sustained.
Ultimately, the case settled at private mediation with the defendants' insurers including available 1B coverage via plaintiff's employer due to the severity of plaintiff's injury and factual and legal proofs
2322 Arthur Ave., Suite 3A Bronx, New York 10458
P: 917-496-8342
www.dervishilaw.com