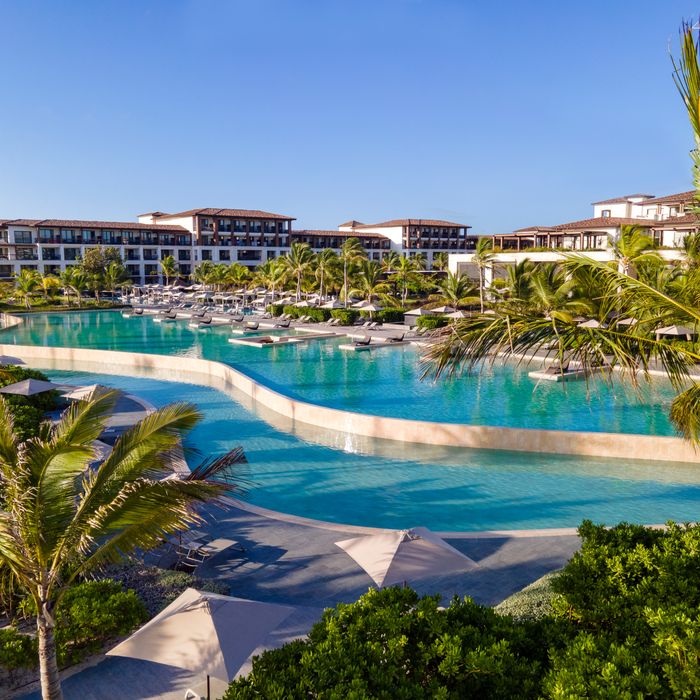 Photo: Lopesan Costa Bávaro Resort, Spa & Casino
As much as New Yorkers love their city, they have something else in common, too: Desperately wanting to get away from it every once in a while. If the city's hustle and bustle has recently had you dreaming of white sand, turquoise water, and no responsibilities, the solution may be just a short flight away in the Dominican Republic. The Lopesan Costa Bávaro Resort, Spa & Casino, located at Playa Bavaro, is the hidden gem of the region: Opened just before the pandemic, it offers a serene, all-inclusive getaway without the crowds. The luxurious five-star resort has seven freshwater swimming pools, endless culinary options, panoramic views of the Caribbean Sea, and unique boutique rooms. Designed to suit any traveler's needs, it provides bespoke amenities based on how you're traveling, whether you're looking for a peaceful oasis away from real life or an exciting vacation filled with activities and nightlife.
When booking with Lopesan Costa Bávaro, travelers choose between the resort's UNIQUE CLUB, Adults Only, and Resort options — each ideal for a different type of traveler. For couples and honeymooners, the Adults Only concept provides an exclusive area of the hotel for (you guessed it) adults only. Meanwhile, the extra-luxurious UNIQUE CLUB rooms have breathtaking views and extra amenities (including extra space) for larger, multigenerational groups, while the Resort rooms are meant for families with children and those wishing to unwind. If you're traveling with children, the resort also offers additional family-friendly activities for kids: They can enjoy themselves in a kids-only pool, as well as an onsite waterpark, and there's a teen club and kids club to keep them busy.
Lopesan Costa Bávaro also offers an array of culinary options to please any palate — even those used to New York City's breadth of restaurants. Guests can dine at a steakhouse, a traditional Italian trattoria, a sports bar, or restaurants serving Mexican, Mediterranean, or Asian cuisine. For picky eaters, two buffets contain an array of international, national, and regional cuisines. (In addition to these eateries, the resort also has two beach clubs, and bars in the lobby and at three of the pools for cocktails and refreshments all day long.) You can also visit the resort's on-site ice cream parlor for a sweet treat after meals.
While you can certainly enjoy your time at Lopesan Costa Bávaro by doing absolutely nothing if that's what your New Yorker heart craves, they also have a variety of activities and amenities to enhance your vacation. If you're interested in water activities, dip into one of the seven pools — especially the infinity pool, which is connected to the nearby beach — or indulge in water sports like diving, kayaking, and snorkeling. For those who'd like to remain on dry land, the resort's activities also include bowling, darts, ping pong, billiards, and golf. You can even keep up with your fitness routine at Titan Gym Bávaro, an 8,900-square-foot space equipped with the latest machinery and professional trainers. Meanwhile, The Boulevard is the resort's go-to facility for shopping, nightlife, and entertainment. It includes a large casino for those who'd like to get their gambling on, a wellness center (including spa treatments from the resort's renowned Om Spa Costa Bávaro), a theater, discotheque, and various shops and restaurants.
No matter how you want to get away, Lopesan Costa Bávaro has a vacation for every type of traveler. Ready to book your Dominican Republic adventure? Visit the resort's website for more information.
This advertising content was produced in collaboration between Vox Creative and our sponsor, without involvement from Vox Media editorial staff.