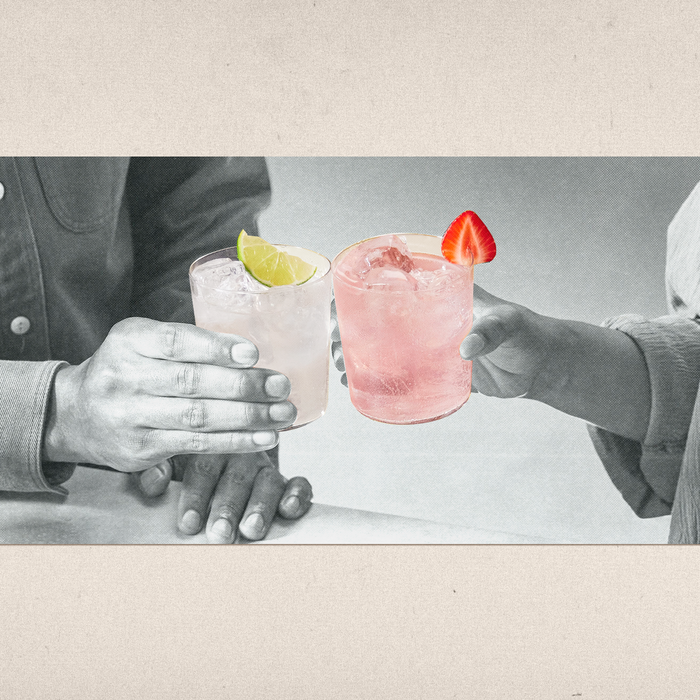 Date-night ruts are all too real. When simply going out to dinner or watching a movie starts to feel stale, that's probably a good sign it's time to shake things up. We know connecting with our partners is essential and creating memories together is one of the most effective (and fun!) ways to bond. But dreaming up creative activities you'll equally enjoy is easier said than done.
That's where Amy Chan, relationship expert and founder of Renew Breakup Bootcamp, comes in. Chan's date ideas can help you and your S.O. cultivate connection and intimacy any time of day, any day of the week – all while staying close to home. Chan's ideas rely on psychology to help strengthen relationships by learning new things, creating novelty through surprises, and spending quality time together.
"A lot of couples are disappointed two years into their relationship because they don't feel butterflies anymore," Chan says. "Well, that's because the excess dopamine and oxytocin that's prevalent in the passionate stage of love lasts an average of 12 to 18 months. After that, mother nature is not going to work for you anymore. You need to develop skills to keep the novelty, passion, and desire growing."
No matter what couples activity you choose, you can shake things up further by incorporating Olmeca Altos Ready-to-Serve Margaritas. Each bottle features natural ingredients — including the brand's award-winning tequila, lime, agave syrup, and triple sec — for a premium drink experience that's easy to serve, share, and enjoy. No need to gather a bunch of ingredients, just pour and you have a margarita in your hands. It's truly like having an on-demand bartender in the comfort of your own home.
1. Try a Tantric Massage
Choose a giver and a receiver (usually the person who's the most tired gets to be the receiver first). The receiver lies down on their stomach while the giver sets a five-minute timer and uses warm oil to massage the back, arms, and legs.
"The giver uses slow and gentle strokes while intentionally sending the receiver healing energy," Chan says. "There are various types of touch you can try, including: tapping, moving touch, scratching, and static non-moving touch."
Once the timer goes off, the giver and the receiver switch. After you've each gotten a turn on your stomachs, flip over and repeat the process while lying on your back. It's a low-pressure, non-intimidating way to share affection in just 20 minutes.
"When you do this for the first time, set an intention to not have the massage lead to sex," Chan says. "This alleviates the pressure of what's next or feeling a need to perform, thus deepening the experience of creating intimacy through touch only."
You can also create a romantic atmosphere with candles, soft music, or essential oils. The goal is to cultivate a sense of connection between you and your partner, even if you only have a short amount of time.
How it helps:
Try incorporating tantric massage into a monthly or weekly ritual to help you develop intimacy with your partner. "It helps both people feel loved, cared for, and not to mention, there are good chemicals like oxytocin released during the massage," Chan says. This activity is great for everyone, but especially busy parents and couples who find it hard to schedule time for intimacy.
2. Take a Virtual Cooking Class
Learn to cook a delicious meal together. If you're not in the mood for a virtual cooking class, you can try a recipe that's always intimidated you, a family favorite you've been wanting to share, or even a randomly selected page from a new cookbook.
You can choose to cook together or have fun with some playful competition. See whose meal turns out better, and give an award for "best in show" and one for "best in taste."
"There's something special about being able to make your own food — it's a fun shared experience," Chan says. "When it's time to enjoy the fruits of your labor, light some candles and play some music to set the mood. Pop open a bottle of Altos Ready to Serve and each person can take a turn giving a toast and sharing what they're grateful for about each other."
How it helps:
Cooking can be a calming and meditative activity, which can reduce stress and help you unwind from a busy day. Doing it with your partner can create a sense of peace and intimacy while using your hands can help turn off your brain after a day of work.
3. Recreate Your First Date, at Home
Put on your best date outfit and get to know each other again — just like you did on your first date — by playing a card game with question prompts. But this time around, instead of basic inquiries like "where are you from?," dive into some more thoughtful, hard-hitting questions.
"We connect through stories, and what better way to get to know the different layers of our partner than by playing a question card game?" Chan says. "You can purchase a deck or come up with your own prompts. If you design your own, try creating 10 questions each."
Chan recommends starting with questions like:
— Tell me about a time you found the silver lining of a challenging situation.
— What's a valuable lesson you learned from your parents?
— What piece of advice would you tell your younger self?
— What's a secret dream or desire you've never shared?
— What quality about yourself are you most proud of?
Later, maybe watch the movie you saw together on your first date or make the meal you ate together when you first met. Recalling these nostalgic moments will instantly help bring you two closer together.
How it helps:
"We release dopamine when we self-disclose," Chan says. "By taking turns asking each other questions that go deeper and allow for vulnerable shares, you not only increase positive feelings, but you also gain emotional closeness."
4. Enjoy an Outdoor Picnic
Pack some cheese, charcuterie, and a blanket, and head to a nearby park — or even just step into your own backyard. Never underestimate the joys of people watching, but if you want some more formal entertainment, bring a deck of cards, a board game, or an activity book you can do together. "This is a quick and easy way to spend the afternoon creating fun memories," Chan says.
How it helps:
This activity helps you and your partner bond by breaking out of your daily routine. You're breathing fresh air, you're relaxing in nature, and you're away from your usual distractions. All of this allows you to be truly present with your loved one.
Who is it great for:
This activity is great for people who are on a budget and want to add some fun and spontaneity to their dates.
5. Write a Letter to Your Future Selves
Play some inspiring music, light some candles, and bring out beautiful stationery before each writing two letters. The first letter is a journal entry addressed to your future self. "Imagine it's a year from now, you're waking up, and your ideal day is about to begin," she says. "Write down what you see right when you wake up, make note of the view, relish in how you feel. Then go through the day as if it were perfectly unfolding."
Chan says to focus on what you feel and how grateful you are. Maybe you're working that dream job or you got the pet you always wanted. When you get to the evening part of the day, as you lay in bed, reflect on which dreams have come true and the love that you feel.
For the second letter, write a letter to your partner as if it's a year from now. In this letter, share how proud you are of them for achieving their goals and for creating their dreams. Share how you feel about them, how you see them, and how much you appreciate them.
Seal the letters and store them in a safe place. Mark a date on the calendar for when you'll open them and read them together. If you prefer to do this all digitally, Chan recommends the services  Future Me or Letter to Yourself.
When you're both finished writing your letters, have a conversation about the hopes and dreams that you wish to manifest in the next year, both personally and together.
How it helps:
This activity helps you gain a deeper understanding of your partner's dreams and how you can play a role in turning them into a reality. "It's a great way to envision the future and dream of what's possible," Chan says. "In order for us to create the life and love we want, we must imagine it first."
No matter what you choose to do, Chan's best advice for keeping relationships fresh is to make room for play. "Being an adult is hard," she says. "Life throws curveballs that can stress us out and deplete us. It's easy to become really serious, even cynical. We need to incorporate more play in our lives in order to regenerate us and help strengthen the connections in our relationships. This can mean doing something that involves your hands, like pottery, or trying a new class like five rhythms dance. Get out of the head and into the body."
This advertising content was produced in collaboration between Vox Creative and our sponsor, without involvement from Vox Media editorial staff.