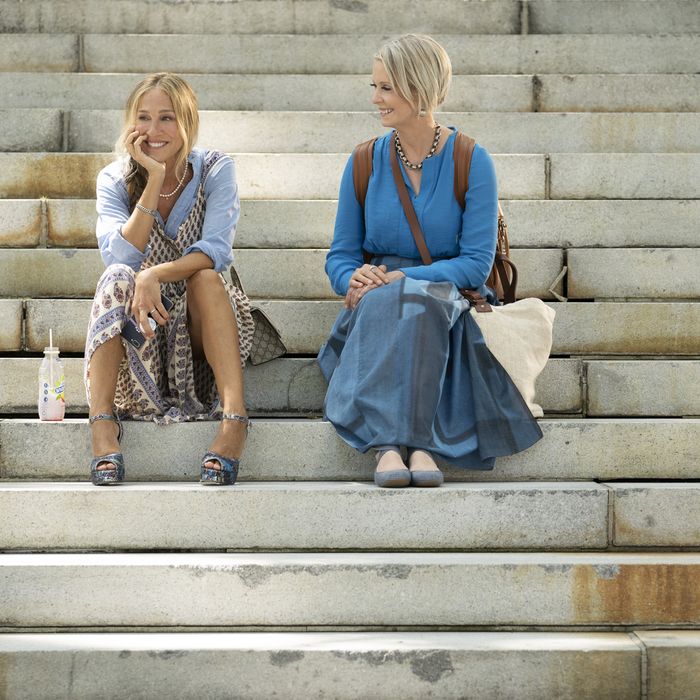 Photo: Courtesy of Warner Bros. Discovery
For nearly 30 years now, the HBO Original Sex and the City has been the subject of banter, in the form of think pieces, essays, and snide remarks. And while the early writing tended to cover the "sex" (one 2001 review called it a "racy winner"), later coverage finally got to the "city" portion. A 2018 Times piece published for the show's 20th anniversary ran with the headline "Did 'Sex and the City' Inspire Your Move to New York?" and, unsurprisingly, found plenty of women willing to say that yes, it sure did. The show that once held up a mirror to their "fifth character" now found itself, wittingly or not, in the position of shaping the city and its demographics.
Now that HBO Max has pulled a Cher and become simply Max, its enormous catalog places HBO classics like SATC alongside the few other shows that have filled a similar spot in the city's imagination of itself — namely, Friends. Starting just a few years earlier, Friends was even more responsible for a generational rose-colored view of New York. Mistake #1: being shot in LA. While Carrie Bradshaw took flak for making the city seem like an endless club filled with eligible (and, primarily, wealthy) men, Rachel Green tricked a decade of new New Yorkers into thinking they could live on the set of a multi-camera soundstage and pull off a bouncy, layered bob. Of course, glossy, aspirational television is nothing new, but it's funny now in retrospect that even elements of their lives that were supposed to show hopelessness now seem too good to be true.
As a millennial graduating college in the 20-teens, I skipped these years of optimistic portrayals of NYC. Too young at the time for SATC (I would eventually come around to loving its gauzy unrealism), I also missed out on age-appropriate shows like Gossip Girl (itself the subject of a 2021 reboot on Max) that painted an equally fabulous portrait of the city, or grittier options like HBO Original The Sopranos that hinted at the city's potential on its fringes. It wasn't until Girls that I got the depiction that my generation wanted: no polish, no playgrounds, just people embarrassing themselves over and over. In my years living here, this has been the most reliable experience. Girls, also an HBO Original, didn't showcase Manhattan as the pinnacle of high fashion, and even when it managed to make Brooklyn seem like the epicenter of indie sleaze coolness, it tempered that image with a reminder that most people you'd meet here would be very annoying. Nevertheless, it inspired a new generation of New Yorkers to come here and become that annoying for themselves.
Around the same time that Girls aired, another Brooklyn-based show was making considerably fewer headlines, flying under the radar due to its origins as a scrappy webseries. The HBO Original High Maintenance certainly showed the worst that New York has to offer — Max Jenkins and Hélene Yorke played some of the best villains on TV — but it did so without the sweeping generational statements that characterized Girls. Thanks to its format as an anthology series, it was able to show the city's best — sneakerheads, Hare Krishnas, the makers of This American Life — and not-so-brightest. This was the show that fully cemented NYC's image for me, tipping the scale from "maybe I'd live there" to "why live anywhere else?" Even in 10-minute sketches, the characters displayed more heart and brains and skin in the game than anything else I was seeing on TV, and their collective world was too good to resist. True to the stoner vibe, however, the show's downside was a tendency to wrap things up a little too neatly or nicely. Hateful characters would rarely end an episode without a toke that took their edge off, or a realization that shifted their realities.
The real New York, as it turns out, is neither SATC's upbeat catwalk nor the argumentative, gritty-but-fun Brooklyn of Girls and High Maintenance, but some secret third thing. The city is big enough to encompass it all. Everyone has met the cranky baristas and wannabe pop stars and finance bros who marry your friend way too quickly, and had their main character moment after a long night out or glimpse of the skyline.
Since SATC pulled off its own reinvention to Max Original And Just Like That… (season 2 premieres June 22), the hot takes have been reignited. Articles hailed the showrunners' efforts to bring long-overdue diversity to center stage (even if new characters are rich as a prerequisite), and they critiqued the show glossing over the pandemic's impacts (just as it had sidestepped tragedy in the past). Most funny of all, however, were the Tweets and essays and TikToks calling it "unrealistic." The IRL shine of New York encompasses both the mundane and the fantastic. Ignore the money and the hanging-out-everyday and the endless age-appropriate hotties on AJLT — if you've ever copped an invite to an ultra-exclusive fashion show uptown, locked eyes with a celebrity in the Village, or shown up last-minute to a ritzy Hamptons wedding, a tiny part of you is living in Carrie's world.
Subscribe to Max to stream all the series mentioned in this article.
This advertising content was produced in collaboration between Vox Creative and our sponsor, without involvement from Vox Media editorial staff.