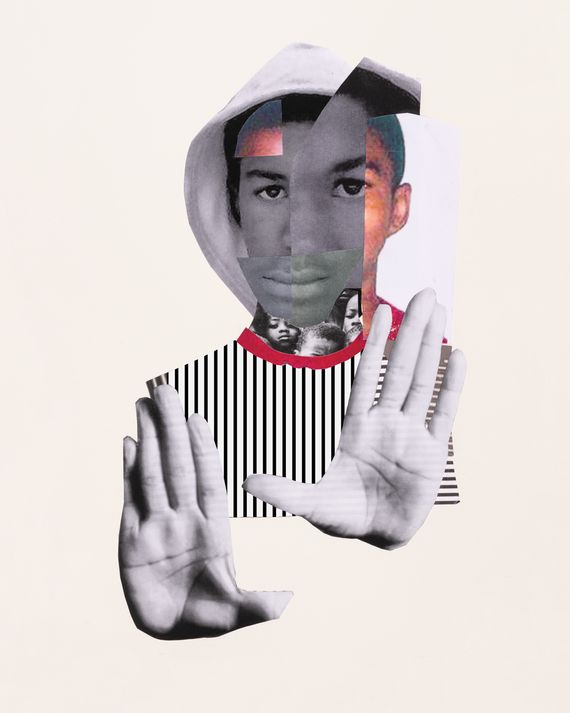 Deborah Roberts,
One of Many
(2022), mixed-media collage on paper, 22-by-15 inches.
Art: Deborah Roberts for New York Magazine. Courtesy of Deborah Roberts, Stephen Friedman Gallery London and Susanne Vielmetter Los Angeles. Photograph of artwork: Paul Bardagjy.
On February 26, 2012, 17-year-old Trayvon Martin was shot and killed by George Zimmerman in Sanford, Florida, because as a Black boy walking in a gated community, he was deemed "suspicious." Zimmerman's acquittal appalled a nation often willfully blind to the vulnerability of living while Black. Ten years later, "Black Lives Matter" has grown from a hashtag to a protester's cry to a cultural force that has reshaped American politics, society, and daily life. It is, at the same time, a specific collection of organizations and people whose decisions have attracted both applause and criticism; whose actions have been a source of intrigue; whose personal relationships have both strengthened and splintered under the stress and exposure. This special issue attempts to tell the story of the first decade of Black Lives Matter, the movement — as well as the country it moved. —Lindsay Peoples-Wagner and Morgan Jerkins
February 26, 2012
Trayvon Martin, 17, leaves his relative's home in Sanford, Florida, to go to a local 7-Eleven for a bag of Skittles and a beverage. As he is walking home, George Zimmerman, a neighborhood-watch captain, calls 911 and reports seeing a person who looks "suspicious." Zimmerman then confronts Trayvon and shoots and kills him.
February 28, 2012
Trayvon's family retains Benjamin Crump, a lawyer known for representing the parents of Martin Lee Anderson, a Black 14-year-old who died at a Florida Juvenile Justice boot camp for teens in 2006 after being beaten and suffocated by guards. Crump had helped the Andersons reach a $5 million settlement with the state.
March 8, 2012
Crump and Trayvon's family file a wrongful-death lawsuit and demand that law enforcement hand over 911 tapes of the call made during the incident. That day, Trayvon's parents authorize a petition on Change.org calling for Zimmerman to be prosecuted for murder. By the end of the month, it will gather more than 2.2 million signatures.
March 19, 2012
Florida governor Rick Scott asks the state's Department of Law Enforcement to open an investigation into the Trayvon Martin shooting.
March 20, 2012
The Justice Department and FBI also open investigations into Trayvon's death. A Florida state attorney announces that a grand jury will convene in April.
March 21, 2012
A Million Hoodies Movement for Justice is created by 25-year-old Daniel Maree to call for the arrest of George Zimmerman. A "Million Hoodies" march is held in Union Square.
▼
March 23, 2012
President Obama speaks on Trayvon's killing for the first time, saying, "If I had a son, he'd look like Trayvon." Geraldo Rivera says on Fox & Friends that Trayvon's hoodie was as much responsible for his death as Zimmerman. This draws intense criticism, and Rivera later apologizes.
▼
March 23, 2012
In Miami's game with the Detroit Pistons, some members of the team play in sneakers with the messages RIP TRAYVON MARTIN and WE WANT JUSTICE on them.
March 26, 2012
Six state senators from New York City wear hoodies in the Capitol Chamber. One of them is a state senator from Brooklyn named Eric Adams.
March 28, 2012
U.S. representative Bobby Rush is thrown off the House floor for wearing a hoodie in protest.
April 11, 2012
George Zimmerman is arrested and charged with second-degree murder. His supporters quickly raise more than $200,000 in donations for his defense.
November 23, 2012
Jordan Davis, a Black 17-year-old, and his three friends park at a gas station in Jacksonville, Florida, to buy gum and cigarettes and are approached by Michael Dunn, who is white. After a verbal altercation, Dunn fires ten rounds at their car, killing Jordan. Dunn leaves the scene of the shooting and orders pizza with his fiancée that night.
January 29, 2013
A week after performing with her band at Obama's second inauguration, Hadiya Pendleton, 15, is killed in a Chicago park when a gunman fires into a crowd. She becomes a symbol of gun violence. Michelle Obama attends her funeral.
July 13, 2013
After 16 hours of deliberation, a jury of six women (five white, one Puerto Rican) finds Zimmerman not guilty.
▼
July 13, 2013
Amid public outrage at the Zimmerman verdict, Alicia Garza, a 32-year-old organizer in Oakland, California, posts a "love letter to Black people" on Facebook that ends with: "Black people. I love you. I love us. Our lives matter." Patrisse Cullors, a 30-year-old anti-incarceration organizer in L.A. and a friend of Garza's, starts posting with the hashtag #BLACKLIVESMATTER. Overnight, Cullors posts on Garza's Facebook: "twin, #BLACKLIVESMATTER campaign? can we discuss this? i have ideas. i am thinking we can do a whole social media/all out in the streets organizing effort. let me know."
July 14, 2013
Ayo Tometi reaches out to Garza to get involved. Tometi, then known as Opal, is the director of a New York immigrants'-rights organization, and all three women are part of a network called Black Organizing for Leadership and Dignity (BOLD). In the week after the verdict, Garza puts up #BLACKLIVESMATTER signs in Oakland. Cullors leads a protest down Rodeo Drive in Los Angeles with a banner reading #BLACKLIVESMATTER. Tometi buys the domain name Blacklivesmatter.com. They set up #BlackLivesMatter Facebook, Tumblr, and Twitter pages, and Tometi sends out an email blast to Black community organizers about the hashtag and a project of sharing stories about why #BlackLivesMatter and what they're doing to ensure this. That summer, the first chapter of what will go on to become the primary Black Lives Matter organization is formed in Los Angeles.
September 14, 2013
Jonathan Ferrell, a 24-year-old Black former football player, knocks on a stranger's door seeking help following an automobile accident in Charlotte, North Carolina. The woman who answers calls the police, and when officers arrive, one of them fatally shoots Ferrell after another misses with a taser.
October 2, 2013
Law & Order: SVU airs an episode taking elements from Trayvon Martin's killing titled "American Tragedy," in which a white woman shoots and kills a Black boy who she mistakenly believes is following her home. Protesters in the episode carry signs saying BLACK LIVES MATTER.
November 2, 2013
Renisha McBride, a 19-year-old Black woman, is killed by Theodore Wafer, a 54-year-old white man, in Dearborn Heights, Michigan, when she knocks on his door at night after crashing her car.
April 25, 2014
TMZ releases a tape of L.A. Clippers owner Donald Sterling telling his then-girlfriend, "It bothers me a lot that you want to broadcast that you're associating with Black people … The little I ask you is not to promote it on [Instagram] and not to bring them to my games." Sterling has already ​​been sued by federal prosecutors for allegedly refusing to rent apartments to Black people, and his comments spur an uproar in the NBA, with LeBron James responding, "There is no room for Donald Sterling in our league." Days later, NBA commissioner Adam Silver announces that he is banning Sterling for life.
April 30, 2014
In Milwaukee, Dontre Hamilton, a 31-year-old with a history of mental illness, is sleeping on a bench in Red Arrow Park when he's approached by Officer Christopher Manney, who gives him a pat down. Manney claims that upon waking up, Hamilton steals his baton and swings it at him, and the officer shoots him 14 times, killing him.
June 15, 2014
Ta-Nehisi Coates publishes "The Case for Reparations" in The Atlantic, writing, "Reparations — by which I mean the full acceptance of our collective biography and its consequences — is the price we must pay to see ourselves squarely." The piece propels into the mainstream the radical argument to provide financial payments to the descendants of enslaved people.
July 17, 2014
Eric Garner is killed in Staten Island by NYPD officer Daniel Pantaleo after being put in a choke hold on the sidewalk. He had been approached by police on the suspicion of selling loose cigarettes. Ramsey Orta, a friend of Garner's, films the 43-year-old father of six gasping for air and saying "I can't breathe" before going limp.
August 2, 2014
Ramsey Orta, who filmed Garner's death, is arrested by the NYPD on weapons charges in a move that many argue is retaliatory.
▼
August 5, 2014
John Crawford, a 22-year-old Black man, is shot by police in Beavercreek, Ohio. Crawford had been seen with a BB gun in Walmart, and another patron called 911. Police arrived and shot him immediately. He and his girlfriend were at the store to pick up crackers, marshmallows, and chocolate bars for a family gathering.
August 7, 2014
Theodore Wafer is found guilty of second-degree murder in the Renisha McBride trial. Garza and Cullors would later discuss feeling uncomfortable at seeing #blacklivesmatter used in celebration of his conviction.
August 9, 2014
Michael Brown, 18, and his friend are walking down Canfield Drive in Ferguson, Missouri, when they are approached by Officer Darren Wilson in his patrol car, who orders them off the street. After a brief struggle through the SUV's open window, Brown flees with Wilson in pursuit. When Brown turns back toward Wilson, the officer shoots him six times. His body is left on the street for over four hours.
August 10, 2014
A candlelight vigil is held for Brown in Ferguson. Afterward, protesters head to the streets near the site of the shooting, where they are met by police in riot gear. There are reports of looting. A convenience store nearby is burned.
▼
August 11, 2014
The FBI opens a civil-rights investigation into Michael Brown's killing. On the ground in Ferguson, police use tear gas to disperse protesters.
August 11, 2014
Ezell Ford, a 25-year-old Black man who according to his family has a history of mental illness, is killed by L.A. police officers while walking in the street. During a struggle, they shoot Ford in the back at close range.
August 12, 2014
As protests in Ferguson escalate, President Obama releases a statement: "The events of the past few days have prompted strong passions, but as details unfold, I urge everyone in Ferguson, Missouri, and across the country, to remember this young man through reflection and understanding. We should comfort each other and talk with one another in a way that heals, not in a way that wounds."
August 15, 2014
Ferguson police release surveillance video of a robbery that took place the day of the shooting, alleging Brown was suspected of stealing cigars. Lawyers for the Brown family describe it as character assassination. Later, Fox News host Juliet Huddy suggests, "Had that tape been out there … [it might've lent] credence to the fact that maybe in some way — we don't know this — but maybe this officer was justified."
August 16, 2014
After looting the night before, a state of emergency is declared in Ferguson.
August 16, 2014
DeRay Mckesson, a Minneapolis schools administrator, travels to Ferguson for the first time to join the protests. According to Mckesson, he and others will go on to remain present for 400 days of protests there. As winter approaches, Mckesson begins to wear the blue Patagonia vest that he comes to be identified with.
August 18, 2014
Missouri governor Jay Nixon deploys the National Guard to Ferguson; protests continue to escalate.
August 23, 2014
Al Sharpton leads a protest on Staten Island calling for a federal takeover of the investigation into Garner's death.
August 25, 2014
Page A1 of the New York Times declares that Brown had been "no angel, with public records and interviews with friends and family revealing both problems and promise in his young life." That month, Black Twitter users had been pointing out that the images of Brown used in media coverage portrayed the 18-year-old man as a "thug." Many posted side-by-side photos of themselves looking "respectable" and "threatening" to drive the point home with the hashtag #IfTheyGunnedMeDown.
August 29, 2014
Patrisse Cullors and Brooklyn-based organizer Darnell Moore orchestrate Black Life Matters Freedom Rides, bringing more than 600 Black people from 18 cities to Ferguson. When some of the activists who were present in Ferguson return to their home states, they start BLM chapters in 18 cities.
September 18, 2014
Shaun King, who has amassed a large Twitter following for several posts about Eric Garner's death, writes a viral thread analyzing the forensic evidence in the Michael Brown shooting and refuting Wilson's claim that he had to shoot because he felt threatened.
October 20, 2014
Laquan McDonald, 17, is ordered by Chicago police to drop a knife with a three-inch blade. He refuses and walks away. Officer Jason Van Dyke shoots him 16 times in less than 15 seconds. Initially, there is almost no public outcry.
November 20, 2014
Akai Gurley, 28, is shot dead in the stairwell of a Brooklyn apartment building by Officer Peter Liang, who is subsequently charged with manslaughter.
November 22, 2014
Tamir Rice, 12, is playing with a toy gun outside of a community center in Cleveland, Ohio, when police receive a call that a juvenile is pointing "a pistol" at people. "It's probably fake," the caller says, twice. As two officers pull up, they shout repeatedly at Tamir, "Show me your hands!" before Officer Timothy Loehmann shoots at the boy twice, killing him. In the aftermath, it comes out that Loehmann had been deemed unfit for duty in a previous law-enforcement job.
November 24, 2014
The grand jury declines to indict Darren Wilson for the death of Michael Brown. This decision sets off a wave of protests in Ferguson. Although Governor Jay Nixon has called in the National Guard, the situation on the streets becomes more violent as the night progresses. The police fire tear gas and rubber bullets. More than a dozen buildings are set on fire, some 60 people are arrested, and 16 people are taken to the hospital. The next day, for the first time, the reactionary #AllLivesMatter hashtag trends on Twitter.
November 28, 2014
The group Blackout for Human Rights organizes #Blackoutblackfriday, a set of national protests to boycott large retailers and bring attention to racial injustice on Black Friday. That day, 14 protesters in BLACK LIVES MATTER T-shirts, including Alicia Garza, chain themselves to trains in West Oakland, halting transit. After an hour and a half, all 14 are arrested.
November 30, 2014
In a silent protest, members of the St. Louis Rams run onto the field with their arms raised in a "Hands up, don't shoot" gesture. The St. Louis Police Officers Association call for the players to be punished; the Rams coach announces the players were "exercising their right to free speech" and will not be disciplined.
December 3, 2014
A grand jury decides not to indict Daniel Pantaleo in Eric Garner's death. By the end of the day, the Justice Department announces it will open an investigation. Massive protests break out across New York and around the country in response to the decision, and Garner's last words, "I can't breathe," become a rallying cry.
December 6, 2014
Chicago Bulls guard Derrick Rose wears an "I Can't Breathe" shirt before a game. Soon, players including LeBron James, Kyrie Irving, and Kobe Bryant are wearing the shirts.
December 11, 2014
Black congressional staffers, led by the Congressional Black Associates, stage a walkout of Congress in response to the Eric Garner and Michael Brown killings.
December 12, 2014
Erica Garner leads a "die-in" at the Staten Island location where her father was killed.
December 20, 2014
Two NYPD police officers, Rafael Ramos and Wenjian Liu, are killed while sitting in their patrol car by a lone shooter, Ismaaiyl Brinsley, who was purportedly outraged by the deaths of Michael Brown and Eric Garner. Brinsley then kills himself. Pat Lynch, president of the Patrolmen's Benevolent Association, blames Mayor Bill de Blasio and protesters against police brutality, saying, "There's blood on many hands tonight." When the mayor visits the hospital where the officers have been taken, the NYPD turn their backs on him. The next day, the hashtag #BlueLivesMatter begins to trend and is used 22,834 times.
December 23, 2014
Antonio Martin, a Black 18-year-old, is killed by police in Berkeley, Missouri, near St. Louis. Police had responded to reports of shoplifting at a gas station. The incident inspires some small protests in the area.
January 4, 2015
Three dozen people hold "Black Brunch" protests at midtown restaurants they identify as "white spaces," where they read out names of Black people killed by police. Responding to criticism of the tactic, a member says, "It is an inconvenience to us to be shot in the street."
January 17, 2015
Marissa Alexander is released from prison. In 2012, she had been sentenced to 20 years after firing a shot into the ceiling to scare off her abusive estranged husband. Arrested for aggravated assault with a deadly weapon, a jury rejected her "stand your ground" defense and took only 12 minutes to convict her. Her case becomes a flash point in the arguments over gun control and racial justice.
March 1, 2015
Charley Leundeu Keunang, a 43-year-old Black man, is killed by police on Skid Row in Los Angeles. Local Black Lives Matter activists hold a protest shortly afterward.
March 4, 2015
The Justice Department releases its reports on the Ferguson Police Department, announcing that it will not bring federal civil-rights charges against Darren Wilson, although it found that the department's practices "disproportionately harm African Americans" and that "this harm stems in part from intentional discrimination."
March 5, 2015
ABC's Scandal airs an episode with a Black Lives Matter plotline: Olivia Pope is hired by the D.C. police as a crisis manager after a white officer shoots a Black child.
March 6, 2015
Tony Robinson, a biracial 19-year-old, is shot and killed by law enforcement in Madison, Wisconsin. Called to perform a wellness check on Robinson, police shoot him at least seven times. Within days, protesters gather at the state capitol.
April 4, 2015
Walter Scott, a 50-year-old Black man, is pulled over by white police officer Michael Slager in North Charleston, South Carolina, for a defective light on his car. Scott runs away, and Slager shoots him five times in the back. Feidin Santana, an eyewitness, films the shooting, and the video goes viral.
April 12, 2015
Freddie Gray is severely injured after an encounter with police in Baltimore. The 25-year-old is arrested for possessing what police describe as an illegal switchblade. He is loaded into the back of a police van without a seat belt. On the way to the precinct — in what prosecutors would later allege was a "rough ride" meant to harm handcuffed prisoners — he is injured and falls into a coma. He dies on April 19 from injuries to his spinal cord. Demonstrators take to the streets the next day.
April 27, 2015
During protests following Gray's funeral, some buildings are burned and stores are looted. The National Guard is dispatched to Baltimore to restore order.
April 28, 2015
President Obama condemns the looting and arson and says about the death of Freddie Gray, "There are some police departments that have to do some soul-searching. There are some communities that have to do some soul-searching. But our country needs to do some soul-searching. This is not new. It's been going on for decades."
June 17, 2015
Dylann Roof murders nine Black people at Emanuel African Methodist Episcopal Church in Charleston, South Carolina. After the shooting, investigators find a handwritten journal in Roof's car that details his motivations.
▼
"My name is Dylann Storm Roof. I was born on the third day of April, 1994 in Columbia, South Carolina. I was not raised in a racist home or enviroment [sic]. Living in the South, almost every White person has a small amount of racial awareness, simply because of the number of negroes in this part of the country. But it is a superficial awareness … The event that truly awakened me was the Trayvon Martin case. I kept hearing and seeing his name, and eventually I decided to look him up. I read the Wikipedia article and right away I was unable to understand what the big deal was. It was obvious that Zimmerman was in the right. But more importantly this prompted me to type the words 'Black on White Crime' into Google, and I was never the same since. The first website I came to was the Council of Conservative Citizens. There were pages upon pages of these brutal, disgusting black on White murders. I was in disbelief. At this moment I realized that something was very wrong. How could the news be blowing up this Trayvon Martin case while hundreds of these black on White murders got no airtime? … From here I found out about the Jewish problem and other issues facing the White race and today I can say with confidence that I am completely racially aware."
July 13, 2015
Sandra Bland dies in police custody in Waller County, Texas. Three days earlier, the 28-year-old Black woman was pulled over by state trooper Brian Encinia for failing to signal a lane change. Dashcam video shows a heated exchange between Encinia and Bland before he arrests her for assaulting an officer. At the Waller County jail, Bland is put in a cell alone because she is deemed a risk to others. On the morning of the 13th, she is found hanging in her cell from a plastic bag. Her death is ruled a suicide, but her family and activists call for an investigation. Several protests are held in Texas and around the country. Online, people draw attention to the case using the hashtags #SandraBland and #SayHerName.
July 24, 2015
The Movement for Black Lives National Convening — also known as the first Black Lives Matter conference — is held in Cleveland. More than 800 activists attend. Michael Brown's father, Eric Garner's mother, and cousins of Emmett Till speak. On the third day of the conference, Cleveland police pepper-spray attendees after they demand the release of a 14-year-old boy who was arrested for allegedly violating open-container laws — for what bystanders said appeared to be a Snapple.
August 8, 2015
BLM protesters in Seattle interrupt a Bernie Sanders campaign speech, calling for a moment of silence to honor Brown and a platform from Sanders for addressing racial injustice. After audience members heckle the protesters and the protesters decline to give up the stage, Sanders leaves without giving his speech.
August 13, 2015
Janelle Monáe and the Wondaland collective release the protest anthem "Hell You Talmbout," invoking the names of Black Americans killed by police, including Trayvon, Walter Scott, Garner, Freddie Gray, and Bland.
August 21, 2015
Johnetta Elzie, DeRay Mckesson, Brittany Packnett Cunningham, and Samuel Sinyangwe launch Campaign Zero.
▼
September 22, 2015
A small committee of activists in Missouri, including Kenny Murdock, registers a Black Lives Matter PAC to raise money and endorse candidates in local and federal races. Murdock calls it "a branch on the tree of Black Lives Matter" and a way to play the game in the "plutocracy" of politics. Meanwhile, an activist in New York, Tarik Mohamed, launches an unconnected Black Lives Matter super-PAC. Neither PAC is officially affiliated with the BLM network, according to co-founder Alicia Garza, who says the organization will not endorse candidates but wants to push the "system of democracy to another level."
October 18, 2015
Presidential candidate Sanders posts publicly about Black Lives Matter, saying, "Black lives matter. And the reason those words matter is the African American community knows that, on any given day, some innocent person like Sandra Bland can get into a car and then three days later, she's going to end up dead in jail or their kids are going to get shot. We need to combat institutional racism from top to bottom, and we need major, major reforms in a broken criminal-justice system."
October 30, 2015
#AUCShutItDown, an Atlanta-based affiliate of Black Lives Matter, disrupts a Hillary Clinton campaign stop at a historically Black university, interrupting her speech until Representative John Lewis talks to the protesters. The next day, Donald Trump tweets, "Black Lives Matter protesters totally disrupt Hillary Clinton event. She looked lost. This is not what we need with ISIS, CHINA, RUSSIA etc."
November 15, 2015
Jamar Clark, 24, is fatally shot by police in Minneapolis. Witnesses claim he was handcuffed at the time, following a physical altercation with police. Protesters gather within hours, and Minneapolis sees weeks of protests, including an 18-day sit-in at a police station.
November 24, 2015
Dashcam footage of the Laquan McDonald shooting is released by officials in Chicago, prompting hundreds to protest. Jason Van Dyke is charged with murder. Six days later, Mayor Rahm Emanuel fires police superintendent Garry McCarthy.
November 30, 2015
Then–presidential candidate Trump blames his lack of endorsements from Black pastors on BLM. In a Morning Joe interview on MSNBC, he says, "Probably some of the Black Lives Matter folks called them up and said, 'You shouldn't be meeting with Trump because he believes that all lives matter.' I believe Black lives do matter, but I believe all lives matter very strongly."
December 13, 2015
Shaun King, now senior justice writer for the New York Daily News, comes under fire from Mckesson and others when he is accused of mismanaging funds raised for social-justice causes. An investigation by the Daily Beast offers an overview of King's past campaign and fund-raising activity but finds it difficult to account for how all of the money was spent.
January 16, 2016
Thousands of protesters around the country begin days of marches to #ReclaimMLK, an initiative started by the Movement for Black Lives to take back Martin Luther King Jr.'s legacy from what it calls popular media's sanitized version. During that weekend, Black Lives Matter protesters shut down the San Francisco Bay Bridge; 25 people are arrested.
February 3, 2016
Mckesson announces a last-minute bid to become mayor of Baltimore. He will go on to place sixth in the Democratic primary.
February 6, 2016
Beyoncé releases the single "Formation." The music video features imagery of protests against brutality, including Beyoncé standing on a sinking police car and a wall with graffiti that reads STOP SHOOTING US.
February 11, 2016
Peter Liang, the officer who shot and killed Akai Gurley in 2014, is convicted of manslaughter and fired from the NYPD. The charges are later reduced, and Liang is sentenced to five years of probation and 800 hours of community service.
March 4, 2016
More than two dozen BLM protesters disrupt a Trump rally in New Orleans, linking arms and chanting "Black lives matter." They're met by chants of "U.S.A.," led by Trump, and "All lives matter" from the rest of the crowd as well as a few reported shouts of "White power."
April 8, 2016
After being interrupted by Black Lives Matter protesters at a campaign stop in Philadelphia, Bill Clinton gets into a heated exchange and defends his 1994 crime bill: "I don't know how you would characterize the gang leaders who got 13-year-old kids hopped up on crack and sent them out onto the street to murder other African American children. Maybe you thought they were good citizens … You are defending the people who kill the lives you say matter. Tell the truth."
June 1, 2016
The Justice Department declines to pursue charges against the officers who shot Clark in 2015, saying it determined Clark was not handcuffed during the incident.
June 26, 2016
Mothers of slain Black boys and men, calling themselves the Mothers of the Movement, speak at the Democratic National Convention.
▼
July 5, 2016
Videos capture the moment Alton Sterling, 37, is pinned down to the ground and shot five times in the chest at close range by police outside a convenience store in Baton Rouge, Louisiana.
July 6, 2016
Philando Castile, 32, is killed by police in St. Paul, Minnesota. Castile was pulled over by Officer Jeronimo Yanez in a traffic stop. Castile told Yanez he had a firearm in his possession. Castile reached for his license, assuring Yanez he was not reaching for his gun. Yanez shot Castile five times, killing him. Castile's girlfriend, Diamond Reynolds, who is in the car along with her 4-year-old daughter, livestreams the aftermath of the shooting on Facebook. Within a few hours, it is viewed more than a million times.
July 7, 2016
A peaceful Black Lives Matter protest in Dallas turns to mayhem as a gunman, Afghan War veteran Micah Xavier Johnson, shoots and kills five police officers: Lorne Ahrens, Michael Krol, Michael J. Smith, Brent Thompson, and Patrick Zamarripa. Police corner and kill Johnson in the course of a standoff.
July 17, 2016
In the midst of unrest in Baton Rouge after the killing of Sterling, retired Marine Gavin Eugene Long ambushes and shoots six police officers, killing three — Matthew Gerald, Montrell Jackson, and Brad Garafola — before being killed by a SWAT officer. A letter he left behind reads, "I must bring the same destruction that bad cops continue to inflict upon my people."
July 18, 2016
Charles Kinsey, a 47-year-old Black man, is shot by police in North Miami, Florida. Kinsey, a mental-health worker at a group-care facility, was outside with an autistic patient when police showed up after reports that someone had a gun. Bystander video captures Kinsey lying on the ground with his hands in the air next to his patient while trying to explain the situation to police. Still, an officer shoots him in the leg and handcuffs him. Kinsey survives his injuries.
July 19, 2016
In the middle of the Republican National Convention, Trump comments on the recent police shootings and the Black Lives Matter movement on Bill O'Reilly's show: "You see them marching and … they're essentially calling 'Death to the police,' and that's not acceptable."
July 27, 2016
In Baltimore, State Attorney Marilyn Mosby announces she's dropping all remaining charges against the officers who were involved in the death of Gray. Three officers have already been acquitted, and one's trial ended in a hung jury.
August 26, 2016
Colin Kaepernick, a quarterback for the San Francisco 49ers, remains seated during the playing of the national anthem. When asked about it after the game, Kaepernick says, "I am not going to stand up to show pride in a flag for a country that oppresses Black people and people of color. To me, this is bigger than football, and it would be selfish on my part to look the other way. There are bodies in the street and people getting paid leave and getting away with murder." The next week, Kaepernick begins kneeling during the anthem.  
▼
September 6, 2016
The Black Lives Matter Global Network Foundation formalizes its fund-raising abilities by entering into a partnership with nonprofit Thousand Currents (then known as IDEX) that allows Thousand Currents to accept donations on its behalf. At this point, Black Lives Matter counts 37 chapters in the U.S. and five internationally.
September 29, 2016
President Obama defends Kaepernick's decision to kneel: "I believe that us honoring our flag and our anthem is part of what binds us together as a nation. But I also always try to remind folks that part of what makes this country special is that we respect people's rights to have a different opinion." Polling at the time shows that a majority of Americans disagree with Kaepernick's protest.
November 2, 2016
Trump is elected president. The election also ushers in the first wave of "progressive prosecutors" at the state and local level who want to reform criminal-justice procedures.
November 27, 2016
After the death of Fidel Castro, BLMGNF publishes an admiring Medium post praising him for his example of revolutionary leadership.
January 1, 2017
Former Chicago police chief Garry McCarthy blames the city's increase in homicides in 2016 on BLM, saying, "We have created an environment where we have emboldened criminals and we are hamstringing the police."
January 20, 2017
The Trump administration creates a page on the White House website called "Standing Up for Our Law Enforcement," promising that "President Trump will honor our men and women in uniform and will support their mission of protecting the public. The dangerous anti-police atmosphere in America is wrong. The Trump Administration will end it."
January 21, 2017
An estimated 5 million people nationwide join the Women's March on Washington in protest of Trump's inauguration. Alicia Garza participates in the Washington march, but some quarters critique the whiteness of the crowds, and in Los Angeles, the actor Amir Talai holds up a sign reading, I'LL SEE YOU NICE WHITE LADIES AT THE NEXT #BLACKLIVESMATTER MARCH RIGHT?
February 7, 2017
King, Becky Bond, and other progressives affiliated with the Sanders campaign create the Real Justice PAC to recruit, support, and raise money for progressive prosecutors and DAs running for office.
February 24, 2017
Jordan Peele's Get Out opens in theaters. It will go on to gross $255 million worldwide.
February 28, 2017
Angie Thomas publishes The Hate U Give, a young-adult novel about a girl dealing with the death of her friend, a Black boy killed by police.
March 17, 2017
The Whitney Biennial opens but faces an immediate backlash over a painting of Emmett Till by white artist Dana Schutz. That weekend, the artist Parker Bright stands in front of the work in a T-shirt with BLACK DEATH SPECTACLE written on the back, and visual artist Hannah Black pens an open letter declaring, "The subject matter is not Schutz's."
▼
April 28, 2017
The first season of Dear White People airs on Netflix. The series includes a plotline in which campus police point a gun at a Black male student.
April 29, 2017
Jordan Edwards, 15, is shot and killed by police in Balch Springs, Texas. He was sitting in the passenger seat of a car driving away from police at a house party. Officers shot into the vehicle and hit Jordan in the head.
May 4, 2017
Ferguson activist Edward Crawford Jr. is found dead in St. Louis under suspicious circumstances. He rose to fame after a photo — in which he is throwing a police tear-gas canister while wearing an American-flag shirt — from the 2014 protests circulated. Crawford is one of at least six Ferguson activists who have died in the years since the protests.
May 22, 2017
The Black Lives Matter Global Network Foundation is awarded the Sydney Peace Prize in Australia for "building a powerful movement for racial equality, courageously reigniting a global conversation around state violence and racism." Later that year, Garza quietly leaves the organization. Patrisse Cullors is the only founder still directly affiliated.
June 16, 2017
Jeronimo Yanez, who shot Castile five times after pulling him over, is cleared of manslaughter charges.
August 11, 2017
During the Unite the Right rally, hundreds of white supremacists descend on Charlottesville, Virginia, and are met with counterprotesters. The next day, Heather Heyer is struck and killed when James Alex Fields Jr., who holds neo-Nazi beliefs, deliberately drives his car through a crowd of peaceful protesters.
September 22, 2017
At a rally in Alabama, Trump says NFL owners should fire players who kneel for the national anthem: "Wouldn't you love to see one of these NFL owners, when somebody disrespects our flag, say, 'Get that son of a bitch off the field right now! Out! He's fired!' ?"
September 27, 2017
A judge in Louisiana rules that BLM is a social movement and therefore can't be sued, throwing out a suit that an anonymous police officer filed against the movement and Mckesson. The officer appealed, and litigation is ongoing in the Louisiana Supreme Court.
December 30, 2017
Erica Garner, who became a full-time activist after her father's death, dies of a heart attack at 27.
▼
January 16, 2018
Cullors and asha bandele publish When They Call You a Terrorist, a memoir about Cullors's life.
February 6, 2018
BLM activist Muhiyidin Moye is shot and killed in New Orleans. Investigations into his death fail to uncover evidence that it was related to his activism. He was famous for crossing a police line at a 2017 protest in Charleston to snatch down a Confederate flag.
March 18, 2018
Stephon Clark, a 22-year-old Black man, is killed by police in Sacramento, California. Clark was in the backyard of his grandmother's house when police, who had been pursuing him, fired more than 20 rounds at him, believing the phone he held in his hand was a gun.
March 22, 2018
Black Lives Matter protesters march in Sacramento following Clark's death. They shut down traffic on I-5 and block entry to the Golden 1 Center sports arena, delaying the start of a Sacramento Kings game.
May 1, 2018
A study finds that the hashtag #BlackLivesMatter has been used nearly 30 million times on Twitter since its first use in 2013.
July 30, 2018
Rest in Power, a six-part docuseries focused on the life and death of Trayvon, premieres.
▼
November 1, 2018
BLM launches an arts-and-culture platform selling goods — including tote bags designed by Emory Douglas, the former culture minister of the Black Panther Party — to raise money for the movement and support Black artists.
November 8, 2018
Lucy McBath, the mother of Jordan Davis, wins election to the U.S. House, becoming the first Black person to represent Georgia's Sixth Congressional District.
January 17, 2019
FOIA requests reveal that from November 2014 to January 2015, the NYPD organized a large-scale surveillance effort of Black Lives Matter protesters that included numerous undercover officers at rallies and protests and the photographing and storing of images of people who appeared to lead protests.
January 18, 2019
Van Dyke, the Chicago police officer who shot Laquan, is sentenced to six years and seven months in prison. Laquan's family and supporters express disappointment at how short the sentence is.
August 14, 2019
The New York Times Magazine publishes "The 1619 Project," a collection of articles and essays led by journalist Nikole Hannah-Jones commemorating the legacy of slavery and African Americans in U.S. history on the 400th anniversary of the arrival of the first enslaved Africans to Virginia. The document presents an argument for how chattel slavery laid the foundation of America's economic, social, and cultural institutions and draws a through-line from this history to contemporary issues of structural racism. The project garners much acclaim but also fierce criticism — largely from conservative commentators who accuse it of falsely rewriting history.
August 24, 2019
Elijah McClain, a 23-year-old massage therapist, is accosted by police in Aurora, Colorado, while walking home from a convenience store. Someone called 911 to report a man wearing a ski mask and "looking sketchy." The officers put the unarmed McClain into a carotid hold, a kind of choke hold, and paramedics later inject him with ketamine as a sedative. McClain goes into cardiac arrest and dies a few days later.
September 12, 2019
Mckesson publishes a Medium post titled "On Shaun King," publicly denouncing King for the lack of transparency in his advocacy and fund-raising. Mckesson accuses King of being dishonest in his past fund-raising efforts.
October 12, 2019
Atatiana Jefferson, 28, is killed by police while sitting in her home in Fort Worth, Texas, after a neighbor called the nonemergency line for a wellness check upon noticing that the front door to the house had been left open.
February 23, 2020
Ahmaud Arbery, a 25-year-old Black man, is jogging in a neighborhood near Brunswick, Georgia. He passes the home of Gregory and Travis McMichael, who, believing that he is a man suspected of break-ins in the area, grab two guns and begin to follow him in a white Ford F-150. They are joined by neighbor William Bryan, who records their encounter. The McMichaels chase and attempt to cut Arbery off with the pickup truck before Travis exits the car with a shotgun and kills Arbery. No arrests are made until after Bryan's video is released to the media.
March 13, 2020
Louisville police use a battering ram to enter the apartment of Breonna Taylor, a 26-year-old EMS technician, while executing a search warrant. At the time, Taylor is in bed with Kenneth Walker, her boyfriend. Walker, who said he feared the apartment was being broken into, fires a shot that strikes an officer in the leg. The police shoot 32 rounds into the apartment. Taylor is struck five times and killed.
May 25, 2020
Christian Cooper, a Black man, asks Amy Cooper, a white woman, to leash her dog in Central Park's Ramble. She refuses and threatens to call the police and tell them "an African American man is threatening my life." Christian films the encounter, and his sister tweets the video, which garners 40 million views in less than 48 hours.
May 25, 2020
George Floyd, 46, accused of using a counterfeit $20 bill to buy cigarettes, is held down by police officers in Minneapolis during an arrest. One of the officers, Derek Chauvin, kneels on Floyd's neck for more than nine minutes, killing Floyd. Darnella Frazier, a 17-year-old Black girl, films the murder. Overnight, she posts the video on her Facebook page.
May 26, 2020
In the early hours of the morning, the Minneapolis Police Department publishes an "investigative update" titled "Man Dies After Medical Incident During Police Interaction." In response, Darnella posts, "Medical incident??? Watch outtt they killed him and the proof is clearlyyyy there!!" By the end of the day, her video has gone viral, protests have started in Minneapolis, and the police chief has fired the four officers involved in Floyd's arrest.
May 27, 2020
Protests break out around the country about Floyd's death in Minneapolis as well as Breonna Taylor's in Kentucky and Ahmaud Arbery's in Georgia. Demonstrators shut down freeways in Los Angeles and St. Louis. In Minneapolis, cops use rubber bullets and tear gas on protesters. Fires break out, and some stores are looted. The news breaks that Chauvin has been the subject of at least ten complaints, a number that will soon be updated to 17.
May 28, 2020
On the third night of protests in Minneapolis, demonstrators breach and burn down the 3rd Precinct police station, where the four officers who arrested Floyd had worked. Minnesota governor Tim Walz calls in the National Guard. Protests grow around the country, and dozens of demonstrators are arrested in New York.
May 29, 2020
Chauvin is charged with third-degree murder and second-degree manslaughter. The Star Tribune reports that he is the first white police officer in the state to be criminally prosecuted in the death of a Black civilian. Trump tweets that the protesters are "thugs" and says, "When the looting starts, the shooting starts." With demonstrations happening outside the White House, he moves to an underground bunker.
May 30, 2020
Clashes between police and protesters get increasingly violent. In New York, a police car rams through a group of protesters. In Chicago, city officials raise the bridges connecting downtown to the surrounding areas as a form of crowd control, effectively trapping demonstrators at the same time a curfew goes into effect. Shots are fired at officers in Minneapolis and at protesters in Indianapolis.
May 31, 2020
By now, hundreds of thousands of people join protests in 140 cities. In Richmond, Virginia, protesters deface statues of Confederate leaders Robert E. Lee, Stonewall Jackson, and Jefferson Davis. Across the country, nearly 100 Confederate statues are torn down over the year.
▼
June 1, 2020
Black Lives Matter Washington, D.C., and other groups peacefully protesting in Lafayette Square are ejected by law enforcement with tear gas minutes before Trump crosses the lawn for a photo op.
▼
June 2, 2020
The "Blackout Tuesday" campaign takes hold on Instagram. More than 28 million users post images of a solid black square with #BlackLivesMatter and similar hashtags as a way to show solidarity against police brutality and anti-Black racism. The campaign is immediately criticized by activists for being an empty display of performative activism and for crowding out useful information about demonstrations and activities using the #BlackLivesMatter hashtag. By this time, protests have occurred in all 50 states; 4,400 people have been arrested; 62,000 National Guard members have been deployed to 24 states; and 40 cities, including New York, are under curfew.
June 3, 2020
The other three officers involved in Floyd's arrest are charged with aiding and abetting second-degree murder and aiding and abetting second-degree manslaughter. Chauvin is given an additional charge of second-degree murder.
June 4, 2020
NYPD officers trap, brutalize, and arrest several hundred protesters on East 136th Street at Brook Avenue in Mott Haven.
June 5, 2020
Honoring the protesters who have been demonstrating at the Capitol, D.C. mayor Muriel Bowser has the Public Works Department paint BLACK LIVES MATTER on a street leading to the White House.
June 7, 2020
Protests have spread worldwide with demonstrations in at least 55 countries. In the U.K., protesters tear down the statue of a 17th-century slave trader. An estimated 15 million to 26 million people participate in the demonstrations in the U.S. over the summer, which would make these the largest protests in the country's history.
June 8, 2020
The body of 27-year-old Black trans woman Dominique "Rem'mie" Fells is found in Philadelphia. The next day, Riah Milton, a 25-year-old Black trans woman, is found dead in Liberty Township, Ohio.
June 8, 2020
Protesters in Seattle establish the Capitol Hill Autonomous Zone, barring police from the area.
June 12, 2020
Governor Andrew Cuomo repeals 50-a, a law that shielded police officers' disciplinary records from being made public, in response to calls for increased accountability during the George Floyd protests.
June 12, 2020
Rayshard Brooks is killed by Officer Garrett Rolfe in a Wendy's parking lot in Atlanta when Rolfe attempts to arrest him. After an altercation, Brooks grabs Rolfe's Taser and fires it, then runs. Rolfe shoots him twice in the back.
▼
June 13, 2020
Oluwatoyin Salau, a 19-year-old Black woman and Black Lives Matter activist who recently tweeted about sexual assault, is found murdered in Tallahassee, Florida, prompting calls for justice for Black women and greater gender inclusivity in the movement.
June 14, 2020
Spurred by the deaths of Black trans women and men, West Dakota, a drag queen in Brooklyn, and others organize a march for Black trans lives at the Brooklyn Museum.
▼
June 16, 2020
Trump signs an executive order listing federal priorities for police reforms. These include banning choke holds and forming a national database of police misconduct, but they fall short of what activists are calling for.
June 21, 2020
NASCAR announces that a noose has been found hanging in Black driver Bubba Wallace's garage stall at the Talladega Superspeedway. Within a few days, the FBI determines it was not a hate crime but a pull rope that had been in the garage since the previous fall.
June 28, 2020
Mark and Patricia McCloskey wave guns, including a semi-automatic rifle, at a group of mostly Black protesters who are passing by their St. Louis house.
July 10, 2020
BLM Global Network Foundation moves from being under the fiscal sponsorship of Thousand Currents to the Tides Center. That month, Patrisse Cullors becomes the executive director of BLMGNF.
August 23, 2020
During a domestic-incident call in Kenosha, Wisconsin, officers attempt to arrest Jacob Blake, 29, who has a knife in his car. After trying to use a Taser, an officer shoots Blake several times, paralyzing him from the waist down.
August 25, 2020
Kyle Rittenhouse, a white 17-year-old, kills two white men and shoots another during protests in Kenosha. His actions are lauded by the right as self-defense and widely seen as vigilantism on the left.
August 26, 2020
The Milwaukee Bucks refuse to play in a first-round playoff game in protest of the Blake shooting. The NBA postpones all of its games until the 29th.
November 30, 2020
Ten BLM chapters, including those in D.C., Philadelphia, and Chicago, publish an open letter accusing BLMGNF leadership and Cullors of running the organization without "financial transparency, collective decision making, or collaboration on political analysis and vision."
December 12, 2020
After a pro-Trump rally in Washington, D.C., Proud Boys leader Enrique Tarrio burns a Black Lives Matter banner that had been hanging from a church.
December 26, 2020
Miya Ponsetto, a 22-year-old from Southern California, tackles a Black teenager she accused of stealing her cell phone in the lobby of a Soho hotel. Her phone is later found in an Uber. The boy's father, Grammy-winning jazz musician Keyon Harrold, posts video of the assault on his Instagram.
January 29, 2021
The Black Lives Matter movement is nominated for the Nobel Peace Prize.
February 23, 2021
Sharing detailed information about its finances for the first time, BLMGNF announces that it took in more than $90 million in 2020 and committed $21.7 million to official and unofficial BLM chapters, in addition to 30 Black-led local organizations.
March 16, 2021
Two mothers of Black people killed by police, Samaria Rice and Lisa Simpson, release a statement condemning Cullors, Tamika Mallory, Shaun King, Benjamin Crump, and others for "capitalizing our fight for justice": "We don't want or need y'all parading in the streets accumulating donations, platforms, movie deals etc."
April 10, 2021
The New York Post publishes an investigation into Cullors's real-estate purchases. It reports that she bought four homes within a few years, including one in L.A. in March 2021 worth $1.4 million. BLMGNF denies that any organization funds were used to purchase property for Cullors.
April 11, 2021
Daunte Wright, 20, is pulled over by Officer Kim Potter in a traffic stop in Brooklyn Center, Minnesota. Potter attempts to arrest him for an outstanding warrant, and a struggle ensues as two officers try to pull Wright from his car. Potter yells "Taser!" several times but pulls her gun instead and shoots Wright in the chest, killing him.
April 13, 2021
On the second day of protests in Minneapolis, Officer Potter and Brooklyn Center police chief Tim Gannon — who originally called the killing accidental — both resign.
April 20, 2021
Ma'Khia Bryant, 16, is killed by police in Columbus, Ohio, who were called after she appeared to threaten two other girls with a knife. Officer Nicholas Reardon shoots her shortly after arriving on the scene.
April 20, 2021
Former police officer Chauvin is found guilty of murdering George Floyd after ten and a half hours of deliberation by the jury. Crowds that are gathered at the spot where Floyd was killed, as well as outside the courtroom and across the country, erupt in cheers when the verdict is read.
May 27, 2021
Cullors announces she will step down from the Black Lives Matter Global Network Foundation, emphasizing that while she is leaving the formal organization, the larger BLM movement has no single leader.
▼
June 10, 2021
The BLM chapters that released the open letter in November 2020 release another, accusing BLMGNF of disorganization, hoarding resources, and a lack of accountability and writing that "nepotism, proximity to power, and access to resources became more important to the Network than making sure that they had a radical vision, objectives, and strategies."
June 22, 2021
Samaria Rice, mother of Tamir Rice, calls out Shaun King in an Instagram post for publicly discussing an earlier conversation they had. She accuses him of profiting off the death of her son: "Personally I don't know how you sleep at night. I never gave you permission to raise nothing. Along with the United States, you robbed me for the death of my son." King says Benjamin Crump, who represented Rice at the time, asked him to help promote a fund-raiser for the family.
August 3, 2021
Missouri governor Mike Parson pardons the St. Louis couple who waved guns at Black Lives Matter protesters passing by their house in 2020. The pair pleaded guilty to misdemeanor charges earlier in the summer.
September 1, 2021
Charges are brought against three police officers and two paramedics in Colorado in the death of Elijah McClain.
September 8, 2021
Virginia takes down the statue of Robert E. Lee on Richmond's Monument Avenue, the last remaining Confederate memorial on a stretch that once had many.
November 2, 2021
Richie Floyd, a member of the Dream Defenders, a social-justice youth organization founded after Trayvon Martin's killing, is elected to the St. Petersburg, Florida, City Council as a socialist.
▼
November 12, 2021
The LAPD announces that three teenagers are responsible for making hoax calls that repeatedly brought SWAT teams to the home of Melina Abdullah, a co-founder of the L.A. chapter of Black Lives Matter.
November 16, 2021
New polling shows a decline in support for the Black Lives Matter movement. By now, only 44 percent of people say they support BLM, as opposed to the 43 percent who oppose it. The year before, support had peaked at 52 percent after the murder of George Floyd.
November 19, 2021
Kyle Rittenhouse, who fatally shot two protesters and wounded another during demonstrations in Kenosha, Wisconsin, after the police shooting of Jacob Blake, is found not guilty on all counts, including first-degree reckless homicide. Three days later, Rittenhouse goes on Tucker Carlson's show to say he supports Black Lives Matter, though after being released on bond, he was reportedly seen being "serenaded by a group of adult men who sang the Proud Boys anthem."
▼
January 7, 2022
The three men who killed Ahmaud Arbery are sentenced to life in prison. Two, Travis McMichael and his father, Gregory, are not granted the possibility of parole. The third, William Bryan, will be eligible after serving 30 years in prison. From a letter read by Wanda Cooper-Jones, the mother of Ahmaud Arbery, at the sentencing hearing for the men who were convicted of her son's murder.
"My youngest son, he was born on Mother's Day of 1994. He had a smile so bright it lit up a room. He was a greedy baby that seemed like he was always searching for something to stick into his mouth. He was always a loving baby who seemed to never tire of hugs, cuddling, and kisses. He loved. He never hesitated to tell me, his sister, Jasmine, and his brother, Marcus, that he loved us. And your honor, we loved him back. He was messy. He sometimes refused to wear socks. Or take good care of his good clothing. I wish he would have cut and cleaned his toenails before he went out for that jog that day. I guess he would have if he knew he would be murdered. My family's going to miss Ahmaud. We're going to miss his jokes. His impersonations. His warm smile. These men deserve the maximum sentence for their crimes. Ahmaud never said a word to them. He never threatened them. He just wanted to be left alone. They were fully committed to their crimes. Let them be fully committed for the consequences. Your honor, I'm standing here before you as the mother of Ahmaud Arbery asking you to please give all three defendants who are responsible for the death of my son the maximum punishment in this court, which I do believe is life behind bars without the possible chance for parole."         
January 13, 2022
In an interview with the Los Angeles Times, Cullors explains why she stepped back from Black Lives Matter leadership, saying she felt judged and attacked from all sides and had to seek treatment for PTSD: "Nobody really understands the role of a movement leader, especially when it's a Black woman or women in leadership."
January 21, 2022
In Worcester, Massachusetts, local Black Lives Matter activists mark their 600th consecutive day of public action since George Floyd's death.
January 24, 2022
New York's new mayor, Eric Adams, promptly announces he will reintroduce NYPD plainclothes anti-crime units to target increasing gun violence. The controversial units were disbanded in June 2020 amid the summer of protests against police violence.
February 3, 2022
Jason Van Dyke, the former Chicago police officer who shot Laquan McDonald, is slated to be released from prison on good behavior after serving just over three years.
February 5, 2022
Trayvon Martin would have turned 27.
▼