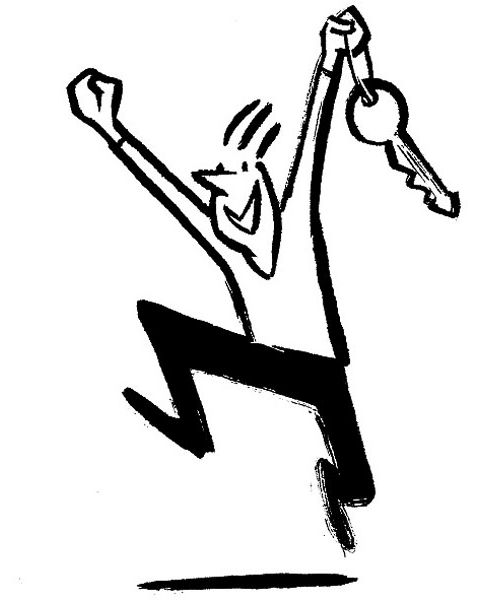 Illustration: Nishant Choksi
Renters were right to rejoice in June, when the New York State stunned landlords by approving legislation with powerful tenant protections. Any lease that goes into effect after the laws were signed is subject to new rules: For instance, rent-stabilized apartments no longer can be reclassified as market rate (regardless of a tenant's income or increases in monthly rent), and landlords may only charge up to $89 for improvements (down from $1,000). There's also good news for those who aren't fortunate enough to live in a regulated $800 studio in the West Village, like a cap on security deposits at one month's rent and a $20 limit on application fees. And landlords are also required to give 30 days' notice if they plan to raise the rent over 5 percent. But what about finding an apartment to begin with? Rents have exploded throughout the boroughs to record highs, Craigslist remains a cesspool of poorly lit scams, and Zillow — which owns StreetEasy, HotPads, Naked Apartments, and Trulia — has virtually monopolized the online-listings market, resulting in one company controlling prices as well as lifting fees, which brokers are passing on to renters. For many New Yorkers, going outside the system — whether by joining a Facebook group for vegans or stalking a certain cul-de-sac until you see a for rent sign — remains the best way to find a place. Here are their tales.
Don't Ignore:
The Streetlight Flyer
"I was living in New Jersey and wanted to move to the city. I was on Roosevelt Avenue in Jackson Heights and saw a few signs. One said 'Room for one person in Jamaica' in Spanish. Follow your intuition: If it doesn't feel right, don't continue; same way when it feels right. My new landlord is not aware of the apps and does things the old-school way, as we do in Latino countries — on the phone, I felt that he was a good person. I've been month-to-month ever since." —Karen Virues, English student and Spanish tutor 
Or the Health-Food Store Bulletin Board
"My boyfriend and I had been looking in Bushwick — everything was expensive with a weird layout. We went into the Hana health-food store, by the Jefferson stop, and saw this bulletin board, the kind everyone ignores, with ads for yoga and dog walking. One cryptically said 'Apartment in Bushwick.' Couldn't hurt to call, we figured. It was this two-story, wooden-looking condo from the '80s — two bedrooms, washer-dryer, backyard, driveway — all for $1,700 a month." —Bráulio Amado, graphic designer
Befriend the Door Man of a Building You Want to Live In
"I had my eye on a two-bedroom in Fidi. It had been on the market for 100 days but was no longer on StreetEasy; a broker friend told me they rotate listings in and out to save money. I chatted up the doorman, who let me see it, then contacted the owner and said: 'It's just sitting there unrented.' I got it $500 below asking." —Richard Berg, software engineer and musician
Drop a Hand Written Note to Your Potential Landlord
"I had just been evicted from my office-work space and saw this beautiful old loft building with glass brick in Chinatown. I put it on my Instagram Stories and said, 'Who knows what's up with this building?' Somebody commented with the broker's info. A unit had just become available, but the broker strung us along for two months. My mom, a Realtor in Colorado, was like, 'Why don't you drop a note by the office?' I said, 'That's the most Boulder thing ever,' but I did and also made a mood-board deck of what I do. A few days later, the landlord asked me to sign a lease." —Kalen Kaminski, prop stylist (and tie-dyer)
Join a Niche Facebook Group
Request access for pages of meat-free or queer-friendly or Australian-only (but Kiwi-permitting) housing. 
The Shabbat-and-Kosher-Observing One
"I joined SS/SK Classifieds — Apartment/Roommate Info on the recommendation of some of my Jewish friends. The cool thing about apartment hunting when you are in a community of people who keep Shabbat is that it's likely you'll have 80 mutual friends on Facebook with every person, which makes it easy to ensure your would-be roommate isn't the type who'll murder you." —Jordyn Kaufman, 24, content developer at a Jewish nonprofit 
The Queer-to-Queer Housing One
"Queer Housing New York City, a queer/trans-housing Facebook group, is thriving: There are 31,000 active members. It doesn't allow brokers, or, of course, any sort of intolerance. It also leans toward affordable housing, as it's meant for a disenfranchised community." —Fran Tirado, deputy editor of OUT
The Biggest One of Them All
"Gypsy Housing, which has 250,000 members, is comparable in scale to Craigslist but more reliable because the renter and rentee can check out each other's profiles. I guess that's the general benefit of finding an apartment on Facebook. I got my last apartment in Bushwick through Gypsy and like it a lot." —Amar Stewart, artist
And Some Other Options
➽ Vegan Room Rent NYC: This group requires potential members to answer questions, such as: Are you vegan or vegetarian? And: Are you aware this group is only for those looking for or renting for vegans or vegetarians?
➽ Bococago Parents & Families: Though it's not specifically for housing, two bedrooms in desirable school districts are frequently listed in this South Brooklyn group.
➽ Australians in New York — NYC Accommodation: To qualify, you must first join Australians in New York & NYC, which helps Aussies (who "don't mind Kiwis, either") find other Aussies in the city. Members post listings on the housing offshoot daily.
Apply to a Ton of Housing Lotteries
"Until recently, I was working odd jobs and living with roommates in a dump. I had read about the 80/20 Housing Program and, for the hell of it, applied to a dozen. You put in your name, address, number, and email and pick places that fit in your income bracket. It's like shopping on FreshDirect.
Fast-forward three years: I get this email saying this new building wanted to interview me. That was really stressful. They turn over every stone, I handed in two inches of paperwork. I went deep into the Bronx to interview, and three weeks later they offered me a brand-new studio for $1,050 in the South Bronx. I'm two blocks from the 2 express train. The whole thing was worth doing another four times." —Keith Abrams, AV tech
Barter Your Way to a Better Apartment
"A few years back, while working a part-time office job, doing hair weaving on the side, and singing in clubs on weekends — altogether hustling like crazy to make ends meet and pursuing my dream as a singer — I met a Realtor, a sister, who worked for a Battery Park City apartment complex. I offered a cool perk: I'd weave her hair if she pulled some strings and helped me find a decent apartment. She did — and I did. She got some amazing weaves, and I landed a great pad. It turned out fabulous." —Bette Smith, singer-songwriter
Try a Craigslist or Streeteasy Alternative
Over the past 16 years, what started as a personal, crowdsourced apartment-hunting guide for artist Stephanie Diamond has evolved into a weekly real-estate email that goes out every Wednesday. Diamond and her small team vet potential renters and landlords who post on the newsletter.
Although long-term rentals are occasionally featured, the bulk of the listings in this weekly curated email list are geared toward itinerant workers in the artist community, meaning sublets or weeks-long transatlantic apartment swaps.
As you'd imagine, this site culls listings from luxury buildings across Manhattan (and parts of Brooklyn), where you can search by conventional means (price and neighborhood) and also for specific amenities (like Sub-Zero appliances and in-building bowling alleys, for instance).
This site allows people looking for apartments to connect directly with people looking to move before their lease is up. Because leaseholders are often desperate to find someone quickly, some users find that they're likely to find more reasonable rents here than on other, more commonly used platforms.
If You Do Use Craigslist, Search for Short-Term Sublets
"When I was last looking, I decided to check Craigslist's 'short-term sublets' section because I figured there would be higher-quality places with less competition. I was right: I found a 1,400-square-foot Williamsburg apartment and ended up taking over the former tenant's lease after it was up." —Melissa Mash, founder of Dagne Dover
Book a Surf Lesson and an Under-the-Table Apartment
"There's a lot on offer in the Rockaways on the typical sites like Zillow, but there are far more deals to be had through the local market, which outsiders don't normally have access to. We've been connectors in that way. At least ten times a year, we get a request from someone who maybe took a lesson, saying that they're looking. They're often month-to-month, under-the-table deals." —Mike Reinhardt, founder, Locals Surf School
Sidestep Brokers and Go Straight to the Management Company
"If you go directly to huge management companies like Stonehenge and UDR, you won't need to pay a broker's fee. The last time I moved, I just wentto Stuy Town's website — they're the management company for this group of 110 buildings in the area. Their website shows maps of the buildings and available units. We called them up and said, 'Hey, we're interested in this one,' and they were like,'Okay, cool, we'll take you.' " — Emmanuel Manolidis, accountant
Lurk Where You Want to Live
"I used to be obsessed with this cul-de-sac street in the Village, Patchin Place. I'd often open the gate and walk down; it's open to the public because it's where e.e. cummings lived. One day there was a small sign that had the name and phone number of a real-estate company. It was the number to a woman who's the Realtor for that block, and it was my ticket in. A few months after I moved in, the other apartment on my floor opened up, and so my best friend moved in next door." —Emma Straub, owner of Books Are Magic
Share a Home With a Senior Citizen
I learned about the New York Foundation for Senior Citizens' home-sharing program through an email they sent out through the university. It's essentially an affordable-housing opportunity for both parties with some companionship built in. I didn't know what to expect, but I also didn't want to go through the brokering process — I didn't have credit history or guarantors. The foundation got in touch with me and asked what I was looking for, my budget, and the schedule I follow. Ultimately, I was connected with David, a man nearing his 80s in Rego Park, Queens. We'd sometimes go out to lunch or I'd pick up stuff for him—it saved money for both of us. I went through a similar process to find a second roommate uptown, closer to school. Lee spends most of her time in the kitchen watching TV, so when I cook, we'll chat about our day or big storms that might be coming up." —Anirban Karak, graduate student at New York University
Ask Todd Anything
If you frequent the r/NYCapartments or r/askNYC Reddit communities, you've probably benefited from Todd Rohulich's wisdom. Several times a day, the Douglas Elliman broker (who goes by tmm224) offers advice on everything from the new tenant-protection laws to issues surrounding lease takeover, fielding queries as specific as: "Where should a recently divorced 35-year-old male live in NYC?"
Call a Broker Who Actually Knows the Territory
If you're looking in …
The Lower East Side
Ahmed Abdallah, R New York
646-270-6595; aabdallah@wernewyork.com
➽ Abdallah knows his home turf of Chinatown and Two Bridges, and, after getting tight with the area's mostly Chinese landlords, helps artists, restaurateurs, and designers like artist Korakrit Arunanondchai and Scarr Pimentel of Scarr's Pizza secure affordable studios and two-bedrooms. The landlord connections can translate into cheaper rent or even flexibility in the rules, like clearance for Pimentel's pit bull.
The Bronx
David Rodriguez, EXP Realty
718-451-6859; david.rodriguez@exprealty.com 
➽ Rodriguez grew up in Mott Haven, so he knows the handful of local brownstone landlords of his parents' generation. He also handles properties run by generational Bronxites and new homeowners alike throughout the borough, including prewars in Morris Park, Pelham Bay, and Throggs Neck. One of his proudest moments? Finding a two-bedroom with a water view on City Island for $2,150.
Greenpoint
Lesley Doukhowetzky, Ula's Real Estates
917-593-9237; ulasrealestates@yahoo.com
➽ Doukhowetzky showed her first apartment in high school, working outside class as an agent for her mother, Ursula "Ula" Doukhowetzky. These days, you can't walk down India Street or Newel Street without passing townhouses that in some way bear the Doukhowetzkys' fingerprints. Lesley now leads the business; her mom's clients' kids are second-generation landlords.
Carroll Gardens or Cobble Hill or Boerum Hill
Allan Gerovitz, Douglas Elliman
347-909-1581; agerovitz@elliman.com
➽ Known as the go-to broker among Brooklyn media types, Gerovitz is the keeper of Bococa's most stately brownstone rentals. His knack is finding pre-market one-bedrooms for dog owners and tin-ceilinged floor-throughs for young parents. Note: He's Koch-era New York in the flesh. He'll grill clients on their seriousness about renting; afterward, he may negotiate rents or waive a fee to those in need.
Consider Co-Living
If you're willing to live with strangers and pay a little extra, it's a hassle-free and less-committal way to get a place, and toilet paper's often included.
There are some 15 co-living companies — which offer furnished dormlike rentals for adults — currently operating in the city. Opting for a co-living situation eliminates some of the hassle involved in finding and renting an entire apartment or combing through the Craigslist "rooms and shares" section: Most don't have strict income requirements or require guarantors (plus there are no brokers or additional fees), many come furnished, and some include perks like weekly cleanings, grocery basics, and Netflix and Hulu access. And you're not tied to a one- or two-year obligation: Some buildings offer 30-day-minimum stays, and many allow residents to move from property to property.
➽ Outpost Club: Founded by a trio of Ukrainian expats; rooms go for $690 to $2,390; apartments come with keyless entry, Nest thermostats, twice-weekly cleanings, and household essentials (toilet paper, paper towels); houses operate in six locations across Manhattan, Brooklyn, and Queens.
➽ Common: Nineteen spaces across New York (including in Williamsburg, Park Slope, Bedford-Stuyvesant, and Boerum Hill); bedrooms go for a minimum of $1,300 and include a nightstand, lamp, mattress, pillows, common-space cleanings, Wi-Fi, and pots and pans.
➽ Tribe: Potentially the most "co-" of the co-living spaces: Each residence (where bedrooms start at $1,150 a month and include utilities, Wi-Fi, Netflix, Hulu, HBO, laundry detergent, and cleanings) has a house leader and weekly dinners.
➽ Ollie: Residents of Ollie's Long Island City building (which includes 169 decorated and furnished 495-to-941-square-foot microsuites at $1,380 to $2,063 a month) have access to a gym, an indoor lap pool, lounges, barbecue areas, an event space, a co-working lounge, weekly housekeeping, towel and linen service, and Wi-Fi.
Or Maybe Simply Apartment-Hunt When Jupiter Is in Your Fourth House
"When my daughter graduated from college, she was going to share an apartment with three friends. When I went to go see the place, I was horrified — it was brand new, but the girls would've been on top of each other. I didn't want to spoil it, but I said, 'Chrissie, you have Jupiter in the fourth house for the next year. You should be looking for a large, sunny apartment with a view and unusual closets. Because Jupiter expands everything it touches.' My daughter told me astrology doesn't work in Manhattan. Luckily, she didn't take it, and two months later, she found a duplex on the Lower East Side with an elevator, a large common room, a staircase that twirled up to the second floor, with huge views of lower Manhattan. All for the same money. You really have to go with what your chart says. When Jupiter is in your fourth house of home, you should look for property. Right now, Virgo has it, but on December 2, Libra will steal it and have it for a full year. Then after that, the Scorpios get lucky." —Susan Miller, astrologer 
*This article appears in the September 16, 2019, issue of New York Magazine. Subscribe Now!