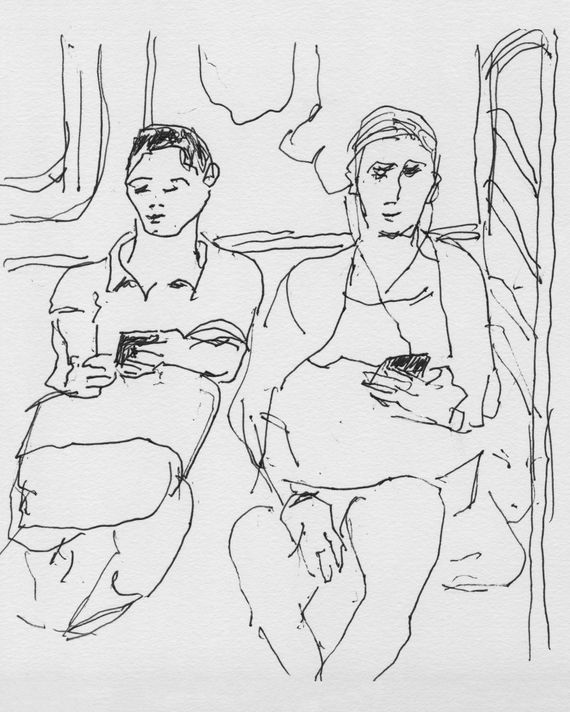 Alex Katz's revisiting of his 1940s "Subway Drawings" for 
New York
. 
Read more here
.
Illustration: Alex Katz
This anniversary issue is devoted to what might make other people in other places go crazy but here we call connection. Not just the connections we choose, like our poker groups or going-out friends, but those that could happen only in a city as clotted and manic as ours. Fifty years ago, New York's founding editor Clay Felker wrote a mission statement for his new magazine. "We want to attack what is bad in this city and preserve and encourage what is new and good," he wrote. "We want to be its voice, to capture what this city is about better than anyone else has." Here, we return to this mission, attempting to capture the city's voice through stories that are spoken as much as written, almost entirely in the first person, and always about how our disparate lives intertwine. Read more about the project here.
My Strangers: "I get, like, panic attacks, on the train especially. That's why I get into the benzos."
Who's sitting next to you on the subway? On an R train in September, we asked.
Interviews by Hannah Goldfield. Portfolio by Peter Funch.
My Colleague: "No other taxi drivers would stop for me."
Toni Morrison on the Solution to Her Problem.
I moved to New York City to take a really splendid job as an editor in a well-respected publishing house. The work was both familiar and challenging. Familiar because I had been a university professor for six years and accustomed to evaluating essays, term papers, fiction, etc. Challenging because I had never worked in a place where the value of writing was measured in sales.
Except for small irritants, living in a midtown apartment was comfortable. All I had to do was get there — which soon became a major irritant. There were no black cabdrivers then in that part of New York, and no other taxi drivers would stop for me. They traded their quick glances at me for profiles of disdain.
One day after work, Eileen, a young white woman, and I were standing on the street corner outside our office building chatting. Although we worked at the same publishing house, she chose her own schedule — one typical of her highly independent life. Having traveled widely to many off-the-grid countries, worked in a veterans hospital, and lived in Brooklyn, she understood New York life quite well. Which is why, when we were standing together, a cab pulled up to the curb.
I got in. She waved.
Solution obvious.
From then on, every day at the end of our work, she would accompany me to the street corner and wait. Cabs screeched toward us. It never failed.
My Cellmate: "Should I call my mom?"
When the elevator stalled, it was just me and him.
The doors close and then the floor drops from beneath us and then it's back under our feet. He looks at me and I look at him and I say, "Oh my God," and the floor jolts away and back again and he grabs my arm. I look at the control panel and can't figure which possibility is the right one — firefighter helmet? Oh. That's not a button, it's a light or else just some plastic thingamajig. My companion is saying something quickly. I think it's a prayer.
"Should I press this one?" I ask the man.
His shoulders raise a little and his head rattles on his neck. He's telling me he doesn't know. I press the one that says EMERGENCY CALL and a loud alarm goes off.
"Hello! Are you okay?" There's a little tinny voice yelling through the grid of holes above the buttons. The man in the elevator nods at me, and I understand that I have become chief, in command in our new, three-foot-square country.
"Yes!" I yell back (the alarm is still screaming).
"Help is on the way!" he yells back.
The man looks me in the eye and says, "Should I call my mom?" This was unexpected. I can see, though, that he wants and needs to call her, and so I say "yes" enthusiastically. After he hangs up, he tells me that his mom is going to try to call the building. I wonder what in the world this woman could possibly achieve, but I feel strangely optimistic, too — if you raised a child who thinks of you the moment an elevator stops, you must have done a few things right, right?
While he's texting someone who cares about him, I'm telling Twitter and Instagram where I am. I suggest a selfie together, which he agrees to, throwing his arms across his chest and making two V signs before immediately dropping them and pulling a face when I turn the camera away. "I don't like pictures," he says. He's so shy, I think of a rabbit or some other thing that you want to pick up and hug despite knowing it would be cruel because they'd rather be left alone, unhugged. I guess I'm cruel. There are ten selfies in my phone by the end of the night.
A co-worker sees my tweet and asks if I'm okay in there. I say I'm worried about my worried comrade. She replies with screenshots from an anti-anxiety exercise, which I suggest we complete together.
"Okay," I say. "Name four things you can see."
"Okay, I see you, the mirror, that wall, and that light — is that four?"
"Yep, what's next? Okay, name three things you can smell" (I suddenly become very self-aware).
"Are you okay in there?" It's the voice behind the wall colander again.
"Yes!" I say.
"Who's in there? What are your names and what floors do you work on?"
I gesture for the man to step up and take his turn on the microphone.
"My name is Matthew Washington and I'm a student at CUNY," he replies in a voice I suspect is too quiet for the operator to hear over the alarm, but he does. He replies, "And what about the woman?"
"She's Helen Washington."
Blushing, I whisper as loudly as I can, "I think he means me, not your mom."
—Mona Chalabi
My Three Dealers: "Weed is a white guy who calls me 'homie' and greets me by saying 'Sup?' "
Cocaine texts in Hebrew.
For cocaine: M. is from Ramallah. Palestinian-Christian. We speak Hebrew together. Sometimes we text in Hebrew. Sometimes he forgets and slips into Arabic, which I don't understand. Each time he comes by, he drives a different car. Toyotas. Nissans. A Ford Fusion. All of them are new and black with Uber decals on the windshields. Another change brought about by ride-hailing apps is that, whereas M. used to have me sit up front, as if I were his friend, now he has me sit in back, as if I were his paying passenger. I am. He gives me my bags, takes my money, and drops me off around the block. He has a wife and two kids and is saving up to study "how to work with the environment."
For weed and MDMA: Z. is a white guy who calls me "homie" and greets me by saying "Sup?" He lives in the basement of a house next to the projects. Each time I've gone to him, he's had a different dog. A different pit bull. One time, he had two corgis, which wouldn't stop barking and wouldn't stop trying to climb me. He explained, as if by way of apology, that they belonged to his parents, who were away for the summer. "They're fucking crazy," he said, and it took me a moment to realize he meant the corgis, not his parents. "Fucking dogs have never been out of Westchester."
For prescriptions: Dr. T. is a doctor. A real one. He went to real schools. He has an office off Park Avenue. Diplomas on the walls. He doesn't take appointments. Rather, you just call or text him to check if he's in. He'll write you a script for anything. Then he'll talk about yoga: conflicts with his teachers, crushes on his fellow students. I enjoy the conversations. I enjoy telling him, "You have issues with authority," and "You should definitely get her number and take her out." Though I can't quite shake the feeling, when I'm getting up to leave, that I should be getting my drugs for free in exchange for psychological counseling.
—An unnamed novelist
My Crowd: "Woody Allen comes for dinner. The wife comes for lunch."
On Sunday nights, the regulars order veal Milanese at Sette Mezzo.
"Co-owner Oriente Mania: Last Sunday, we had Martin Lipton, the Tisch family, the Leon Black family, the Kravitz family, the Steinberg family, the Gristedes, the ex-wife of the former president of France, the Blumenthal family, Larry Leeds, Richard Cohen, Richard Lefkowitz, Bob Jeffrey, the Murdochs, the Lauders. Everyone on Sunday all went to give condolences to the Newhouse family, because they come every Sunday to the same table. Table No. 11, by the window. Woody Allen wasn't there because he was out of town, but he typically comes for dinner every Sunday. The wife comes for lunch. Joan Didion knows we are really busy Sunday, so she comes during the week with the friend who takes care of her. They order spaghetti with basil and tomatoes and chicken paillard, half an order. Martin Scorsese comes all the time. He orders the veal Milanese, which is fantastic. Al Pacino doesn't come on Sundays — he comes with Martin Bregman during the week, because he uses a wheelchair, and we already had Si Newhouse with the wheelchair on Sundays.
—As told to Katy Schneider
My Competition: "I had to say the line 'Agent Willis, look at this funny little finger.' "
Six actors auditioning for the same House of Cards role ("Father").
Kevin Isola, 47
"I said the line 'Agent Willis, look at this funny little finger.' Kind of a miracle that I got that out with a straight face. In the morning, I took a 'butter bath,' which is what it sounds like. Drop in three sticks of butter, a bit of heavy cream, some raisins, lather up; you're good to go. Makes the skin look great and relaxes the muscles."
Kohl Sudduth, 43
"On my train ride, I tried to immerse myself in the world of a deeply traumatized man. How would he experience the cacophony of the subway?"
Zack Robidas, 34
"I kept thinking about my pit stains. It was unusually warm for October, and the train was a nightmare. I was rushing around and sweating profusely. I didn't get cast. I blame the sweat."
Richard Thieriot, 38
"The only line I remember is 'Then where are they? Where are they?' And I only remember it because I was overacting it. Maybe an accent would have helped."
Joe Carroll, 27
"I'm not sure how much I can give away, but let's just say there was a scene that really hit hard with something going on in my home state. It was emotional and easy to connect to."
Matthew Montelongo, 44
"After determining that everyone else in the waiting room was better looking and more talented, I tried my best to tune them out."
—As told to Trupti Rami
My Teacher: "I imagine you could see that I needed some stability."
Sarah Paulson and the woman who got her through high school.
Beverly Lechner-Klein: Hello?
Sarah Paulson: Hi! How are you? I wonder if our memories of meeting for the first time are the same. There was this program you ran: Students were supposed to meet with their mentor once a week. You'd have dinner, do something cultural. I always wonder why the head of the drama department recommended me. At that time, I weirdly think it was Mr. Cappelletti.
BL-K: It was not Mr. Cappelletti.
SP: It wasn't?
BL-K: No, it was Ms. Ferbel. Mr. Cappelletti … I shouldn't say this out loud, but he wouldn't have had the sensibility.
SP: I never knew. I didn't understand what they would have seen in me at the time or what they thought I needed. But anyway, I went up to your office. You were in the math department, and math was one of my biggest limitations, I'm sorry to report. I, of course, in my 16-year-old way, didn't want to do it. I was self-interested, and I wanted to act and read plays and go to the park and not go to my math class. One of the things I'll always be grateful for was that you saw that, and instead of saying, "Well, that seems like a minefield," you leapt toward it. That's when you introduced me to Robyn Goodman, who was one of the co-founders of the Second Stage Theater in New York. I was — I wouldn't say wayward, but I didn't have a great sense of parental security. I imagine you could see that I needed some stability.
BL-K: You were determined, and you could stand up for yourself when you were very young in a way that I always respected.
SP: Ooooh, ooooh [singing], that's the song you sing when you try not to cry … Eeeee-ah.
My Drivers: "She let the window down and said, 'Hey.' I went crazy!"
Stargazing from the Holland Tunnel.
Elizabeth Branch: I work midnights as a toll collector at the Holland Tunnel. I've been working for the Port Authority for 52 years. When I started, they didn't have a maternity leave. Women would lose their jobs if they had children. So the other collectors and I got together and fought to have maternity leave. This was the early 1970s. All the children that were born then are adults now.
I've seen some celebrities. I saw President Nixon come through a few times. I also saw Patti LaBelle! We had a stoppage in the tunnel that night. Her driver asked, "Is there any way we can get through?" and told me he was carrying Patti LaBelle. I said, "I don't believe it!" but she let the back window down and said, "Hey." I went crazy! I started hollering and jumping up and down until the police came and asked what the matter was. They were young, so when I told them, they said, "Who is Patti LaBelle?" She even mentioned me in the TV interview she did that night. Luckily not by name, or I might have gotten in trouble.
I have my regulars. I have my admirers. I have my haters. They're only in your lane a minute. A matter of seconds, really.
—As told to Eileen Townsend
My Fan Club: "Am I reading on the train now to maintain my status as a hot dude reading?"
Instagram famous on the F train.
Benjamin Roberts: I had just left the gym; I had a little pump going. In the caption on the photo posted on Hot Dudes Reading, the account owners guessed that I was a CrossFitter, so they nailed that one. The photo was 100 percent candid, though I did have this weird sense that I was being watched. That day, I was reading Dream of the Red Chamber, by Cao Xueqin, which is a classic Chinese novel. I had only started it a couple of days before, so that's why it looks like I'm about 20 pages into it.
My girlfriend at the time was the one to break the news that I was officially a Hot Dude. She said that a couple people from work told her about it. Afterward, I started to go through the mental gymnastics of, like, Am I reading on the train now to maintain my status as a hot dude reading? 
The best thing about it all was attending a fan meet-up after the Hot Dudes Reading book came out in 2016. A British girl who was there introduced me to the writer Siri Hustvedt and her novel What I Loved. I don't even really think of myself as a "hot dude," but it's nice to be an ambassador for the brand. I still wear my hair in a man-bun sometimes.
—As told to Allie Jones
My Characters: "She has nothing to give him but her eyes."
Playwright Mfoniso Udofia on five strangers she saw on the street whom she wants to see onstage.
1. It's after the school day, and she pauses by the homeless man, on Eighth and 44th, who holds a sign asking something like: "Am I invisible?" She stares at him. She has nothing to give him but her eyes.
2. He is the Mandé Uber driver from Côte d'Ivoire whose perfect English is accented with a French r and whose linguistic musicality reminds me, somewhat, of my own West African home. I ask him how many languages he knows. He lists: Jula/Dyula, French, English, and pidgin English. I got the sense that his list was not long enough.
3. She wears an Iron Maiden tank top and multicolored Lycra workout pants. One can almost make out the individual bundles of muscle that link her together. Her smile is as built as her body.
4. He is the man conversing with the Open Air. He walks the length of the B train slowly, finding an empty seat all the way at the end. His conversation with the Open Air becomes colorful. An argument breaks out. Then, the Open Air and the Old Man reconcile and laugh, talking until the doors to the train open.
5. We walk to the shop together, catching up. We enter, I sit down, and she begins the five-hour process of braiding my hair. She offers me boiled peanuts as she works. I inquire about her daughter and ask if she is able to visit her family in Togo this year. Some hours later, she takes a break. She kicks off her shoes, washes her feet, lays out her mat, faces east, and prays.
My Oklahomans: "To Der Führer: I received your capitalist gift …"
Every New Yorker wants to be haunted by her childhood. By Rivka Galchen
In my high school in Norman, Oklahoma, the senior English students were traditionally secret Santas for the junior English students. I was assigned a beautifully pale young man who dyed his long hair black, wore John Lennon glasses, and often carried his violin. I anonymously gifted him a chocolate bar and, I think, a Number Slide puzzle. The idea was that a yearlong correspondence would form. A few days later, I received a note, marked up in thick black marker, which started off something like "To Der Führer: I received your capitalist gift …" Years later, someone was handing out flyers for the Socialist Worker paper on the Columbia University campus, and when I looked up at the distributor, there he was, my old pen pal. I experienced a deep and happy sense of continuity. He was getting a Ph.D. in history under Eric Foner, writing about the Socialist Party in Oklahoma.
Outside Central Park, I ran into a woman who as a seventh-grader had pulled me aside at recess to ask, "Why do I hate you so much? Is it because you remind me of myself?" It was an impressive insight for middle school. In history class a couple of years later, she sat behind me, and not infrequently, she would hit me over the head with our thousand-or-so-page textbook. Now here she was, smiling, and I was so happy to see her. She was working as an editor for a fancy food magazine and married to a man who raised goats, I think.
A friend of mine who used to write UTERUS on a piece of paper as a joke — I promise, it was hilarious back then — I ran into because he was now an attorney in the Bronx. I asked about a mutual friend, who had in high school drawn cartoons of rubber darts landing on people. The cartooning friend's parents had wanted him to go to MIT, but he had not wanted to go to MIT, and so on his application, when asked to write about a personal hero, he had written about the Shining Path. What ever happened to Kwang? I asked. He had become a born-again Christian, and they had fallen out of touch.
My Confidants: "He was brainstorming ways to kill his dogs without getting caught."
The confessions that stuck with a bartender and priest.
Social Worker
Gemma Barriteau, Brooklyn
In the '80s, I worked in adoption and foster care as a caseworker. I had a mother who was 24, 25 years old. The man she was with was probably in his 30s. And he was the father of her nine children. Three of them were with his mother, and the rest were in different homes. At the time the mother gave birth to the ninth child, I went to see her at the hospital, and I ran into him.
His clothes were dirty and kind of hanging on him. You could see that, you know, life was hard. Drugs were definitely a major factor. I asked him to step outside with me so I could speak to him in private. And I asked him, why did he keep making babies that he wasn't taking care of? She was African-American, but very light complexioned, with light eyes — as am I — and he was very dark. And apparently, all the kids came out her complexion. And he said to me that he was going to keep doing it until one came out as dark as he is.
Pastor 
Father John, upper Manhattan
I was on duty in Washington Heights. He looked like he'd been on the street at least a couple of days. I had never seen him before. He sat down and says, "Now, I know you can't tell anybody or report me to anybody." And I said, "That's right. This is under the seal of confession."
So he said, "Okay, well, I killed somebody during the weekend."
I said, "Do you mind me asking some details?" And he said he had the urge to kill. He was obviously mentally ill. He was in one of the parks, and he attacked a young lady. And I said, "Since a crime has been committed, would you go with me to the police, or go with me to see a friend of mine who's a doctor at NewYork-Presbyterian down the block?" And he says, "None of the above. I just want my absolution."
So I said, "Well, I'm gonna give you a conditional absolution. I want you to agree to go to one of those two people or come back to me so we can follow up."
I went through the absolution ritual and the prayers. And then he left.
The next day, I looked at the paper. And sure enough, the murder he described was there. And obviously, I couldn't go to the police. I couldn't go to anybody.
He came back a couple weeks later. He told me that he had done it again. I said, "Well, this time, you don't get absolution unless you let me help you. You really need help." I thought he was going to get nasty. He raised his voice, but that was the extent of it. Then he left, and I never saw him again.
And that second murder was also in the papers.
Psychic
Cora, Flushing, Queens 
The woman came in to me, a young white lady. Educated — 28, 29. I read for her a few times before. She sits down in the chair. She shuffles the cards a few times. And she told me, "I'm having a baby by a different man." I asked, "Is it not your husband's?" And she says, "No." She was gonna go abort the baby. I told her, "Keep the baby. But never tell your husband." I asked her, "Can you keep it a secret for the rest of your life and never tell your baby either?" I told her to end the other relationship and stay with her husband. They'd been going out since they were 16 years old. So how can you break his heart by telling him that his wife is having a child by someone else? She loves her husband! She was just bored. She wanted to keep the baby. She just needed — what's the word when you need someone to tell you? A psychiatrist does not have a solution to the problem. They say do whatever you wanna do. I give you a solution to the problem.
Bartender
Sarah Fallon M, West Village
He's small and kind of round and probably in his early 30s and he has an extremely effeminate voice. And he came around and would brainstorm ways to kill his dogs without getting caught. His two Chihuahuas were elderly and ill and they were ruining his life. They needed to be spoon-fed. They'd go to the bathroom in the house. They needed medication. They were blind, and they kept walking into things and injuring themselves. And he was trying to get a new relationship off the ground, but he couldn't go on vacation, he couldn't go anywhere. He thought about getting someone to shoot them. He said that he had a sister who lived in the country who he could get a gun from. He thought about poisoning them. But then he would have to force-feed them poison, and he didn't want to have to do that. Throwing them into the East River. He wasn't talking about this for amusement. He was done with them.
—As told to John Bowe
My Chorizo Buddy: "Then, one day, he stopped texting me back."
Can a guy who tells you when certain burritos are in season also kinda break your heart?
Near where I used to live in Stuyvesant Town, there was this great bodega where an older Mexican lady and her husband would hand-make world-class burritos. Their chorizo burritos were the best but for some reason a limited commodity, so I struck up a texting relationship with their son, Ruben, who would tell me if they had chorizo. This went on for three years. Sometimes he would text me to say they had chorizo, but other times he would give me weather updates or let me know they were going to be on Bizarre Foods. Once, I accidentally texted him instead of my husband and offered to do his laundry, and he texted back, "Too late homie, it's being washed as we text." Then, one day, all of a sudden, he stopped texting me back. It was really sad. It was like someone ghosted me. This, above, is our last string of texts.
—Chris Rovzar
My Customers: "He gets a whole red chile pepper that he eats like a piece of chocolate."
The view from behind the deli counter.
"This one likes bacon-egg-and-cheeses and is a student at the ballet theater nearby. Of course, every couple of years, the students change."
"She doesn't come in every day — maybe twice, three times a week. Sometimes people look at her. She's something different. But she's very nice."
"He gets two sandwiches every single day. Very educated. He used to wear suits and ties, and now he dresses like this, very casual."
"He's a taxi driver and gets a bagel with scallion cream cheese and a coffee in the morning. He stops usually three, four times a night for coffees and to use the bathroom."
"He gets a whole red chile pepper that he eats like a piece of chocolate. Then he buys one pack of peanuts."
"This woman, every day, iced coffee. Even in the winter."
—Engi Salem, manager of Andy's Deli, as told to Katy Schneider
My Missing Person: "I know more about this kid than most people know about their own children."
A cop and the case he never solved.
Lieutenant Chris Zimmerman: Patrick was taking out the trash with his foster mother when he went missing in 2010 from the 75th Precinct in Brooklyn. They were in a hallway and she turned around and he was gone.
He didn't have the correct clothing on for the month of January. They were searching buildings, searching parks, using bloodhounds. Thousands and thousands of people were interviewed. We pulled credit-card receipts from gas stations to see who got gas that night. We weren't looking at these people like criminals; we were just asking, "Hey, listen. Did you see this kid?"
There was a kid in Brooklyn who was seen in a McDonald's. He looked like him, but Patrick had a unique scar on his left eyebrow that this kid did not have.
The concern was that when Patrick hits puberty — and he probably already has, he's 14 now — that he would become hairier, you wouldn't be able to see it. The one thing he does have is very protruding ears that he will not be able to hide. I know more about this kid than most people know about their own children.
I was driving with my son in Brooklyn one day, coming past Pennsylvania Avenue, a couple years later. My son goes, "Hey, Dad, isn't this where Patrick went missing?" I looked at him like, How do you know that?
—As told to James D. Walsh
My Cub: "I think you still deserve to be in theater."
The current Young Simba meets the original.
The Lion King opened on November 13, 1997, and has been more or less sold out at the box office ever since. To mark the show's 20th birthday, Joshua Dubose (who's just turning 11 and plays Young Simba in four shows a week), met with the original lion cub, Scott Irby-Ranniar (who is 33 and working as a sales rep for an auto distributor). At the Minskoff Theatre, they discussed life on Pride Rock.
Joshua Dubose: I did little things in school back in Atlanta — dance and performing arts. I got bullied for that, so it was kinda hard. For The Lion King, we drove to the auditions in Atlanta.
Scott Irby-Ranniar: Did you have to sing?
JD: Yeah — "I Just Can't Wait to Be King."
SI-R: Which you already knew, I'm assuming. I sang "Just Can't Wait to Be King" and a Jackson 5 song at my audition. I'd been in an after-school program that did plays, and they did a word-for-word adaptation of the film of The Lion King — and I was Simba! So, you know, I auditioned well.
JD: And my mom told me that I got the part, so we came all the way here. It was hard for us to find an apartment and a school, because they don't help us.
SI-R: I was in middle school at the time, and then we would perform at night. [But] I knew at a very young age that acting wasn't something I always wanted to aspire to, because it was so inconsistent.
JD: I think that you have a great personality, and I think you still deserve to be in theater.
SI-R: He has advice for me! Okay, all right — that's nice.
JD: I think you'll probably be called for a movie or to be on a TV show.
—As told to Jackson McHenry
My Motivator: "Good money! Good money! Good money!"
Lessons over sit-ups. By Hari Kunzru
For some time, I wasn't sure if Jimmy Love was his actual name because he talked quickly and mumbled. It turned out that the "Love" was an "I'm a lover not a fighter" personal statement and his surname was something else entirely. As a new immigrant to New York, I wanted to fit in. I knew that the culturally appropriate thing would be to hire a shrink and a trainer, but I couldn't afford both. So I walked through the doors of an East Village gym and signed up for a trial session. Soon, I was doing push-ups as Jimmy held his cell phone in front of my face, the screen displaying a motivational image of a BMW convertible, chanting ecstatically, "Good money! Good money! Good money!"
The car was motivating for Jimmy Love, since he wanted to buy it, and it was nice that he thought I'd be as excited as he was. I grew fond of his energy, his constant amazement at the world. He'd launch into anecdotes that assumed prior knowledge of the complicated politics of the gym, or his favorite musicals, or the names of other clients. He once asked me if mermaids were real, and, when he saw the expression on my face, claimed he was "just checking."
Jimmy Love was an extreme neat freak whose romantic life was ruled by various paranoid maxims. You never want to let them know where you work. Never let them leave a toothbrush at your place. He would ask my advice, mostly about geography.
"She's from one of those A countries."
A country beginning with A? Armenia? Albania? Algeria?
He thought that was it. She liked it that he didn't drink. I once helped him write a pitch document for a business he was thinking of starting, offering personal training to overweight children, and he sent me texts containing fridge-magnet wisdom ("You can travel the world but what lies within us is a world less traveled") and at least once a session would utter what I came to think of as his catchphrase: "It's not a game. You're in the game." It was like a Zen koan, utterly nonsensical but weirdly profound. When, years later, I eventually quit, he sent me a hurt text. "You obviously don't value personal training."