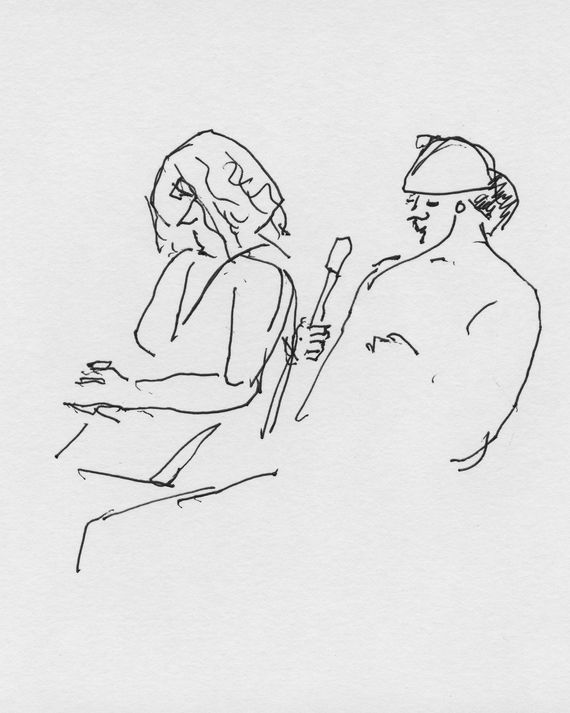 Alex Katz's revisiting of his 1940s "Subway Drawings" for 
New York
. 
Read more here
.
Illustration: Alex Katz
This anniversary issue is devoted to what might make other people in other places go crazy but here we call connection. Not just the connections we choose, like our poker groups or going-out friends, but those that could happen only in a city as clotted and manic as ours. Fifty years ago, New York's founding editor Clay Felker wrote a mission statement for his new magazine. "We want to attack what is bad in this city and preserve and encourage what is new and good," he wrote. "We want to be its voice, to capture what this city is about better than anyone else has." Here, we return to this mission, attempting to capture the city's voice through stories that are spoken as much as written, almost entirely in the first person, and always about how our disparate lives intertwine. Read more about the project here.
My Housemate
"I think the difference is we never felt warehoused."
Whoopi Goldberg lived in the Chelsea-Elliot Houses, where Maria Cortes now lives.
Portfolio by Jonas Fredwall Karlsson
Whoopi Goldberg: I lived there my whole life until I moved to California after I got married. Back then, they were newer projects, or they felt newer. My room was in the back, just a bed and a bureau and windows. When I was a kid, the High Line was still being used to transport things through the city, usually at night. That's what I looked out on. It's a great place to grow up, because we were outside 98 percent of the time, winter and summer. We all were poor, and we all knew it, but it somehow didn't really stop us from doing anything.
Maria Cortes: A neighbor said to me that a lady that is in a television show grew up here and that she became famous and that she took her mom from the projects and bought her a house. I believe the lady next to me knew Whoopi since she was little.
WG: Everybody's parents looked out for everybody's kids, so if you were in the stairway making out, your mom would know before you got finished, you know? You couldn't do shit. And my mom was a Head Start teacher at the Hudson Guild, which was literally downstairs, so I couldn't screw around a lot.
MC: I was 17 when I left Ecuador. I arrived by chance at this apartment in 2004. I lived through domestic violence, and the police took me out of my old apartment. To be honest, I don't like it here.
WG: In my day, you weren't allowed to have air-conditioning, and you couldn't have animals. I thought how funny it would be to call my brother and say, "Dude, they got dogs now!" We had parakeets. My mother thought, If these kids tell me one more time they want an animal, I'm gonna … So she bought birds, and it was great until they heard we had birds.
I haven't been back in almost 40 years. It was hard, because I miss my mom and brother, who are no longer with us. I wish the federal government would take better care of the projects. I think the difference is we never felt warehoused, and I think people are warehoused in these buildings. Just because you're poor doesn't mean you don't want the best for your family.
—As told to Jada Yuan. Translation by Daise Bedolla.
"It's not my style anymore. I was a little taken aback."
Martha Stewart visits her old Upper East Side apartment, now inhabited by an ex–Real Househusband.
Martha Stewart: That was my first apartment after getting married. I was 19, a student at Barnard College, and my husband [Andrew Stewart] was at Yale Law School. We had the penthouse, on the 21st floor, for a few months. It was pretty classy for a little girl from Nutley, New Jersey! It was quite extraordinary to be so high, with a wraparound terrace; plus it was built as a luxury East Side co-op. It was owned by one of my husband's friends' fathers, who was a honcho at Time, Inc. I think it was $125 a month.
Tom D'Agostino Jr.: I bought the apartment in 2011 and did a full gut renovation that took about two years. Mid-century–slash–Deco décor. Raised the ceiling, changed the terrace around, expanded the footprint of the apartment to make the dining room and the kitchen bigger. Added a second bath.
MS: That apartment was very beautiful and light-filled and airy — and all white, the way it was meant to be. Now it's much more enclosed and dark! Now it has hedges blocking the views, because the views now look into other buildings. And it's more masculine-looking. I mean, he's now a bachelor, isn't he? It's not my style anymore. I was a little taken aback.
TD: Martha baked me a beautiful apple pie with apples she had picked on her own farm, so we had coffee and pie together and spent an afternoon talking. She said the apartment was totally different and remarked what a wonderful renovation.
MS: I knew Tom was on The Real Housewives [of New York City]. That's not my cup of tea, but I know some of the housewives. I think he liked the fact that I brought him an apple pie. He still hasn't returned my dish, though.
New York: Martha, that's my fault.
MS: If you could remind someone to give me back my dish, it would be nice. It's my favorite apple-pie dish.
—J.Y.
"I think I maybe got a teeny bit of pot in that park once, out of about nine tries."
Matthew Broderick lived in this Washington Square apartment, where John Wesley lives now.
Matthew Broderick: We moved there from a few blocks away on Fifth Avenue when I was 4. I lived there until I got my first apartment on my own, in my early 20s. The living room faced the park, so it was all trees and no high buildings. So I watched the Twin Towers go up out of the living-room window. Washington Square Park was a very different place. You used to hear bongos basically all day through the windows in that house. You could not walk through the park once you were a teenager without being offered pot … which was actually, I found, not pot very often. Oregano or mattress filling, like sort of foam. I think I maybe got a teeny bit of pot in that park once, out of about nine tries.
My parents got robbed in the apartment once. A man broke in with a knife and made them get their valuables. There were two fires while I was there. One was my friend's apartment who lived next door to us. The other was on the third floor, below us, where Uta Hagen lived. And I remember that, because my father refused to leave the apartment. He didn't feel it was going to spread, so he decided to stay. I think there was a ball game on.
After my dad died, my mom lived in that apartment with the artist John Wesley. I hadn't seen Jack in about ten years, and he was much older than I thought. I'm glad I saw him. He was her beau for the last several years of her life, and then she died and he stayed, which was a very nice thing for the building to let him do, because the rent would be insane now. When my mom died [in 2003], the rent was still around $800 or $900 because of rent control, and it was four bedrooms with a big living room and an eat-in kitchen.
The kitchen is pretty much exactly the same. I remember every screaming fight. I remember Thanksgivings in that kitchen. I had every first there. I had my first girlfriend there, my first play I was paid for. It's weird that eventually some other family will live in it and that will be that. The house I live in with my family now, it's from 1870, and I'm like, I wonder what happened in here?
—J.Y.
"I would buy six or seven Morton's chicken pot pies that were 27 cents a pot pie."
Lauren Hutton meets Lauren Taylor in her old Greenwich Village apartment building.
Lauren Hutton: I was 21, 22, and new to New York, and I wanted to be in the Village so I could see a sky, because I'm a country girl from the South and I couldn't breathe above 14th Street. So I saw an ad and came down. The first apartment I had was in this building with five girls in a three-room apartment and none spoke to me. I had a small daybed under the window in the living room. I got a table and two chairs because I heard from some new people I'd met that you could go to Park Avenue and pick up furniture from the street. Different chairs from different garbage piles up on Park. Then I got this studio apartment upstairs from my old apartment, with a Murphy bed. I made $50 a week, and I was paying $75.
Lauren Taylor: I wish it was still that price! I grew up in Houston, moved to New York six years ago; I work for Bumble the dating app. This my fourth apartment in the city. It's a millennial thing. We move around jobs, we move around apartments.
LH: Across the street was a jail.
LT: It was the only women's jail, I think, in New York.
LH: A woman's house of detention, they called it. It was mostly people who couldn't protect themselves and didn't have lawyers. Their pimps would come by on Saturdays and Sundays. There was a tremendous amount of action. A couple fights you'd see on the sidewalk, but it was amazing.
Another thing that happened around here was there were some brave boys who would wear pink rollers in their long hair. They were called drag queens in those days. But I think it was just brave guys who liked other guys. They were the biggest traffic on Christopher Street, and I would sit in that window a lot and look out and they'd wave up and I'd yell down. It was nice.
Oh, and I lived on pot pies. At the beginning of the week, I would buy six or seven Morton's chicken pot pies that were 27 cents a pot pie. I could cook. I mean, I knew how to take it out of the freezer and put it in the oven and, boy, I was happy.
LT: Were you modeling then?
LH: I was working at Christian Dior as a house model. They had a modeling room on, I think, 36th and Seventh Avenue, and it was just me and another model who was much older than me. She was almost 30, which is weird. Who knew a 30-year-old woman? And she was always trying to get me to go out with her and her executive boyfriend, who I think was married.
LT: Did you have a first boyfriend here?
LH: The first love of my life, and he had, it turns out, a lot of people who thought he was the love of their life.
—J.Y.
My One-Handed Neighbor: "Look what happened to me here."
Mary told her to get out of the city. By Eileen Myles
I moved into my apartment 40 years ago. I had this neighbor, Mary, and she was about to go. I don't think I got her apartment. I think she was across the hall. I started on the fifth floor and moved down pretty quick to the third but I think she had been up there on the fifth, one day she invited me in. The building faced a forest of ailanthus trees. We called them sumac in Massachusetts and regarded them as junk, what grew behind the dry cleaner's, etc. But that was New York as it turned out and we had so many of them back there it looked like a jungle. It was pretty wild but I'm mentioning it because the jungle was bright green, filling the windows where she stood. Now I'm sure Mary was on the fifth floor. She was in the back where the trees grew and I was still in the front, facing the street. In my building you wanted a back apartment like she had and that's where she stood and told me her story, which I'll never forget.
Mary had a hook instead of a hand. She was a dancer and she said it like she was no longer a dancer. She had gone to do her laundry at the place on 6th Street and First Avenue and by now that laundry is gone. It was very unslick-looking like lots of the businesses seemed then. Like somebody had built this laundromat, nailed wood and painted it. It was something kids made, but they were adults and it was the world, New York, which at the time to me was still a new place. This is in the '70s, 1977, to be precise. So, as she told her story she shook her hand at me, which was a hook.
Apparently, she had been doing her laundry in that laundromat on First and I think when she stuck her hand in the machine to get out her wet clothes the machine started up again and somehow it cut off her hand. She was very angry about the incident. She was a small woman, she was a dancer she told me more than once, and it was such a performance she was giving me with the bright sun of early summer pouring in through her apartment window and all the sumac shuddering out there. I don't think she was that much older than me. She was a small woman, white, with medium straight hair. I think the incident had occurred only a couple of years ago. She had been waiting for her court case to get settled and I think it just had. She got a lot of money from the laundromat. She was going to get out of here. I mean of course I am going to leave New York she jeered at me and everything. I was a dancer. I know you think of this as new but this building is bad. You really should get out of here. Look what happened to me here. This building is not a good place. It will fall down around you. You have to get out. She looked completely mad. Things like that happen to people in New York I thought. I'd pass the laundromat daily thinking about what it had done. But it was the building she blamed, not the laundromat. It might happen when I'm not home I thought. Always if I'm out of town I think it might happen then. And then I'm back in my apartment on the third floor, where I went, in my bed, just lying there for 40 years, waiting for it to come true.
My Blind Neighbor: "He asked me to help him make his computer talk to him again."
Abandoned in the Bronx. By Brandon Harris
I heard Sean before I ever saw him. Screeching electronic beats would fly through the air near midnight into my previously quiet $800-a-month studio in the back of an unattractive two-story building on Bathgate Avenue in the Bronx. When it started, I had lived there only a month, in exile from a Brooklyn that seemed to hold only dead-end living situations and closer to my job as a visiting professor at a university I owed tens of thousands of dollars to. The sound was soon followed by the smell, the saccharine stink of menthol cigarettes creeping into my flat from our shared hallway, where my neighbor stood to smoke. Sean often left his door open at night, and so I followed the rhythm of his day, the sounds of movies giving way to white noise, before the late-night bursts of music production would rattle me awake.
I can't remember how I first recognized that Sean was blind. Perhaps it was when his aide, a stricken-looking younger African man with red-rimmed eyes and a weary way, would walk him back into the building or deliver food. Perhaps it was when I came out to ask him to not smoke in the hallway, which, come to think of it, I never did. I do remember the way we slowly got to know each other, two midwestern Negroes at the end of a city, and the way he came to rely on me to find things he had misplaced in his apartment, or asked me to help him make his computer, which he used more than most people who could see, talk to him again. He said he had spent most of his adult life blind, his vision taken in a gangland fight over some silly beef that his every moaning call to his aide suggested he would never cease to rue.
He was sad when I moved out. I didn't tell him I was moving into a massive, rent-controlled loft in Dumbo, one of the last of its kind, given the neighborhood's transformation, one that an ex-lover and ex-colleague and soon-rival were illegally subletting to me. Or that I was from Cincinnati; I'm pretty sure that, instead, I claimed to be from Detroit. I donated a desk and some marijuana to his cause. I claimed I'd come to visit on my way to get some fresh mozzarella and some prosecco (on tap!) at Mike's Deli, on the avenue, but then I never did.
My Loud Neighbor: " 'Where do you find the time to bone?' one asked."
Listening to Airbnb. By Dan Amira
In the midtown apartment building where I live, there are five other apartments within farting distance of mine. I don't know any of the people who live in any of them. We just don't interact. If I had to give a eulogy for my nearest neighbor, it would go something like, "My fondest memory of the guy from 6D is that he owned a welcome mat."
So it took me a while to notice when the apartment next door began to be used exclusively as an illicit Airbnb. Every few days, a new European or Asian or Floridian family would announce their arrival with rolling suitcases and clattering keys. Lots of clattering. None of them could ever seem to figure out how to unlock the door. Some stood in the hallway for ten minutes, strategizing, trying different techniques on the doorknob. I thought about timing everyone and maintaining standings, like American Ninja Warrior, but for opening a door.
It probably isn't mentioned in the Airbnb listing, but my building has walls made of tissue paper and lint collected from the basement laundry machines. If the visitors next door are partying, I can hear it. If they're arguing, I can hear it. And when a quartet of vaguely midwestern-sounding young moms on a girls weekend spend an afternoon drinking wine and dishing about their sex lives, I can hear that, too.
One of the women was an atheist who lost her virginity at 14, then didn't have sex for two years because it was so meh. She said her husband would expect a blow job when she got home as a reward for taking care of the kids all weekend. Another woman, who may have been Mike Pence, ruins her own sex dreams before they get good because she reminds herself in the dream that she's married. All the women unironically used the word boning to refer to having sex, every time. "Me and my husband don't bone that often anymore." "Where do you find the time to bone? By the time I put my kids to sleep and we eat dinner, it's like 9:30, and I'm like, Ugh, I'm not gonna bone now."
I never met them, I never spoke to them, but it was, by far, the most I had ever known about any of my neighbors.
My Dead: "I've seen a hundred DOAs."
A midtown hotel, through the head security officer's eyes.
Paul Frederick, former security director, New York Hilton: People just do weird stuff in hotels. The traveling businessman you see going to work in the morning isn't the same guy at three in the morning. We had one regular guest from a big-four accounting firm who'd be in his room yelling "Motherfucker! Motherfucker!" all night long. I once found a woman at the bar masturbating under a hotel blanket. And people leave guns in their hotel rooms all the time. You're not supposed to have guns in New York, so people just stash them in the nightstand and forget. I had a situation where Bill Clinton was supposed to give a speech in our ballroom, and that morning a maid found a rifle in the closet. The Secret Service interviewed the guy, and it turned out he was going hunting upstate.
People die in hotels all the time. I've seen a hundred DOAs — that's dead bodies. The coroner comes in, works for a couple of hours, then we take them down the back elevator. It's mostly overdoses, heart attacks, and suicides: I guess we had really strong coat rods. Usually the maid finds them the next morning. One of my officers called me one night to say they found a body — he had put a bag over his head — so I told him to just make sure the general manager knew about it, and I hung up. We had just gotten a new GM from California, who calls me all flustered, and I tell him my guy has handled plenty of dead bodies in the past. He says, "What do you mean in the past?" He hadn't seen any in California. This was our 13th of the year.
People want to know how the hotel staff in Las Vegas didn't notice something suspicious, but the truth is, 60 percent of people who stay in hotels could be suspicious. We had a couple of officers who were basically hotel detectives. I can't tell you how many times I've knocked on doors at two, three in the morning when two partners are yelling at each other. Sometimes, you just ask one of them if they want another room and don't tell the other person the room number. Once, a guy woke up next to his dead girlfriend. The police interviewed him; he says they were doing drugs and drinking booze all night, and they let him go. Two years later, I get a call from a prison psychiatrist in Colorado, where this guy had been arrested for something else. He says the guy was talking about how he murdered his girlfriend at the New York Hilton.
—As told to Reeves Wiedeman
My Mirror: "I knew I'd made a mistake the minute I walked in."
Dressing for the boss when the boss is the editor of Vogue: what they wore when they first started.
Corinne Pierre-Louis
A floral dress from Zara. Before the job, I'd worn a lot of black. But I knew Anna liked color, so I went shopping for girly pinks, pastels, florals. I never went back to wearing black.
Indré Rockefeller
Red-blossom-print Thakoon dress and a pair of very-high-heeled beige YSL shoes. Looking back now, the heels were probably too high to be sensible, but I learned to move very quickly in them.
Luisana Mendoza
I wore an off-the-shoulder black top with a bright-green tank top underneath. Plus my mother's Manolo Blahnik slingbacks, which seemed like a safe bet. I knew I'd made a mistake the minute I walked in.
Grace Hunt
I wore a gray tweed A-line Rebecca Taylor skirt. I thought it was a nod to Chanel. It really wasn't.
—As told to Katy Schneider
My Voyeurs: "It's important to respect the privacy of the people disrespecting your privacy."
Looking out on people looking in. By Juli Weiner
"We've become a race of Peeping Toms," Stella (Thelma Ritter) tells Jeff (Jimmy Stewart) in Rear Window. "What people ought to do is get outside their own houses and look in for a change."
Rear Window might have been the last time anyone unironically urged a fellow New Yorker to spend less time thinking about others and more time thinking about himself. Voyeurism and self-obsession, though, are not mutually exclusive. And for anyone who lives in a townhouse or — as in my case — a ground-floor apartment, you don't even have to stand outside to look in once in a while. You can do that from your own living room.
"Ooh, look at that apartment!" I once heard someone say. "So cute!"
I slid down on the couch, hoping to stay out of sight, hoping they'd wonder who lives here; more than that, hoping they'd wonder who lives here out loud. So tell me, I think, what am I really like?
"Oh, look look look — the lamp," her companion responds. Street noise: It inflates the ego as surely as it deflates resale value.
To be fair, most of the comments I overhear concern the cat. The voyeurs and I have this in common; most of my own thoughts also concern the cat. Pajama, named for the prewar slang phrase, spends much of her time in my prewar window.
"I bet that cat owns that apartment," one passerby said. "Look at that bookshelf — I bet those books are hers, and she's read all of them." She hasn't. But if she's anything like her mother, she takes satisfaction in the knowledge that other people assume she has.
Sometimes, someone will comment, negatively, on their ability to comment. (Overhearing your spies discuss their spying: Is that meta-voyeurism? Meta-reverse voyeurism? Maybe something on the bookshelf has the answer, something as prominently displayed as it is unread.) "You can look right into that apartment," someone looking right into that apartment will say. "I wouldn't want to live there."
For the most part, I've never been tempted to interact with the voyeurs. My actual, honest-to-God thinking here being: It's important to respect the privacy of the people disrespecting your privacy. Also, I want other people to imagine whoever lives here isn't the sort of person who mutes the television to better hear strangers exchange mild approval of her lamp.
That said, about a month ago, I woke up to discover a crowd of about 30 standing outside my window. A few of them were taking photos; others were sketching on notepads.
"I'm trying to get a sense for window height here," I heard someone say.
Architectural tour, I assumed proudly, and walked outside, lacking the self-control to resist identifying myself as the window's owner.
"What are you guys doing?" I asked a man who looked in charge.
"Location scouting," he said. "For a Martin Scorsese movie. About Jimmy Hoffa."
"And my apartment's in it?" I asked.
"You live here?" he said, glancing behind him. "Yeah, um, this is going to be a seedy hotel."
Martin Scorsese's The Irishman comes out in 2018. And when it does, I hope people wonder about the seediness of the hotel; more than that, I hope they wonder about it out loud. I won't even have to slide down in my seat to hear their approval, although maybe I will anyway, just out of habit.