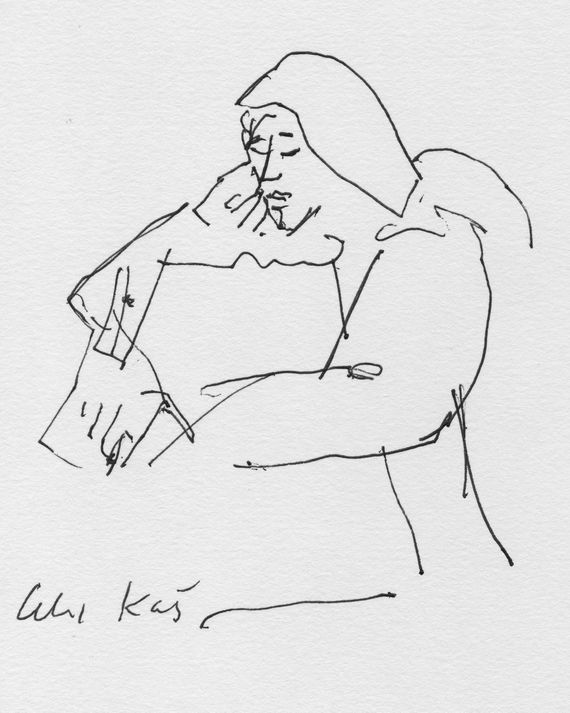 Alex Katz's revisiting of his 1940s "Subway Drawings" for 
New York
. 
Read more here
.
Illustration: Alex Katz
This anniversary issue is devoted to what might make other people in other places go crazy but here we call connection. Not just the connections we choose, like our poker groups or going-out friends, but those that could happen only in a city as clotted and manic as ours. Fifty years ago, New York's founding editor Clay Felker wrote a mission statement for his new magazine. "We want to attack what is bad in this city and preserve and encourage what is new and good," he wrote. "We want to be its voice, to capture what this city is about better than anyone else has." Here, we return to this mission, attempting to capture the city's voice through stories that are spoken as much as written, almost entirely in the first person, and always about how our disparate lives intertwine. Read more about the project here.
My Dad: "My brother-in-law always says, 'There are only two stories in the media: Build 'em up, tear 'em down.' "
Eliot Spitzer on the father who wouldn't let him quit.
"In 1994, when I decided to run for office, the gut check was really my dad, who knew nothing about politics. He was the shtetl kid who went to CCNY, did well, understood success was a great thing, but "use it for something." So he was thrilled. After I lost in '94, he said, "You're not stopping now. Of course, that's up to you — you can go back to law, you can come to the family business. But you'll be bored for the next 30 years. Politics is exciting, dynamic, challenging. Keep at it."
Oh, sure, I knew I was making some significant enemies as attorney general. Hank Greenberg is still suing me! But you know what? We were right. I wouldn't change a single thing we said or did about Wall Street. I've never criticized them for trying to attack me. That's their First Amendment right. Now, some of the things they did were more than criticize. Silda always used to say, "It didn't turn out so well for Don Quixote." I said, "Ah, the book was too long, I didn't get to the end."
I was elected governor with a very significant majority. I wish we had played certain issues differently, not moved as quickly. It cost a lot of political capital. We did quite a fair bit, though. We were right about driver's licenses for the undocumented. We got a great first budget, and then something switched with Joe Bruno. He was the Republican leader of the State Senate and didn't want our agenda to succeed. Joe was an impediment.
We would have taken back the State Senate for the Democrats in '08, and then we would have been able to implement an agenda. We'd actually turned the corner by February of '08, when my, you know, the other stuff forced me out of office.
Who was hardest on me but stuck by me? Probably my dad, who didn't want me to resign. His attitude was "In the scheme of life, you have a mission to do. Go out, stand up." But I still believe I made the right decision, given the politics. I don't blame the media, because that's what the media always has been. Its purpose isn't to elevate us morally. It is to inform, it is to entertain, it is to needle, it is to bring down the powerful. My brother-in-law always says, "There are only two stories in the media: Build 'em up, tear 'em down." I was treated as fairly as anybody else. Moments of self-pity are wasted time. There were reporters who turned on me, sure. No, I don't want to name any of them. They'll find out. That was a joke.
Yeah, other politicians or public figures have reached out to me when they were in trouble. I'm not going to tell you who they are. People call and ask, "How do you make it through?" I tell them, "Sit down and realize it's gonna get better. Turn off the TV. Don't look at the headlines. Those pass. I don't care whether it's shark bites or kneeling at the national anthem — next Monday, the story will be different. What's more important is, how are your kids? How's your spouse? Are you going to keep that together? What are you doing next?" That's what matters.
It will be ten years in March that I left Albany. How do I make sense of it now? I'm not sure you do. You can't make sense out of everything. You keep moving forward, you try to do useful things and build a useful life. It doesn't mean you don't look back with enormous regret. Enormous regret. But that's not always a useful way to spend too much time. I give myself five minutes a day. That's it. Four minutes would be healthier.
I'm a builder now. Most of what my dad built was on the Upper East Side, because that was the heart of the city. Now it's Brooklyn. We have a site under construction on Kent Avenue in Williamsburg. As a lawyer, as a prosecutor, in politics, there's a lot of talk. Occasionally things happen. When you're building, you actually see concrete being poured and curtain wall being applied to the façade. It's enormously satisfying. I hate to sound like Ayn Rand, but there's something very rewarding about that tangible productivity.
—As told to Chris Smith
My Kid: "Nothing Butt Loud Crowded Fun Chicken Korma."
Children described their city. Their parents made a picture based on those words.

—As told to David Colman
My Family: "Every time I talk to my sister, she's crying."
Waiting at JFK for the flight from San Juan.
"I talked to my mother before Hurricane Irma, and she was like, 'Oh, you know us islanders — we'll be fine.' Then before Hurricane Maria, she was like, 'I'm scared. This is gonna be bad.' That was the last time I talked to her. I had a plane ticket for a while, but I couldn't get ahold of her to tell her. She has two sisters, but they're an hour away. One of my aunts called my cousin, who found my mom on Saturday and told her, 'You're leaving Monday.'
"She's 62. She lost everything. She's coming here permanently. She just put a few things in a backpack and that was it." —Marie Singh, Hartford
"We're waiting for my two nieces. They live in the mountains, and nobody wants to deliver water or food there. Every time I talk to my sister, she's crying. She goes to the store, and there's a four-hour wait, and then inside, there's only one loaf of bread. Plus, there's no jobs right now, so there's no money. She's worried that if she leaves, she won't be able to get her job back." —Lourdes Calderón, Hell's Kitchen
"We're still waiting for my father and grandfather. The power is out. People are fighting for food — they're even fighting for ice." —Michelle Rivera, San Juan
"My daughter stayed. She's young, so she can handle it. But I got sick — maybe from the water? The stress? Who knows." —Carmen Lopez, San Juan
—As told to Reeves Wiedeman
My Ride: "He could write such a juicy tell-all book."
Katie Couric and Amro Maamoun on their five-year relationship.
Amro Maamoun: I remember the first time I saw you at ABC.
Katie Couric: Amro said, "I'd be happy to work for you," and I was thrilled because I love Amro. For much of my tenure at the Today show, I had one driver named Jack Sturm, with whom I became extremely close. Jack was diagnosed with pancreatic cancer when I was at CBS, and he died very quickly. I was really bereft when Jack died, and, quite frankly, I was spoiled. I was used to having someone help me juggle everything. Then Amro came into my life. Amro knows everything about me. He's seen my former boyfriends. He's seen me now with my husband, John. He could write such a juicy tell-all book.
Amro: This is the black box of Katie.
Katie: Amro always knows exactly where I'm going, because I'm kind of scatterbrained and I'm doing a million things. He'll be like, "No, it's the 19th floor." Or I'll walk into the wrong door, and he'll be like, "No, over here." If you move jobs and you're running around doing different projects, those people who are a constant in your life become so important. I don't want to say you're my work husband, but you're my on-the-road husband, Amro.
Amro: Katie called me John a couple times. Since I work with Katie, I have my own house. She helps me to put my older son in Catholic school, which is a better environment for him to focus in.
Katie: I do sometimes feel guilty because … you know. But I also think I'm able to give something to Amro. I think he's well compensated. I try to make sure that he's taken care of. So as spoiled as I feel, and as much fun as my husband makes of me about not being able to figure out the subway system very well, I also feel like I'm helping someone, too.
Amro: It's not like the relationship between employer and employee. It's more than that.
Katie: I feel very lucky. He's so cute, he always has this gum for me. I'll say, "Amro, I really love those tropical-fruit Life Savers" — I really like the banana and the mango ones. He does little things that are really, really nice and thoughtful. I always think it's like "Driving Miss Katie," and Amro, in about 20 to 30 years, is going to be feeding me in the nursing home. Like Morgan Freeman and Jessica Tandy.
—As told to Lisa Miller
My Son: "Digby had a bar mitzvah. It was quite an affair."
The couple and their boy.
Mark Kirby, retired dentist: Do you know the concept of Digby? When we got him, a number of our straight friends had started having children.
AJ Sapolnick, retired teacher: It was really annoying.
MK: Your friendships with people change dramatically when they have children. Our friends couldn't be spontaneous. AJ said, "I can't stand this anymore. We're gonna have a baby, too, and we're gonna have a baby that will not change our lifestyle." That's why we wanted a doll. We wanted a perfect child.
AJS: That was 1990.
MK: We were in Paris and we went to a flea market. I was drawn to a cardboard box — and there Digby was. I paid $7 for him.
AJS: He's been with us ever since. In New York, people don't even pay him any attention. If we travel, on a tour or a cruise, the first day people think he's very strange, but by the second they can't wait to see what he's wearing. It's very rare that people aren't accepting of him.
MK: When he was little, he used to go around with us more often. He's older now, so he has his own life. I can see changes in Digby over the years, in his expression.
AJS: He had a bar mitzvah. It was quite an affair. We never had a discussion about how involved he'd be in our lives. Mark and I just have shared values, I guess. We like the security of a family and a relationship.
MK: We've been monogamous the whole time we've been together, which is very unusual for gay people.
AJS: The world is so different than when we first met. Now adoption and surrogacy are realistic for a gay couple, but that wasn't even in the realm of possibility back then.
MK: Some people don't get our family. But you know what? It's amazing how many people do get it.
—As told to David Marchese
My Americans: "At first nobody would give me a house."
An Afghan family comes to New York.
Masihullah Latifi: Someone came and knocked on the door asking for a person who was working for the U.S. government. Everyone knew everyone in Kandahar. I had to escape. A few days later, I was followed in Kabul. I got a few letters dropped in front of my house: "We know you're working with the U.S. Army; stop or you will be killed." I had to move from my own house. It took one and half years to get my visa.
At first, nobody would give me a house because I didn't have a credit score, I didn't have a job, a background. The house we're living in now — the owner, they're Afghans who have a restaurant on Long Island.
In New York, most of the people are immigrants, so I don't feel like being a Muslim is a problem for now. My wife, she's wearing the hijab, so you feel it. But not a lot. Coney Island was the first time she saw the beach. She went on all the rides.
I didn't know there would be agencies helping me this much. HIAS helped me with my CV and revised it and told me how to be in an interview. I work at Cesar. We make fancy kitchens. In Afghanistan, I was working as a carpenter as a part-time job on small projects.
I see the customers at their houses in New Jersey and Manhattan, where I work. They get big $40,000 kitchens. It's like my year's salary, and they spend it on a kitchen. When you go to these houses, you just dream about having a house like that.
For my son, at least he has a future.
—As told to James D. Walsh
My Angel: "He wanted somebody who could make a gay fantasia."
Oskar Eustis was fired by his best friend, Tony Kushner.
"Tony Kushner and I have now shared 30 years together. It's half my life that Tony's been my best friend. We talk about everything. We have to make a rule to not talk about Scott Rudin too much. But we talk about theater all the time and we talk about politics all the time. Tony is one of the great talkers of the Western world.
In 1985, he had just graduated from NYU in the directing program. He started writing plays just to have projects to direct. A friend of mine was in one of those plays and kept telling me, "You've got to meet this kid." And I was a very big, important artistic director [at the Eureka Theatre] in San Francisco at the time, and I pooh-poohed the idea that I needed to meet this kid. Until one day, I was coming to see a Len Jenkin play with that friend, and we'd missed the curtain and there was no late seating. And this friend said, "Well, you know that kid I was telling you about? He's got a workshop production up in Chelsea, let's go see that!" And I said, "Fuck, okay." I was sure it was a waste of time.
It was a tiny little black box — you know, 90 seats, wooden risers, four stories up. There was some kind of brothel on the floor directly above and a size of imagination that could have filled a theater 100 times that big. There were problems with the play, but it was so smart and so beautiful. It was A Bright Room Called Day, which we're going to be reviving next year at the Public. Which I haven't announced, but I guess I just announced! It's about the last six months of the Weimar Republic and the first six months of the Third Reich. And the basic point of it was how incredibly easily democratic institutions can be swept away.
Tony and I met that night and then, in a sign I should have taken more seriously, it took me almost a year to get the script of the play out of him — and it was already written and performed. I finally ended up directing it in the fall of 1987, at the Eureka, and that was Tony's first professional production. By the time that had opened, we had already commissioned Angels in America.
There's no artist I've learned more from than Tony, and what I've learned is a kind of fearless grandiosity. Angels was an immense act of arrogance — to write a seven-hour play about gay people when you were a completely unknown writer whose one show was at best a succès d'estime. So there came a moment where it became clear to me that the Eureka Theatre did not have the resources to do Angels in America. And at that point, I'd have to say, "Thank you very much for writing this, but you're two years late, it's still a huge mess, and I have a theater to run." But I did the opposite. I said, "That show is so good that I believe in it more than I believe in my theater company." And I left the Eureka and went to Los Angeles to produce Angels in America. I spent six years total with Angels.
Once I accepted that Tony wasn't late on his deadlines because he was a lazy bum but because he went more deeply into the content of his plays than anyone else I've ever seen, then I thought, Okay, my job is to block downfield for him: get the grant money that will allow him to live, find the places where we can workshop this, just give him the space to finish this thing. It remains in a way the greatest achievement in my life, helping to keep the world off Tony long enough for him to finish that play.
And then we were near the end of the rehearsal period, and he came to my house and said, "I don't think you're the right person to direct this play." The way Tony put it was that there was a showbiz element that he wanted in the production that he didn't think I could provide. He wanted somebody who could make a gay fantasia, and that's what he got from George [Wolfe, then the director of the Public Theater]. He got a beautiful production.
But I took it as a really difficult blow. I spent about a year, very angry, very distanced from him. The way we put the friendship back together is really through Tony's unbelievably consistent generosity and refusal to let go of me. He dedicated his next play to me.
A really key moment in our reconciling was when I did Homebody/Kabul at Trinity Rep. That was the first production we worked on again together. And then there was Hair. Tony agreed to do the new book, and then I discovered that Jim Rado was very much alive and under no circumstances was going to allow anybody else to do a book for Hair. But we discussed Hair endlessly. We did it without Tony's new book, but his ideas made it in there. Even if Hair wasn't of the moment, it still could be made to resonate with the moment. In that summer of 2008, Darius Nichols, who played Hud, had the song "Colored Spade." He names all these horrible derogatory terms for what he was, and he's claiming them as his own, then he walks straight downstage and says, "… and president of the United States of Love!" And the day after Obama got the Democratic nomination, the place went insane. The beautiful thing about the theater is that at its heart it's such a positive form, binding the entire audience together as one body and making them feel like they're citizens. E pluribus unum.
That's what happened with Julius Caesar this summer, and I haven't talked about this because I didn't want to give fodder to the enemy. But the real reason that I did Caesarwas to provide a cathartic experience for those of us who are losing our minds. What I could feel in myself and in the audience is that we were playing out this violent fantasy and, by playing it out, puncturing its power. So it's not a coincidence that we'll be reviving Tony's A Bright Room Called Day before the midterm elections. The election of Trump really reveals to us that what we thought of as norms were really historically limited and may change completely. That's kind of what I think Bright Room is saying. Pay attention and defend this thing we have, because God didn't decree that it was going to be here forever.
—As told to Boris Kachka