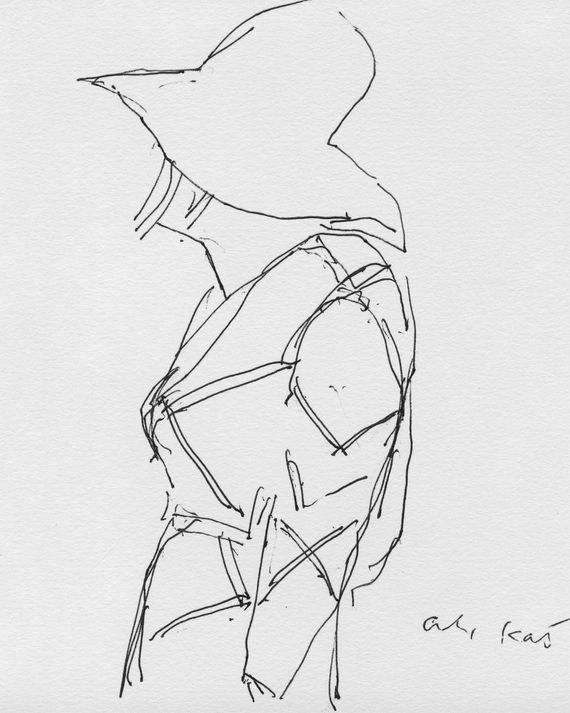 Alex Katz's revisiting of his 1940s "Subway Drawings" for 
New York
. 
Read more here
.
Illustration: Alex Katz
This anniversary issue is devoted to what might make other people in other places go crazy but here we call connection. Not just the connections we choose, like our poker groups or going-out friends, but those that could happen only in a city as clotted and manic as ours. Fifty years ago, New York's founding editor Clay Felker wrote a mission statement for his new magazine. "We want to attack what is bad in this city and preserve and encourage what is new and good," he wrote. "We want to be its voice, to capture what this city is about better than anyone else has." Here, we return to this mission, attempting to capture the city's voice through stories that are spoken as much as written, almost entirely in the first person, and always about how our disparate lives intertwine. Read more about the project here.
My Fellow Cadets: "Colonel has no limits on sugar. And he doesn't have kids, so he doesn't know what a bedtime is."
After school, the Upper East Side Knickerbocker Greys practice drills and drink Shirley Temples.
Ben Miller: When we go to the Players Club, we'll go in uniform, and we drink and eat and play pool.
Michael Kourakos: Shirley Temples.
BM: I personally don't like them. But a lot of people do.
MK: Too sweet?
BM: Too sweet.
MK: I drink four. Or two.
Garrett Ward: I usually get five or more.
BM: Also, the Players Club is a chance to get away from our parents, and Colonel has no limits on sugar. Well, some limits. He doesn't have kids, so he doesn't know what a bedtime is.
Aiden Eyrick: He also lets us go about the pool table as we like. I'm not very good.
GW: I usually just hit the table with my pool stick.
AE: I'm not bad, but Michael's definitely better.
BM: We talk about what we're doing in school. Current events, maybe.
AE: And if one of Colonel's friends or associates comes over, we'll tell them about our grades. I act in a refined manner. Look them in the eye.
BM: Shake their hand.
AE: Make sure you make a good first impression.
—As told to Katy Schneider
My Salon: "No one is going to barge in on us when we're unveiled."
The Yemeni-American friends who get their brows bleached monthly at Le'Jemalik Salon in Bay Ridge.
Rabyaah Althaibani: I met Samia during the campaign — we were both working to elect Reverend Khader El-Yateem for City Council. Samia was this amazing, feisty little hijabi woman.
Samia Aljahmi: I got bunions during the campaign from walking so much. It was a very stressful time. But this place is like therapy for us.
Sarah Alsaidi: They have Muslim services: halal brow bleaching for Muslim women who don't pluck, because in our religion we're supposed to look natural, like God created us. But we also want our eyebrows to look shaped.
Aljahmi: And there's privacy. No one is going to barge in on us while we're unveiled. Anyway, even if I am veiled, I don't like people seeing me get my upper lip done.
—As told to Katy Schneider
My Board: "He told me, 'They really should have attack dogs in the park.' "
Three times a year, the members of the Central Park Conservancy Women's Committee meet at Doubles.
Anne Harrison, former president of the board: I got involved sitting next to Norma Dana's husband at a dinner, and he told me, "They should really have attack dogs in the park," and I said, "You know, I don't think that's such a great idea, but I love the park!" So he grabbed my hand and said, "I need to introduce you to Norma," who is one of our founders.
Gillian Miniter, former president: My husband will call me and say, "I just had a business meeting, and this guy said his wife wants to get involved with the park; would you please call her?" Sometimes we end up with board members that way.
Alexia Leuschen, future president: My high-school gym class played softball in the park, but it was littered with needles.
Suzie Aijala, current president: I was mugged there when I was 9. It was disgusting.
AH: I remember my daughter picking up a cigarette butt and thinking, Really? This is what it's come to?
GM: We have one of the largest fund-raisers in the city — the hat luncheon. What did we raise last year, $4 million?
SA: Four and a half million.
GM: And the trips! We went to Cartagena in January, and we're going to Charleston.
SA: We're workers. We're not fluffy. You know what I mean?
AL: A lot of people come here and think they don't know anyone and then they realize that it's just one, two, three degrees of separation.
GM: We've got West Siders, we've got downtowners.
AL: We try to get them when they have babies!
—As told to Amy Larocca
My Game: "Lin's the worst player of the group. He thinks three pair is good."
Once a month, some Broadway producers and their friends play poker in a midtown office building.
Steve Gutman, former president of the New York Jets: Seven or eight years ago, Manny Azenberg and I were on the way home from Il Riccio, and Manny said, "We ought to get a poker game. You know anybody?" I said, "Well, Ned I'm sure would play," and Manny said, "That's enough from you. I'll add the rest."
Ned Gurevich, insurance executive: We lived in the same neighborhood in the Bronx in the 1940s. Manny and the two Steves all went to Bronx Science.
Manny Azenberg, producer: We called up about 12 or 14 men, including Lin [Manuel Miranda], who isn't here tonight.
MA: Lin's the worst player of the group. He thinks three pair is good. But Jeffrey plays, so Lin and Tommy Kail found out.
Jeffrey Seller, producer: Tommy could play a little poker. Lin couldn't play for shit.
MA: Everybody at the table can afford much more. But most everybody here grew up without. So they deal with the money as if it's real. If you raise me $2, it's "You fuck!"
JS: The day I had to announce that we were closing The Last Ship, the failed musical that Sting wrote — I was going to lose definitely over a million dollars personally, but that night I won $200 here. It was a small victory amidst a colossal defeat.
MA: Steve Gutman's the best player.
SG: That's absolutely not true. The trick is just not to lose too much when the cards aren't going your way. I've never played at any other tables.
Steve Karmen, composer: Don't believe Steve. It's like the girl who says "I never did this before."
Bob Fried, accountant: Jeffrey does extremely well because he doesn't give a shit.
Ron Shechtman, attorney: I got business with Jeffrey, when I represented the cast in Hamilton.
BF: But Manny will not allow shop to be talked.
Jerry Patch, artistic director: There's a common language between us, but we're not allowed to speak it.
JS: No show business.
—As told to Boris Kachka
My Orgy: "Alice and I, we were just having sex in that tent."
Once a month, on a Clinton Hill roof or sometimes a boat, the sex party known as Chemistry draws its regulars.
Alice: Oh, there's Sammy! In the hammock.
Kiki: Alice and I, we were just having sex in that tent.
Alice: This party used to be fringier.
Kiki: Now it's more mainstream. Oh, there's Kenny and Oksana …
JJ: This might have been the lowest-attended party I've been to. It might have something to do with the Jewish holiday.
Preston: It's all a little fuzzy, but I think Sarah and I paired up with a really lovely young woman, and the three of us had a lot of fun together.
Sarah: It's really time-consuming to get ready if you know that you're going to be naked in front of somebody. There are so many things you have to do. But this time we got the waxes a week in advance.
Preston: We really treat this like a performance. Sarah and I went and we worked out together. We ate a really healthy meal, did a bunch of primping, and prepared our little kit that we bring with us.
Sarah: They usually provide condoms, but we want our own. Ours are better. Also, we always bring a granola bar.
—As told to Allison P. Davis, with one name changed
My Sharks: "Like a kind of 'Santa Claus' "
One very ordinary, very small insider-trading network. By Jessica Pressler
"You're going to have to learn about Wall Street," a wise friend warned when I first started working at New York Magazine in late 2007, when the industry was high out of its mind on mortgage-backed securities. New in town, with nary a clue where to begin, my first step was, naturally, to watch the movie Wall Street. (To be fair, I also tried reading The Intelligent Investor but fell asleep, repeatedly.) A few months later, after the market collapsed, the world of Oliver Stone's movie — with its giant cell phones and trading in actual, tangible products — seemed remarkably quaint. Which is probably why Stone felt compelled to make his ill-advised sequel in 2010. Which he needn't have — really, he needn't — because watching the original again after a decade of covering people in the financial industry, I realized that everything you need to know about Wall Street, as a concept, is in there. The technology has changed, but the people are the same — as evidenced by the fact that the same shit keeps happening. Like insider trading. The vast majority of insider-trader scams don't involve big shots like Gordon Gekko. They're conducted by ordinary, even decent people who, presented with an opportunity for easy money, find it difficult to say no. Take, for instance, the recent case of Daniel Rivas, a 32-year-old Bronx native. Rivas used his job as a technology consultant at Bank of America to access proprietary information from the bank's deals system, then generously passed it on to a network of friends, like a kind of "Santa Claus," as the Times put it after Rivas pleaded guilty to fathering three concentric insider-trading rings in New York, Miami, and San Francisco. Five of his tipees were arrested, and while their legal fate remains up in the air, one has pleaded guilty: Rivas's girlfriend's father, a 60-year-old Wall Street veteran who should have known better. Then again: "The main thing about money, Bud," Hal Holbrook's wise and weary trader warns, "is that it makes you do things you don't want to do."
Trading Ring One
Rivas started dating a price reporter at financial-services company Tullett Prebon in 2013, then got to know her father, James Moodhe, who also worked there.
As the bank's assistant controller and a Wall Street veteran, Moodhe, was certainly aware that trading on the tip his daughter's boyfriend gave him about the impending acquisition of a pharmaceutical-research company violated securities laws. But apparently he couldn't help it, because a he placed a large bet on its stock.
Soon after, Dan and Moodhe's daughter moved in together. Like many young couples in love, Dan would sometimes slip his girlfriend notes in the morning, which, according to the Feds, contained sexy stuff like "information about confidential impending deals, including ticker symbols, deal values, and expected announcement dates." Moodhe's daughter, who has not been charged, passed those along.
Moodhe's growing bank accounts must have also put him in the Christmas spirit, because, in early 2015, he allegedly confided to Michael Siva, a 55-year-old financial adviser at Morgan Stanley and a friend of Moodhe's for more than 20 years, that he had an "imaginary friend" who had been helping him out with investments. From then on, according to the charges, Moodhe passed the tips along to Siva, who executed trades on behalf of himself, his wife, and clients of Morgan Stanley.
Trading Ring Two
Roberto Rodriguez grew up with Rivas in New York — "a good boy," his father puts it, who served in the Army, then moved to Miami, where he earned two degrees and got a job as an executive at a tutoring company. But he was struggling financially, as Rivas noticed on a trip to Vegas, according to the SEC, so Rivas offered him some help. But apparently Rodriguez didn't know how to open a brokerage account, so he reached out to someone he knew was smart: Rudy Sablon, 37, a fellow executive at the tutoring company. An upstanding member of the community, Sablon taught in inner-city schools and worked at a nonprofit to help at-risk children. He also was a single parent, which might be why Sablon, who "had never traded before in his life," according to a source, agreed to go in on the scheme. Over messaging apps, Rivas walked them through call options and tender offers, and soon they were rolling in it, making what authorities estimate to be $2 million.
They in turn shared the tips with the owner of the tutoring company. The owner, who was not charged, was also a trading novice but began realizing "exceptional returns" immediately.
Trading Ring Three
Meanwhile, another childhood friend, Jhonatan Zoquier, a fitness buff and union representative out in New Jersey, was having trouble pulling together the cash for an engagement ring. According to the Feds, Rivas sprang for it, then offered to make Zoquier a party to his information. Being ignorant of markets, Zoquier was hesitant to do the trades himself. But he knew a guy: Jeffrey Rogiers, 33, who had grown up in the Bronx, graduated from RIT, and was now out in the Valley, working as a software engineer. But the tips from Rivas, passed to Rogiers by Zoquier, proved even more fruitful. Ultimately, Rogiers made more than $50,000, according to authorities, who also say that Rogiers subsequently shared information from Rivas with two former co-workers, one of whom made $280,000, the other $130,000.
My Going-Out Friends: "I have to work at 9:30 tomorrow morning, but it's also like, YOLO."
On Friday nights, these DJs and artists get ready at Giovanna's Harlem apartment.
Dylan Ali: Okay, so the options right now are either the Milk party, if it's still going on, or my friend Rebecca is hosting something in Brooklyn. I feel like Milk is probably going to be open bar. And also it's to celebrate Trevor "Trouble" Andrew's gallery, so there will be a lot of art around, which is cool. I don't know. But Rebecca is a very good friend of mine. And I think Teeburr is DJ-ing.
Giovanna Santiago: You want some of this tequila punch? It's regular Sunny D and orange-strawberry Sunny D and tequila.

Rahm Bowen: Should I cut the neck of this shirt out?
DA: I think you should keep it.
Dare Moreno: I love chocolate-chip cookies. I guess when we're at parties, I'm the one that's trying to find a guy to give me an Uber home. Without him.
GS: Okay, this is everyone's personality. Dare, as soon as you walk into a party you're going to lose her. Dare is living her life. Dylan is either DJ-ing or trying to find a person with a bottle. Or in the midst of a conversation with one of her random friends that none of us know.
Dare: That she met in Europe four years ago, on her bus back, when she broke her leg.
GS: It's like, I don't know who the fuck it is, but she knows them pretty well. They're having a deep-ass conversation.
RB: I was that friend at one point in time!
GS: Darius is the same thing; y'all are twins. He'll pop up, and you'll be dancing with him, and then you're like, Where did Darius go? He'll dip off. Then you find him again, like, "Oh, shit! Where were you?" Darius will be finding some good gossip though. And then Rahm's just observing. He's on the wall. Sometimes he bobs his head to the song.
DA: Him and G are always plotting on something.
Dare: G is lit before the function starts.
RB: G is the main attraction. There's a point in the night when G owns the whole floor.
Darius Moreno: She has her climax.
RB: The club turns into G's at one point.
GS: Until I'm over it. And then I'm ready to go home. I danced, I'm tired.
Darius: So are we going to go out?
GS: I don't know. I have work at 9:30 tomorrow morning, but it's also like, YOLO.
DA: I'm recovered now, but when I was 19 or 20, I used to have really bad FOMO. There was a moment when I was at every function. Now I really need to always think, What's worth my time? A party is worth it if there is at least either open bar or free food, or someone I fuck with or appreciate at it.
Dare: Open bar and free food, that's like gold. Especially free food.
Darius: It's never just a random club.
DA: We're really trying not to do that anymore. All right, I'm going to the Milk party.
Dare: Is there open bar?
DA: Yes. It's Milk.
Dare: That's so much to get into sometimes.
RB: Can I leave my bag here?
GS: Mmm-hmm.
DA: On a scale of one to ten, how hairy are my legs?
Everyone: Not hairy.
GS: I'm working all day tomorrow. I'm staying here.
—As told to Allison P. Davis
My Sewing Circle: "I said to her, 'Are you like the Bruce Springsteen of knitting?' And she said, 'No, but I'm like Sting.' "
Once a month, Maira Kalman, Rosanne Cash, and friends meet for a stitch 'n' bitch.
Rosanne Cash, musician: I'm the worst seamstress in the group.
Lisa Fox, philanthropist: No, that's not true; I am.
RC: Kay is the best.
Gael Towey, documentarian: And Maira!
LF: I'd say Gael's pretty good.
Maira Kalman, author-illustrator: But I wouldn't begin to do your stitching stuff, because I'd go insane.
LF: In the knitting world, Kay is like … Elvis.
RC: When I met Kay, I said to her, "Are you like the Bruce Springsteen of knitting?" And she said, "No, but I'm like Sting." Kay and I met on Twitter.
LF: Oh my God. Who picked up who?
RC: I picked up her!
LF: Oh, Twitter, not like Tinder?
RC: No, Jesus Christ, Lisa. I wanted to learn to knit, and she said, "Of course you can." I said, "Meet me at this macaron place on 23rd Street."
LF: Oh my God, I love this.
RC: And I sat down with her, and she was so sweet.
LF: Can you remember what you wore?
Kay Gardiner, former federal prosecutor: I'm sure it was black Eileen Fisher, like every other day of my life.
RC: So I said, "We've got to bring Kay in." But now it's just us; we don't accept visitors.
LF: Sometimes I get excited and invite other people, and I can feel the tension, and I'm like, Damn.
RC: Everybody asks to join. I always ignore it when they ask. This got us through the election. Didn't we meet the day after? It was sitting shiva.
KG: There's something different about this — I mean, sometimes we go out and eat and drink — but with this, you don't have to be interesting, it's just being.
—As told to Margaret Rhodes
My Grade: "You can never talk about our parties in school, even on Friday during last period."
The St. Ann's juniors who spend their nights listening to disco and eating lumberjack breakfasts.
Jonas Bardin: I don't usually have a lot of people over, but I've been doing a really good job of cleaning up, so my mom is letting it happen more often.
Simon Lieber: You can never talk about our parties in school, even on Friday during last period. If you talk about it, you're going to end up with 70 people at your house.
Jonas: People are really thirsty for parties.

Simon: There's ticketed parties where people rent a space, and most of the high school goes to that.
Jonas: Like Hallobash, which was at this Chinatown ballroom.
Ella Lungstrum: It's kind of like a bar mitzvah.
Simon: No, it is a bar mitzvah, but there's people hooking up all over the walls.
Diana McCready: I met this girl Chloe at the Hallobash party last year, and then I ended up seeing her at the Women's March.
Roen Guerin: Sometimes the train and walking through the park and talking to random people is more fun than the actual party.
Jonas: Sometimes it's just intense inside. There's a lot of people, and I find it depressing when it's just beer cans and beer pong.
Ella: A lot of times, there's no after-party, so people will go to this kind of busted diner in Brooklyn Heights called Happy Days Diner.
Jonas: I literally get whatever it's called — lumberjack breakfast, full-farm-home whatever. I don't care. I go to Roen's house at least once a weekend.
Simon: Me and Jonas, we listen to disco.
Jonas: Like Donna Summer over and over again. But mostly what gets played at parties is —
In unison: Trap.
Jonas: Unless I take the aux. I like playing classic pop hits, like an older Rihanna song.
Diana: All of Snoop Dogg's old albums are so lit. I feel like our generation has a lit appreciation for older music. But that might be a St. Ann's thing.
Simon: It's not.
Ella: It's a New York City thing.
Diana: Like if you go to a party in suburban Connecticut, they're going to play freaking Alessia Cara.
Jonas: What's Alessia Cara?
Diana: Exactly.
—As told to Margaret Rhodes
My Tables: "Cher wanted all of her food pureed."
An Odeon class reunion.
When the Odeon debuted, in 1980, Tribeca was virtually desolate — but the artists who lived there, who would soon be emboldened by the Reagan-era boom times, quickly made it their home. The celebrities came soon after. We photographed 101 of the restaurant's current and former employees, many of whom are themselves artists or actors.
Stephen Lyle 
(No. 3) executive chef, 1989–96; currently a chef and consultant
One night, this crazy guy comes in off the street, clearly on something majorly powerful — probably angel dust — and there's a full dining room. He goes behind the bar and starts taking bottles and throwing them into the dining room. Everyone freaks out; you've never seen more people duck at once. Except for Taylor Mead, a regular then. He was sitting at the bar with his cane, and he was completely unfazed by this. Taylor goes, "Young man, young man, you stop that!" He was this 70-year-old guy, shaking his cane, going, "You stop that now!" Everyone thought there was a gun! But that didn't faze Taylor, not even slightly.
Katherine Bowling  
(No. 10) server, 1981–83; currently a painter
Cher wanted all of her food puréed. Maybe she had some tooth problem. And I had to go to the chef, Patrick, who was extremely intimidating, and there were never any substitutions, and I think he said no.
David Gaucher 
(No. 17) bartender, 2004–7; currently manages a delivery company
Bill Murray came in once late at night, and some other customers requested a picture with him, which is not really what you do in New York. But he was so warm and welcoming. He was like, "No, no, no, we have to be actually hanging out in the picture," so he and I start gathering glassware. There was a half-finished bottle of wine; he grabbed that. They just wanted a selfie, and he really went all out, staging it. It was a mini photo shoot.
Cynthia Germain  
(No. 51) server, 2004–9; currently a leather artist (met her now-husband, David Gaucher, at the Odeon)
This regular would always give me advice: "This is what you have to do with your die cuts." I was like, Yeah, yeah. He'd say, "Cynthia, you gotta hear me speak — every Thursday I give a talk." His wife would be like, "You know, Cynthia, we were where you are before we made it." And I'd think, Before you made it where?
So I'm living in Bushwick and I turn the corner one day, and the bus came by and it was advertising a Richard Serra retrospective at the MoMA. The whole bus had been painted. I knew the name from his credit card. It was only then that I realized. He comes in that day. I was like, "Richard! You told me you were an artist. But I saw you on the side of the B48!"
Mark Firth  
(No. 18) server, 1994–96; currently a restaurateur
I didn't know who anyone was. One night, this guy came up and said, "Hey, Mark, can I have a cigarette?" And I said, "Sure, John," and the new waitress's eyes popped out of her head. She said, "You know John Kennedy Jr.?" I said, "Sure, John and Carolyn come all the time." They were great tippers. It wasn't like we had Google.
Beatrice Novobaczky  
(No. 42) reservationist and host, 1986–88; currently an interior designer 
I was working the night when they were calling looking for Jean-Michel Basquiat. I answered the phone, and there was a person saying, "Have you seen him?" They didn't know where he was, and the Odeon was the first place they'd thought of.
Toby Cecchini  
(No. 88) bartender, 1987–91; currently a writer, bartender, and co-owner of the Long Island Bar
I served Jean-Michel Basquiat a steak the night before he died. He was nodding; his face was falling into it. I asked a server who knew him really well, like, "He's falling face-first. What should we do?" She's like, "Just prop him back; he can just sleep there for a while. Put it on his house account. He's got a tab." After an hour, he kinda stumbled out of the bathroom, and the next day he was dead.
Roya Shanks  
(No. 12) server, manager, 2001–present; also an actress
This woman who eats here, she came to New Jersey for a play I was in; she drove to Ithaca; she flew to North Carolina. After the show in Winston-Salem one night, they told me, "There's someone who wants to say hello." And it's Judy Baker from Tribeca.
Darrell Maupin  
(No. 5) server, 1981–83, maître d'and manager, 2001; currently the assistant to art historian John Richardson
I ended up at the restaurant the morning the towers got hit. When the buildings fell down, the police moved everybody back, to Franklin and West Broadway near the restaurant. Smoke was coming up to the restaurant; I saw people jumping off the roof. There was no power, so we had to go in there and throw everything out of the restaurant. We were down there for three or four days, cleaning everything out, and then they opened up, feeding the firemen and workers and first responders before they opened to the public.
1. Lynn Wagenknecht, owner, 1980–present. 2. Aaron Crowley, general manager, 2005–present. 3. Stephen Lyle, executive chef, 1989–96. 4. Vincent Nargi, executive chef, 2005–present. 5. Darrell Maupin, server, manager, maître d', 1981–83 and 2001. 6. Steven Abramowitz, co-director of operations, 2001–present. 7. Judi Wong, co-director of operations, 2000–present. 8. Leslie Journet, server, 1982–83. 9. Melva Max, server, 1981–84. 10. Katherine Bowling, server, 1981–83. 11. Miriam Zyndorf, server, 1983–85. 12. Roya Shanks, server, manager, 2001–present. 13. Lily Smith, bartender, 2011–15. 14. Rachel Braude, host, 2010–12. 15. Henry Kamp, ice-cream scooper, 2017. 16. Johnny T. Sollitto, server, 2001–3. 17. David Gaucher, bartender, 2004–7. 18. Mark Firth, server, 1994–96. 19. Andrew Tarlow, food runner, server, bartender, 1993–98. 20. Robert Carlson, bartender, 1989–91. 21. Kirsti Craig, server, maître d', 1982–85. 22. Geraldine Bartlett, server, 1981–86. 23. Caitlin Ewing, manager, 2016–present. 24. Jon-Michael Smith, server, manager, maître d', 1981–83. 25. Edwin Boria, bartender, 1981–84. 26. Estephany Lopez, host, expediter, delivery, ice-cream scooper, 2016–present. 27. Lucy Wallace Eustice, bartender, 1989–90. 28. Aurelia Morrison, accountant, delivery manager, 2008–10 and 2017–present. 29. Andre Szabo, server, 2014–present. 30. Stacey Weihe, server, 1998–2002. 31. Noe Rosas, sous-chef, 1999–present. 32. Sam Dusing, server, 2014–present. 33. Tomi Heady, server, 2015–present. 34. Raúl R. Torres, server, 2002. 35. Ivy Arce, bartender, 2014–present. 36. Steven Ross, maître d', server, 1995–97. 37. Dylan McCormick, bartender, 1992–96. 38. Brandon Moser, server, 2006–16. 39. Elise Taff, server, 2011–12. 40. Annie Moser, host, 2013–16. 41. Gretchen Zimmermann, server, 1999–2001. 42. Beatrice Novobaczky, reservationist, host, 1986–88. 43. Tracey Lieberthal, host, 1998–99. 44. Leah Holmes, bartender, 2016–present. 45. Austin Nixon, server, bartender, manager, 2011–present. 46. Raphael Girardoni, floor manager, maître d', 1999–2001. 47. Ian O'Donnell, server, 1999–2003. 48. Myda El-Maghrabi, server, 1998–2002. 49. Igor Gnedo, busser, server, 2006–14. 50. Paul Bacsik, bartender, bar manager, 1984–98. 51. Cynthia Germain, server, 2004–9. 52. Miguel Alfonso, sous-chef, chef de cuisine, 2006–9. 53. Fadwa Elkotni-Weng, server, 1999–2002. 54. Christine Hollingsworth, server, 2010–13. 55. Marlene O'Halloran, server, general manager, 1981–95. 56. Joanne Freedman, server, manager, 1996–2004. 57. Salman Khan Qureshi, manager, maître d', 2000–7. 58. Steven Winslow, bartender, general manager, 1988–90 and 1996–2000. 59. Zack Ashley, server, 2005–6. 60. Anthony Jackson, bartender, 2011–13. 61. Breanna Arrington, host, 2012–14. 62. Melissa Huffsmith-Roth, bartender, 1989–94. 63. Charles Hardwick, bartender, 1998–2000. 64. Abdul Tabini, bartender, 1995–2009. 65. Hafid Elbroji, manager, 1989–2000. 66. Malia Mills, maître d', server, 1991–93. 67. Angelo Miliano, bartender, 2005–10. 68. Carmen Grau, server, bartender, maître d', 1990–92 and 1999–2003. 69. Jason Schuchman, server, 2004–8. 70. Amber Berry, bartender, 2002–5. 71. Steven Nalley, bartender, 1992–2003. 72. Scott Williams, server, bartender, 2016–17. 73. Jon Perry, bartender, 1999–2001. 74. Peter Russo, server, runner, 1999–2002. 75. Ryan Maupin, server, 2002. 76. Corey Sheppard, server, 2013–15. 77. Zealan "Z" Turner, bartender, 2014–present. 78. Jon Turner, server, bartender, 2011–16. 79. AE Kessel, server, 2004–present. 80. Uttam Saha, houseman, 2000–present. 81. Sondra Tackett, server, 2005–10. 82. Carlos Garcia, houseman, 2005–present. 83. Alessandra Delle Grotti, server, manager, 2015–17. 84. Manon Bailly, host, expediter, 2014–present. 85. Milagro Pineiro, host, 2016–present. 86. Tommy Lonardo, server, 1992–97. 87. Teri Cotruzzola, server, host, 1994–97. 88. Toby Cecchini, bartender, 1987–91. 89. Ricardo Arias, server, 1996–2000. 90. Billy Gilroy, maître d', bartender, 1987–89. 91. Sergio Garcia, server, 1994–2002. 92. Miranda Watson, expediter, 2014–present. 93. Leobardo Uroza, food runner, 2003–present. 94. Mary Karl, server, manager, 2014–present. 95. Adrian Fontanilla, head bartender, 2009–present. 96. Kieran Rodgers, manager, 2011–13. 97. Luis E. Velasquez, food runner, 2001–present. 98. Cuauhtémoc Hernandez, line cook, 2001–present. 99. Shyamal Sen, busser, 2008–present. 100. Humaun Ali, busser, 2012–present. 101. Mohammad Babal Uddin, busser, 2003–present.