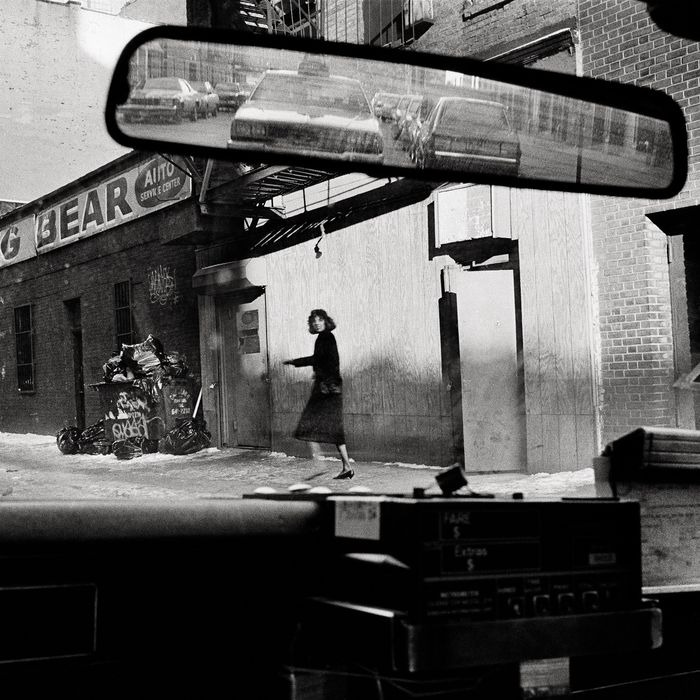 220 West Houston Street.
Photo: Joseph Rodriguez
This anniversary issue is devoted to what might make other people in other places go crazy but here we call connection. Not just the connections we choose, like our poker groups or going-out friends, but those that could happen only in a city as clotted and manic as ours. Fifty years ago, New York's founding editor Clay Felker wrote a mission statement for his new magazine. "We want to attack what is bad in this city and preserve and encourage what is new and good," he wrote. "We want to be its voice, to capture what this city is about better than anyone else has." Here, we return to this mission, attempting to capture the city's voice through stories that are spoken as much as written, almost entirely in the first person, and always about how our disparate lives intertwine. Read more about the project here.
My Fares: "She sees her pimp and he jumps in the cab."
The people Joseph Rodriguez saw through the windshield.
Rodriguez drove a cab from 1977 to 1985, and in the last two of those years, he was studying to be a photographer. He lost his first set of gear in a classic '70s New York stabbing and mugging, but with a new camera, he documented what he saw on the job.
220 West Houston Street (above): "This is an after-after-hours club that was right across from the Film Forum. This place stayed open from like five in the morning to five in the afternoon. It was where you went after the big S&M clubs — Anvil, Hellfire — in the Meatpacking District closed. Back when Al Pacino was doing his research for the film Cruising, you'd see him cruising in this neighborhood."