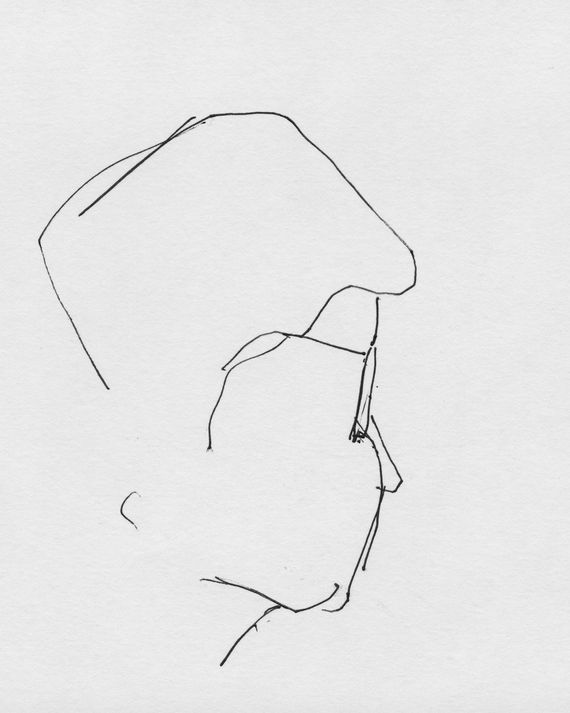 Alex Katz's revisiting of his 1940s "Subway Drawings" for 
New York
. 
Read more here
.
Illustration: Alex Katz
This anniversary issue is devoted to what might make other people in other places go crazy but here we call connection. Not just the connections we choose, like our poker groups or going-out friends, but those that could happen only in a city as clotted and manic as ours. Fifty years ago, New York's founding editor Clay Felker wrote a mission statement for his new magazine. "We want to attack what is bad in this city and preserve and encourage what is new and good," he wrote. "We want to be its voice, to capture what this city is about better than anyone else has." Here, we return to this mission, attempting to capture the city's voice through stories that are spoken as much as written, almost entirely in the first person, and always about how our disparate lives intertwine. Read more about the project here.
My New Friend (And Theirs, And Theirs … ): "So I pick up the phone, and somebody goes, 'Hi, this is Sandra Bernhard.' "
How Pat Kiernan connects to Jeremy Lin connects to Robin Byrd. A 50-person chain of quintessentially New York relationships.
Pat Kiernan served on jury duty with Adia Revell.
Pat Kiernan: You're stuck together in a room for two weeks, so you become … familiar.
Adia Revell: I knew that he looked like someone. Then, one of the other jurors was like, "Wait, that's the guy that's, like, on TV or something."
PK: Adia and I were counterparts in curiosity. The other jurors may have thought we asked too many questions.
AR: Some people were like, "I want to get home."
PK: When we finished, we all went out drinking at Rocco's Tacos on Adams Street.
AR: Pat ended up paying. My daughter's father picked me up, and I'm pretty sure that was the night she was conceived — I have a picture of Pat and me; when I look at it, I'm like, This is the night.
Adia Revell got her eyebrows threaded by Rubina Jasmin.
Adia Revell: The first few times, it was terrible. I don't know if she was just starting out? But I kept going back, and over the years, she got better. She would always ask me if I was married. Partially, it was endearing.
Rubina Jasmin: When they come, they are strangers, and then they become like family. They can help me with my problems. I get lots of good advice.
AR: At night, she sends me texts about expanding her business. I met her daughter a couple of weeks ago, and then Rubina requested me on Facebook. I don't engage, obviously, 'cause Facebook is a little weird, but I got to see the food she's made for the holidays.
Rubina Jasmin gave an aggressive sales pitch to Barbara Wilson.
Barbara Wilson: One day this woman approached me on the street, trying to get new business.
Rubina Jasmin: I'd see her trying to go into another salon, and I'd call out to her, "Excuse me, can you come to me instead?" She said no, but I tried many times.
BW: It was hard to say no, she was very persistent.
RJ: Sometimes I get letters or things that I don't understand, and I take it to Barbara and say, "Barbara, what do I do?"
BW: I say I'm her unofficial attorney. She's never given me a discount for my services, though.
Barbara Wilson ordered rum-and-Cokes from Tim Dorian for a decade.
Barbara Wilson: When I worked at the hospital and our shift ended, we'd go to Junior's and have a little cocktail.
Tim Dorian: I have so many regulars, and I read people. I've been working since I was 12. You go to work, and if you're dead, you still go to work unless they tell you, "It's okay, you can lay down and die."
BW: Tim would see me coming, and before I got to the bar he had my rum-and-Coke. He'd tell me about the book he was writing — he was working on it for years. I wonder if he ever finished.
TD: My next project was about a topless bar in Queens.
Tim Dorian enlisted Katie Van Buren in a web series he had planned.
Tim Dorian: I met Katie through a documentary I wanted to make about the famous TV host Joe Franklin.
Katie Van Buren: I was on Facebook, and my stage manager posted a picture with Joe Franklin. I ran into the studio and was like, "Can I meet him?"
TD: Katie came in to be on camera.
KVB: Joe and Tim would give me topics, like old Hollywood stars, and I would just chat with him while they recorded it. From what I could gather, Tim was one of Joe's best friends. They exchanged looks and nods. I don't know where the web series stands now, to be honest. Tim has a lot of footage.
Katie Van Buren bought candy from Daniel Levin.
Daniel Levin: One day, she came into my store; she had just arrived in New York.
Katie Van Buren: It was my first week, and I knew nobody. This guy is like, "Hey, do you want some candy?" I was like, What? That is the mother of all warnings. But he really did work for a candy store.
DL: Then we hung out a few days later on my roof. We got tacos.
KVB: We didn't really stay friends; not for any reason, it's just, people drift.
DL: I'm a little bit older, possibly a little tamer.
Daniel Levin and Jon Morris are loft neighbors.
Jon Morris: Dan and I basically live together, separated by a thin bedroom wall.
Daniel Levin: His energy is very noticeable. Like, the first thing I thought was, This guy is very warm, and he's got some energy.
JM: We have an open-door policy. It's like, our crazy Italian neighbor is Kramer, and Dan's Costanza — a little more positive though. He's heard all our parties through the years and never complained, which speaks to his adventurous spirit, I guess.
Jon Morris met Wendy Whelan dancing.
Jon Morris: I had heard about Wendy from dancer friends of mine. Then when we met, we immediately became friends because she's also from Kentucky. We were joking around in the way that fast-talking redneck Kentuckians can do.
Wendy Whelan: Jon came via my husband, so they're a little closer, but I do love Jon. From what I know, he lives life big, and he just goes for everything. I guess I've gone slightly more toward his energy since I left the ballet in 2014. My routine is very different now. A little more open.
Wendy Whelan met Pamela D'Arc through Alan Rickman.
Wendy Whelan: I was doing a project with Patti LuPone, so I went to see a show of hers, and Alan was there. We became friends.
Pamela D'Arc: Later, we did all end up at a dinner with Patti LuPone, that's true. But Patti's really just Alan's friend; she wasn't the relevant part.
WW: One day, someone wanted me to audition for an actress job.
PD: She was so nervous — she doesn't speak when she's dancing.
WW: Pamela, a former actress, had me over. We had a little wine and coaching session.
PD: I had to grab her to loosen her up, like, "Come on, Wendy, let it go!"
Pamela D'Arc sold Dr. Han Jo Kim an apartment.
Pamela D'Arc: He'd just gotten married and wanted to buy something, and I had a gorgeous condominium.
Dr. Han Jo Kim: My wife and I were on our honeymoon in Capri, and we ran into a developer who over dinner told me about his building. It was a little out of my price range, but I was like, "I'd love to talk."
PD: During the process, I had a medical concern. I'd say, "Now, can I just ask you about my MRI?" He just said, "Oh, don't worry, that's all natural."
Dr. Han Jo Kim found Cristal Genise-Nierenberg's desserts.
Dr. Han Jo Kim: Her husband is a manager at the Ralph Lauren mansion. Our relationship is easy — I go in, he has three suits ready to go. So then my fiancée and I were planning a party, and he said his girlfriend is an amazing pastry chef.
Cristal Genise-Nierenberg: The first time we all met was at the Polo Bar. Then my husband needed surgery on his neck, so Han Jo did it.
HJK: After they came to our wedding, they're like, "Yo, can you officiate ours?"
Cristal Genise-Nierenberg buys pork from Michael Caminiti.
Cristal Genise-Nierenberg: I've been going to Pastosa in Staten Island for years. It's a famous Italian store. Every time, we talk to Michael.
Michael Caminiti: They're regulars. Nice young couple.
CG-N: He'll let us know what meats are in and be like, "Stop talking and listen to me."
MC: I can talk a lot. I want to share my knowledge. Most people are scared of the oven. They're like, "How should I cook this?" You tell me you haven't cooked this before? What the hell were you doing?
Michael Caminiti poached Ryan Chin.
Michael Caminiti: When I met Ryan, he was behind the bar next door to a bowling alley. I said, "Listen, come work for me." He goes, "Mike, you know I'm not Italian." He's a six-foot Asian guy. I go, "It's obvious, Ryan. Don't worry about it." He bartended for 14 years.
Ryan Chin: Only reason I left was because I was making insane money commodities trading.
MC: When he got divorced, I moved him to Long Island City. He had goldfish that he was going to give me, but he also had 9-mm. guns that he uses for target shooting. I was like, "I think you should keep the goldfish; I'll take the guns.
RC: I'm now working back on Staten Island. We could go years without speaking, and if I ever killed someone, I'd be like, "Hey, bring your shovel."
Ryan Chin adores Jeremy Lin.
Ryan Chin: We're both Chinese-American guys over six feet, but that's not why I like him. I grew up watching the Knicks. They were horrible. You watched as he energized the team.
Jeremy Lin: I don't encounter a lot of over-six-feet Chinese-American fans, but a lot have said they identify with me.
Jeremy Lin talked a lot to Tim Keller.
Jeremy Lin: I'd read one of his books before I moved here. Then he offered me phone counseling.
Tim Keller: He asked questions about navigating his new fame.
JL: I was staying on my brother's Stuy Town couch. It was an uncertain, desperate time. I didn't think I'd be kept on the team — I was scared to unpack.
Tim Keller took in Lolita Jackson.
Tim Keller: Lolita is one of about six people over the years who is a "long-term single" and who we invite to be a part of our family.
Lolita Jackson: I was stranded during the holidays, so he said, "Come have Christmas with us." I worked for Morgan Stanley, and most of my mentors were white men, so that's been a pattern. I love old white guys.
Lolita Jackson danced with Winsome Lee "Sanchez."
Lolita Jackson: Winsome was in the same a cappella group as me in college. When she came to New York, she got into the salsa world. So I was like, "I need to get fit."
Winsome Lee "Sanchez": Lolita showed up. It was weird to have her in my beginner class.
LJ: She has a headpiece, the whole thing.
WLS: I warmed up to her. She took it so seriously.
Winsome Lee "Sanchez" gave Wali Collins her discount.
Wali Collins: She was born in Hong Kong and salsa-dances. My brain was like, Well, she can't be that good. But this chick was throwing her hips around.
Winsome Lee "Sanchez": I used to work for a luxury retailer, and he would want my friends-and-family discount. He's like, "Hook a brother up!" Yeah, it's a seasonal relationship.
Wali Collins met Sheila Anderson in the trash room.
Wali Collins: One day, I'm taking out the trash in my building, I hold the door for this woman who has a really cool voice. She says, "I'm a radio DJ at WBGO." I was like a kid: "Ooh, you're Sheila Anderson?!"
Sheila Anderson: He got goose bumps.
WC: There's a lot of Geminis in this building, so she set up a Gemini-themed party.
SA: It's quite a party. One year, some people had sex in my bathroom. I put the picture on Facebook. I said, "Somebody got busy!"
WC: Two years ago, there were 400 people. Each floor had its own thing. Liquor on the fifth; entrées on the fourth; dessert on the sixth. There was a techno room, a '70s-R&B room. Sheila had live jazz.
Sheila Anderson looped in Mika Karlsson.
Mika Karlsson: One day, she knocked and said, "I have a yearly party, and you're invited. By the way, we need a chill-out area — can we use your apartment?"
Sheila Anderson: I'd realized I needed more space. He looked at me like, Huh?
MK: But my experience is that whenever you hesitate, you should probably say yes, so I did. I realized during the party, This is why I'm in New York.
SA: Then we developed a friendship spending time together, having dinners.
MK: She played one of my classical things on her radio show. I remember getting off my bike in Astor Place and thinking, Yeah, this is cool.
Mika Karlsson met Rob Copeland at a meeting.
Mika Karlsson: I started to go to a 12-step group in midtown.
Rob Copeland: I remember sitting at the front of the room when Mika walked in. I guess the right term is vibed. We vibed. Nobody would see Mika and me and say, "That one and that one go together."
MK: I don't need any more composers in my life.
Rob Copeland met Jan Lisa Huttner in a long line.
Jan Lisa Huttner: Hillary was signing What Happened at Union Square, so I made a hotel reservation the night before at the Hyatt nearby.
Rob Copeland: I just happened to step in the line right behind Jan.
JLH: He had no idea we were about to spend the next eight hours together.
RC: Neither one of us is bashful. For the first several hours, we talked politics.  Eventually, I got some really great shots of her meeting Mrs. Clinton.
JLH: He moved back in the line so that he could get the photograph. What an amazing gentleman.
Jan Lisa Huttner found a movie buff in Kimi Kumar.
Jan Lisa Huttner: Two years ago, I got my teeth whitened. When I told the receptionist I write about women filmmakers, she said, "You need to meet my friend Kimi."
Kimi Kumar: We connected at Starbucks. Now she's my Jewish mother. The night before she went to meet Hillary, I joined her, we went up to the room and were drinking Bailey's and were talking about our problems, mostly hers.
Kimi Kumar met Alison Evans on the subway.
Alison Evans: I asked her where she was heading, and we started to talk. You can tell if someone is open to train conversation. Some people, if you talk to them, they'll put their earbud in and it's like, Bye! We discussed art and balancing that with a day job.
Kimi Kumar: It was very forward, but we were sitting right next to each other.
AE: We were in the middle of a deep conversation when she said she had to get off, so I was like, "Give me your number." It's kind of weird when you do that, especially with women because you think, I hope they don't think I'm hitting on them. A few months later we had drinks. We talked about the meaning of life and spirituality.
KK: I know we have enough small talk in life, and I know it can be annoying, but it's a way to connect. Small talk leads to big talk.
Alison Evans found in Ryan Davis a fellow art nerd.
Alison Evans: We met at a pop-up gallery in the Lower East Side. I was still so new to New York, I drove in from Queens. We discussed, on an intellectual basis, why be an artist.
Ryan Davis: I hope this doesn't come off as rude, but I rarely find people who can keep up with me. That conversation was probably the closest I got to an interesting one.
Ryan Davis sells brushes to Gabriel Marchisio.
Ryan Davis: We have three different kinds of customers. One is the older person who says, "I've been painting for 50 years, and even though I am requesting your help, I am going to make you feel inferior every step of the way." Then you get the ones who want you to teach them everything. They will ask things like, "How do you make a painting?" And then you get customers who are easygoing and appreciate your help. Gabriel falls into that category.
Gabriel Marchisio: My work is in the window of Blick right now. I make my art at home in Harlem, but I come there very often.
RD: He's pretty eccentric, I'll just say that. He likes to make the kind of jokes that you can only hear half of what he said. In fact, I don't think I've heard a word he's ever said to me.
Gabriel Marchisio gets mistaken for Ron Jeremy.
Gabriel Marchisio: I had a bit of money from selling some art at first. Then I started reading cards when I couldn't afford food. I was the tarot-card reader at the Chelsea Hotel. You know what happens to me sometimes? Girls mistake me for Ron Jeremy. I met him at the after-party for the MTV awards. The room was full of stars.
Ron Jeremy starred in a film with Robin Byrd.
Ron Jeremy: Robin Byrd did the strongest scenes. We were in Bon Appétit, a great film. I'm using an awful French accent saying Champagne. We were once having sex in the basement of a club in Queens when a guy fired a gun. We didn't miss a beat.
Robin Byrd: "I don't remember that part, maybe it was just the fireworks in his head?"
Robin Byrd got a call on-air from Sandra Bernhard.
Sandra Bernhard: One night in 1988, I was lying in bed watching her live show and decided to call her.
Robin Byrd: I pick up the phone, somebody goes, "Hi, this is Sandra Bernhard, and I would love for you to come and see my show." I'm like, "Yeah, sure," and I hung up. But then she calls up again and goes, "No, really, I'm inviting you down, blah, blah, blah, the Orpheum Theater, and pick up your tickets." So I went down to the Orpheum Theater, and I go, "This may sound a little weird, but I'm Robin Byrd …" "Oh, we know who you are, we love you, blah blah blah!" After the show, I go backstage and meet her."
SB: She came, and then she asked me to come on her show.
RB: She said, "What am I gonna do?" I said, "What do you mean? You're gonna strip."
Sandra Bernhard was seated across from Lady Bunny at a grim charity dinner.
Sandra Bernhard: We were at a PETA event. PETA can get a little intense, you know? Lady Bunny was slurping her soup going, "Mmm, this is the worst soup I have ever tasted. Disgusting!"
Lady Bunny: After we met, I went to see her show. Carol Channing sat in front of me, and that nut, who I worship, had this handful of fluted lipsticks — you know, with a gold mirror that pops up — that bitch took out five of those and sat down and sat there putting them all put on before the show. I was in overload. There I was in the East Village, sitting right behind Carol fucking Channing, watching a comic who was best friends with Madonna — and there was even a sex club on my way home.
Lady Bunny is neighbors with Nicky Perry.
Lady Bunny: She works on my block. She's crazy, a right old scrubber. She's always got a rotten joke, and she's always wearing her HILLARY and VOTE buttons.
Nicky Perry: Bunny has lived there longer than I've had the restaurant. That's a long time.
LB: I recently gave her daughter a little chop of a wig.
NP: Audrey absolutely adores her. When she was about 5, she said, "Mummy, is Lady Bunny gay?" Oh dear, oh dear.
LB: And I was recently in a reality TV pilot Nicky shot. I have no idea where it's going. The pilot looks cute, for a genre that I don't care for. I don't like reality TV, let's put it that way. But then again, I was in it, so.
Nicky Perry met May Pang at a Jonathan Ross show.
Nicky Perry: He was really big in England, but the Americans have never heard of him. I didn't have to bring up John Lennon — within a minute, she was talking about him and then I was like, "Oh, okay. That's nice."
May Pang: That's what I like about her; she's very straightforward.
May Pang met Wendy Kaufman at Tea & Sympathy.
Wendy Kaufman: Snapple was a sponsor of Howard Stern's show, and I knew of May 'cause she'd gone on the show a zillion times.
May Pang: I knew her as the Snapple lady.
WK: But I must tell you, while I am a true admirer of the Beatles, I was not one of those Beatles hangers-on, and I think that she liked that about me.
Wendy Kaufman met Edis Julevic at Philippe.
Wendy Kaufman: Philippe is one of my staple places, along with my halal guy.
Edis Julevic: Wendy started coming around December 2005, and then she became a regular. She loves a litchi double martini. She even had her birthday here — I'm not sure if it was the 50th or 60th birthday. I will say 50th.
Edis Julevic met Bill Rudin when planning a shiva.
Edis Julevic: The family needed a location for his uncle's shiva.
Bill Rudin: My uncle loved Chinese food.
EJ: This was the first time we'd had a shiva. This is a Chinese restaurant, so kosher's just not something we can provide.
BR: Edis was so accommodating.
EJ: We did make a special fish dish.
Bill Rudin met Ray Kelly when Bill's dad worked with David Dinkins.
Bill Rudin: My father was a founder of the police foundation. Then things come full circle: My daughter married a gentleman very close with Ray, so now Ray is one of my granddaughter's godparents.
Ray Kelly: We were honored, but, you know, there's probably a couple other godfathers out there.
Ray Kelly met Rabbi Kass often, usually in hospitals.
Ray Kelly: There's a picture of me graduating from the academy, you can see Rabbi Kass in the background. As I went up in the department, I came in contact with him more, usually when something bad happened.
Rabbi Kass: He appointed me chief chaplain. It was quite a surprise.
RK: It's not easy, herding chaplains.
Rabbi Kass argued with Robert Lipsyte about God.
Rabbi Kass: He wrote a very irreligious article about surviving cancer in TV Guide. I wrote him a letter saying that he should treat Jewish chaplains better.
Robert Lipsyte: It was such a nice, warm, inviting letter that I responded and we began a long discussion.
RK: And we've been good friends ever since.
RL: I'm still an atheist.
Robert Lipsyte fetched cocoa for Gay Talese.
Robert Lipsyte: I hated my job as a copy boy in the sports department at the Times. The only thing that interested me was this flashy young reporter named Gay Talese.
Gay Talese: I was getting a lot of bylines and a lot of attention.
RL: He was stuck on night rewrite, and part of my job was I would go out and buy him cocoa — not hot chocolate, cocoa.
GT: There's always a young person that reminds you of yourself and you like that person because you like that memory.
RL: The hours were 7 p.m. to 3 a.m., and you can imagine the loser assholes who worked on that shift. What the copy editors lived for was to take a beautiful piece from Gay Talese and cut it down to three paragraphs.  I told him I was going to quit. He said, "You could make it here big time. But if you do quit, I'll give you $5,000, for 10 percent of five years of your freelance earnings." And that was all I needed to hear: Gay Talese thinks I can make it here.
Gay Talese met Joe Spratt's grandfather at the top of a bridge.
Gay Talese: I met Joe Spratt's grandfather in 1963. I was up on the Verrazano bridge, writing about it being built.
Joe Spratt: A few years ago, I get a call one day, it was Gay looking for my father. He sounded a little disappointed, and then he asked, "Well, what do you do for a living?" I said, "I'm an ironworker, too, working on the Freedom Tower." That blew his mind.
GT: We became friends; I met his girlfriend. We had dinner a few times, and about two weeks ago he sent me a card with a picture of him on top of some building.
JS: He reminds me of my grandfather — both very tall and skinny, and they both cross their legs in the same way. Maybe that's why they bonded? I was like, "Gay, what's the deal? Why are you even interested in ironworkers?" And he said, "I like to write stories about people who do things with their hands."
Joe Spratt works high above Anne Umland.
Joe Spratt: I'm doing some crazy shit with a crane right now. We're at MoMA — I put a bit of iron on top of the museum.
Anne Umland: Every week, the construction crew is responsible for adding another floor. So each week I come in and I look up, and now I am at the point where I can't look up anymore.
Anne Umland gave Tina Davis a photograph.
Anne Umland: My husband's gallerist was the one who introduced me to Tina as a book designer. And then it turns out she's married to James Snyder, who I know from MoMA, but she doesn't have his last name, so I hadn't put that together.
Tina Davis: I saw Anne at an art opening about six months ago, but we didn't speak.
Tina Davis shopped at Luxor Tavella's shop.
Tina Davis: Her store in Soho was a certain kind of vintage — old pieces of Indian saris, not Katharine Hepburn. Even back then, she seemed a little unusual.
Luxor Tavella: Everybody came in here, from Andy Warhol to Rene Russo to Karl Lagerfeld. Beautiful people still come, but it's harder to know who they are. Jeff Bridges and his wife are regulars; he buys two of everything for himself. Each year, people buy my clothes for Burning Man.
TD: I don't think I argued with her or tried to bargain her down, but she did tell me a ridiculous price.
LT: I'm still here, every day, from 1 p.m. onward.
Luxor Tavella buys crackers from Troy Turnwald.
Luxor Tavella: I have been going to Gourmet Garage for years. It's so close; I can get there and back in a minute.
Troy Turnwald: Couldn't miss her from a mile away. I haven't really had that many conversations with her; I just know that she usually comes around 8:50 at night and buys Carr's entertainment crackers.
Troy Turnwald was asked for old bagels by Hila Perry.
Hila Perry: I was making a movie about an artist who's name is Art who is fed up with his work but still makes a lot of money but rejects it and goes on a quest to make art that's meaningful to him and all this chaos ensues, and I wanted to know if Gourmet Garage had any food garbage that I could feed to my crew. My friend told Troy that I like giving erotic foot massages. I played along; I was like, "Yeah, I give erotic foot massages, I'm like really into toes."
Troy Turnwald: She always has these shticks.
HP: He gave us bagels, and eventually we started hanging out.
TT: She just moved to Brooklyn and is living the no-waste lifestyle. It sounds very exhausting.
HP: I moved to a circus-training studio on the edge of Bushwick and Ridgewood. The first week, they were hosting a teenage-girl summer camp for aerial training. The girls were kind of awkward and shy and from, like, Massachusetts.
Hila Perry is always late for Rosemary M.
Hila Perry: It's a long-ass bike ride to my allergist in the Upper West Side — it's this whole thing that I prep myself for. I tell her secretary Rosemary I'm going to be there at 8:30, and she's like, "Yeah, okay, sure you are." And then I don't show up till, like, two. She's so funny. She's just like, "Oh, we're so happy you made it!"
Rosemary M: She's a trip. She always gives me these fabric hearts with a pin. She wants you to wear them. To be honest, I don't exactly know what she does for a living.
Rosemary M. buys puppies from Jimmy Earle.
Rosemary M: I see Jimmy every week. I go there to buy everything. My house looks like Jimmy's store.
Jimmy Earle: Rosemary bought a dog and then, after a couple of years, it passed away. She was in one day looking at a puppy. I said, "You love dogs, you need one, just take the puppy, we'll worry about the money later."
Jimmy Earle watched Cassie Stranzl grow up.
Cassie Stranzl: When I was a kid, I would always go to Jimmy's pet shop. I was going to ask him if I could have a part-time job, but I was too shy.
Jimmy Earle: Now she works around the corner at the animal clinic.
CS: I didn't buy my pets from him, though. I like reptiles, and they are much cheaper at special expos.
Cassie Stranzl works at a Bronx animal hospital with Delilah Mogollon.
Delilah Mogollon: I wasn't born when I met Cassie.
Cassie Stranzl: I remember Delilah's grandmother bringing in sonograms to the vet's office. I guess I'm her role model. She works the waiting room; she's like, "Hey, I'm Delilah, what brings you here?"
DM: Look, the truth is that when I am at home, I'm rotten, and it's only when I'm here that I'm sweet because I love animals. We have some rescue kittens at the moment. Each day, I watch to see if they have opened their eyes all the way.