Brad Pitt turned five houses into a private compound. R. Kelly built a twelve-foot wrought-iron-and-concrete fence around his estate. Ellen DeGeneres spent $5.5 million on a house that had sight lines into her backyard. These are the lengths celebrities go for a taste of anonymity in a business that ignores those who want to be noticed and incessantly hounds those who want to be left alone. "They're just looking for privacy," says Martin Genis, a Hollywood real-estate agent with many celebrity clients. That leaves stars with two choices: Find a secluded home that provides cover from what Genis calls the "lookie-loos" or move into a place like the Beverly Park, an exclusive, gated community where there's a decent chance your neighbor is more famous than you are. Of course, you could always just move to a private island.
Getaways
The price—and surprising returns.
Mel Gibson's Mago Island
Cost: $15M in 2005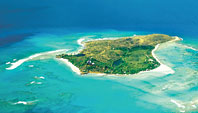 Richard Branson's Necker Island
Cost: $360K in 1978








And there can be income: Before a fire last August, Branson rented out his island for $54K a night; Mick Jagger's six-bedroom beach house in Mustique is relatively cheap: $18K to $22K a week.
Security Expenditures
$500K: Armed security guard on duty 24 hours
$30K: Security-camera setup for 30 cameras
$25K: At-home nerve center for cameras
$10K: GPS device hardwired into cars
$5K: Shatterproof coating on windows
$820: Setting up LLC to keep purchases secret