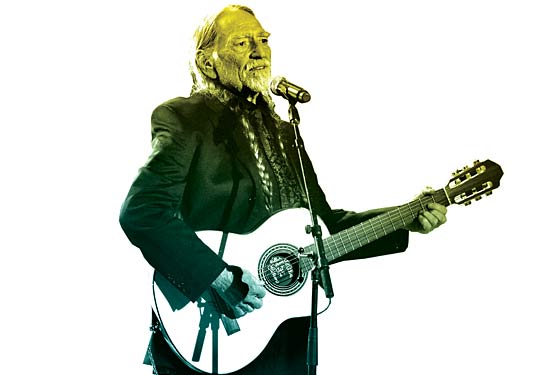 JANUARY
1.Sleep. Brunch. Sleep.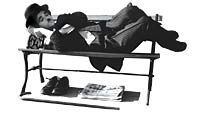 2. Charlie Chaplin walks the walk as the Little Tramp in a screening of six of his best shorts at Symphony Space.


3. The Slipper Room features a once-a-month freakfest that's part rock opera, part burlesque, hosted by "mutant supervillain" Mr. Donut.


4. On a dark, wintry night, catch a two-for-one showing of Woody Allen's A Midsummer Night's Sex Comedy and Another Woman (perhaps his most Bergman-like offering) at Film Forum. Come back the next evening for Manhattan.


5.A play that only a young, desperate serial renter could truly appreciate, The Sublet Experiment is a romantic comedy that takes place in a new apartment every weekend. Tonight it's Williamsburg. Next week, the Upper East Side.


6. Sleeping Beauty kicks off a centennial salute to New York City Ballet co- founder Lincoln Kirstein.


7. Say good-bye to Christmas. The Rockefeller Center tree gets gently felled.


8. Musical celebration of the late, great Rosemary Clooney (yes, George's aunt) at the 92nd Street Y.


9. Taye Diggs makes his behind-the-scenes debut as choreographer at the Joyce (see Offstage Talent).


10. My Mexican Shivah, a comedy featuring a dead Jewish patriarch, his Catholic ex-lover, and an ex-con grandson, premieres at the New York Jewish Film Festival.


11. Lite-FM lovers, rejoice! Bryan Adams comes to the Beacon Theater …


12. … While Willie Nelson sings the blues at Jazz at Lincoln Center.


13. Explore the psychology of hot pink at F.I.T.'s She's Like a Rainbow: Colors in Fashion.


14. What's Chinese prison after having to smack down terrorists and topple the president—all on no shut-eye? A new crisis unspools during the season premiere of 24.


15. Hollywood celebrates Martin Luther King Jr. Day by hosting the Golden Globes. Earlier on, the Great Day Chorale honors him at the Brooklyn Botanic Garden.


16.Counterterrorism veteran turned writer Richard Clarke tries his hand at techno-thriller fiction with Breakpoint, out today.


17. Some call Andrew Bird a cross between Beck and Itzhak Perlman. He and John Southworth (who calls his own music "Appalachian cabaret") play the Bowery Ballroom.


18. Doug Aitken's first large-scale public artwork in New York lights up MoMA's exterior walls with continuous film sequences featuring Donald Sutherland and Tilda Swinton. In other movie news: the first day of Sundance.


19. Goodness gracious! Jerry Lee Lewis is live at B.B. King Blues Club & Grill.


20. Terence Koh is known for his "queer, punk, and pornographic sensibilities," so what does he have in store for his first American solo museum show—in the Whitney's lobby?


21. Sayonara! Four of Japan's top modern dance companies end their weeklong run at the Joyce.


22. Jamie Foxx plays the Garden. But is Jamie Foxx the musician really as good as Jamie Foxx the Ray Charles impersonator?


23. Cross your fingers for Marty—it's the Academy Awards nominations.


24.Two stellar International Center of Photography shows: The personal scrapbooks of Henri Cartier-Bresson and Martin Munkacsi, who revolutionized fashion photography.


25. Legendary journalist Pete Hamill takes a turn as interviewee at BAMCafé's "Eat, Drink & Be Literary" series.


26. The Afro-Brazilian ensemble Ologunde does capoeira and a warrior dance at Symphony Space.


27. Behold the power of maps at the New York Hall of Science's cartography show.


28. Respect the power of bears at Werner Herzog's Grizzly Man at the Museum of the Moving Image.


29. Martin Amis reads from his most recent work, House of Meetings, while Norman Rush reads from his as-yet-unreleased novel Subtle Bodies at the 92nd Street Y.


30. Can she go platinum again? Norah Jones releases Not Too Late.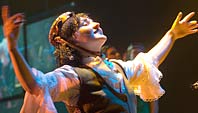 31. Must Don't Whip 'Um, about the last concert of a very obscure (i.e., made-up) seventies pop singer, is at (where else?) St. Ann's Warehouse.


FEBRUARY
1. Self-proclaimed "anti-pop" rockers Big Head Todd and the Monsters take their mix of Delta blues, funk, and psychedelia to Irving Plaza.


2. Secret pregnancy, facial disfiguration, incest leading to infanticide—the Met's production of Leos Janacek's Jenufa offers heady melodrama sweetened by phenomenal Finnish soprano Karita Mattila.
3. David Byrne, who teamed with Fatboy Slim to spin the Imelda Marcos saga into a multimedia song cycle, performs Here Lies Love at Carnegie Hall.


4.Maybe Judith Regan would like a ticket? The Theatre for a New Audience stages Shakespeare's The Merchant of Venice and Marlowe's The Jew of Malta, with F. Murray Abraham playing Shylock and Barabas, the most vilified Jewish characters of all time.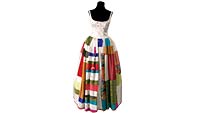 5 Tina Turner, Diddy, and ultrafemme designer Tracy Reese: The Museum of the City of New York's "Black Style Now" runs the gamut from hip-hop to high fashion.


6. Free Press releases Infidel, Ayaan Hirsi Ali's memoir of her annus horribilis in Holland, which began with the murder of her collaborator, filmmaker Theo van Gogh.
7. TiVo part 2 of season 3 of Lost, and go see Justin Timberlake channel Prince and Gumby at MSG.


8. If you can't swing that Tulum trip this February, settle for a shot of southwestern alt-country when Calexico warms up Lincoln Center.
9. Sondheim's Follies has weathered good times and bum ones—grab your chance to hear Christine Baranski prove why she's still here, playing Carlotta Campion in "Encores!" at New York City Center.


10. The Hamburg Ballet's erotic and austere Death in Venice comes to BAM.


11. Contemplate synthetic beauty (and its discontents) at P.S. 1's Silicone Valley show …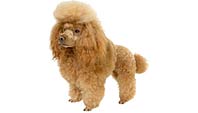 12. … Or ponder true physical perfection at the 131st Westminster dog show.


13. Gaga for film noir and madcap musicals? Hurry to 59E59 for Adrift in Macao, Christopher Durang and Peter Melnick's mash-up of Casablanca and Hitchcock.


14. Tonight's the night—for roses, prix fixe price gouging, and Rod Stewart at MSG.


15. Eight hours, 44 actors, and one heart scare equals TBD number of Tonys: The final installment of Stoppard's The Coast of Utopia opens today.


16. Looking to relive Narnia's box-office magic, Disney remakes Katherine Paterson's revered Bridge to Terabithia, still a perfect wormhole into your sixth-grade self.


17. Take advantage of the Jewish Museum's free Saturdays to see Alex Katz's paintings of Ada, 40 portraits of his wife and muse done over 50 years of marriage. Ask your partner what he (or she) has done for you lately.


18. Cowboys, Caballeros, and Copland: It's the Orchestra of St. Luke's rollicking kid-friendly set at Carnegie Hall.


19. Moody Austin, Texas, post-rockers Explosions in the Sky hype their anticipated new album, All of a Sudden, I Miss Everyone, by playing Warsaw.


20. The Asia Society unveils Free Fish, a new work by Okinawan turned New Yorker Yuken Teruya and stages the first solo museum show of the artist's scissored-paper tableaux and ingenious dioramas.


21. Stay in and watch Criterion's new DVD, 49th Parallel, the World War II propaganda thriller with the kind of topflight talent even Altman might have had trouble wrangling: Laurence Olivier, Raymond Massey, and Leslie Howard.


22. Jefferson Mays, Boyd Gaines, and Hugh Dancy bring their spectacular London revival of Journey's End, a World War I trench-friendship drama, to the Belasco. Will it be this year's History Boys?


23.Director Craig Brewer follows up Hustle & Flow with Black Snake Moan. Premise: Retired bluesman Lazarus (Samuel L. Jackson) decides to cure wild child Rae (Christina Ricci) of her nymphomania—by shackling her with a twenty-foot chain.


24. Spider-Man, Superman, and Stephen King visit the Javits Center for the second annual Comic Con(vention).


25. Join Joan, Melissa, and the other red-carpet Valkyries at the 79th Academy Awards. Stick around to see whether Clint Eastwood sweeps or Borat makes at least one onstage appearance.


26. Two months after Art Basel Miami, the art world comes together once again, for the five-day, 148-gallery Armory Show on the Hudson, a less decadent but still quite lucrative affair.


27. Three weeks before the four-year anniversary of the Iraq war, four-star general Wesley Clark addresses "War: Past, Present, and Future," at the 92nd Street Y.


28. Dance as political art. William Forsythe's Three Atmospheric Studies at BAM is a defiantly non-balletic and sometimes discomfiting look at war and hypocrisy.