Independent bookstores are the sober equivalent of your local bar: Not only does everyone know your name, they know what you like. Furthermore, they benefit the publishing business: "Independent stores are where innovation lies," says Kent Carroll of Europa Editions. "They can still make best sellers [like Europa's Elegance of the Hedgehog]. The chains didn't come onboard until after the fact." If you're looking for new books or used (the Strand, it goes without saying, is tops here), we offer these fourteen bibliophilic delights.
Manhattan
HUE-MAN BOOKSTORE & CAFE
Specialties: Harlem's largest bookshop is known for its celebrity clients (Toni Morrison, Bill Clinton) and a polyethnic selection including Native American novels and Spanish-language kids' books.
Surprising Demo: Japanese tourists. "They love hip-hop culture and reggae," says co-owner Marva Allen. 2319 Frederick Douglass Blvd.; 212-665-7400.
MORNINGSIDE BOOKSHOP
The Crowd: Caters to the Upper West Side's erudite collectors (with first editions from Jimmy Breslin, Updike, etc.) as well as cost-averse Columbia students (a wall's worth of Penguin Classics).
Sample Find: A vintage 24-volume Charles Dickens set.
What's Selling? Toni Morrison's A Mercy. 2915 Broadway; 212-222-3350.
MCNALLY JACKSON BOOKS
The Vibe: Formerly McNally Robinson, the two-floor purveyor of new books is as dedicated to aesthetics as it is to selection.
The Crowd: Comes for the discounted Bolaño, but sticks around for the $4.75 yogurt and Balthazar granola.
Sample Finds: Observable Readings, 2006–2007, a small-press poetry collection; Phaidon's bulky Design Classics set; the Voudon Gnostic Workbook. 52 Prince St.; 212-274-1160.
HOUSING WORKS BOOKSTORE CAFE
The Vibe: Soho but tweedier, full of publishing and media shop talk. Specialties: Contemporary lit and rarities. Much of its high-quality, bargain-basement selection is donated by publishers, whose staffers frequent the place, even filling out the ranks of its volunteers.
Added Benefit: It's a wood-brick-and-iron outpost of a charity for homeless people with HIV and aids. 126 Crosby St.; 212-334-3324.
192 BOOKS
The Vibe: Part bookstore, part gallery (past exhibitions featured Andres Serrano and Sol LeWitt).
Specialties: Shelf-straining art, photography, and design titles, but also best sellers from the likes of Murakami and Chabon, and awfully purty (graphically sophisticated) children's books.
Sample Finds: I. M. Pei: Complete Works; a hardcover Tintin collection. 192 Tenth Ave.; 212-255-4022.
ST. MARK'S BOOKSHOP
The Vibe: Sleek, brilliantly efficient, and browser-friendly.
The Crowd: Dressed-up night owls (the place stays open until midnight) on their way to bars.
Specialties: 'Zines; heavy on lit mags, academic titles, and design books.
Sample Find: The Culture Industry, by Theodor Adorno. 31 Third Ave.; 212-260-7853.
THREE LIVES & COMPANY
The Vibe: Congested, but unsnooty staffers are eager to help.
Specialties: The mystery and poetry sections are cultivated with care; a boatload of Proust.
Sample Finds: John Ashbery's Notes From the Air: Selected Later Poems; mystery titles from renowned publisher Soho Press. 154 W. 10th St.; 212-741-2069.
Brooklyn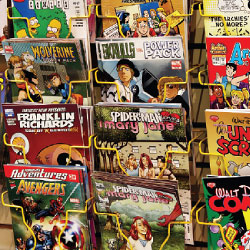 BOOKCOURT
The Vibe: Kid- and casual-browser-friendly. Its recent renovation—closing off the stuffy downstairs in favor of an airy, skylit back room—cements its dominance in Cobble Hill.
The Crowd: The Brooklyntelligentsia and their precocious toddlers.
Bonus Points: Personalized staff pics, a local-themed section, a large children's area, and 20 percent off all store best sellers make up for a not-terribly-unpredictable selection. 163 Court St., Cobble Hill; 718-875-3677.
SPOONBILL & SUGARTOWN
The Crowd: Chunky-glasses-wearing, thirtysomething trendsters. The Vibe: Busy, buzzy, and a little sceney.
Specialties: New and used coffee-table-size art and architecture books, including a deep used-book collection; hot literary paperbacks fill a center table.
Sample Find: Grow Your Own House: Simón Vélez and Bamboo Architecture. 218 Bedford Ave., Williamsburg; 718-387-7322.
FREEBIRD BOOKS & GOODS
The Vibe: Quiet, cozy, and a little dusty.
Specialties: Used classics, plus tiny-press novels and campy fifties manuals.
Why It's Worth the Trip: New owner Peter Miller, director of publicity at Bloomsbury, knows how to lure warm bodies beyond the BQE. Coming events include the regular "postapocalyptic book club," a play-by-play analysis from the basketball bloggers behind FreeDarko, and a C. S. Lewis party with the store's backyard transformed into Narnia. 123 Columbia St., Cobble Hill; 718-643-8484.
ROCKETSHIP
The Crowd: Literary nerds and just nerds.
Specialties: Comics, but also some framed panels and reissued strips. The stock ranges from Marvel monthlies to obscure literary graphic fare, with frequent signings and events.
Sample Find: Jews in America: A Cartoon History, by David Gantz. 208 Smith St., Cobble Hill; 718-797-1348.
Queens and Staten Island
SEABURN BOOKS
The Crowd: Greek old-timers, bookish gentrifiers.
The Vibe: The nation's most diverse county deserves a bookstore like this—chaotic, democratic, polyglot, and cheerfully no-frills.
Specialties: Walls of Greek- and English-language books, plus Rick Warren in Spanish, Thomas Mann in German, and an astounding array of pulp science fiction (like the complete Star Trek paperback series). 33-18 Broadway, Astoria; 718-267-7929.
EVERYTHING GOES BOOK CAFE
The Vibe: Owned and operated by members of the Ganas commune, the compact used-books stop—a short walk from the ferry—is best described as "post-crunchy."
Specialties: Ecology and philosophy are well represented, but there's also a selection of luridly titled fifties pulps and a back room of vintage LPs.
Sample Finds: A box of Steinem-era Ms. magazines; Frank Capra's 1971 autobiography, The Name Above the Title; out-of-print Dungeons & Dragons guides. 208 Bay St., Staten Island; 718-447-8256.

What Sells?
"Everyone picks up Infinite Jest, but they don't buy it," says Morningside Bookshop's Peter Soter of must-read author David Foster Wallace. "They go for his nonfiction."
(Photograph by Hannah Whitaker/New York Magazine)
Behind the Counter
Bookstore owners are an eccentric lot—perhaps none more so than Sam Chekwas of Seaburn Books. Raised in Nigeria, he studied in Thessaloniki, Greece, picking up a dentistry degree and a love of classical culture. At Seaburn he offers classes in Greek and English. Ask nicely and he might teach you some Igbo.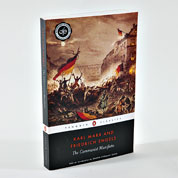 A Revolutionary Reading Room
Revolution Books/Libros Revolución, the cheerfully insurrectionist leftist hangout, is perhaps the only place in the city where you can drink coffee, discuss Mao Tse-tung, and pick up a copy of the 2009 Cat Lovers Against the Bomb calendar. Manager Travis Morales—longtime Revolutionary Communist Party member—says the financial meltdown hasn't hurt the store: "We were packed to the gills for [Maoist political economist] Raymond Lotta's talk. I've heard people on Wall Street are reading The Communist Manifesto to understand how capitalism works." But surely a bad economy makes for a tough holiday season? "We're having a sale called Take the Christ Out of Christmas, and the Holy Out of Holiday," says Morales of one strategy. "Ten percent off all books on atheism and science." 146 W. 26th St., nr. Seventh Ave.; 212-691-3345.
(Photograph by Hannah Whitaker/New York Magazine)