Pop
1. Download Hi Beams, by Javelin
Bleep-bloop pop for now people.
Javelin's bouncy, swoopy, slightly twitchy electronic pop will leave you grooving in your chair. The first single, "Nnormal," is free for downloading (or ffree for ddownloading) at luakabop.com.
Luaka Bop Records.
TV
2. Watch Enlightened's season finale
The best HBO show you're not viewing.
Amy Jellicoe (Laura Dern), the high-­maintenance heroine of HBO's spiky comedy, finally pushes her malevolent company hard enough to make it push back. Few television comedies are as squirm-inducing as this one; even fewer boast Enlightened's uncanny mix of compassion and detachment. —Matt Zoller Seitz
HBO, March 3, 9:30 p.m.
TV
3. Roll Your Eyes (Enjoyably) at Vikings
If Game of Thrones isn't quite cheesy enough.
Kind of a GoT knockoff in the form of historical reenactments, it promises to be really dumb, and also, just maybe, hugely entertaining. It arrives on the Network Formerly Known As the History Channel (now just History; we await its sister network, Tragedy).
History, premieres March 3, 10 p.m.
Movies/Video
4. Rewatch Skyfall
Feh to the awards snobs: This Bond is Hollywood at its best.
They don't nominate these kinds of movies for Best Picture, but you know what? This should've been a contender on Sunday.
Available on DVD and Amazon Instant Video.
TV
5. Catch Up to Billy on the Street
A maniacal man-on-the-street interviewer.
A very loud, extremely frenetic comedian named Billy Eichner accosts people on the street with pop-culture questions, disarming them with his goofy aggressiveness. Think Jay Leno's "Jaywalking" segments if they were, y'know, funny.
Fuse, Fridays, 10 p.m.
Movies
6. Opt for Flight of the Phoenix
Skip the new Die Hard; same director, better film.
No one cares much for Irish-born director John Moore after the shambolic hackwork that is A Good Day to Die Hard. But his undersung 2004 remake of the plane-crash picture Flight of the Phoenix is worth another look: The desert palette is starkly beautiful, the whooshy inserts are surprisingly expressive, and the cast—including a pre-House Hugh Laurie and Giovanni Ribisi at his most Ribisingly glassy-eyed—is a jolly group with which to be marooned. —David Edelstein
Available on Netflix.
Books
7. Read Autobiography of Red, by Anne Carson
Before you dive into her new book, try this one.
Carson is a translator, classicist, ­MacArthur winner, Guggenheim fellow, and terrifyingly brilliant master of a genre no one can name: poetry? Prose poetry? Novels in verse? Whatever it is she writes, she's written a new one, Red Doc, out March 5—which means you've got a week to go read its precursor, the wonderful Autobiography of Red, a retelling (kinda) of the myth of Geryon. —Kathryn Schulz
Vintage.
TV
8. Stream Spiral
L'analogue de David Simon.
Three seasons of this French police procedural are now downloadable, with a fourth on the way. The first is more or less Law & Order with soulful detectives. The second is The Wire, set in the immigrant projects on the fringes of Paris. The third is … maybe a little pulpier. A hit when it aired on the BBC.
Available on Netflix.
Books
9. Read Gun Guys: A Road Trip
A book about our country's love of weaponry.
It is, sadly, an apt time to read Gun Guys: A Road Trip, Dan Baum's peripatetic effort to explain why buying, owning, and shooting guns is so appealing to so many Americans—including the demographically unlikely author, a pistol-packing, Jersey–born Jewish Democrat. —K.S.
Knopf, March 5.
Theater
10. Revisit All in the Timing
Three nineties one-acts by a comic master.
Theater nerds revere David Ives's short plays: They're pure examples of comedy-structure-as-existential-angst, infused with humanity. The microclassics "Sure Thing," "Philip Glass Buys a Loaf of Bread," and "Variations on the Death of Trotsky" are often done by students—here's your chance to see them with pros like Jenn Harris (Silence! The Musical). —Scott Brown
59E59 Theaters, through March 17.
Art
11. Stare at We Went Back at ICP
Especially at one photo.
At "We Went Back," a retrospective of the war photographer known as Chim, the showstopper is one 1947 color image called Children Playing on Omaha Beach, Normandy, France: It shows four French moppets in the sand as a bombed-out boat hull from the Allied invasion looms over them. The kids look to be about 3 or 4, meaning they were literally born under this bad sign.
Through May 5.
Art
12. See Jorge Queiroz at Sikkema Jenkins & Co.
And don't skip the other show in back.
Squiggles, scribbles, shapes, areas of off-color, and a dexterous hand merge into allover painterly visions of imaginary beings, faces, clouds, caves, and cliffs all worth pondering. The back-room group show includes two killer ceramic works by new gallery artist Arlene Shechet. —Jerry Saltz
Through March 2.
Conversation
13. Eavesdrop on David Byrne and Questlove
The Public Theater puts two brainy musical aesthetes on one stage.
The onetime Talking Head will chat with Questlove, the hip-hop musician whose magpie tastes are if anything more eclectic than Byrne's. It's the latest installment in the Public's Forum series of artists' chats, this one at NYU's Skirball Center.
February 26, 8 p.m.
Books
14. Reread At Home With Pope Ron in 'The Fran Lebowitz Reader'
While waiting for that little puff of smoke.
A perfect parody of celebrity journalism by the wry and unprolific Lebowitz, this 1982 essay really could be a "Shouts & Murmurs" version of this past week's papal-conclave coverage.
Vintage.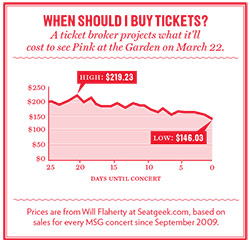 Comedy
15. Laugh at Maria Bamford at Carolines on Broadway
Skittery stand-up brilliance.
For a preview of her live act, check out Bamford's Special Special Special!, which was taped before an audience of two—her parents—and drew as many laughs from its awkwardness as for the jokes. Ridiculously original, and odd and confessional.
March 4, 7:30 p.m.
Books
16. Learn From Collecting Art for Love, Money and More
Art-buying for non-dummies.
A how-to book from Ethan Wagner and Thea Westreich Wagner, two of the sharpest eyes in contemporary art. Topics include "The Thrills of Collecting Art," "Personal Taste and Knowledge," and "The Vicissitudes of the Art-Market." It would be hard to imagine two better-qualified guides for these choppy, sometimes disgusting, often ecstatic waters. —J.S.
Phaidon.
Classical Music
17. Hear the New York Philharmonic's Carousel
It was Richard Rodgers's favorite.
Hum a snatch of Rodgers and Hammerstein's ­Carousel, and it's not usually the accompaniment that comes to mind, despite one of the sprightliest overtures ever. But the New York Philharmonic puts the band onstage with a concert performance featuring the vocal forces of Broadway (Kelli O'Hara) and opera (Nathan Gunn). —Justin Davidson
Avery Fisher Hall, February 27 through March 2.
Art
18. Contemplate Richard Artschwager's Door, Mirror, Table, Basket, Rug, Window D
In memoriam.
The 89-year-old artist died on February 9, just six days after his full-career retrospective closed at the Whitney. That left us with not a single Artschwager work on view in New York—until the museum moved this 1975 drawing back into view in the lobby. It'll be up, says a Whitney representative, for "a few weeks."
Whitney Museum of American Art.
Movies/Video
19. See How to Survive a Plague on DVD
The epic of the epidemic.
Oscar or no, it's the documentary of the year. Even Ed Koch—who takes an onscreen shellacking—said its activist subjects deserve the Medal of Freedom.
February 26.
Opera
20. Lose Yourself in Francesca da Rimini at the Metropolitan Opera
Three brothers, one bride: Uh-oh.
A scrap of the old Met is fluttering into the present: a revival of this opera by Riccardo Zandonai, with an obscure but glittery score in a deluxe production that's been in storage since 1986. The opera itself has what might be termed "a reputation": lush and over-the-top and luxuriously pretty. —J.D.
March 4 through 22.
Art
21. Discover John Byam at Andrew Edlin Gallery
Because you've actually never seen art like this.
Never before viewed in New York City, and barely exhibited anywhere, these wee, captivating wood carvings include sprinkles of sawdust, other detritus, paint, and ink, and depict stairs, caskets, ladders, and furniture. They're made by an upstate visionary named John Byam who operates under that absurd label "outsider artist." He's an artist, period, and continues to make art as he approaches his 84th birthday. —J.S.
Through March 16.
Movies
22. See Caesar Must Die
Shakespeare—starring inmates.
How can anyone not adore Paolo and Vittorio Taviani's new film? In a scant 76 minutes, it enlarges your notion of what theater and cinema can do. A group of prisoners in an Italian maximum-security prison audition for, are cast in, and rehearse a production (heavily abridged) of Julius Caesar. Quickly, the roles take over, and we're watching the play itself. —D.E.
In theaters.
TV
23. Follow Up With The Staircase: Last Chance
The coda to an amazing story.
Jean-Xavier de Lestrade's eight-part documentary The Staircase, about Michael Peterson, who was convicted of killing his wife, was a surprise hit on the Sundance Channel in 2005. In this two-part follow-up, we hear about new dev-elopments that may open the door to an appeal. —M.Z.S.
The Sundance Channel, March 4 and 11, 10 p.m.
Theater
24. See Mary Poppins
Do it for the kids. Before it's too late.
No, it's not very good. But will your 11-year-old niece go goggle-eyed when Nanny P. unfurls her umbrella and floats up to the proscenium? She almost surely will. If you hurry …
Closes March 3.
Movies
25. See Like Someone in Love
Iranian director transcends two languages.
The Iranian art-house darling Abbas Kiarostami has evolved into a magical storyteller, and Like Someone in Love, his newest film (in Japanese!), is full of artful cinematic sleight-of-hand. It centers on a young call girl and a grandfatherly old client, but Kiarostami's center never holds. Identity is fluid—like the director's uniquely meditative syntax. —D.E.
At the Landmark Sunshine.
For full listings of movies, theater, music, restaurants, and much more, see nymag.com/agenda.