TV
1. Watch The Big C: Hereafter
The end is near.
The final season is structured as a four-episode mini-series—and a showcase for the truly great Laura Linney in her character's last days.
Showtime, through May 20.
Photography
2. See American Darkness
Two photographers, two eras, many nights.
Gregory Crewdson creates whole operas in single frozen frames. So who better to pair him with than his hero O. Winston Link, legendary for his photos of steam trains roaring along in otherworldly flashbulb light? A unique and perfect juxtaposition.
Danziger Gallery, May 9 through June 14.
Movies
3. See Venus and Serena
Hard-hitting.
For this doc, Michelle Major and Maiken Baird—who worked on the intense Client 9, about Eliot Spitzer—had lots of rare off-court access to the imposing, sometimes infuriating power sisters of tennis. They met the challenge.
May 10.
Pop
4. Hear the Killers
The upside of bombast.
They're overblown, yes. But the Killers put on a hell of a live show—and it's the Garden, so they're in their element. We dare you not to sing along on "Miss Atomic Bomb."
Madison Square Garden, May 14.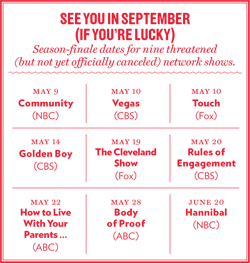 TV
5. Watch Community
It's called "Advanced Introduction to Finality."
The post–Dan Harmon Community has apologists but few real fans; it certainly lost a spark of madness when its creator left. But the show has become more assured in the back half of its fourth (and likely last) season. The finale goes full Harmon, revisiting the "darkest timeline" introduced in season three's classic "Remedial Chaos Theory." —Matt Zoller Seitz
NBC, season finale airs May 9, 8 p.m.
Classical Music
6. Hear The Symphonies of Charles Ives
The highlight of the Spring for Music festival.
Ives can swerve in a measure from reverent hymns, band marches, and barn-dance fiddle tunes to explosions of wild cacophony, and plowing through his entire symphonic output should be an experience so kaleidoscopic as to be practically hallucinatory. —Justin Davidson
Detroit Symphony Orchestra, Carnegie Hall, May 10.
Movies
7. See Pain & Gain
Yes, the Michael Bay movie.
Michael Bay has hit new levels of both artistry and sleaze in this black comedy, and I strongly recommend it if you don't overvalue taste and moral decency. As the film (with Mark ­Wahlberg as a surprisingly refined comedian) goes from straight satire to slapstick and violence, you know it's wrong to feel pleasure. But that's true of many movies, isn't it? —David Edelstein
In theaters now.
Pop
8. Hear Huey Lewis and the News
Still beating.
Stipulated: They were never hip—really no more than a bar band that blew up. Also stipulated: If you're over 35, you know that in 1984, you could not get into a car without hearing a song from Sports. If that's your cohort, admit it: You will enjoy this 30th-anniversary gig, possibly in spite of yourself.
Irving Plaza, May 13.
Pop
9. And Then Hear Molly Ringwald
As long as it's Eighties Week …
… Why not visit the impossible-to-dislike actress-singer-novelist whose Twitter bio reads "your former teenage crush"? Her new album's mostly jazz standards plus a shrewdly chosen cover: "Don't You (Forget About Me)."
Iridium, May 8 and 9.
Jazz
10. See Magos Herrera and Sofia Rei
Grooving at Joe's Pub.
Herrera and Rei must have figured out a way to brine their vocal cords in a magic mix of sun, smoke, and alcohol to produce voices like theirs. These two young women know how to nuzzle up to a microphone and let their phrases slink around the bars of a steady jazz beat. —J.D.
May 11.
Comedy
11. See Lily Tomlin
A sign of intelligent life.
One of the most influential comedians ever—doubly so among women, because so few were in the business when she got her start—Tomlin never went sour (like George Carlin) or self-destructive (like Richard Pryor). We'd follow her anywhere; surely a 35-minute Metro-North run to Tarrytown isn't too much to ask.
Tarrytown Music Hall, May 10.
Classical Music
12. See the Peoples' Symphony Concerts
Serious music for the price of a movie ticket.
The next time someone dismisses classical music as an art for the old, the affluent, and the elite, mention the Peoples' Symphony Concerts. In this edition, young and infallibly excellent Musicians From Marlboro performers play quartets by Stravinsky, Britten, and Brahms, all boosted by the beautiful fact of a $13 ticket. —J.D.
High School of Fashion Industries, 225 W. 24th St., May 11.
Movies
13. See Booed at Cannes
La vengeance.
A délicieux idea: Celebrate fifteen films badly received at the festival where French rudeness is contagious, especially for works that wear their pretentions wearyingly. Directors can exult in the bilious response to Antonioni's L'Eclisse, Scorsese's Taxi Driver, and Jean Eustache's The Mother and the Whore. You can cheer even for movies on which the jury might forever be out, like Twin Peaks: Fire Walk With Me, by David Lynch, and Under the Sun of Satan, by Maurice Pialat, who offered the crowd the international sign for "up yours." —D.E.
BAM Cinématek, through May 23, lineup at bam.org.
Art
14. See Jerzy "Jurry" Zielinski
As a newish gallery gets aloft.
Oko isn't much bigger than a restaurant booth, but it's already mounted some great shows. This one's about an unknown Polish painter of the sixties, Jerzy "Jurry" Zielinski, whose early work combines Pop, politics, a great graphic sense, and an uninflected flat touch. His paintings brim with pointed anger, wry anger, and prescient aesthetics. Hail another great small gallery creeping into the woodwork. —Jerry Saltz
Oko, 220 E. 10th St., through May 11.
Pop
15. Listen to Savages' Silence Yourself
Believe the buzz.
Four pure-rocking women, hyped like heck but able to deliver the goods. The lead singer sounds a little like Chrissie Hynde at her best.
Matador Records.
Tours
16. Join Bike the Branches
A two-wheeled reader's tour.
This'll be the Brooklyn Public Library's first-ever "Bike the Branches" event, a sweet winding tour of 60 local libraries in one day. It all ends with a big to-do at Grand Army Plaza at 5 p.m.
May 11, details at misc.brooklynpubliclibrary.org/btb.
Books
17. See Matt Gross
Fast-moving author reads.
A New York contributor and longtime "Frugal Traveler" for the Times, Gross will read from his first book, The Turk Who Loved Apples, a light-footed memoir of his globe-trotting on the cheap, especially in Asia. By the end, you'll be craving dinner in Chinatown.
General Society of Mechanics & Tradesmen of the City of New York, 20 W. 44th St., May 9, 6 p.m.
Dance
18. See Christopher Wheeldon's A Place for Us
At New York City Ballet's spring gala.
Tiler Peck and Robbie Fairchild have the all-American charisma and star wattage that really win over audiences—and they also happen to be newly engaged. They'll dance Wheeldon's new pas de deux, set to music by Leonard Bernstein and André Previn. —Rebecca Milzoff
David H. Koch Theater, May 8.
TV
19. Watch Christopher Guest's Family Tree
For your consideration.
Considering how many sitcoms have drawn on the mockumentary format perfected by Christopher Guest in Best in Show and Waiting for Guffman, it was only a matter of time before he got into the game himself. The result is Family Tree, starring Chris O'Dowd as a man who inherits a chest of curios and starts to trace his eccentric clan's history. —M.Z.S.
HBO, May 12, 10:30 p.m.
Books
20. Read Pornified
For clues.
Why revisit Pamela Paul's Pornified: How Pornography Is Damaging Our Lives, Our Relationships, and Our Families, published eight years ago to a respectful but not staggering reception? Because Paul, last week, stepped in as editor of The New York Times Book Review, and thus is the literary world's newest tastemaker. Aspiring authors: Take notes.
St. Martin's/Griffin.
Books
21. & 22. Read and Listen to Bob and Ray: Keener Than Most Persons and A Night of Two Stars
"—Wally Ballou here, between hard covers."
Starting in the radio era and working into the eighties, Bob Elliott and Ray Goulding were possibly the driest, funniest comedy duo alive. (David Letterman's a huge fan, and funny runs in the family: Bob's son Chris and granddaughter Abby each did a turn on Saturday Night Live.) David Pollock's biography is pretty squarely written, but that just evokes their deadpan delivery all the more. And after you read it, hit up bobandray.com for a couple of CDs, starting with the live recording of their final stage performance, A Night of Two Stars.
Applause Books/bobandray.com.
Classical Music
23. Celebrate the New York Festival of Song
At the quarter-century mark.
How better to celebrate the song's past than to sing about it? To mark 25 years of its charming, if not always charmed, existence, the Festival is closing its season with a concert inspired by a description I once wrote: "the longest-running song party in town." Here, lots of alumni will be supplemented by the newborn NYFOS Comedian Harmonists. —J.D.
DiMenna Center for Classical Music, May 13.
TV
24. See Breaking Amish: Brave New World
Thinking outside the buggy.
Breaking Amish, TLC's rumspringa–in–New York series, was one of the biggest debuts in its history. So the network's trying to keep the success going, sending the cast off to Sarasota and its bustling Amish-expat community. —M.Z.S.
TLC, May 12, 10 p.m.
Discussion
25. See Jim Holt and Daniel Dennett
At the New York Public Library.
Last year, I raved in these pages about Why Does the World Exist? Its author, Jim Holt, is sufficiently brilliant that most of his conversational partners must worry about being outgunned—but not Daniel Dennett, philosopher and author of Intuition Pumps and Other Tools for Thinking, who's teaming up with Holt to talk about the kinds of methods we can use to answer life's most difficult questions. —Kathryn Schulz
Celeste Bartos Forum, May 8, 7 p.m.